Stay away from Snorkeling tours including "fishing" – Save Phu Quoc
Phu Quoc coral reefs are dying, seeing a significant reduction in fish population in Phu Quoc water, how do we know that? Because it's now dramatically getting harder to catch big fishes such as barracuda, cobia, and giant trevally in Deep-sea fishing trips than ever; hence, it's rare to run into medium-size fishes in snorkeling or diving tours.
Why should you stay away from snorkeling tours including fishing?
Because it's not a genuine fishing trip and the kinds of fish that you will catch are only small-sized ones or unadult fishes under 0.5 kg with a simple fishing reel. This kind of "so-called entertaining fishing" has been destroying the marine ecosystem in Phu Quoc water, most of the self-caught small fishes are useless for cooking. Many touristy – big wooden boat tours loading 50 – 100 people on the same boat usually anchor somewhere on the sea for the "mini-tour" called "entertaining fishing".
Accordingly, each guest on those big boats is given a fishing reel with the bait (a small piece of squid). People then drop their baits into the sea and wait for their catches. Most of the high-rate catches are tiny-sized fishes that will get dead from the hook hocking deep inside their body.
You may don't know but this kind of entertainment is seriously compromised. Those activities usually provided by the irresponsible nature of over-commercial tours that do not care about environmental protection especially in the context of the marine life in the Phu Quoc sea.
One more thing, if you are really keen on fishing then you could consider joining a Deep-sea fishing trip which is a genuine sea fishing experience; otherwise, don't think about fishing big fish from a massive snorkeling tour. Commonly, on massive snorkeling tours, the boats or speedboats are not specially equipped GPS, dedicated rods or the guide will not have a good understanding of fishing with complicated factors.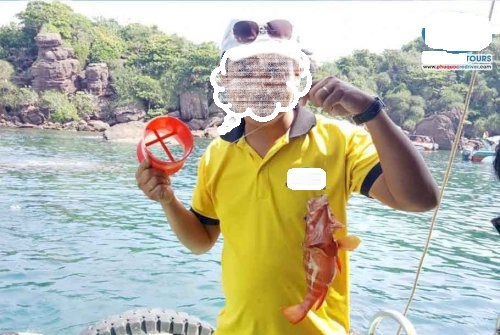 The picture above is just one of real case studies in which we found a tour guide catching a Red Grouper right at a Coral Reef in Phu Quoc.
Disclaimer:  This is not to stigmatize a rival company, but to criticize one of its harmful actions on the marine environment of Phu Quoc, our mutual paradise that we need to SAVE.
Every day, thousands of people are joining snorkeling tours by speedboats and big wooden boats. Days after days, thousands of tiny-size fishes are taken out of Phu Quoc sea; more seriously, some tours doing that "entertaining fishing" right at coral reefs which is definitely prohibited in Vietnam. No small fish, No healthy reef, and No big fish.
Please be aware of this important issue to save the reefs, the tiny creatures and save Phu Quoc island!
Follow OnBird on Facebook or Instagram to get updated on useful information about Phu Quoc island guide.