Phu Quoc Top Snorkeling Spots
Many people coming to Phu Quoc don't care about snorkeling spots that they will visit when deciding to get on one snorkeling trip, this is a big negligence in planning your trip to Phu Quoc as you are underestimating one of the significant matters to constitute the success of your island hoping trip in Phu Quoc are snorkeling spots. Besides that, many of you probably ignore some worse things about coral reefs in Phu Quoc, some of fringing reefs are in very bad condition in terms of the integrity of coral reefs, the state of health of coral reefs. Arriving at a thousands sq m area of coral, you don't know which spots is the best without understanding lead of top tier guides without mentioning that some spots dead corals are predominant over the live one, otherwise your snorkeling trip is gonna be "walk in the park". Especially in the An Thoi archipelago, the most popular water to most of snorkeling trips in Phu Quoc Island, it possess many fringing reefs for snorkeling and scuba diving.
Phu Quoc Crystal Reef (富国岛-结晶珊瑚礁) – Phu Quoc Top Snorkeling Spots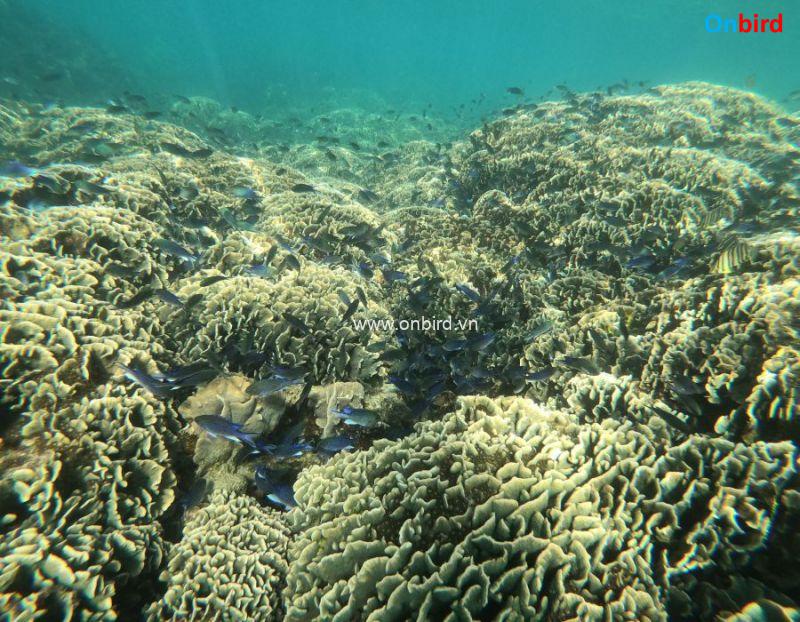 Phu Quoc Crystal Reef (富国岛-结晶珊瑚礁) once considered as the paradise of corals of Phu Quoc Island with a great variety of hard coral species. Phu Quoc Crystal Reef is located 14 km away from the An Thoi town, in a calm water in almost whole a year. Come here you will be surprised by the clean blue water at first sight and white-sand seabed as you could see through the shallow water of 2 – 4 m here. Getting into the sparkling water with surrounding coconut trees under mild sunshine, on the seabed covered with full of hard coral species, you see large schools of reef fish swimming around rocky coral which makes you reminisce about scenes of recording life in deep oceans you watched from Marine life TV Shows, specifically you could explore one of the largest Cabbage coral populations in Phu Quoc Island in particular and throughout Viet Nam in general is Phu Quoc Coral Mountain. Bear in mind to keep your body and your flipper away from corals enough to avoid unintended collision with coral which result in a harmful impact onto corals.
Phu Quoc Half-moon Reef (富国岛-半月珊瑚礁) – Phu Quoc Top Snorkeling Spots (Details)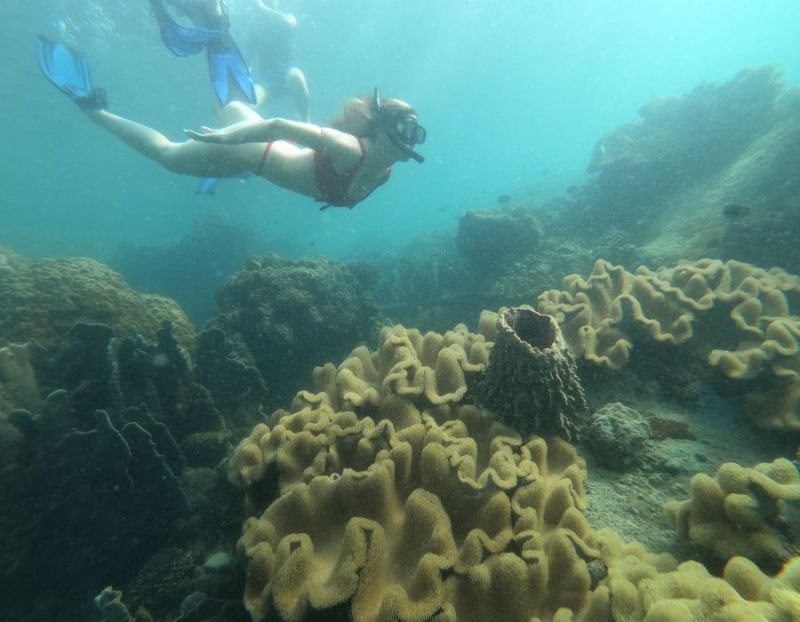 Phu Quoc Half-moon Reef (富国岛 – 半月珊瑚礁) (16 Km off the An Thoi town) is one of a  handful fringing reefs (coral reefs grow on the continental of an Island) possess a great variety of both hard and soft coral. Especially, for those who are interested in, capable of conquering waters of various depths then Half-moon reef is absolutely an ideal destination. With underwater rocky terrain which is full of obstacles and difficult of access will arouse your curiosity of discovering, searching for something special concealed under the darken water, behind big rocks, cliffs. Dive into the water, reach the depth of from only 3 m, you will catch sight of soft coral covered rocks, long cliffs or canyon with a range of colors. You would be even more surprised at the ground of the Half-moon Reef at the depth of 6 – 8 m as we found here like a kingdom of Porites Corals or Rocky Corals with big size. But if you can't do easy free-dive, it is not so big deal as on good days of favorable conditions you could experience very clear underwater visibility of 4 – 5 m. A hidden beauty await your exploration at Half-moon Reef. Find in here the trip to Half-moon Reef with Top Tier Guide to make your Phu Quoc snorkeling trip.
Phu Quoc U Turn (富国岛-马蹄形珊瑚礁) – Phu Quoc Top Snorkeling Spots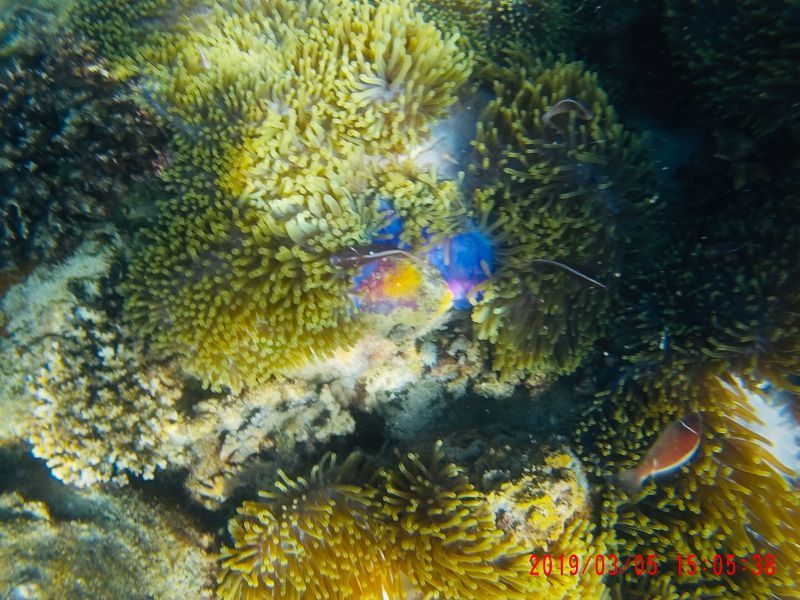 Phu Quoc U Turn (富国岛-马蹄形珊瑚礁) was named as its form from the air, is one of the best well known name among divers in Phu Quoc Island as the area is located on one of the remotest as well as deepest continental in Phu Quoc. The area makes a strong impression on divers and snorkelers with an abundant coral reef stretches hundreds of meters along the island. An ideal place for snorkeling, remote enough, deep enough but still within your sight, one of a handful of coral reefs remain unchanged much from original form regardless of the rapid rise of numerous numbers of visitors to Phu Quoc annually. Due to the difficult of access to the reef in most of time in a year, it has been managed to avoid a numerous amount of harmful effects by unconscious tourists as well as irresponsible tour operators, particularly Big Group Tour operators who are accountable directly for the serious destruction of a vast area of coral reefs in Phu Quoc at present. Come here, we will have chance to explore Reef Fish Home, Phu Quoc Golden Anemone Cape, the largest Anemone Reef in South Phu Quoc Island….Join us in the Phu Quoc Trip of exploring Phu Quoc U Turn here.
Phu Quoc Four Seasons Reef – Phu Quoc Top Snorkeling Spots
The origin of the name "Four seasons" is due to the special location of the reef. The An Thoi archipelago comprises 16 small islands within 18 km off the Southern most town of Phu Quoc – An Thoi Town, and most of the reefs in the area can be visited in one season at easy: Dry or Rainy season, but for the Four Seasons Reef, you could visit here in either Dry or Rainy season, this is the unique spot that is out of the effect of both Northeast and Southwest moonson therefore the water here is almost kept in a calm state throughout the year, giving snorkelers favorable condition for a safe trip. And of course, Phu Quoc Four Seasons Reef possesses a diverse coral reef, especially Table Coral and Bushy coral, at here we could find large pieces of Table Coral lie side by side fully cover the white-sand ground, fortunately the integrity of the reef has not been changed or destroyed much from the origin one as the reef still manages to preserve its beauty from heavily harmful effect of unconscious visitors and fisherman who setup their crab-catching net right on corals, the average depth are 1 – 4 m concealed in the sparkling water.
Phu Quoc Shallow Reef – Phu Quoc Top Snorkeling Spots
In Updating….
Phu Quoc Lonely Reef – Phu Quoc Top Snorkeling Spots
In Updating….
Phu Quoc Remote Reef – Phu Quoc Top Snorkeling Spots
In Updating…