A panoramic view of the An Thoi archipelago from the world's longest sea-crossing cable line followed by watery activities at Aquatopia water park, vivid coral reefs journey, and tasty cocktail & fresh fruit till sunset.
What could sound better than this inspiring combination?
If you are not so keen on water park amusement then a 6-hour journey with us in The private trip of the cable car ride and a snorkel by speedboat in An Thoi archipelago is more than enough.
If you have more time for the days of fun with your kids and friends, let sit back for some minutes to ponder Hon Thom Aquatopia Water Park in your shortlist of Phu Quoc vacation.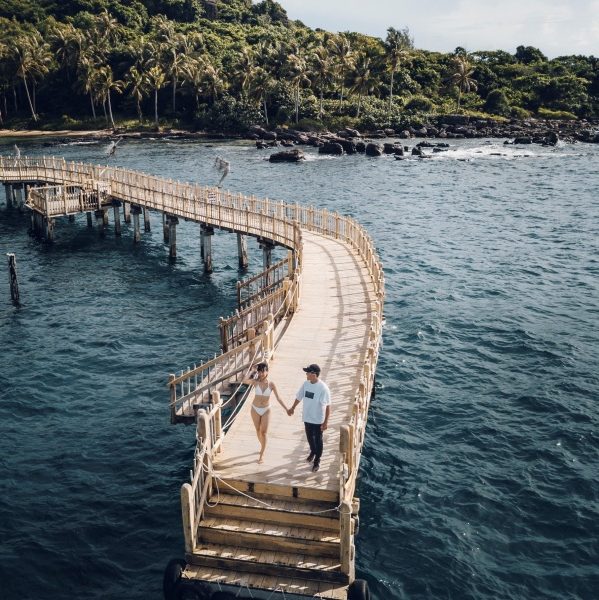 𝗛𝗼𝗻 𝗧𝗵𝗼𝗺 𝗖𝗮𝗯𝗹𝗲 𝗖𝗮𝗿 𝗦𝘆𝘀𝘁𝗲𝗺 – 𝘁𝗵𝗲 𝗪𝗼𝗿𝗹𝗱'𝘀 𝗹𝗼𝗻𝗴𝗲𝘀𝘁 𝗰𝗮𝗯𝗹𝗲 𝗰𝗮𝗿 𝘀𝘆𝘀𝘁𝗲𝗺.
Thom Nature Park instills a wholly spectacular sense of atmospheric buoyancy and excitement.
Starting from An Thoi Station, the Cable Car crosses Hon Dua and Hon Roi and ends at Hon Thom Station, Phu Quoc. The cable car system has a total of 70 cabins, accommodating 30 people per cabin, with a total capacity of up to 3,500 people/hour.
They are able to carry visitors to the unspoiled realm of Hon Thom, its picturesque beaches, enchanting beach sports, and even furious circus shows and magic from Ukrainian street artists.
Unique experience on cable car route:
With 15 minutes traveling on Hon Thom Cable Car, tourists will see from the ideal height to fully admire the natural masterpiece of the South of the Pearl Island. It is emerald green water, smooth white sand, and large patches of primeval forest…
In addition, tourists can check in with unique architectural works of classical Renaissance style at the cable car station; this is also an experience not to be missed in the journey to discover Hon Thom Phu Quoc Cable Car.
Hon Thom Cable Car takes tourists to explore the fascinating entertainment paradise Hon Thom Nature Park: 6 check-in zones and 21 thrilling games at Aquatopia – Southeast Asia's most modern water park.
𝐀𝐪𝐮𝐚𝐭𝐨𝐩𝐢𝐚 𝐰𝐚𝐭𝐞𝐫 𝐩𝐚𝐫𝐤 is one of the most modern water parks in Southeast Asia invested by 𝐒𝐮𝐧 𝐆𝐫𝐨𝐮𝐩 in Hon Thom, Phu Quoc.
This is the first water park in Vietnam with a style of deserted islands and aboriginal people.
Spread over an area of 8 ha in the 𝐒𝐮𝐧 𝐖𝐨𝐫𝐥𝐝 𝐇𝐨𝐧 𝐓𝐡𝐨𝐦 𝐍𝐚𝐭𝐮𝐫𝐚𝐥 𝐏𝐚𝐫𝐤 marine entertainment complex. Built on the principle of harmony, respect for nature. Surrounded by the greenery of the hundred-year-old mango gardens on the island. Phu Quoc Aquatopia Water Park owns more than 𝟐𝟎 𝐭𝐡𝐫𝐢𝐥𝐥𝐢𝐧𝐠 𝐠𝐚𝐦𝐞𝐬 designed, supervised, and installed by two of the world's leading suppliers Proslides Technology Inc Canada and Whitewater West Industries Ltd. Canada – the game suppliers for Disney Sea and Universal.
Coming to the forgotten island of Aquatopia, you will be treated to a fascinating "party" with exciting "dishes" from familiar to strange ones. This is a combination of improvisation and sophistication between the unspoiled nature of southern Phu Quoc and the uniqueness and wildness of aboriginal culture.
The games with many levels, both suitable for many ages and for group types (like friends or family) to enjoy the rare scenery of the Southern Island of pearl paradise, parasailing, banana surfer, thrilling "extremely exciting" water motor, have fun at the giant floating house, or dive into the deep seabed to explore the exciting lives of the ocean creatures.
Modern colorful marine life for your children

Wildlife area – provocative green forest monster

Sea Monster zone for those brave who want to explore the deep sea

Wild aboriginals – crazy tropical breath

Monkey Beach – A relaxing oasis for the whole family

Enjoying attractive cuisine converging the essence of Asian and European cuisine

Tourists can buy tickets to the forgotten island Aquatopia in two ways: Buy tickets online or buy them directly at the ticket counter at the water park. In particular, buying tickets online is the way most tourists choose because of its simple operation, saving time, and often having attractive promotions.
Check out Cable car operating hours and entrance tickets for the Water Park.

Hopefully, it helps. Follow us on Facebook and Instagram for more island guides.