Apart from Snorkeling – Diving – Kayaking – Hiking- Spearfishing, Deep-sea Fishing is a must-do experience when visiting Phu Quoc for those who have a great passion for fishing.
HERE are the top 5 things you need to know about a Phu Quoc deep-sea fishing charter!
1. The depth of Phu Quoc water & time you can take a Phu Quoc Deep-sea fishing?
Phu Quoc Island and An Thoi archipelago are located in the Gulf of Thailand and underneath South Vietnam mainland and Cambodia.  Not as deep as other seas in the world, Phu Quoc sea is quite shallow in comparison with other fishing places, the average depth ranges from 20 – 30 m, the deepest point is about 80 – 100 m. In Phu Quoc, we could join both Night fishing and Daytime fishing.
2. What kind of big fish species in Phu Quoc – Phu Quoc Deep-sea fishing?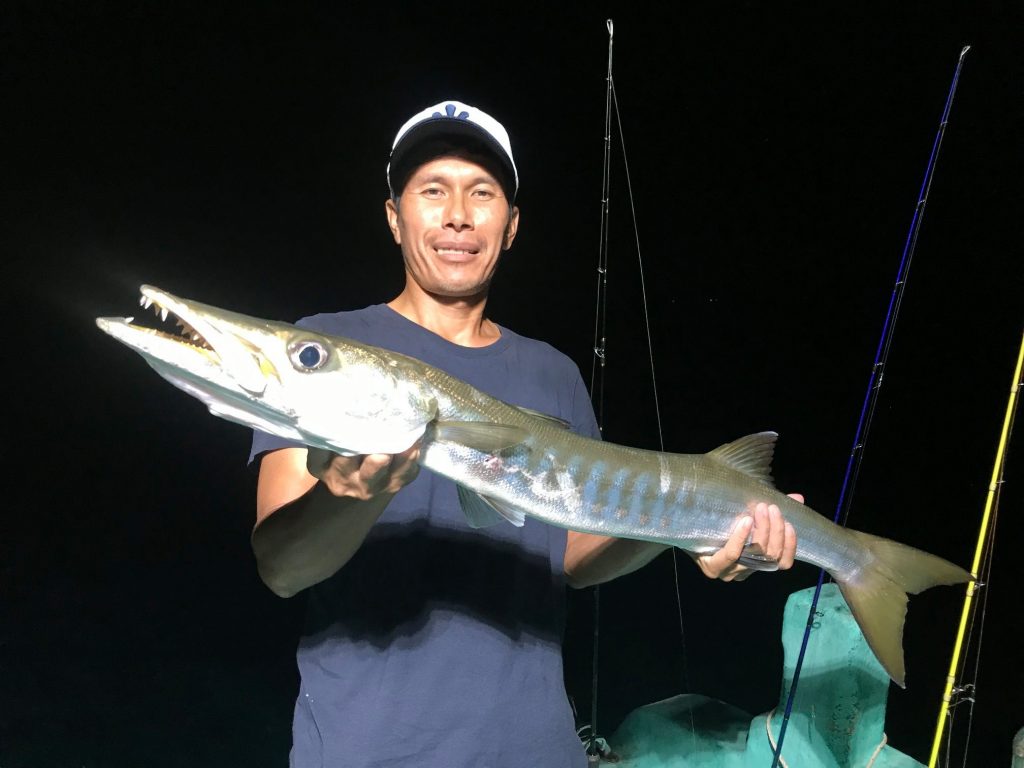 Due to the shallow water which leads to non-diversified marine life thereby in Phu Quoc, it's hard to find the appearance of really big fish species coming for prey. The most popular dishes that you could be looking for catching in Phu Quoc are Barracuda, Cobia, Grouper, Giant Trevally, Lemon Sweetlips, Queen Fish, Threadfin, Diamond Trevally, King Mackerel, Yellow Spotted Trevally, Spadefish, Silver Snapper, White Trevally, Stingray, Moray Eel and maybe Swordfish.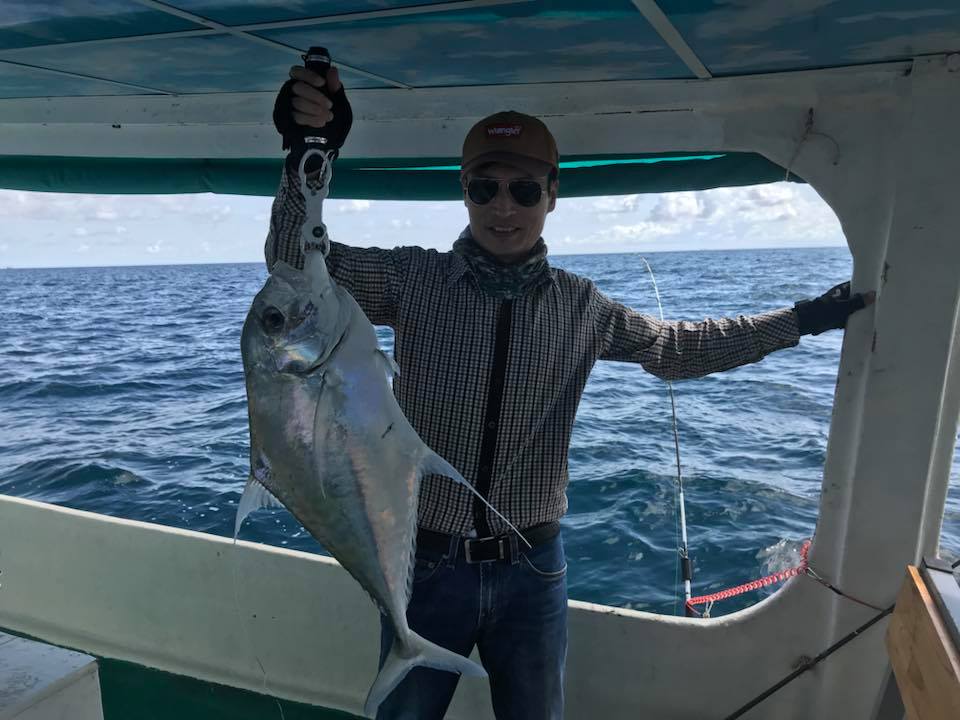 3. What kinds of fishing bait are used in Phu Quoc – Phu Quoc Deep-sea fishing?
On deep-sea fishing trips for both the locals or tours, we usually use both live baits.
Fishing live baits used for Bottom Fishing and Trolling: the locals often use self-catch fishes and especially they like squid because live squid seems to come in handy in Phu Quoc water, on fishing boats we have a tank built underneath of the boat to keep live squid swimming inside.
Fishing artificial baits: used mainly for Jigging and Trolling also by the local fishermen, they use artificial baits for squid-fishing too, sometimes strolling along the beaches in Phu Quoc you might run into something on sand, they are artificial baits used for trolling and squid-fishing, then let's be careful when walking on the beach.
4. Phu Quoc Deep-sea fishing methods
Bottom-fishing

is the main method that you find in Phu Quoc from most of the deep-sea fishing tours as and most of them don't need to use Fishing rods in this case. They often use big Fishing Reels with heavy fishing lead depend on the strength of the current instead. And this method usually quite outperformed what you can expect or saw somewhere else than Phu Quoc. But for a professional one, this one seems to be a little boring.

Jigging

: you can not find this kind of experience from most of the deep-sea fishing tours in Phu Quoc as this kind of is a little entertaining for the local fisherman, they mostly use it method for squid-fishing only.

Big game Trolling

: the Phu Quoc local fisherman uses this method to catch King Mackerel, Barracuda, Giant Trevally, and Swordfish. You could contact us to arrange a Big-game Trolling.
5. Where to find big fishes in Phu Quoc?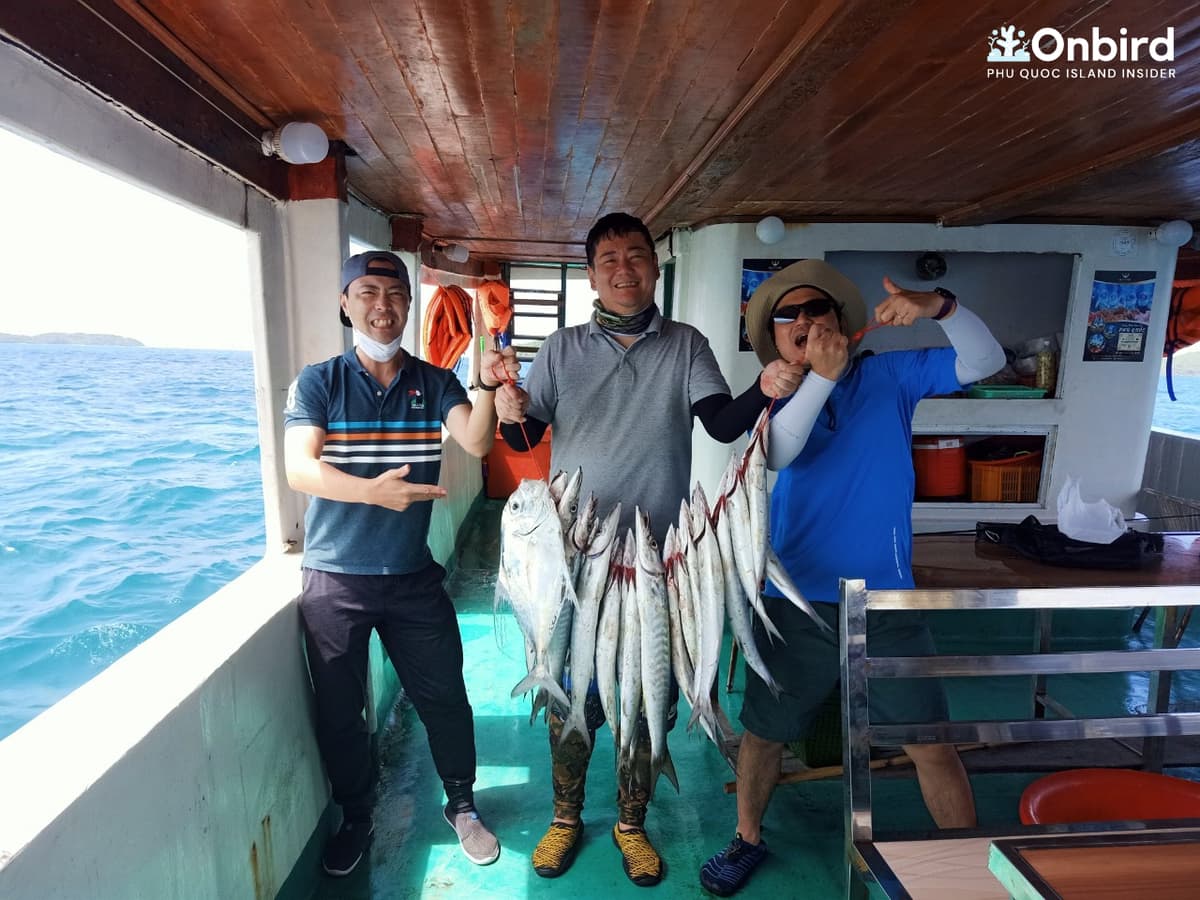 As a professional you must have known that even with GPS you can not find good fishing spots right in the fishing trip in any water, it depends on factors the location, the water current, type of fishing bait. This is the point that only experienced-captains or fisherman, as well as genuine Deep-sea fishing operator, prove and show their unique advantage over the others. There are many fishing spots and fishermen will not share with the others their "gold mines".  South Phu Quoc island or An Thoi archipelago is quite ideal water for Bottom-fishing because you could find big reefs, deep holes to find big fishes. But for Trolling you need to go further in the right direction.
Phu Quoc Island is not easy to catch big fish due to the over active of small fishing skiffs using fishing rake within close to the island, they catch many small fish which are prey of big fish therefore we are seeing a decrease in number of big fish in Phu Quoc that why if you dont know the point its impossible to catch big fish.
Contact OnBird for advices on Deep-sea fishing to arrange a Deep-sea fishing trip or have a look at our Deep-sea fishing charters.