Dam Ngang (Gam Ghi) Island – Phu Quoc Map – Phu Quoc Island Guide:
With coordinates, about 9°54'40.64'' North latitude, 104°00'49.34'' East longitude, Dam Ngang or Gam Ghi Island is one of 16 islands within 18 km of the An Thoi archipelago, located almost 10 km away from the An Thoi sea port as the crow flies and viewed as one of the coral heavens in Phu Quoc with a vast variety of coral reefs, specifically as you can see the existence of many types of hard coral such as Brain, Table, Tube, Cabbage, Mushroom, Branching, Massive coral…With a special terrain is a watery shallow area with average depth is only less than 2 meters then easily recognize that Dam Ngang (Gam Ghi) island is one of the coral spots that the growth of coral reefs is the strongest and longest as well. (Check out Phu Quoc weather in detail here)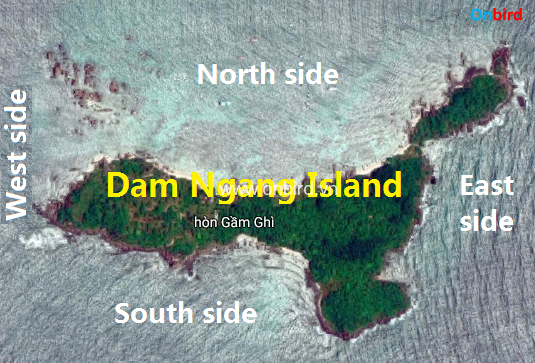 Dam Ngang (Gam Ghi) Island – Phu Quoc Map – Phu Quoc Island Guide:
Dam Ngang or Gam Ghi Island is located within 10 km of the An Thoi seaport, this was truly coral heaven with 4 spots of coral reefs corresponding with directions the North – the East – the South – the West that we name them as Area N – E – S – W respectively in the photo above.
Being surrounded by many islands such as Fingernail (Hon Xuong) island on the Northeast side and Bom (Mong Tay) island on the Southeast side. In Vietnamese, the corresponding word to Fingernail island is "Mong Tay" the other name of Bom island, but maybe because the beach in Hon Xuong was very natural and beautiful then they named it with a name "Fingernail" that is called at easy for a foreigner, the issue of naming islands has been making many people confused Fingernail island with Bom (Mong Tay) island even for local people. In addition to this, there is still another Fingernail island in North Phu Quoc that you should know.
In the photo below the left side corresponds to the Northside or Area N of Dam Ngang (Gam Ghi) island. Among those 4 spots then Area N is an equivalent to 5000 sq meter spot of coral reef, this spot is located at the Northside of the island and is the most beautiful one. You could easily realize the shadow area in the photo is the area of coral reefs and undersea lime rocks even boulders. Check out our itinerary which includes Dam Ngang (Gam Ghi) Island as one of the snorkeling spots.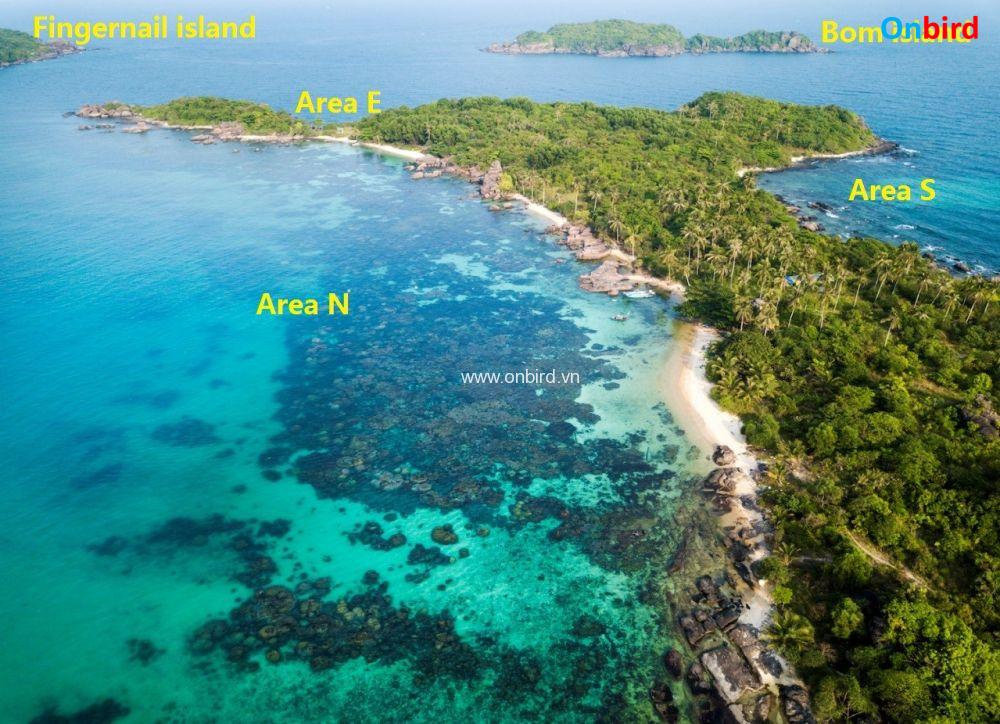 In Dry season regardless of the influence of the Northeast monsoon, Area N is still enveloped in a tranquil sea area by Fingernail (Hon Xuong) island at the Northeast side and a cape at the Eastside thereby Area N is the most convenient area to visit among many snorkeling spots regardless of the weather, however sometimes. Area N is the largest spot of coral reef with an equivalent to 5000 sq meter area of coral reefs, is home to hard corals such as Table, Cabbage, Great Star, Branching, Brain, Tube coral…
The most impressive things that you will probably feel at sight are the sparkling water and a line of coconut trees on the beaches. You can see many schools of anchovies swimming at the bottom at ease.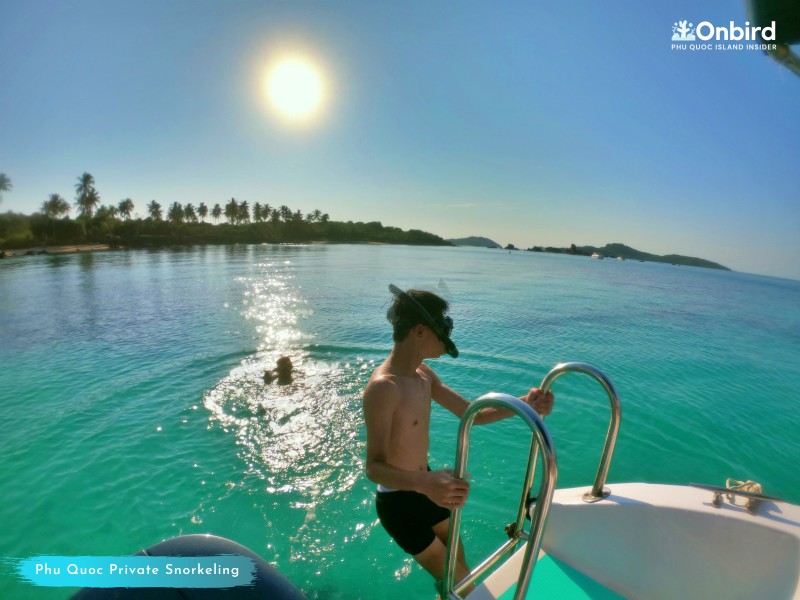 Putting yourself into the sparkling water, you will have felt as if be enjoying an outside natural swimming pool.
Besides that in swimming, you will run into Massive corals which is outwardly like a rock.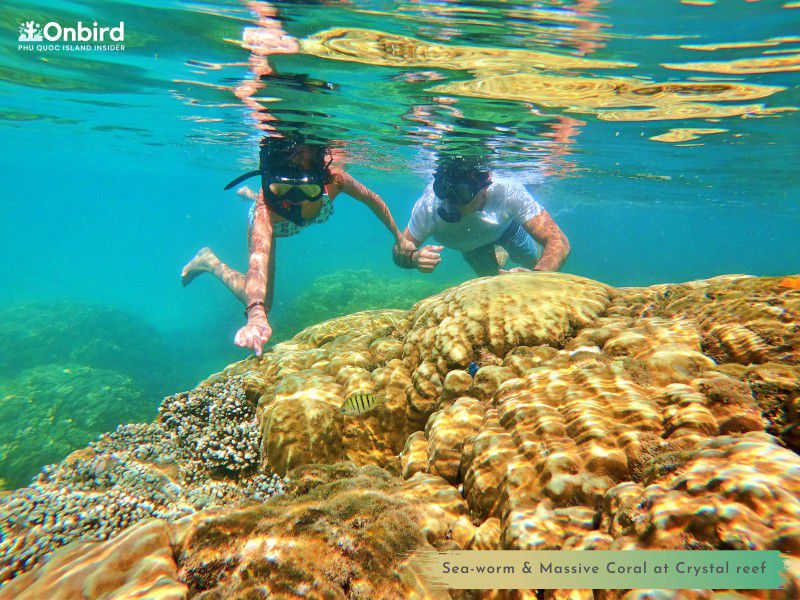 Dam Ngang (Gam Ghi) Island – Coral reefs – Things to do in Phu Quoc:     
But also by the convenience of visiting then most of the coral reefs in Dam Ngang (Gam Ghi) island are in a very worse as well as terrible state, according to our experience then almost 80% of coral reefs in Dam Ngang have been dying. The reality occurred owing to the visit of big wooden boats, they have been being the main vandals for coral reefs when they anchor on coral reefs as well as let too many bad swimmers swim into watery shallow spots of coral reefs, hundred people caring big wooden boats don't provide customers any caution on protecting coral reefs. Sadly witness a large area of table coral reefs has been dying here.
The most beautiful coral reef left that we have discovered out is a spot of Cabbage coral reef, we named it "Phu Quoc Undersea Coral Mountain (click to see)" ourselves was due to the massive size. Two photos below are about the Coral Mountain – a massive area of Cabbage coral, according to our measure it is about 300 – 400 sq meters. But for visitors, it is not easy to find out the exact location of the Coral Mountain in almost 5000 sq m of coral reefs.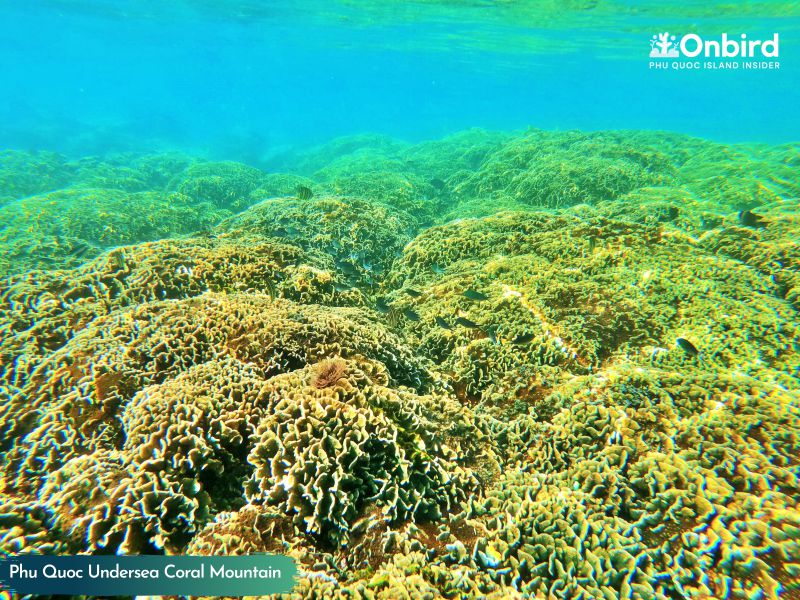 In order to explore Coral Mountain, the easiest, safest and most convenient way is to swim around, firstly you approach the undersea Coral Mountain and find out the entrance between two main blocks of the undersea Coral Mountain in order to get to the beyond side of the Coral Mountain and swim around it, you will be swim in a shape of number 8.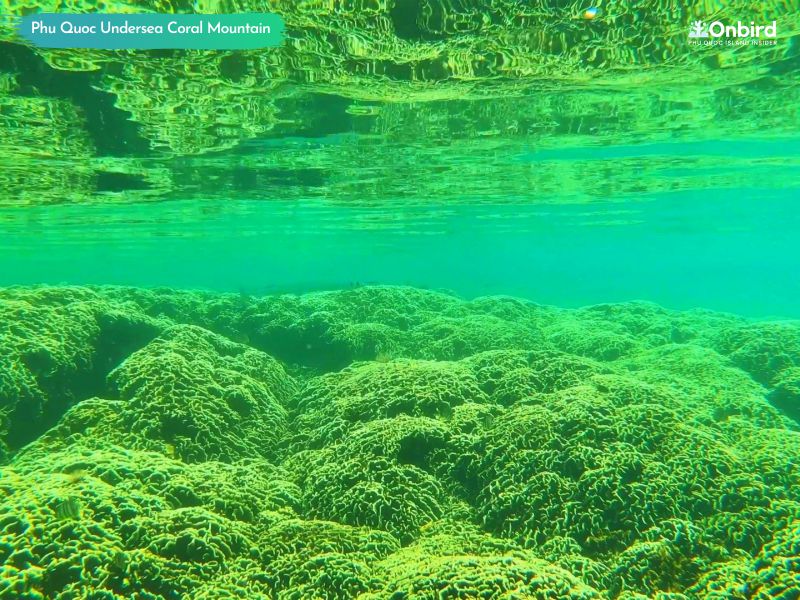 Area S or at the Southside of the island is very poor, not much to see but on some bad weather day, most of the boats will take tourists to that side to see coral.
And in Area W in the photo below you could see anemone and some table coral but its also very shallow, actually from our point of view the undersea "Coral Mountain" is still worth admiring the most and you can still admire some much better anemone area in other spots with our escorts. And here you should not jump down from cliffs otherwise you will certainly put yourself in the risk of colliding on a rock under a watery shallow area right below.
You could also reach the beaches and set your foot on the sand and of course, you will reach the beaches by swimming if you don't want to break coral by anchoring your small boats.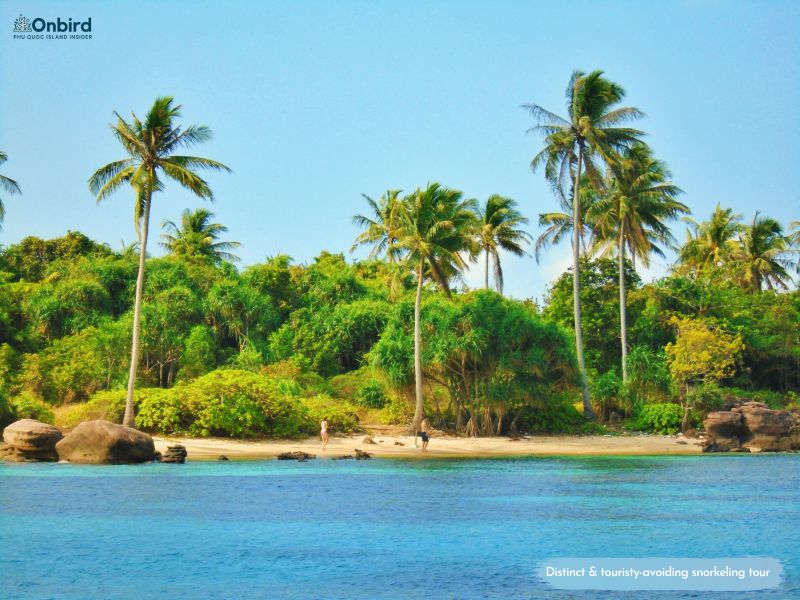 Dam Ngang (Gam Ghi) Island – Tips for experience:
The average depth when you swim over this area is about less than 0.5 m, particularly some spots are just only 0.1 – 0.2 m then in exploring this Coral Mountain please:
Swimming at slow speed

to stay away from corals at a safe distance

Paying attention to the front

(you may get stuck or find out no way to escape)

Swimming around the Coral Mountain instead of swimming across

(on some high tide days, it is possible to swim across the Coral Mountain)

Should not use fin

because you probably break coral by accident

Don't stand on any rock-like objects

because they are probably Massive coral