May Rut Trong (Hon Vong) Island – Phu Quoc Map 
Located at 9°55'14.2'' North latitude, 104°00'00.9'' East longitude, May Rut Trong Island or Hon Vong is located in the Northwest of Dam Ngang (Gam Ghi) Island corresponding to the Northeast of May Rut Ngoai Island. Possessing a beautiful beach which is around 3 times longer than the one of Fingernail Island and a wide view of the sea this is truly an ideal place for those who are keen on pristine scenes.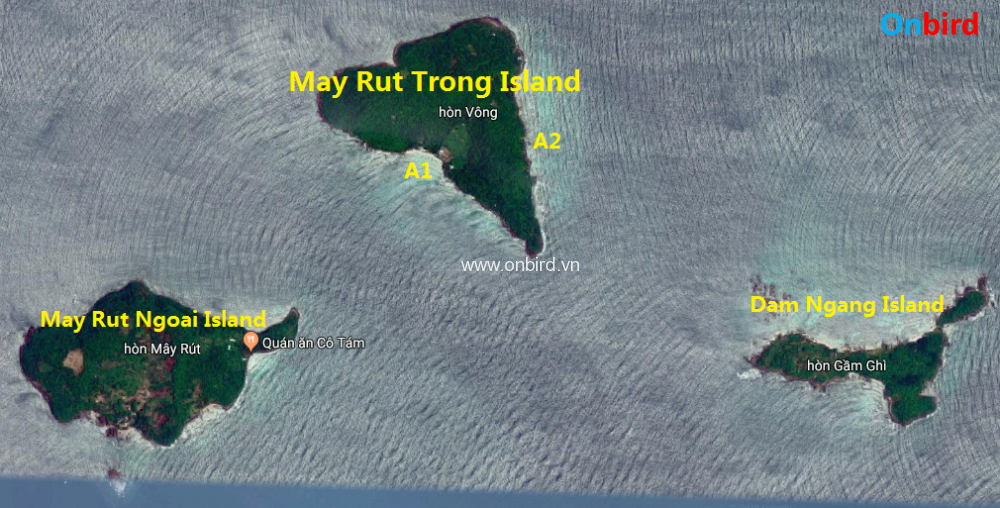 The main beach at location A1 facing to the West thereby during Dry season the beach seems not to be influenced by the Northeast monsoon then it is almost easy to visit the beach here during Dry season. But sharing the same situation with Fingernail Island in terms of the crowded period of time, the island is also full of people and boats from 11:30 AM to 3:30 PM. Then we have been offering trips outside the crowded period of time.
(Check out Phu Quoc weather in detail here).
Check out our snorkeling tours which includes May Rut Trong (Hon Vong) Island as one of the relaxing spots.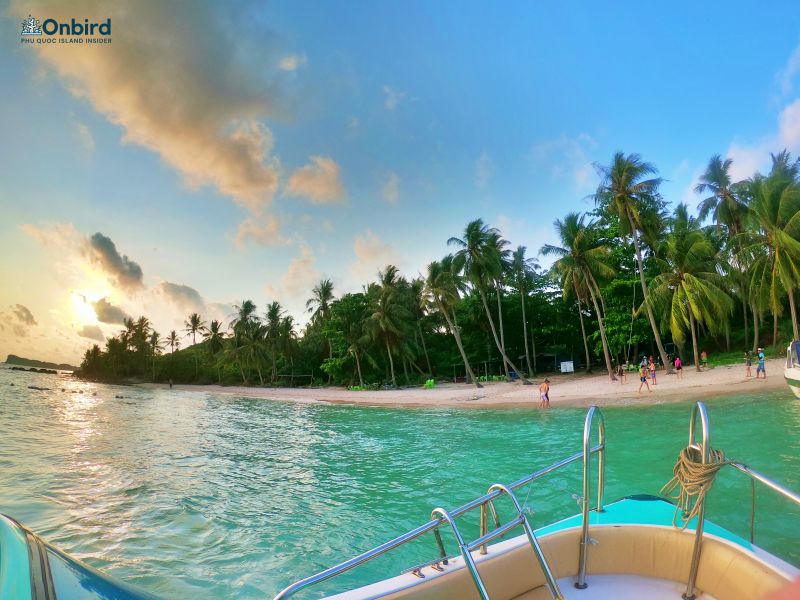 The 2 photos above are the beach and the beach bar in May Rut Trong (Hon Vong) Island. The sea right at the front of the island is a watery shallow area, it is about 1 – 2 m within 50 of the beach. The photo below is the view at the front of the beach in post – 3:30 PM period of time as we were waiting for sunset time.
The beach is large enough for you to play some beach games such as volleyball… – some other things to do in Phu Quoc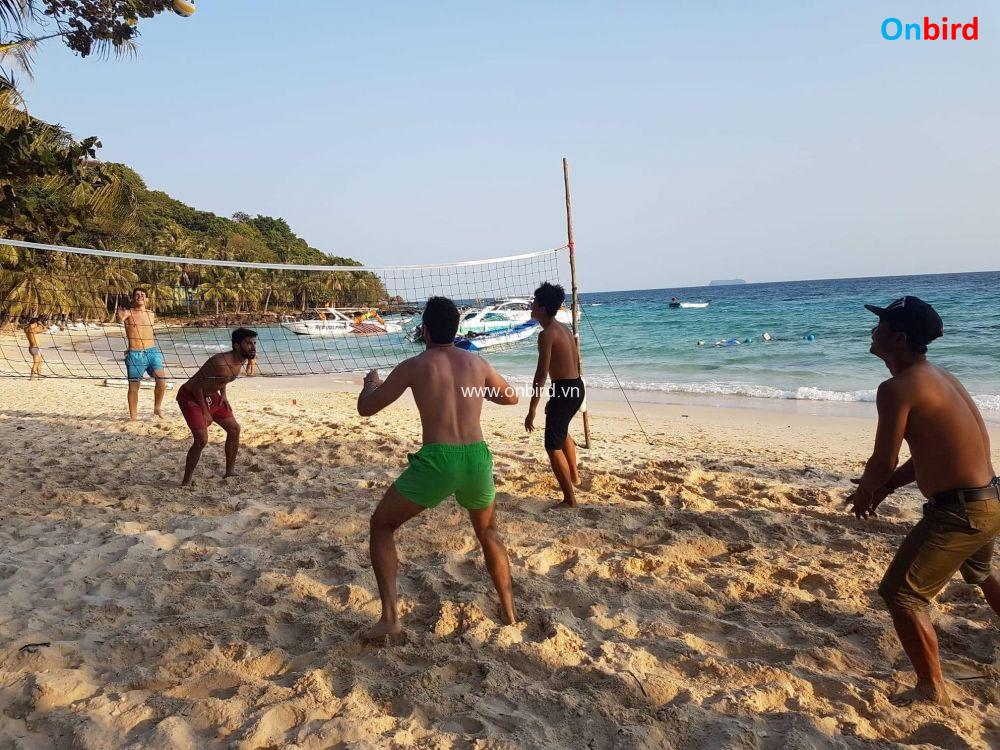 Enjoying your time on the sunshine beach underline of coconut trees and by a sparkling watery sea will be a memorable experience – things to do in Phu Quoc.
May Rut Trong (Hon Vong) Island – Coral reefs – Things to do in Phu Quoc:
Beyond the beach is spot A2, one of a good place to enjoy a watery shallow spot of coral reefs, the Table coral reefs call the spot home. The depths of 1 – 2.5 m have been helping coral a lot at exposing sun rays to growth. The whole area of Table coral reef is about 500 – 600 sq and more. Many of the coral slumps here have been dying owning to the impacts of humans but luckily for us, we can still find out such beautiful coral reefs below.
Tips for experience in May Rut Trong (Hon Vong) Island – Phu Quoc Island Guide:
The average depth when you swim over this area is about less than 1 m then in exploring this large area of Table coral reefs please:
Swimming at slow speed

to stay away from corals at a safe distance

Paying attention to the front

(you may get stuck or find out no way to escape)

Swimming around the Coral Mountain instead of swimming across

(on some high tide days, it is possible to swim across the Coral Mountain)

Should use flipper

if you are able to freely dive

Don't stand on any rock-like objects

because they are probably Massive coral