1. Why Phu Quoc Water Puppetry?
"Resort/ hotel businesses are the major business on the island – but there is a big gap in entertainment and culture, especially in the evening time. The very few cultures still exist on the island, in the evening time, people's only choices are to dine in the resort or go to the night market. I see that gap and decide that I want to open something to educate foreign tourists about Vietnamese culture and entertain them in the evening time.
That's when the idea of Phu Quoc Water Puppet Theatre was born, originated on May 2018″, said the young & talented Founder.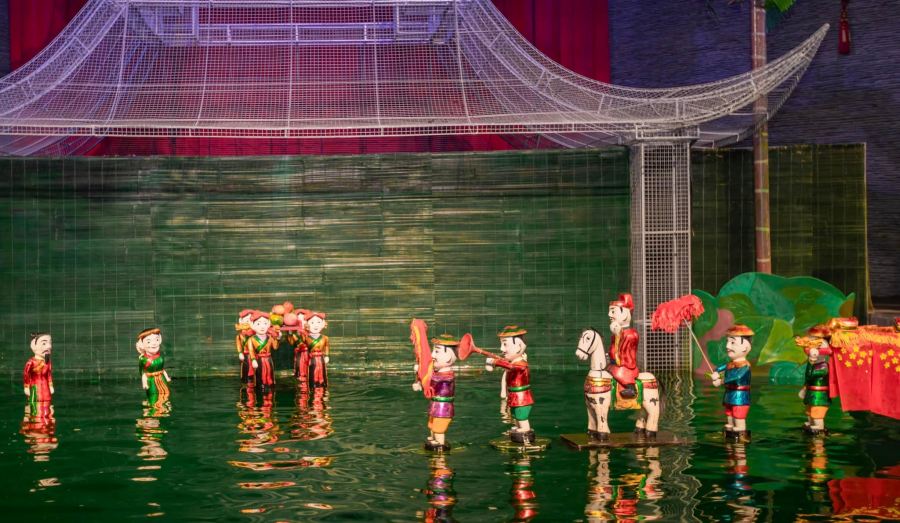 𝑨𝒏𝒅 𝒏𝒐𝒘 𝒕𝒉𝒆 𝒓𝒆𝒂𝒍 𝑻𝒉𝒆𝒂𝒕𝒓𝒆 𝒂𝒓𝒆 𝒐𝒑𝒆𝒏 𝒘𝒊𝒕𝒉 𝒕𝒉𝒓𝒆𝒆 𝒐𝒑𝒕𝒊𝒐𝒏𝒔 𝒘𝒊𝒕𝒉𝒊𝒏 𝒚𝒐𝒖𝒓 𝒄𝒉𝒐𝒊𝒄𝒆.
Vietnam's water puppetry opens a window into local culture, and is a fully realized art form enjoyed by young and old. Watch scenes of village life on an ever-changing stage, learn about festivals and traditions, and get to know quirky characters inspired by Vietnamese personalities.
.
.
2. Water puppet show options
Phu Quoc Theatre is a perfect place to hire for your next private event. The Theatre provides an exquisite and unique experience including Set Menus or Buffet and the magical Water Puppet Show, to impress your guests or company's staffs.
With ticket prices from only 300,000 VND / Adult, 100,000 / Child, you and your family will experience the traditional folk art form, with performances linked to the rice field culture of the nation.
The 70-minute show includes dance, singing, folk instruments and 12 water puppet acts, performed by young and talented artists of Phu Quoc Theatre.
Type of Tickets:

Lite Ticket (Show Only): 300,000VND

Standard Ticket (4-course meal + Show): 950,000VND

Premium Ticket (VIP seat + 4-course meal + Show): 1,200,000VND
Time: 7pm for Tickets including Dinner and 8.30pm for Lite Tickets every day (except Tuesday).
.
.
.
3. Feast on premium dinner before the show
With beautiful settings of a contemporary theatre, dining at
Phu Quoc Theatre
will give you a unique experience.
With six diverse set menus to choose from, guests will enjoy a 4-course meal of traditional Vietnamese Northern Cuisine, curated by our head chef Do Thanh The. The evening will follow with a 70-minute Water Puppet Show to complete your experience inside Vietnamese culture.
.
4. The Theatre's Founder story
OnBird has got chances to talk with the theatre's founder and here are some sharings of them about the inspiring journey of theatre foundation.
"When I told my parents the idea of bringing Water Puppetry, a northern culture to Phu Quoc, they said 'Are you out of your mind? None of our family member works in the Creative field, now you are saying you want to open a theatre.' I laughed and said we shall wait and see.
I am more of a businessman than a creative person, even though I do enjoy art and culture. With some help from my auntie, I made contact with NSUT Chu Luong, the director of Thang Long Water Puppet theatre in Hanoi to ask for advice and help. After 4 months of discussion and recruitment, we formed a team of 7 performers from Hanoi to fly in and help train 10 new people from Phu Quoc. After 6 months of training non stop, we managed to form a team of 17 performers ready to complete an 16-act water puppet show under the supervision of 2 NSUT from Thang Long Water Puppet Theatre.
Then Covid-19 hits, just a month before our grand opening. In the theatre, we always joke around saying we all work for the 'Theatre of Dream – Nhà hát của những giấc mơ'. But Covid sadly turned it into a nightmare – We had to pull out more investment/ capital from our own pocket to pay for the theatre's land rent during these two years, and risking that we may lose all our performers during this time. But deeply in our hearts, we know Phu Quoc will be our second home and our long term future, so we decided to do what it takes to carry on that dream.
On October 2021 after we hear Vietnam and neighbouring countries are opening up on the first quarter of 2022, we decided to reset the theatre production to prepare for it. With the current progress, we are looking at the 1st April 2022 to be our (second) grand opening date. We keep our fingers crossed this time that it will actually happen.
My partner and I hope that our story will be spread the word, and make this dream happen."
_______
Pro-tips: Let us help you to reserve a ticket in combination with the
car transfer service!
It would be a perfect plan for a leisurely day in our Pearl Island.