1. Phu Quoc North-east Coral Reef Overview 
Being likened the coral city of South Phu Quoc Island, the Northeast coral reef is one of the most beautiful coral reefs in Phu Quoc Island, Vietnam with a great variety of coral species. Located 16 Km from the south of Phu Quoc Island, the North-east Coral Reef is one of the most difficult-to-access coral reefs in Phu Quoc in a year due to its geographical position, which is frequently influenced by currents and waves. With a depth of 1 – 8m along with a high species diversity of hard corals and soft corals, creating a diverse coral population that growth into a miniature coral city. (Read more about other coral reefs as well as snorkeling & scuba diving spots in Phu Quoc Island) or read more about coral species in Phu Quoc Island.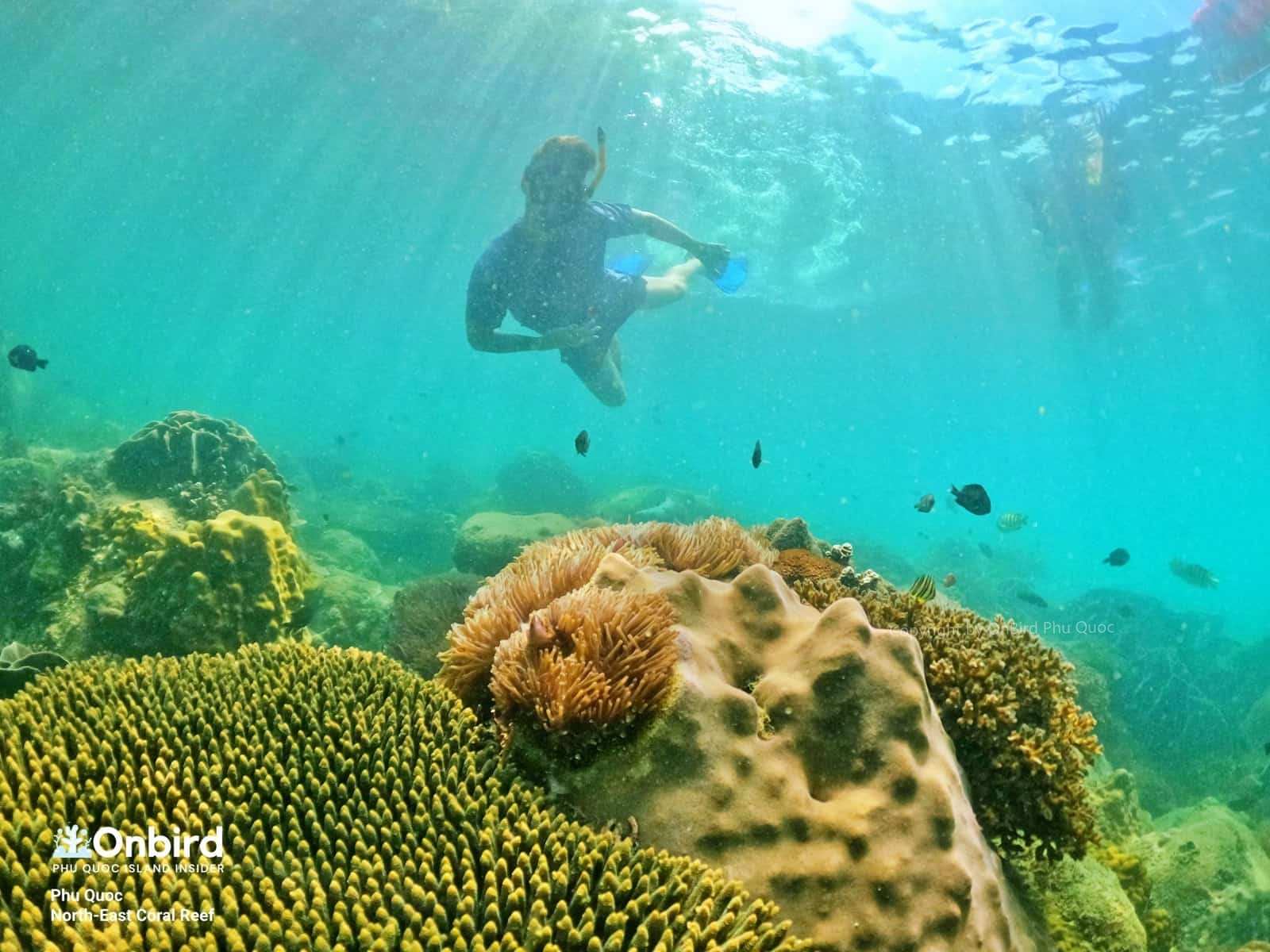 2.

CORAL SPECIES IN THE PHU QUOC NORTH-EAST CORAL REEF
From our observations on snorkeling and diving trip to Northeast Coral Reef, we find that there are about 20 different species of coral:
Finger coral, toadstool coral, flowerpot coral, pillar and plate coral, cauliflower coral, lettuce coral, table coral, brain coral, stony coral, mushroom coral, bushy coral, stag horn coral, plate leaf coral, cactus coral, leaf coral, button coral, fan coral…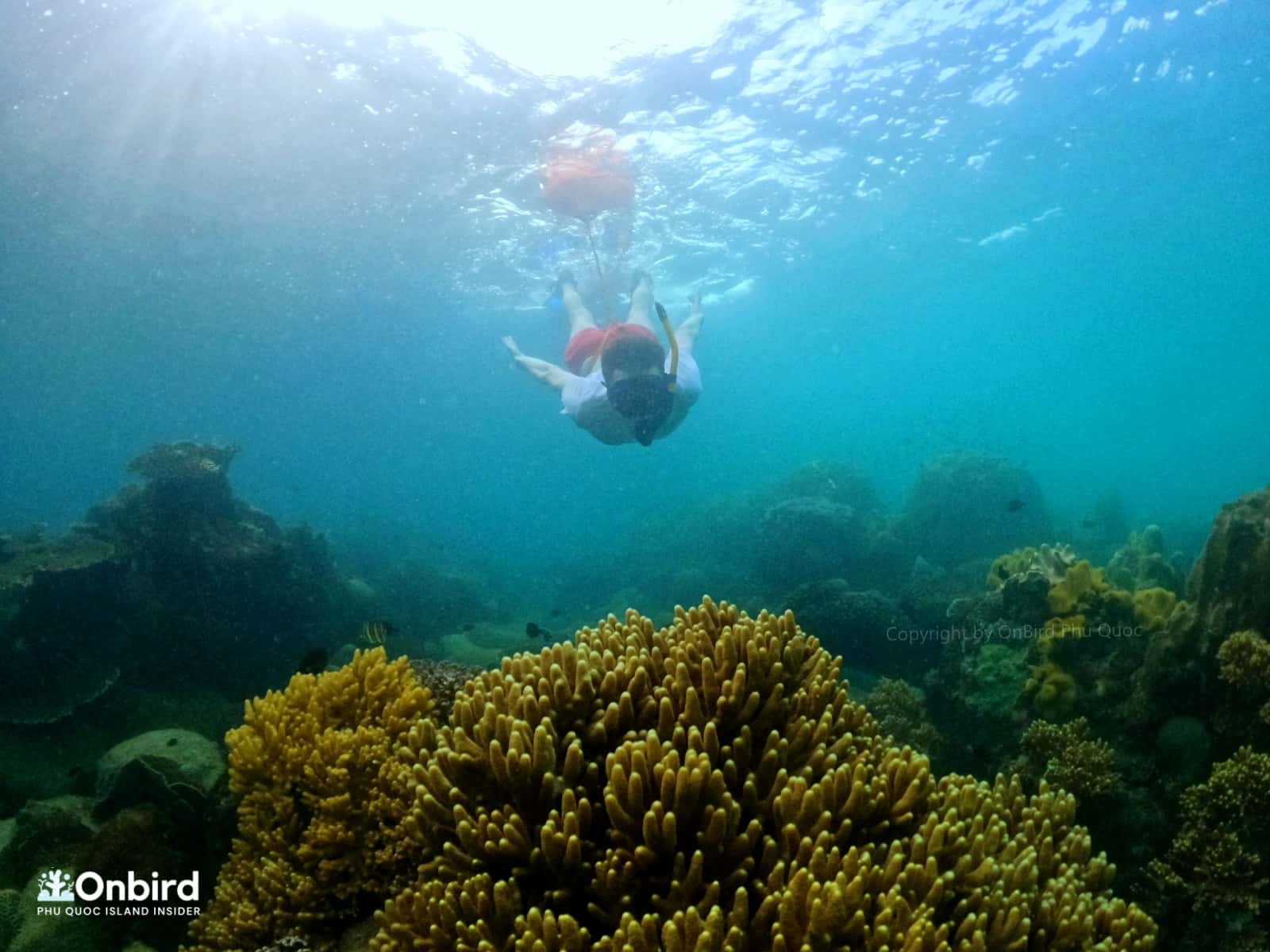 A special thing of the North-east coral reef is that snorkelers and divers will see gardens of large-size corals such as 1.5 – 3-meter-wide table corals, pillar and plate coral garden which is 4 – 5m across or sea anemone gardens growth at a depth of 2m – 5m, flowerpot gardens cover an area of 6 – 8 square meters. At the depth of 3 – 6 you find large tube sponges surrounded by sea urchins and anemones. Due to the difficult-to-approach location, the health status of corals in the Northeast reef is still developing quite well and almost untouched or not damaged much, the coral mortality rate is as very low as 0% from OnBird's observations.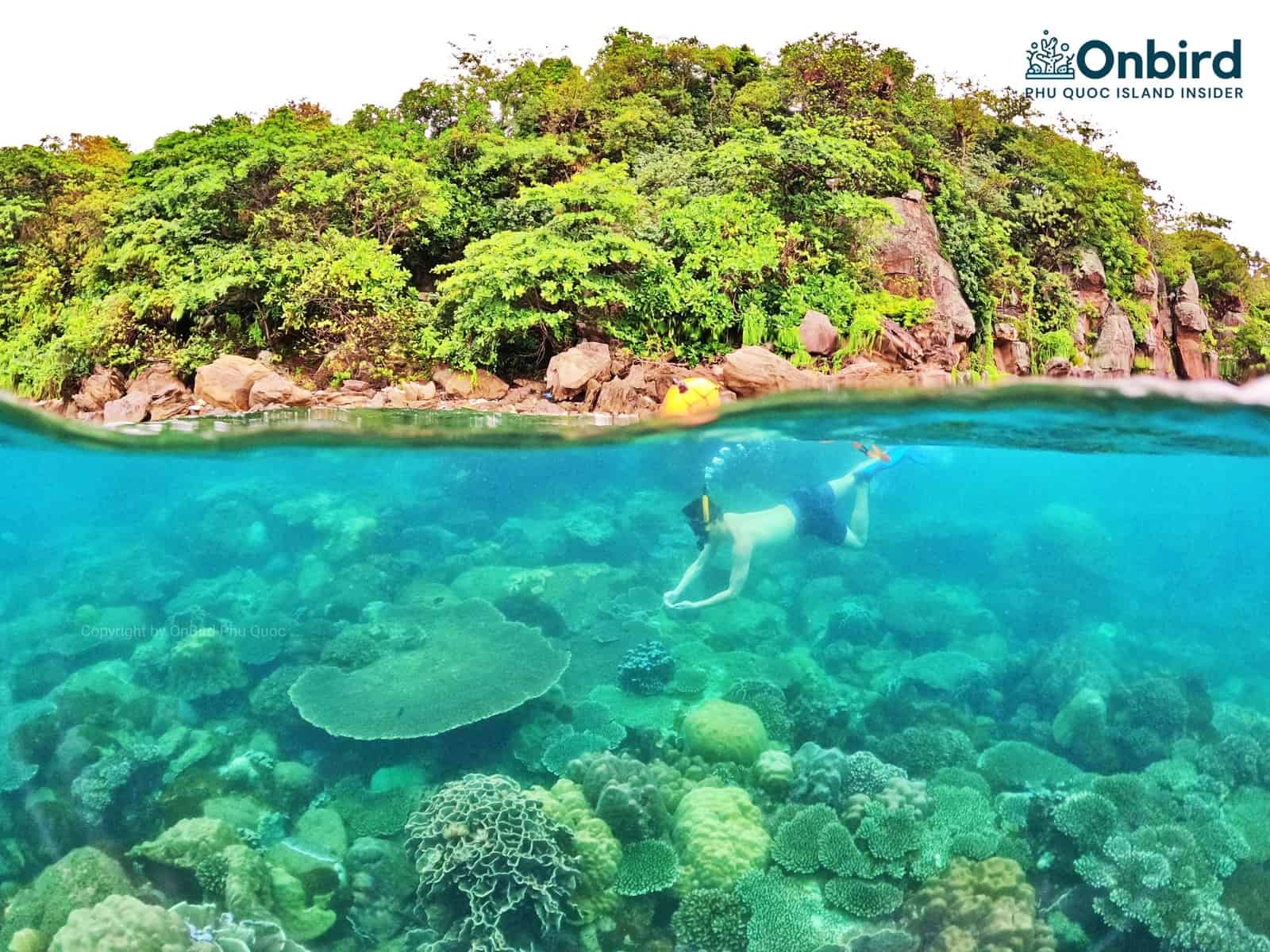 Guests will see many sea-urchins and schools of parrotfish sometime while snorkeling or diving there, this is also an ideal place for scuba-dive especially for try-dive to make the very first introduction to scuba-diving while seeing beautiful coral city beside.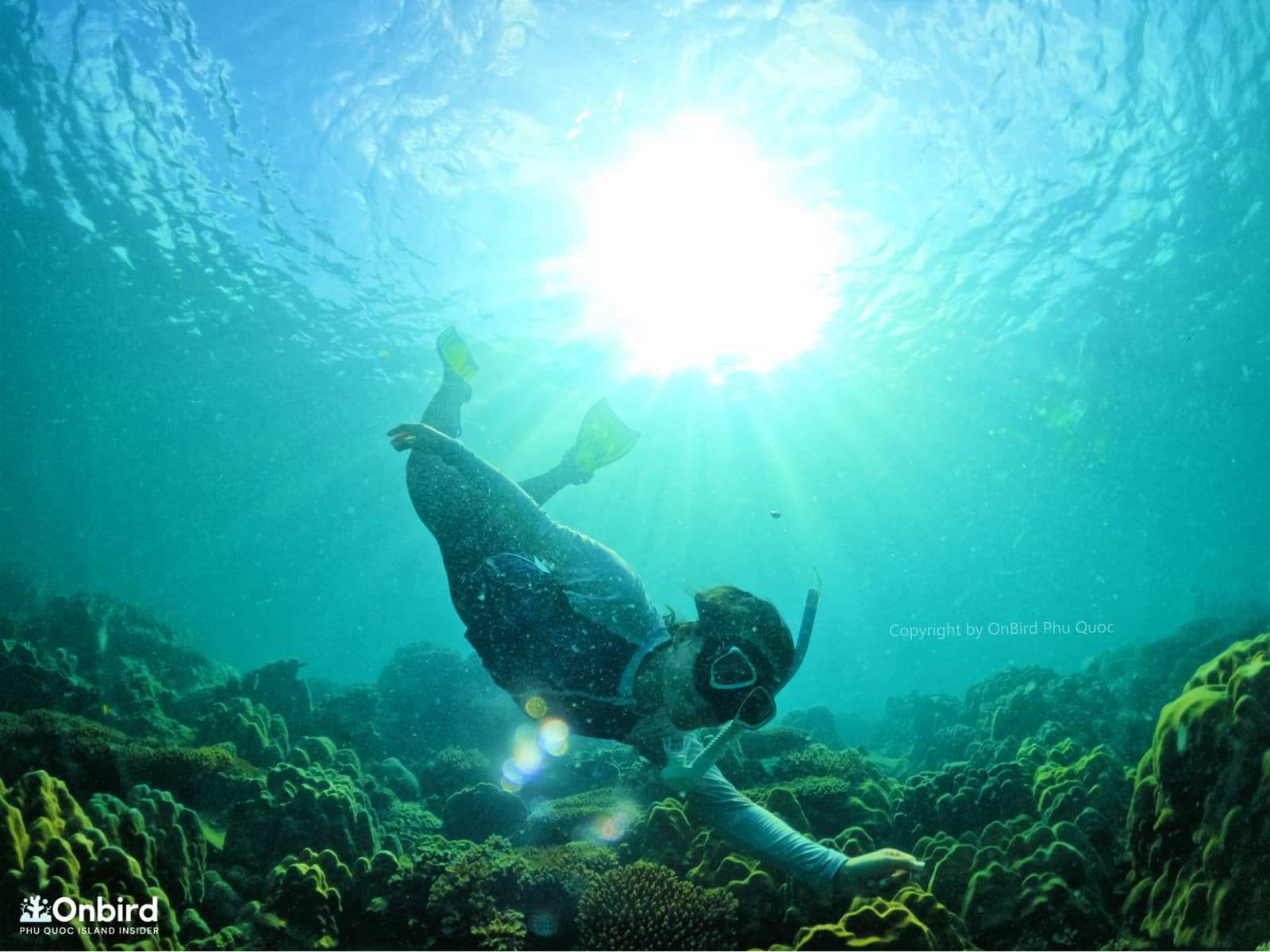 The best clarity observed in the Northeast Reef is 9 – 10m and the worst turbidity that we observed is 2 – 2.5 m which depends on the water conditions on each the time of year and daily timeframe.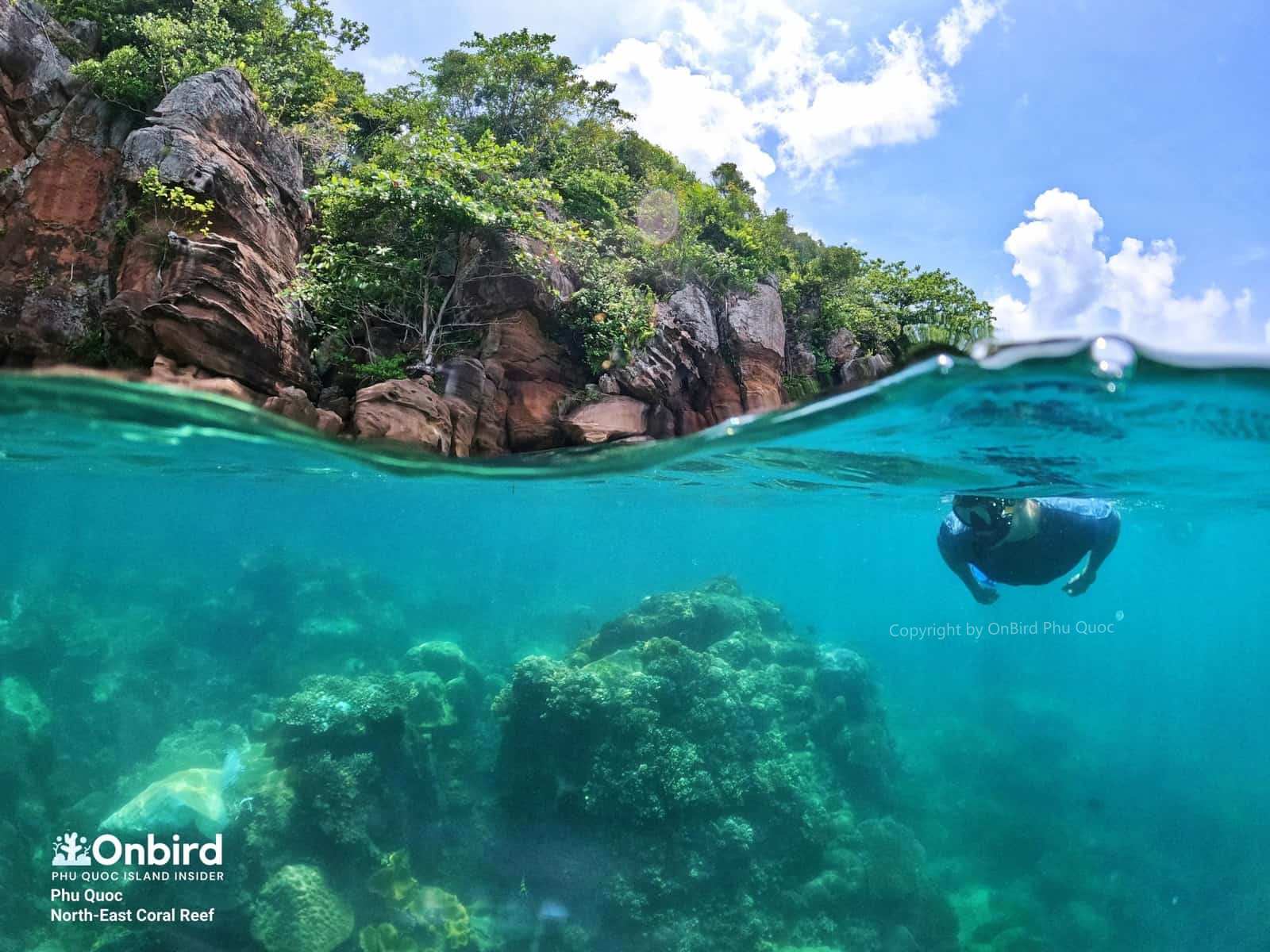 3. THE SAFE TIME TO EXPLORE THE PHU QUOC NORTHEAST CORAL REEF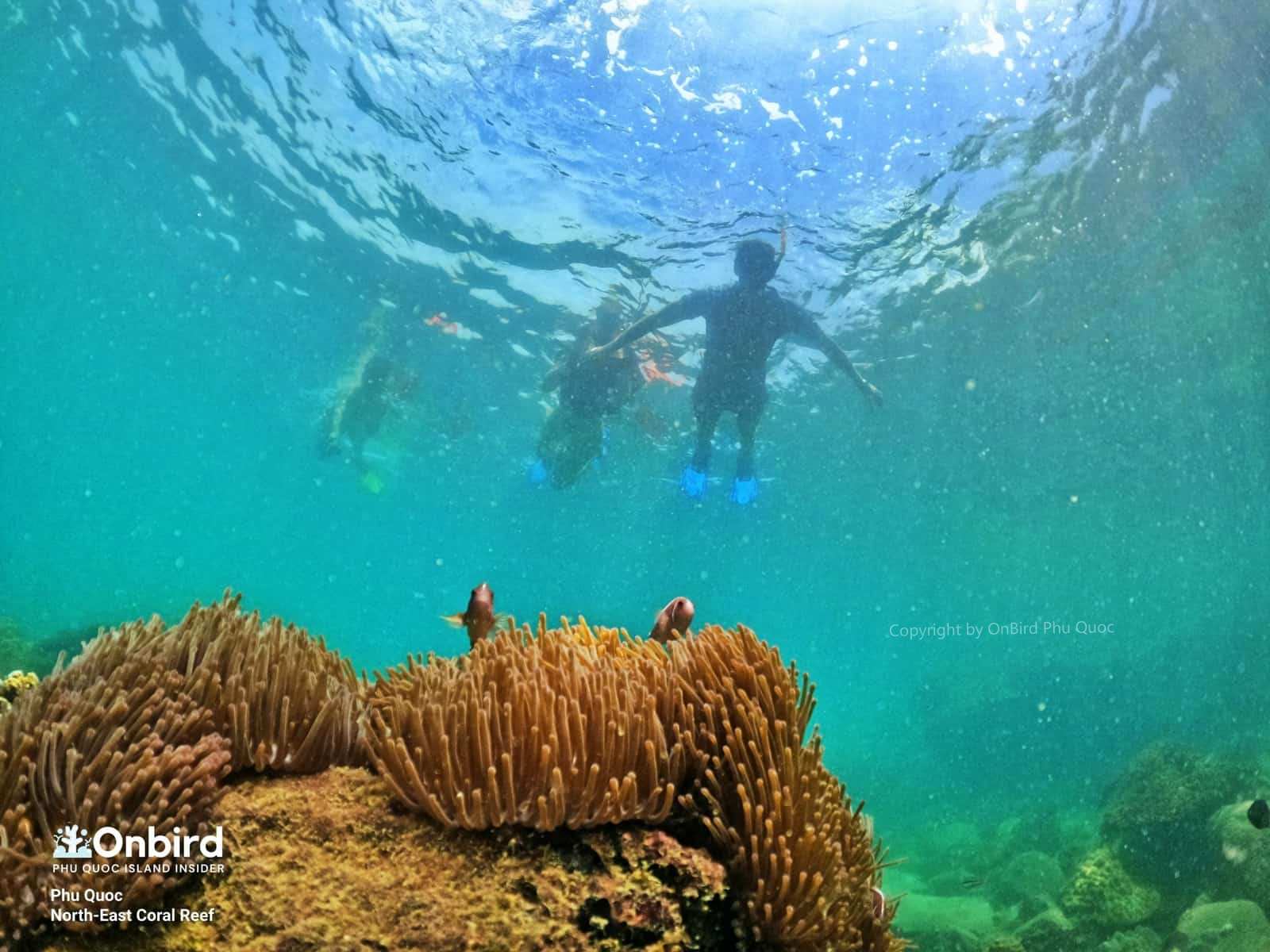 OnBird-designed explorations of Phu Quoc Coral reefs based on water conditions and safety factors thereby the journeys to discover the Northeast reef are only given prioritized during the summer time in Phu Quoc (from the end of May to October) in when the water at Northeast Coral Reef is safe and calm to reach and explore instead of the dry season (November to April), but we always check all time if there is any chance to explore the North-east coral reef in the dry season to offer guests the best experiences. At the time of changing seasons (October to November and mid-January) is also the time when the water conditions are very nice to visit the Northeast reef. How do we know what the water conditions will be and which reef would be the best choice during a particular time of year? Please read how OnBird built our knowledge of the waters around Phu Quoc Island. Please read how OnBird builds our knowledges about waters around Phu Quoc Island and the big differences between the organized-snorkeling experience and amateur snorkeling experience.
4. Guest experience recorded in the Phu Quoc North-east Coral Reef
Dive into the Kingdom of Anemone Gardens with Hong Kong and Poland couples
A footage of snorkeling and scuba-diving that we recorded in the Phu Quoc North-east Coral Reef and Coral Mountain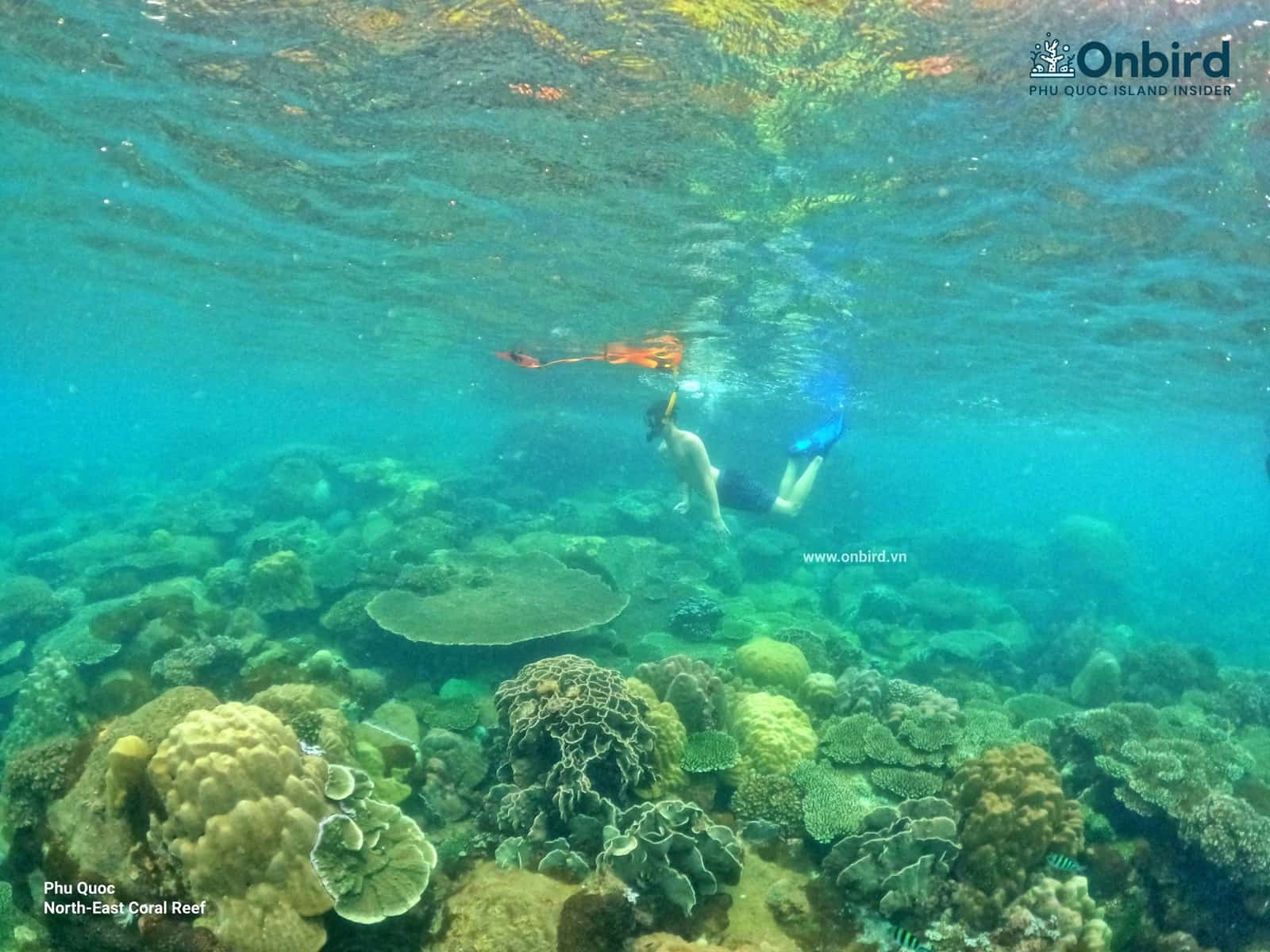 A group of guests from Ho Chi Minh City participated in the experience of snorkelling and scuba diving to explore the Northeast coral reefs and Coral Mountain, Phu Quoc, Vietnam in May 2022
KHÁM PHÁ THÀNH PHỐ SAN HÔ TẠI PHÚ QUỐC TRONG CHUYẾN LẶN BIỂN PHÚ QUỐC MÙA MƯA/ MÙA HÈ