Coral Hill is a huge Flowerpot coral (Goniopora) cluster located in South Phu Quoc Island which is the Phu Quoc's second largest flowerpot coral cluster that OnBird has ever observed. Flowerpot coral is known as Goniopora stokesi is ball shaped with very long tentacles, is a genus of colonial stony coral found in lagoons and turbid water conditions. Flowerpot corals have numerous daisy-like polyps that extend outward from the base, each tipped with 24 stinging tentacles which surrounds a mouth.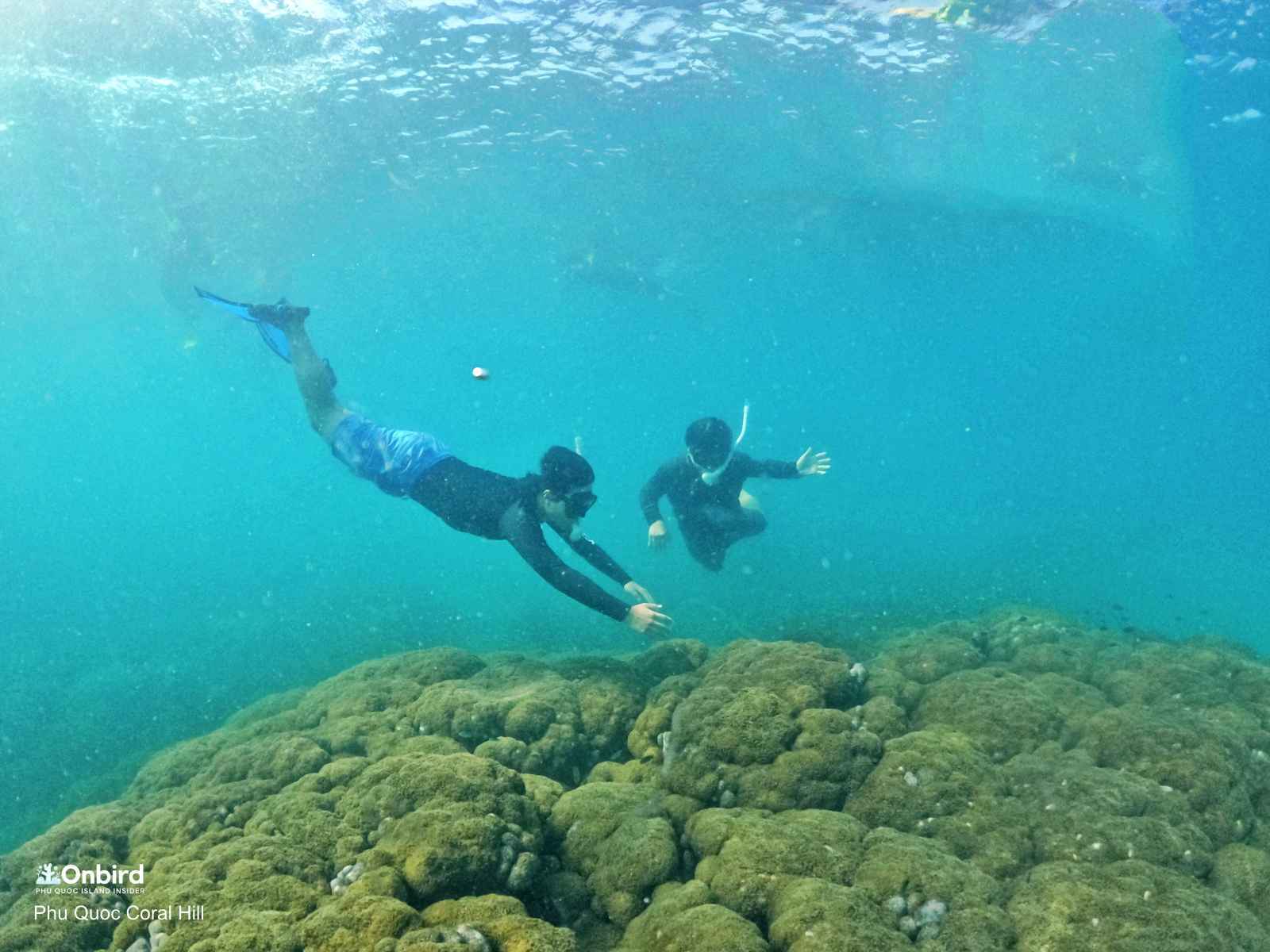 The flowerpot coral cluster we have found, has been growing into a huge size with a hill-like outward appearance. We estimate that the area of this flowerpot coral cluster is around 40 – 45 sq meter which is much more smaller than the Coral Mountain (the largest cactus coral colony in Phu Quoc). Depth ranges to explore the Coral Hill is 3 – 6m, very ideal depth to try skindiving.
The health condition of the Coral Hill is still very good, almost intact as we just found a few small damages on the cluster. The Coral Hill is home to school of small fish when the ocean currents getting strong as we have observed a lot of baby blue fish take shelter there and creating a magnificent of the coral cluster.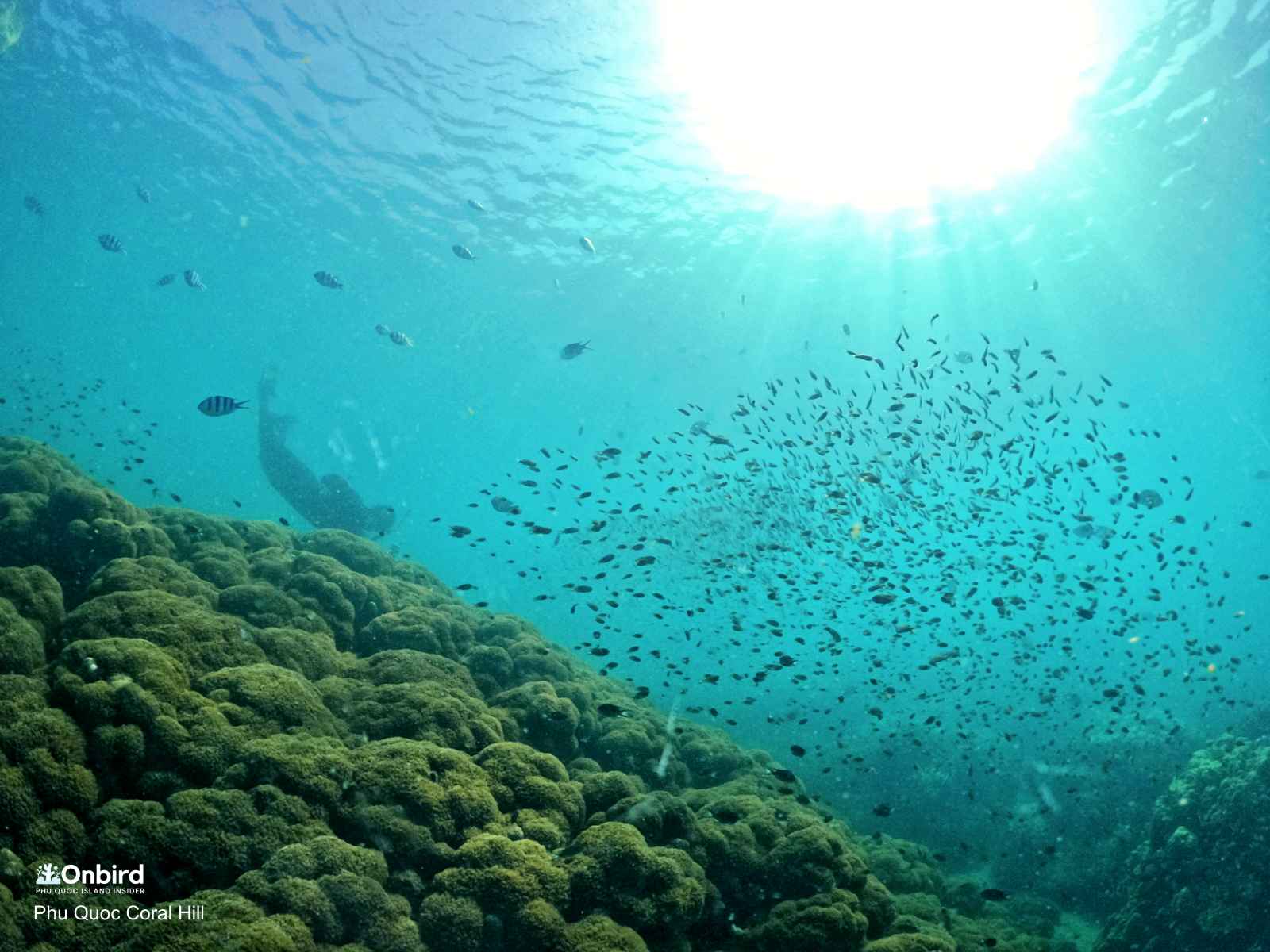 From the water surface is difficult to admire all the beauty of the Coral Hill, but you will need to do skindiving or free-diving to dive around the Coral Hill and record it's beauty. The Coral Hill is special with it's huge size, which is very rare to be seen at any coral reefs when doing snorkeling and diving as flowerpot coral appreciate moderate lighting and low to medium flow.
A video about flowerpot coral in recorded by OnBird team in Phu Quoc Island, Vietnam
Read more about Onbird's top spots for seeing corals in Phu Quoc Island, Vietnam (OnBird has been building our data on coral in Phu Quoc)
Join our soft-adventure & premium snorkeling excursion with small-group (which is limited to 8-9 Adults in Maximum) to explore hidden & alive coral spots in South Phu Quoc Island, Vietnam
A GREAT DIVING SITE FOR NON-LICENSED DIVERS IN PHU QUOC
With an ideal depth range of 3 – 6m, nice-looking coral spot, Coral Hill is one of the best diving site for try-dive excursion (dedicated to non-licensed divers) if you are looking for the scuba diving option at good coral spot but do not have diving licensed yet. Descending down and dive around the Coral Hill and coral colonies nearby will be absolutely an unforgetable memory for non-licensed divers
[JOIN-IN] TRY SCUBA DIVING IN SOUTH PHU QUOC ISLAND (FOR NON-LICENSED DIVER)