Phu Quoc island has dozens of charming beaches and this comprehensive guide to 16 popular beaches has been updated in February 2023 with some of OnBird's perspectives.
Pearl island has seen upgraded infrastructures including road networks opening access to more beaches in recent years. Meanwhile, the south and west coasts of Phu Quoc island are strikingly developed and in the midst of major construction of resorts; its north & east coasts are still untouched and relatively worth exploring.
The 16 beaches below are listed in topographical order from North down to South, Phu Quoc Island.
---
1. Thom Beach (Bãi Thơm)
Rating: 3 star
This is the largest remaining beach in Phu Quoc that has not been developed as a hotel or resort. This place possesses the wild and idyllic beauty of the countryside. It is not a beach where you can swim, but a place where you can sit down and quietly enjoy the sea view. The beach has a rougher mangrove coast away from any hustle or bustle. Come here not for a beach chill but for capturing photos of fishermen's life. Also, starting just south of Bai Thom, the East Coast Road runs for 30km to Ham Ninh.
Near the beginning of the northern section, Hon Mot is a small, green islet that can be reached via a wooden plank causeway over the sea from the pretty beach at Quán Hòn Một.  
2. Cay Sao Beach (Untouched Part of Phu Quoc) 
Rating: 3.5 star
For those who want to rediscover the idyllic beauty of the old Phu Quoc island, Bai Cay Sao is one of the top choices, although the beach is not so ideal. The East coast of Phu Quoc is still considered undeveloped, the water on the side is not too clean especially in the high time tourism season (dry season: Oct – April) the area is under influence of Northeast monsoon, thereby the sea gets wavy and blurry.  
But the beach is still attractive as the whole area is surrounded by the mountain and forest which is difficult to find now in Phu Quoc. You find no public beach here, but small clubs such as Rory Bar, Sailing Club, come for a chill but not for the a beach swim.
---
NORTH PHU QUOC
3. Rach Tram Beach (Rạch Tràm)
 Another wild beach located in Rach Tram commune, an untouched part in the Northernmost part of Phu Quoc Island. By far the most remote and least visited of all the beaches and bays on Phu Quoc Island, Rach Tram is nonetheless one of the most serene, scenically located, almost no tourist, far from the center, no restaurant, no tourism-related service. As such, you can go exploring the local life of Phu Quoc Island. The beach is much cleaner without the appearance of hotels, resorts, or restaurants.
It's well worth visiting Rach Tram, because if you do you can walk for miles along sublime empty beach – it's a wonderful feeling. There's no accommodation here at the moment, but there are plans afoot. Also, you can camp if you have your own equipment.  
No doubt, Dragon Beach or Ham Rong Beach is the most beautiful untouched beach left in Phu Quoc, the beach had not been known widely by tourists until 2021. We even had posts and videos about the beach a long time ago. You just need to stroll along the beach near 1 km up North from Starfish Beach (Rach Vem beach) to reach
Dragon Beach (Ham Rong).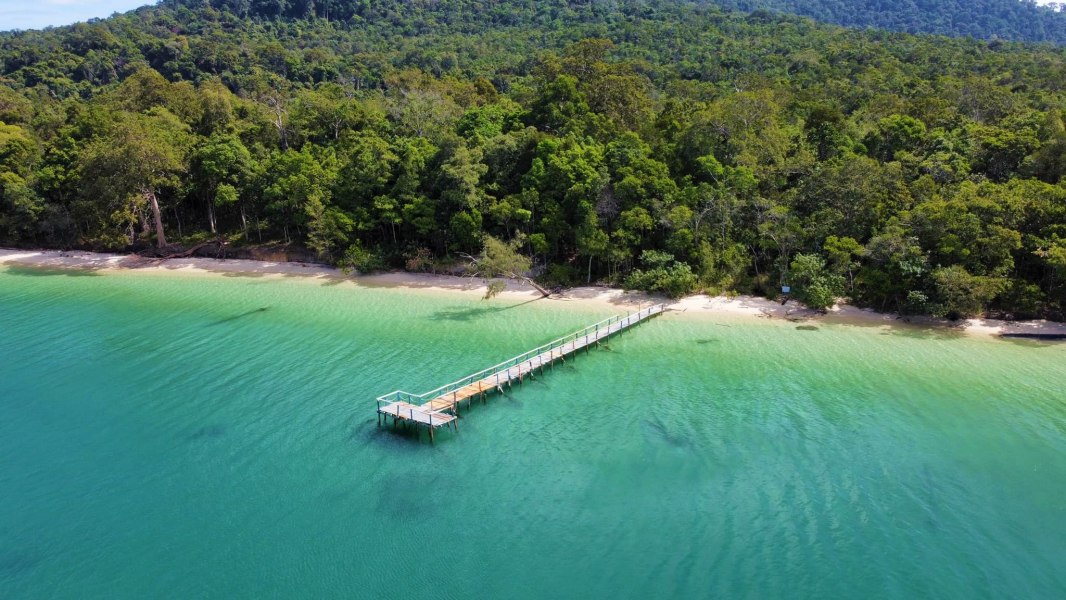 Completely surrounded by dense forest, thin-white sand resembles Sao Beach, clean and shallow water with the appearance of a lot of starfish. An ideal place for camping overnight, catching fish and sea-urchin nearby.   
Many people are confused about the kingdom of Starfish in Phu Quoc, we can make sure that: Ham Rong is an authentic kingdom of Starfish, much more beautiful than Rach Vem which has been known as Starfish Beach for a long time. Dragon Beach and Phu Quoc Northern Bay is the best camping site on the island.
5. Rach Vem Beach or Starfish Beach
Known as a famous beach to domestic tourists, Rach Vem has become a popular short trip thanks to its abundance of floating fish farms and the hundreds of starfish. It's praised as Starfish Kingdom.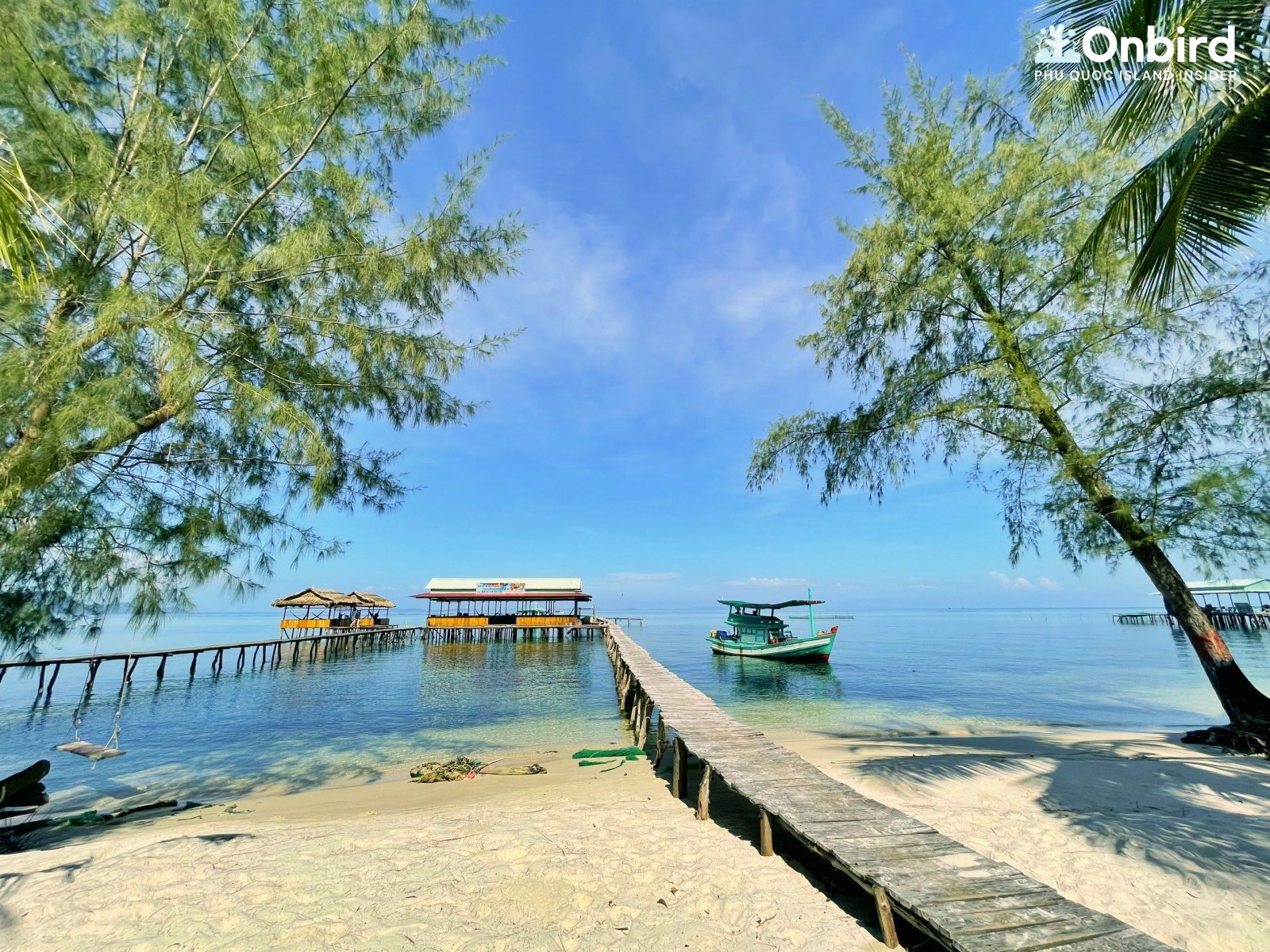 The water is too shallow to swim, surrounded by sea-food restaurant, fishing village and estuary nearby making the beach is dirty with black sand in the water due to the lack of seabed-cleaning creatures, you find some starfish here but not as many as at Dragon Beach (Ham Rong Beach). At present, there's nowhere to stay on Starfish Beach.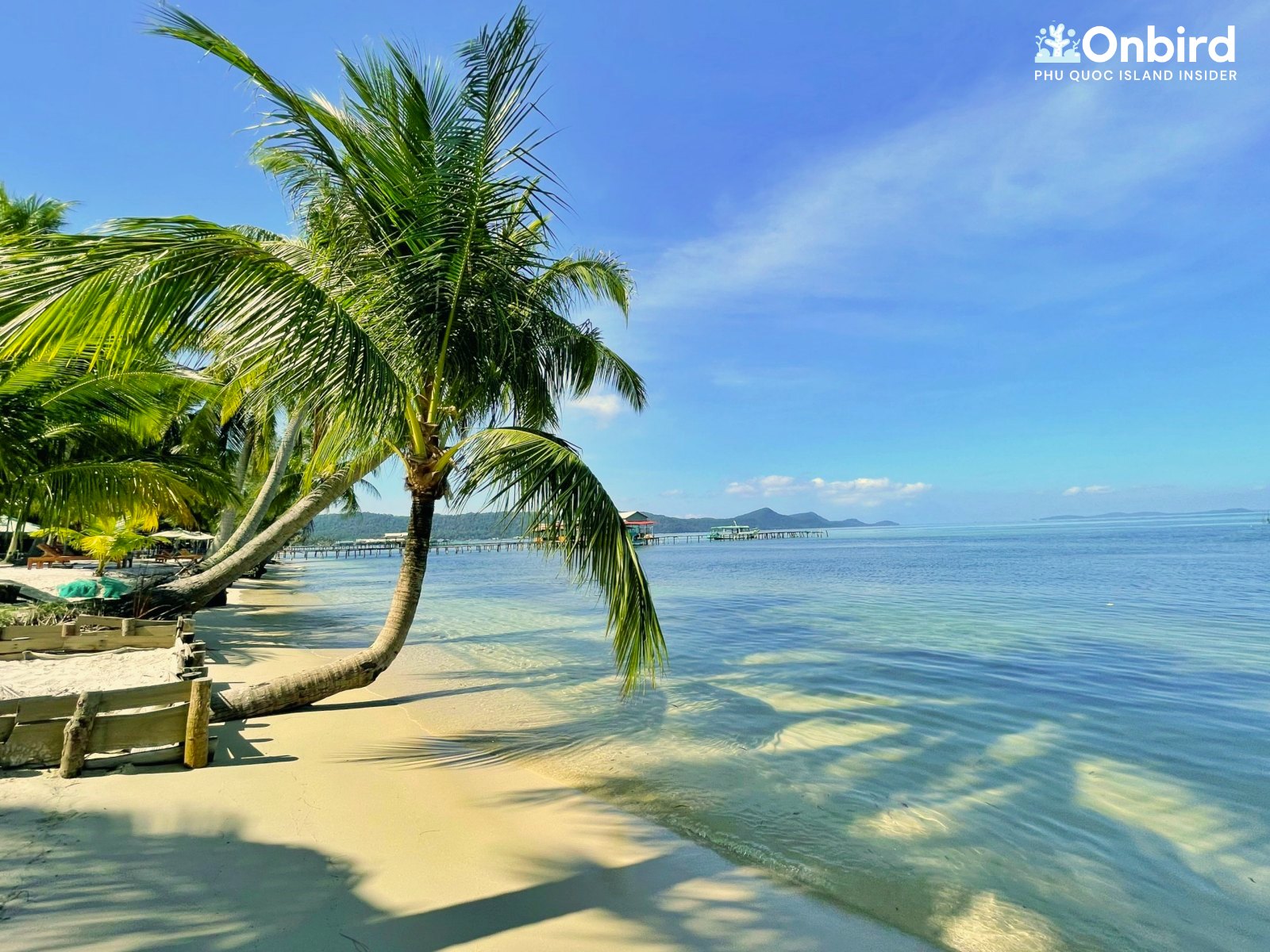 6. Ganh Dau Beach (Gành Dầu)
On the remote northwestern tip of the island, Ganh Dau Beach is a wonderful little corner of flour-white sand fringed by palm trees, and bounded to the east by high, densely jungled ridges. Reached via a paved lane leading east from the lively fishing village of the same name, Ganh Dau Beach is sheltered and shaded, the water calm and shallow with a cluster of wooden fishing boats moored offshore, and the Cambodian islands lying only a few kilometres in the distance, their blue silhouettes sitting on the horizon like humpback whales.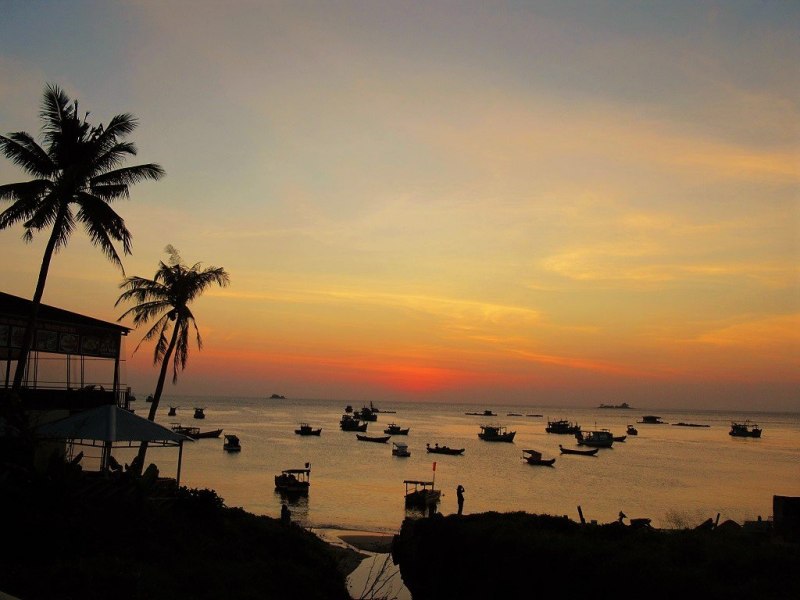 Down by the beach, it's very quiet, and there's none of the mega resort construction here that plagues so much of the rest of the west coast of Phu Quoc. The presence of Ganh Dau town adds another dimension to staying here, because it means you can easily access local life (and food).  
---
NORTH-WEST PHU QUOC
7. Bai Dai Beach or Casuarina Beach

Update 2023: The pristine state of the long beach area is no longer available, now it is under a construction for a massive real estate project. The row of poplar trees has now been completely replaced by the investor with coconut trees.
A beautiful beach surrounded by Casuarina Tree, wild beauty and clean water, however in December the water will get blur. Come and enjoy the green water in a completely peaceful atmosphere. There is a small family-restaurant here for you to take food, there are some hubs to relax with hammock. A rock cape nearby you could see big trees.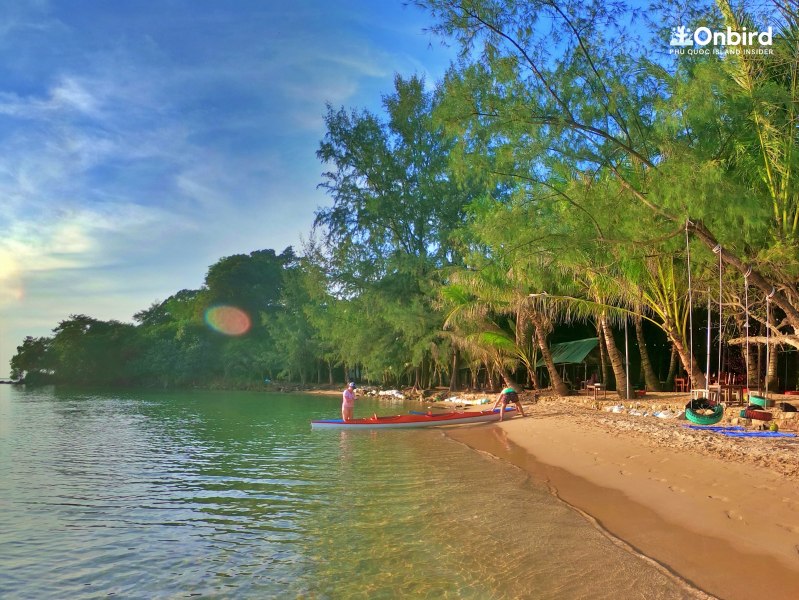 To enter the
Casuarina beach
you need to go through Nam Nghi Resort. Hundreds, probably thousands, of old-growth tropical trees were felled to make way for Vinpearl – a mega-resort complex, including theme parks, waterparks, casinos, golf courses, safaris, enormous hotels, and  luxurious villas for a majority of domestic tourists. 

8. Vung Bau Beach or Half-moon Beach (Vũng Bầu)
Rating: 4.5 star
Located in a small bay named Vung Bau in the north-west coast of Phu Quoc island,
Vung Bau or Half-moon beach
is one of the most alluring beaches on the island with its jade and calm water during the dry season.
The beach is now seeing major resort development, particularly at the centre of the bay, where the luxurious, all-inclusive
Fusion Resort Phu Quoc
has recently opened, and at the north, where the classy Nam Nghi Resort is now operating.
Coming here, you will hardly meet the crowds of tourists. 
The Vung Bau (Half-moon beach) beach is home to many small family-run resorts. Especially in the afternoon, it would be a wonderful memory to watch the charming sunset at Half-moon Beach (Vung Bau) after a
fantastic kayaking journey
discovering Half-moon Bay. From March the water will get wavy some time. Along the beach there are many Casuarina trees.
9. Cua Can Beach (Cửa Cạn)
Cua Can is a little settlement, in the north-west of the island, at the point where a clear-flowing river meets the sea.  The beach is located in Cua Can commune, 3km from Vung Bau Beach, the beach is nice but empty. 
Cua Can village
and beach is a mellow, pretty, and slow-paced part of the island to spend a couple of days, and tourist development here is mercifully light.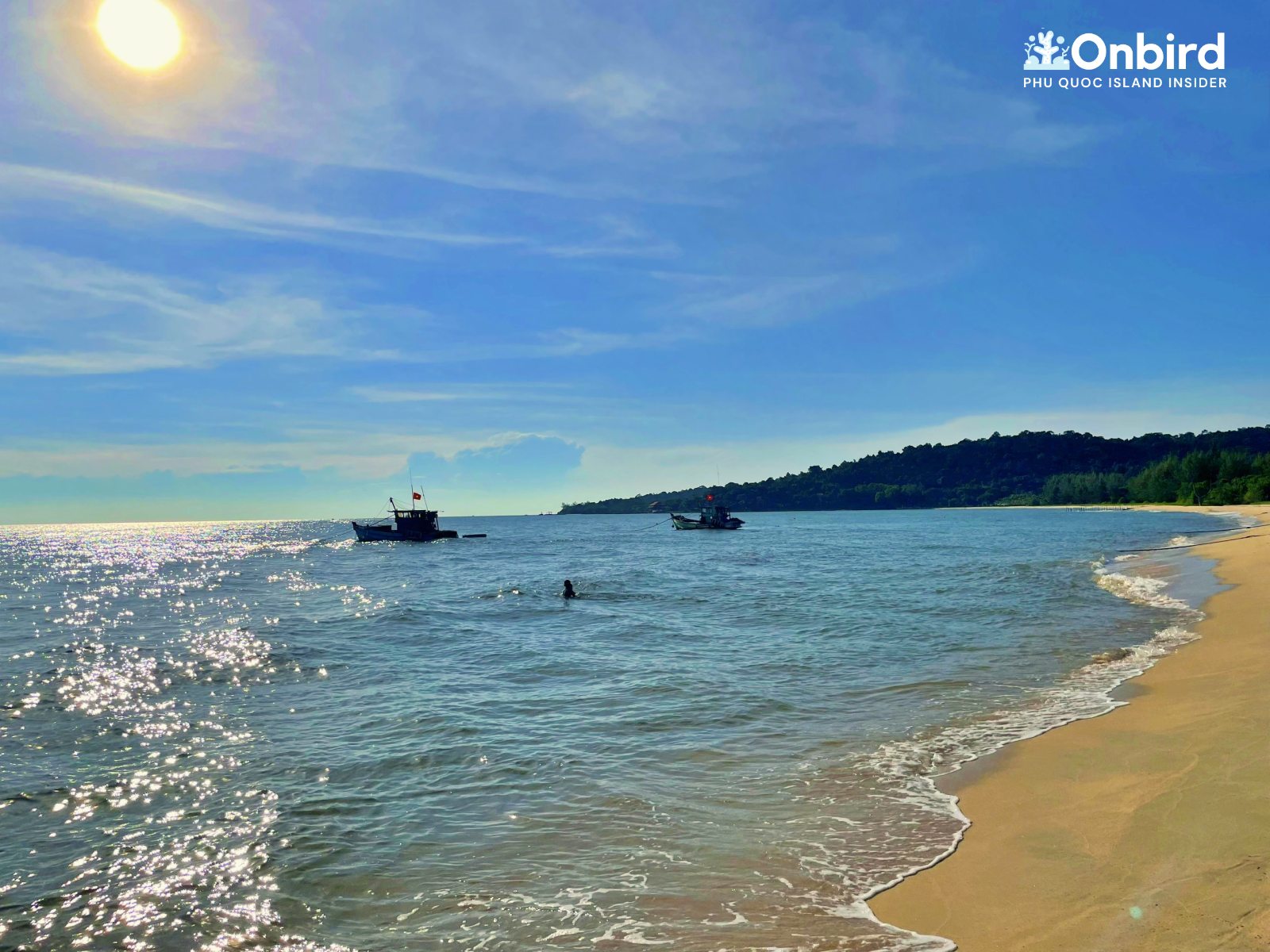 Walking along the beach you don't find Casuarina or Coconut trees.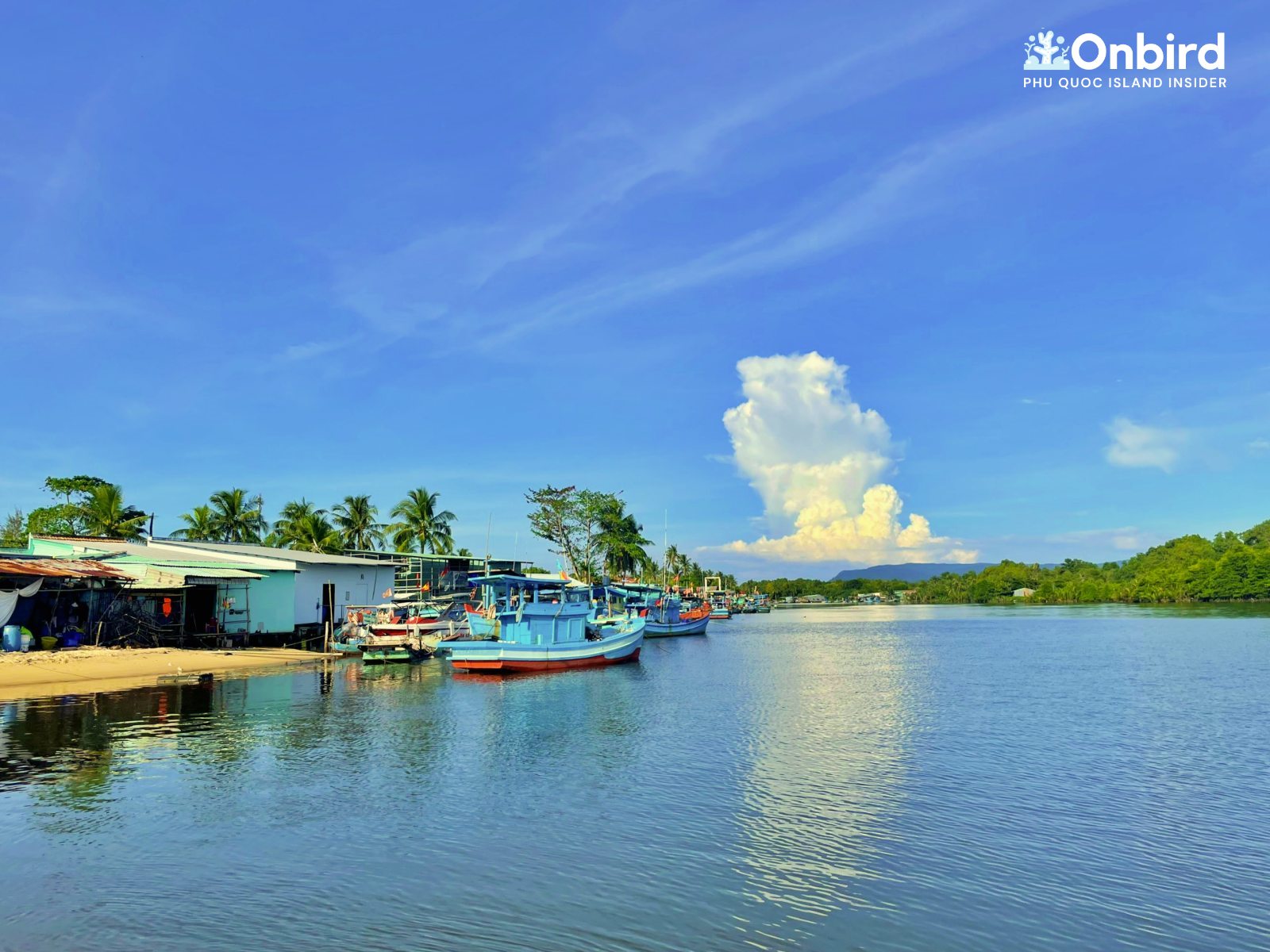 As it drains into the Gulf of Thailand, the river creates a long, arcing sandbar lined with casuarina trees, with the choppy sea on one side and the placid river on the other.  
10. Ong Lang Beach (Ông Lang)
Rating: 4 star
One of the most visited beaches in Phu Quoc Island, just 8 km from Duong Dong, located in Ong Lang which is praised as a tourism village in Phu Quoc. Some might feel  it like Thao Dien (a suburb of expats in Saigon) by the sea. Ong Lang Beach is a long stretch of lovely, sandy bays punctuated by slabs of black, volcanic rock, on the central north-west coast.
The beach is beautiful with trees surrounded but also crowded sometimes as the public area of
Ong Lang Beach
is small. A network of narrow paved lanes and  alleyways featuring boutique resorts in all price ranges, hipster cafes & bars, and Western restaurants also. However, unlike other popular beaches on the island, most of the development here has been low-rise and, occasionally, low-impact.  
---
SOUTH-WEST PHU QUOC
11. Duong Dong Harbour Beach (Dương Đông)
Walking down from Tran Hung Dao street (main street of Duong Dong Down), you'll see Duong Dong Harbour and the beach nearby.
For those choosing to stay in one of hotels along Tran Hung Dao Str., namely Salinda Phu Quoc, Cassia Cottage, Laveranda resort or nearby hotels, it's fairly good to have a swim and enjoy great sunset on the part of Duong Dong beach.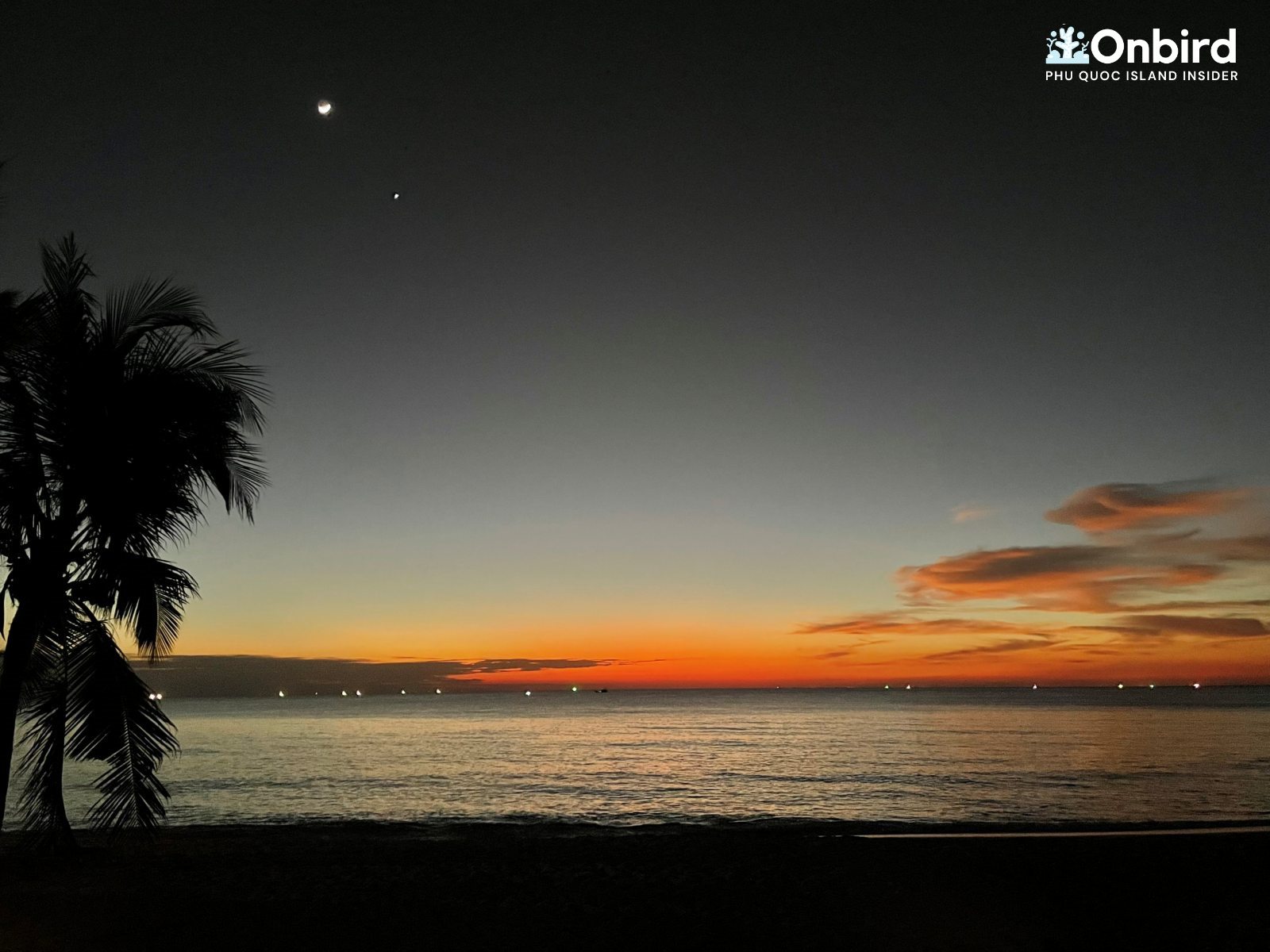 Duong Dong beach is basically a spit of sand immediately south of Dinh Cau Temple, a small shrine to the sea goddess atop a rocky outcrop at the harbor's entrance. The beach is long with yellow sand and green water.
However, when you walk until the parts nearby Dinh Cau area, along the beach you will see some big sewage drains covered under the sand.  It is surrounded by resorts & min-hotels. The water is not really clean, not only by trash from those accommodations but many people discard their empty plastic food containers in the sea or leave them on the sand.  
12. Shri Beach
Rating: 3.5 star
A nice beach next to Ngoc Hien Pearl farm on the way from the Phu Quoc Airport to Duong Dong town. A nice place for either relaxing and working.
Here the Club usually hosts DJ parties or private meetings upon requests from late afternoon till night.
Sunset Sanato Beach is currently the most famous beach in Phu Quoc in terms of check-in or instagrammable destinations.

The beach is home to the International Music Festival – Epizode which takes place every year on the last 11 days of December.
The beach club organizes musical shows every afternoon with sexy girls and Elephant show….
Sunset Sanato Beach is not a free beach, pay an entrance fee of 100,000 VND, many check-in addicted tourists come here for beautiful photos then quite crowded in the afternoon, especially in the sunset, you have to take queue to take photos.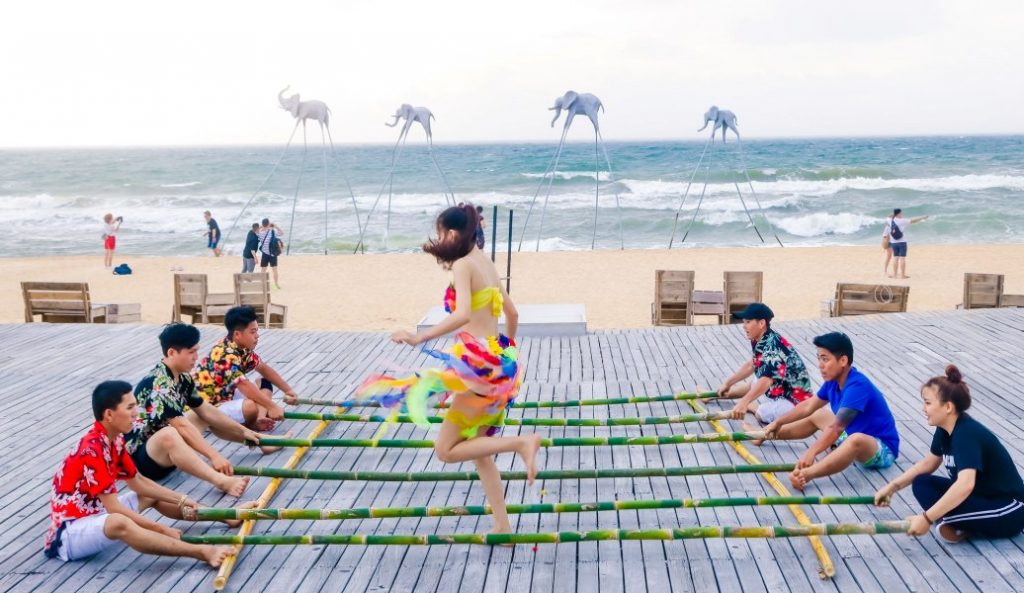 14. Three Tree Beach – Sailing Club Phu Quoc
You find guys of entertainment here, located next to
Intercontinental Phu Quoc
and Sailing Club, a nice place for those who like western style. You could play SUP, drink at the Sailing Club, Sailing Club but there is not any Sailboat yet.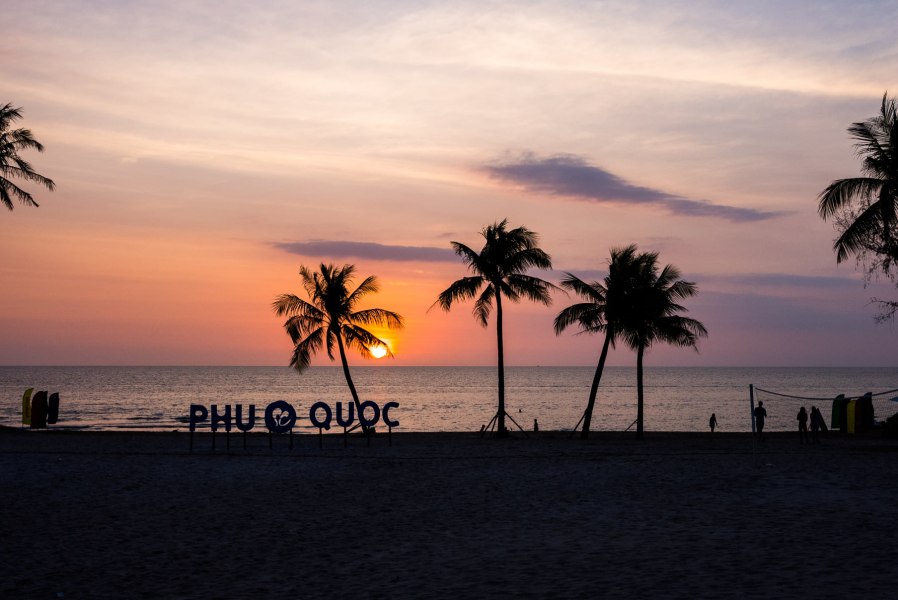 Even the beach is not really nice, we can also sometimes find sea stars here.
---
SOUTH-EAST PHU QUOC
15. Sao Beach (Bãi Sao)
Known as the most beautiful beach in Phu Quoc Island several years ago, Sao Beach is increasingly attracting more tourists. It has led to haphazard, temporary construction of small resorts, bars, cafés, and restaurants.  It's famous for arcing palm trees, snow-white sand, and distinctive butane-blue water.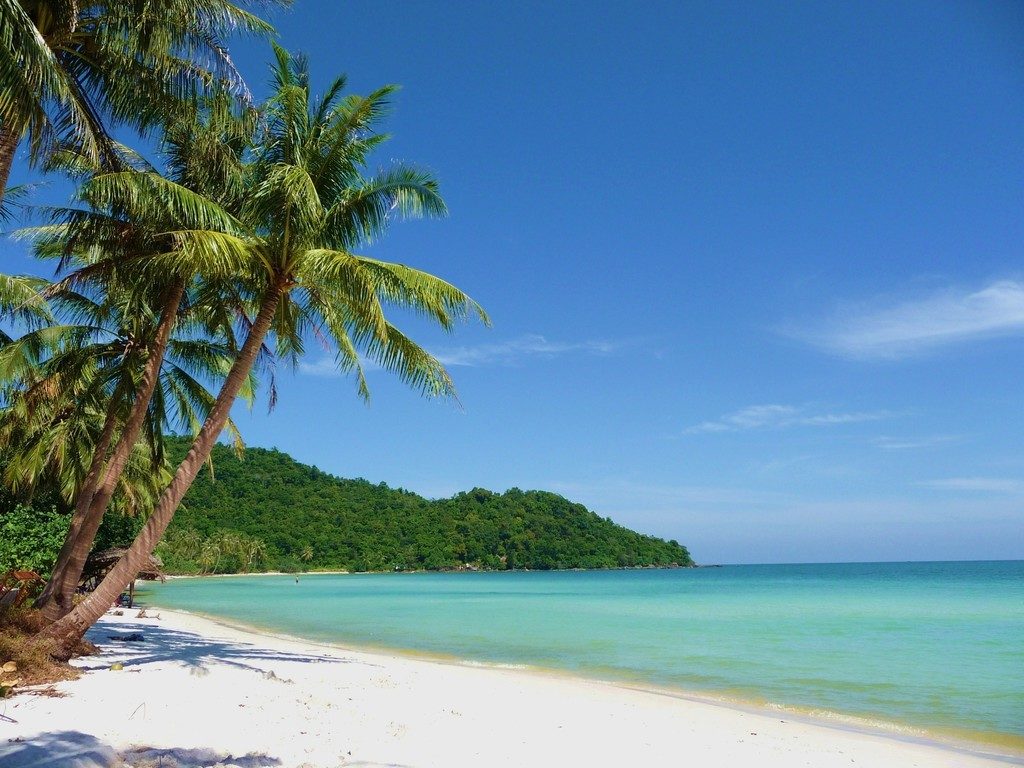 And its most beautiful part is the Paradiso Restaurant area as the restaurant is limited to the number of daily visitors. It's still worth coming to Sao Beach for a swim, a stroll along the attractive sandy bay, a seafood lunch in this area.
Besides, here tourists find interesting water sports like jet skis, sup and kite surfing,…  
16. Kem Beach or Khem Beach (Bãi Kem/ Bãi Khem)
The whole beach is now developed into big resorts' private beaches (
New World Phu Quoc
, JW.Marriott, Premier Residence,
Premier Village
). You no longer find the idyllic or natural beauty of Kem Beach in the past.
At some time, in between restricted access due to military control and the development of the absurdly 'fairy-tale' luxury resort of
JW Marriott Emerald Bay,
there was a brief period – probably less than a year – when the snow-white sands of Kem Beach were accessible to the public. But that time has pretty much gone now.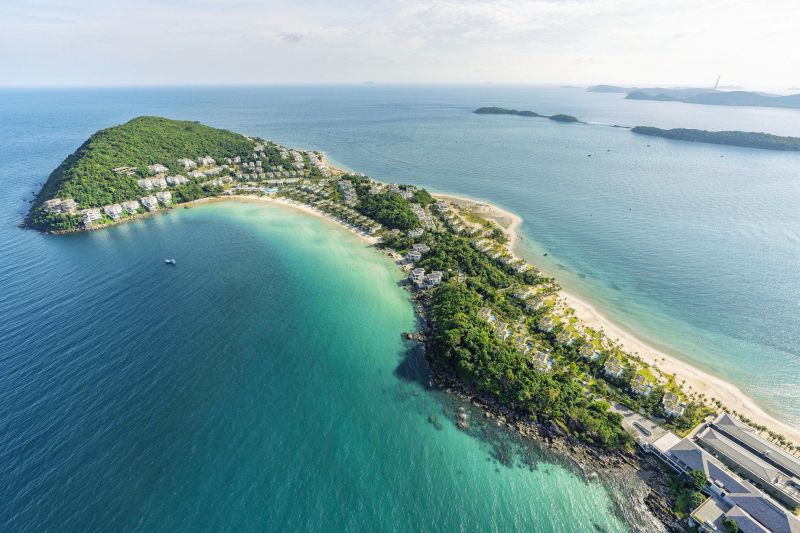 The central and southern portions of the bay are taken up entirely by the Premier Residences and the Marriott Emerald Bay – a really strange luxury concept resort based around the idea of a fictional university; and the rest of the beach is an enormous construction site for yet more high-end resorts.  
DISCOVER MORE INTERESTING THINGS IN PHU QUOC ISLAND, check out here!
Follow OnBird on Facebook or Instagram to get updated on useful information about Phu Quoc island guide.
SAVE PHU QUOC CORALS 
Sustainable travel to protect the sea water and habitat of the coral reefs in Phu Quoc
https://onbird.vn/category/phu-quoc-island-explorer/save-phu-quoc/