Comprehensive Beach Guides in Phu Quoc Island updated annually here (Latest updated in SEP 2021).
HOW TO GET TO VUNG BAU (HALF-MOON BEACH) 
Located in a secluded bay surrounded by tropical rain-forest, Vung Bau beach is known as "Half-moon Beach" (called Circling Beach on a handful of websites as well). The beach is right in the Northwest of Phu Quoc island which faces to the West side. Thereby here is a tranquil sea area during Dry season. Coming to the beach, you will be able to find kind of pristine of Phu Quoc through rows of whispering casuarina trees or the undeveloped sands of the beach.
These are kind of last vestiges that remind you of what most of Phu Quoc's western shore was once like before massive developments began in earnest.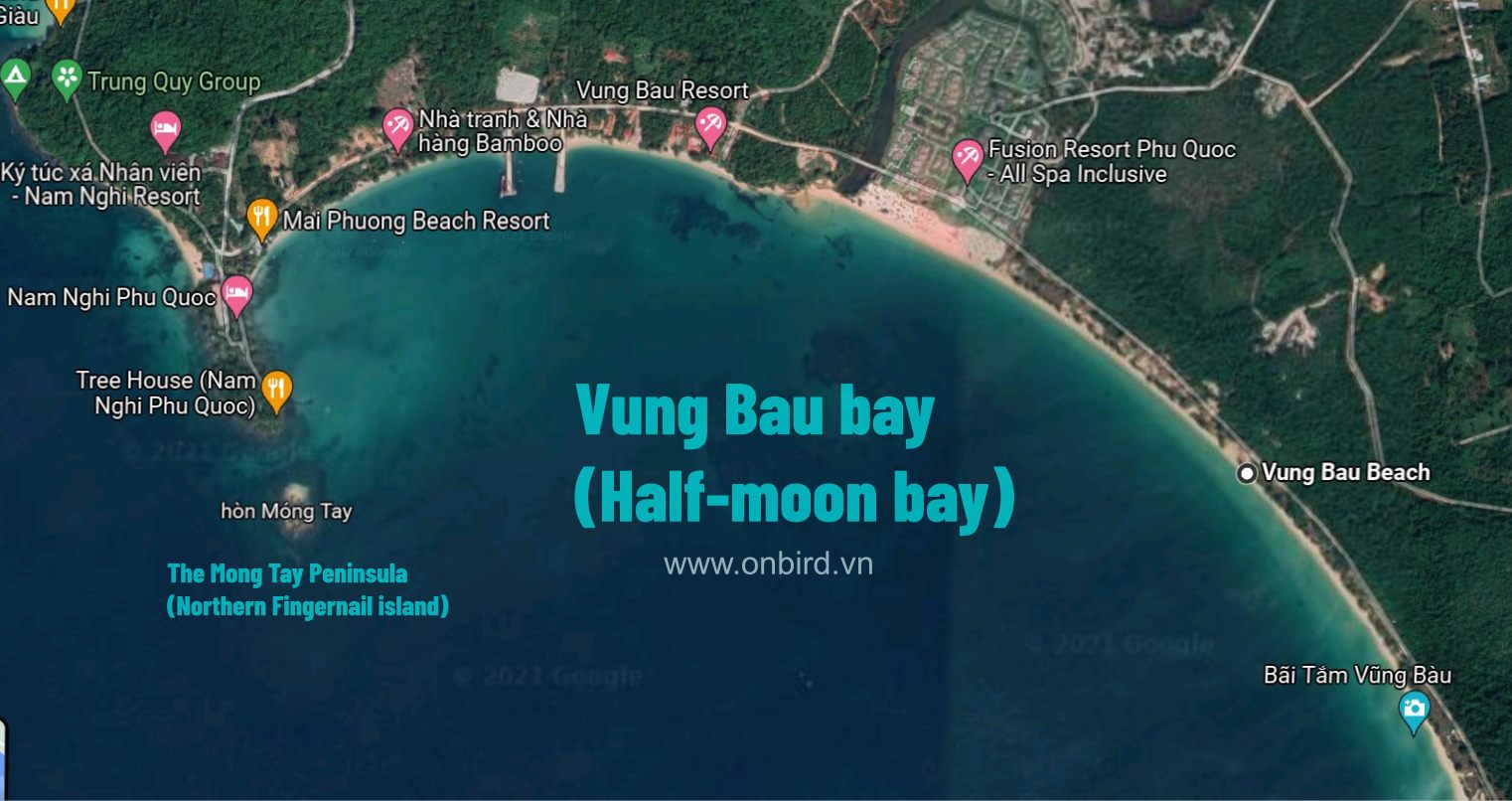 In order to reach the Half-moon Beach, you have 2 ways by going through the forest: 
Number 1: A new paved lane, leading direct from the main road (DT45) to Nam Nghi Phu Quoc resort
Number 2: Shorten but quite rough dirt lane before reaching Nam Nghi Resort.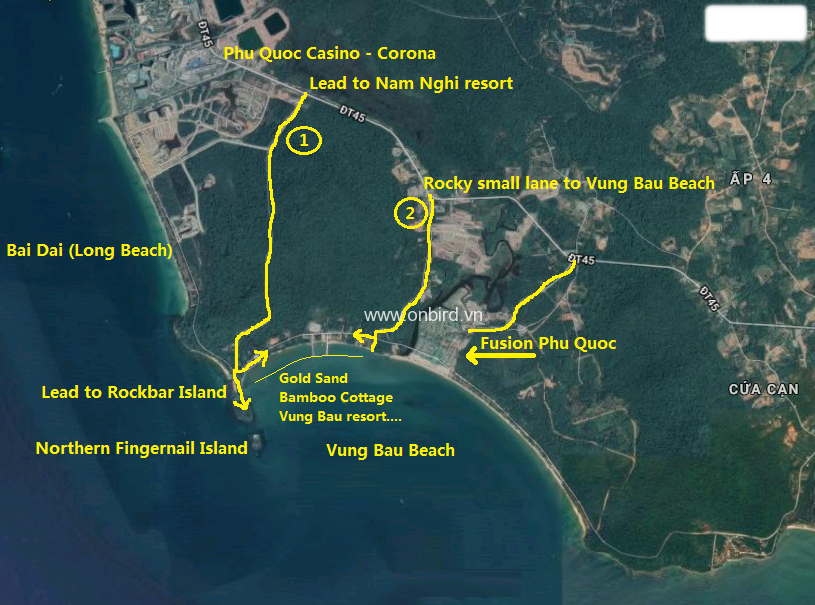 Now, get a little bit further into each way:
The first one (Number 1 in map above) leads to Nam Nghi resort which owns Rock Island Club on Northern Fingernail (Mong Tay) Island. Nam Nghi is a newly built and high-end resort  with its perfect views to Vung Bau Bay. Also, you might like to visit Rock bar Island which sits on a private islet just offshore, accessed by boat from the resort's pier.
The bar is open to non-guests and is good for a cocktail at sunset, but be prepared for high prices. otherwise they block the door entering into the resort however if you tell them that you want to visit Mai Phuong resort which is one of the investors of the joint lane then you can get Vung Bau beach – Half-moon Beach by this lane.
The second one (Number 2 in the map) is shorter but rocky and you'll following it till before the lane leading to Nam Nghi resort (Rock Island Club).  Accessing Vung Bau via this land is not recommended especially on the rainy days for first timers. However, it's much easier on sunny days. Although the dirt lane is quite in tough condition, this remains one of the nicest places to spend a few, isolated, tranquil days by the beach anywhere on Phu Quoc Island. Riding along the lane, you might see there are some small but tranquil resorts/ cottage here. 
Among small resorts here we suggest Vung Bau and Gold Sand resort which allow outside guests to visit and they also possess a beautiful sandy beach.   
EXOTIC THINGS TO DO IN VUNG BAU (HALF-MOON) BAY
1. For adventurous souls, sea kayaking till sunset is a must!
You can rent a kayak and contemplate your memorable period of time in Vung Bau Beach – Half-moon Beach. With a special coastline in the shape of the eclipse, Vung Bau Beach – Half-moon Beach of the afternoon is really like a surface of a lake during Dry season, it is the ideal condition for playing water games like kayaking with your lovers in order to admire the pristine beauty of the sunset and enjoy romantic atmosphere together, its something to do in Phu Quoc.
In comparison with Sao Beach or other beaches in Phu Quoc this is one of the most special ones, during Dry season it possesses clean water, it is sometimes sparkling water like the photo below taken at the Bamboo cottage one of many small resorts situated along with the coastline of almost 3 km.
2. Stay overnight and wake up with nature-filled surrounding
In coming here you have many options to stay in idyllic resorts such as Bamboo, Mai Phuong, Golden Sand, Vung Bau resort or convenient resorts such as Nam Nghi Phu Quoc Resort or Fusion Phu Quoc Resort.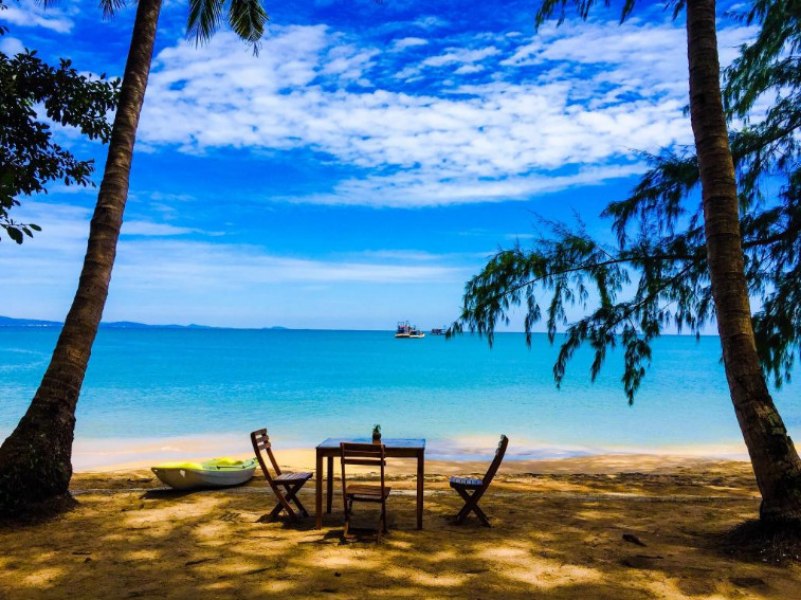 Besides that, with a special location far away from main towns that makes it isolated beach to which the silence as well as idyllic pertain.
Waking up early in the morning to admire or to take fresh air from the sea from a kind of countryside place, looking at the shade of Duong Dong town far away in the South to recognize that you are here and leave all anxiety in life behind to feel blissful.
As I told you earlier, Vung Bau is something last vestiges of Phu Quoc because at here, in walking along with the coastline you will see lines of whispering casuarina trees which that most of Phu Quoc's beaches possessed in the past.
Vung Bau Beach's wildlife system is various enough for visitors to meet all kinds of species.  In order to clearly observe their natural lives, make your effort to wake up from the early morning when the sky and the ocean acquire its most pure state, all living beings will slowly appear in the middle of anywhere and start making their daily livelihood.
And you might do nothing at sunset time.
Seafood is unquestionably what whoever comes to beaches will think of first. Vung Bau Beach is not an exception.  However, due to long-distance paths from centre, you'd better to have meals at your current accommodation since there's scarcely any restaurant nearby.
3. Discover the Northern Fingernail island (the Mong Tay peninsula)
Below is an aerial view of a part of Vung Bau beach from the Northern Fingernail Island where is the location of Phu Quoc Rock Island Club.
You can reach the small white sandy beach in the Northern Fingernail island by kayaking as we once did, which was truly extraordinary motion as if you will be exploring an isolated island – things to do in Phu Quoc.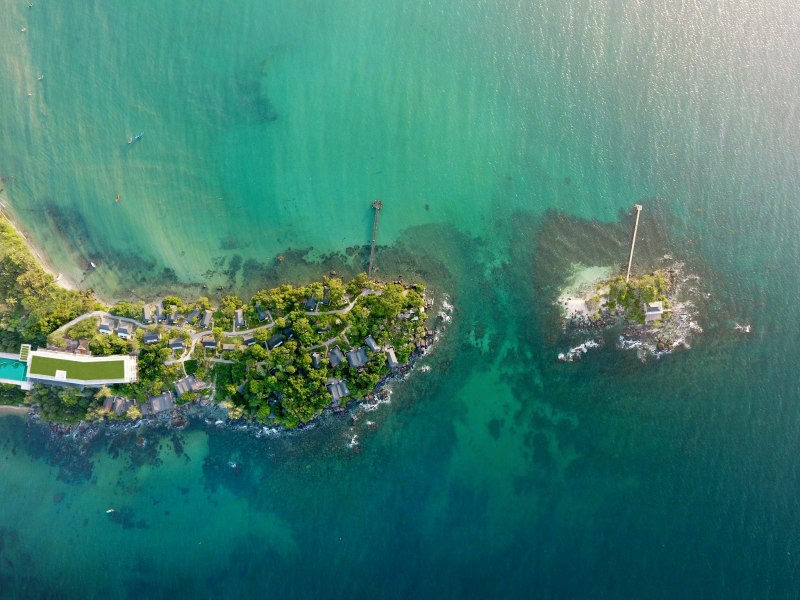 Possessing a strange beauty with the presence of  the Mong Tay peninsula at the front of a cape is something different from other beaches in Phu Quoc.
To take a closer look, below is a capture of the small sandy beach in Northern Fingernail sland.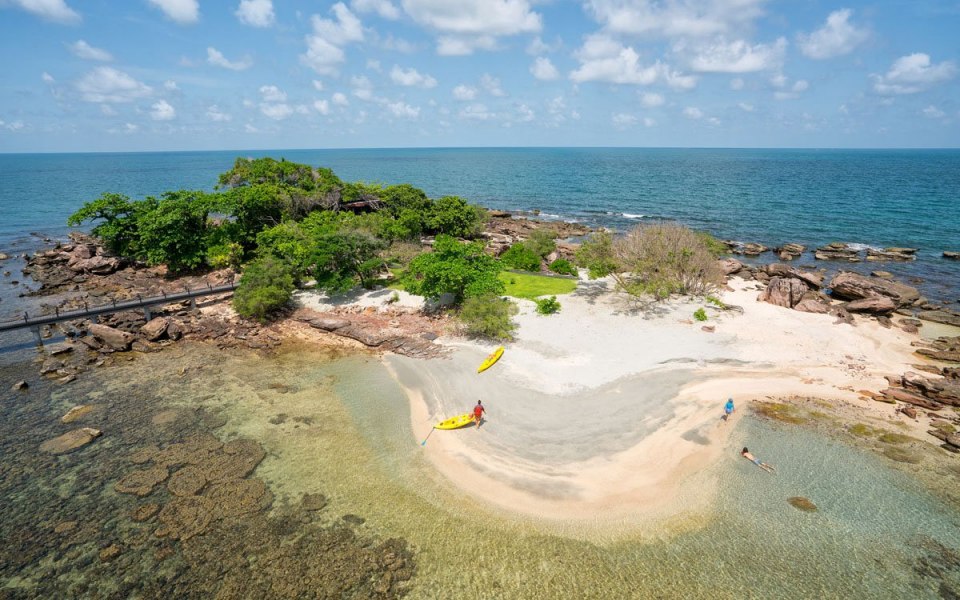 You can either discover the Northern Fingernail by kayaking with your accompany for the daytime or spend a perfect sunset till late night on the Rock Island Club.
4. Spend a sunset with your good company at Rock Island Club – Nam Nghi Resort
Spectacularly positioned just off the tip of the Mong Tay peninsula, Rock Island Club is a breakaway recreation. You definitely want to capture the charming moment with enchanting twilight and enjoy fun but kind of high cost entertainment here.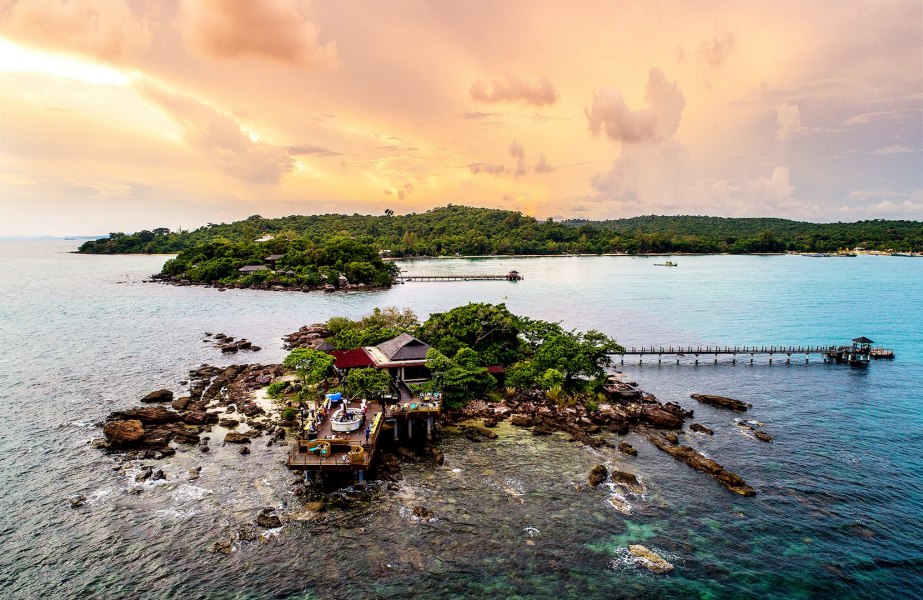 You will be transferred by speedboat without fee to Northern Fingernail Island if you enter Nam Nghi resort Phu Quoc and require them to take you to Rock bar. Drinks are provided at an acceptable price in comparison to provided services. 
As I feel just a few words are not enough to tell you all of the pristine beauty of Vung Bau beach especially Vung Bau beach of the afternoon.  Come soon before the area gets touristy. 
5. All in all, what's best recommendation for for the first timer?
We highly recommend you to have us pick you up at your hotel (where you stay in Duong Dong or in the Sourthern area), we then head for Vung Bau beach and take a 4-km kayaking along the Northwest coasline of Phu Quoc, passing by: 
Northern Fingernail island (the Mong Tay peninsula)
On the way paddling back, you are able to admire stunning sunset of Vung Bau Bay – the most magnificent moment of Phu Quoc island.
A seafood dinner by Vung Bau beach will be served after you come back to the harbor! What a great and well-spent day on Vung Bau bay that surely makes your memorable getaway!
KAYAK, SUNSET & SEAFOOD DINNER: A DREAM GETAWAY IN VUNG BAU BAY PHU QUOC
Follow OnBird on Facebook or Instagram to get updated on useful information about Phu Quoc island guide.