We know you all are greatly aware of environmental conservation and expect to travel more personalized and customised in smaller groups. Come to Phu Quoc Island and search for best things to do here, check out 7 amazing soft-adventure tours below to save a list into your travel bucket!
1. Private or Small- group snorkeling tours in Phu Quoc
Snorkeling is on top of the must-do experiences when in Phu Quoc Island. There are abundant coral reefs living around Phu Quoc Island that are worth exploring. Even though Phu Quoc is not a top-notch snorkeling area in Southeast Asia, here you are still able to discover a diversified marine ecosystem with the domination of Hard and Massive corals. Besides that, you can also find some soft coral species such as: Leather coral, Sinularia Levi coral…and big clumps of anemone.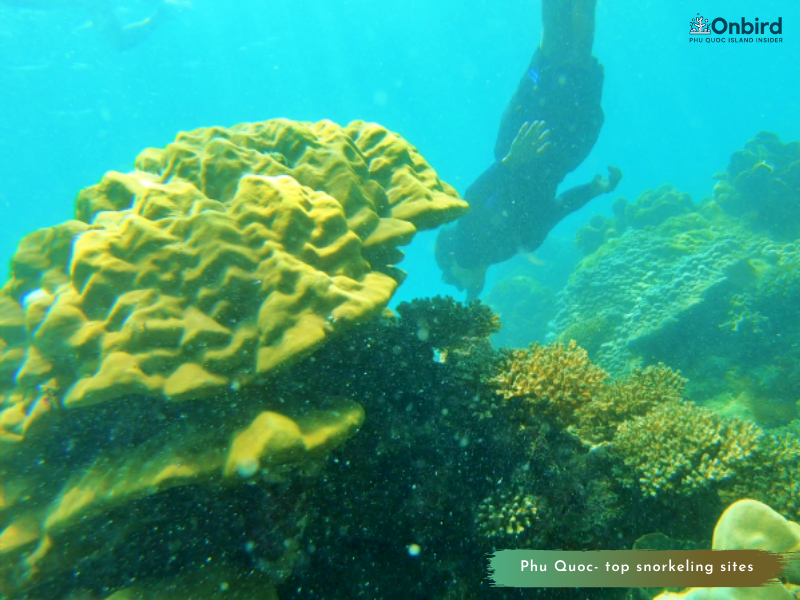 Some of top Phu Quoc Snorkeling Sites in South Phu Quoc:
Half-moon Reef (3-8m): visiting time: Dry season only,
Crystal Reef (1-3m): visiting time: any time.
U-Turn (1-12m): visiting time: any time (Oct – Nov; March – Jun)
Four-season reef (1-4m): visiting time: any time.
Shallow Reef (0.5 – 3m): visiting time: (Oct – Nov; March – Jun)
Make reference to our Distinct & Touristy-avoiding private snorkeling tour which avoids the crowds and take guests to hidden venues or a Small-group snorkeling tour with only 8 pax in maximum. Or Free-diving tour to explore Coral Reef in-depth, a genuinely amazing exploration and less-travelled route.
2. Scuba Diving Tours in Phu Quoc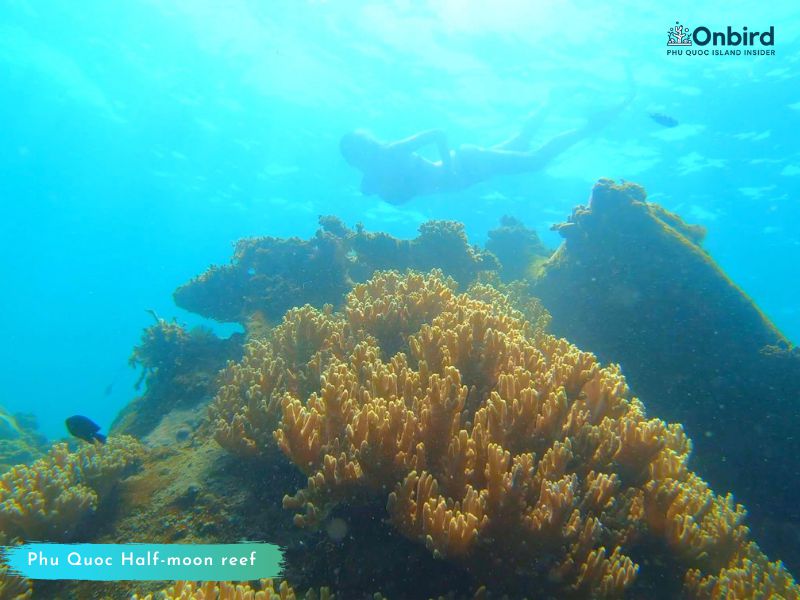 Scuba Diving is a kind of in-depth exploration of marine life, in Phu Quoc the average depths on Scuba Diving tours range from 4 – 12m, U-Turn reef and Half-moon Reef are the best sites for scuba diving tours in South Phu Quoc. There are many scuba diving shops that you could find along Tran Hung Dao Street, Duong Dong town, which are qualified under PADI and SSI standards.
3. Spearfishing tours in Phu Quoc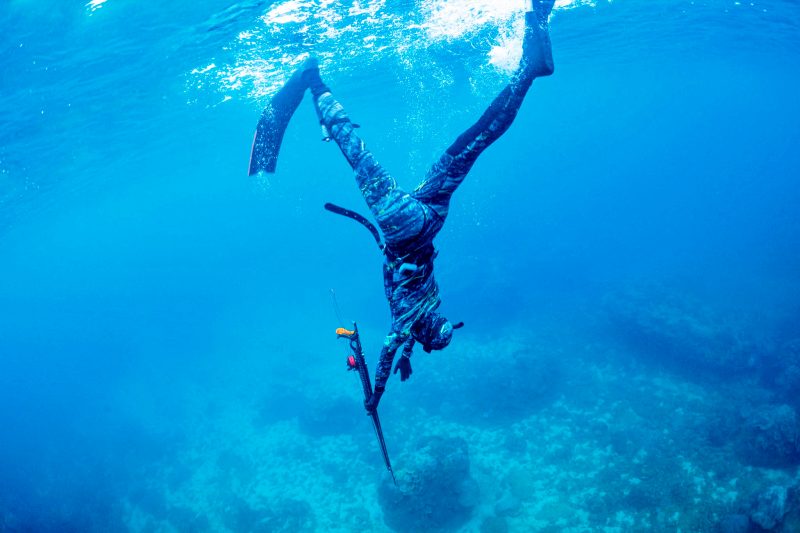 Spearfishing is a kind of adventure tour in Phu Quoc. You are cordially invited to go on a spearfishing/island adventure with the Savage Dragon and OnBird. Spearfishing is an ancient sport, but this time, we are doing it in a modern way. If your picture of spearfishing consists of a man in a speedo standing on a rock-throwing a spear into the water, well… it's time to update that image a little bit. A modern spearfisher hunt with a speargun is protected by a neoprene wetsuit against the environment of the seas and navigates the underwater depths using a pair of long freediving fins.
You can either come with us as Accompanied Guests or as Hunters.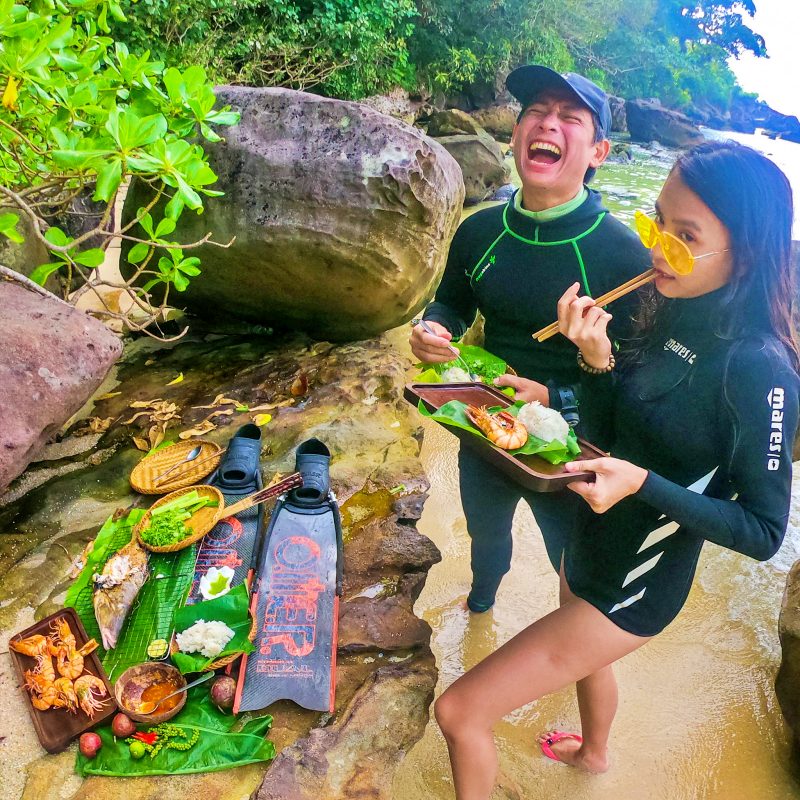 Accompanied Guests get to experience everything but they do not actually do the hunting parts. Hunters, on the other hand, will be supplied with their own spearfishing gear and will go with me to spear some nice fish for the group to eat. Novice Hunters are those trying spearfishing for the first time and will receive instructions on speargun handling and safety. Advanced Hunters will go hunting at their own pace. Either way, everyone will get to taste their own delicious seafood-decked lunch and dinner and experience an adventure like no other on this side of the Gulf of Thailand ).
Please check out our spearfishing tours.
4. Deep-sea Fishing Tours in Phu Quoc
For those who have a great passion for fishing then Deep-sea fishing is your top tour in Phu Quoc, night time fishing would be amazing to get your big catch of Barracuda, Cobia, Giant Trevally, Queen Fish…Sailing on the sea from sunset till midnight would have you feeling hungry for getting your big catch.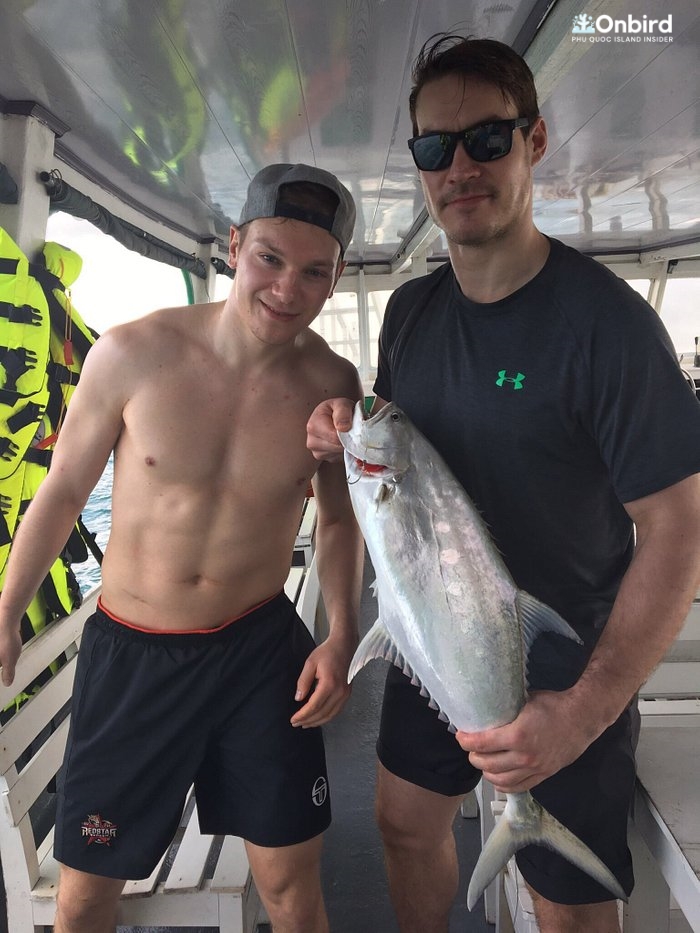 The tour is not for amateurs, you need to have a real passion for fishing to stay afloat on the sea for 6 hours on a cold night just for the purpose of waiting for your big catch or sometimes nothing. But believe us, it's interesting anyway!
Check out Deep-sea fishing Charters in Phu Quoc Island:
OnBird Fishing Charter is a local-run fishing charter in Phu Quoc with an excellent understanding of the Phu Quoc water which is vital to a deep-sea fishing charter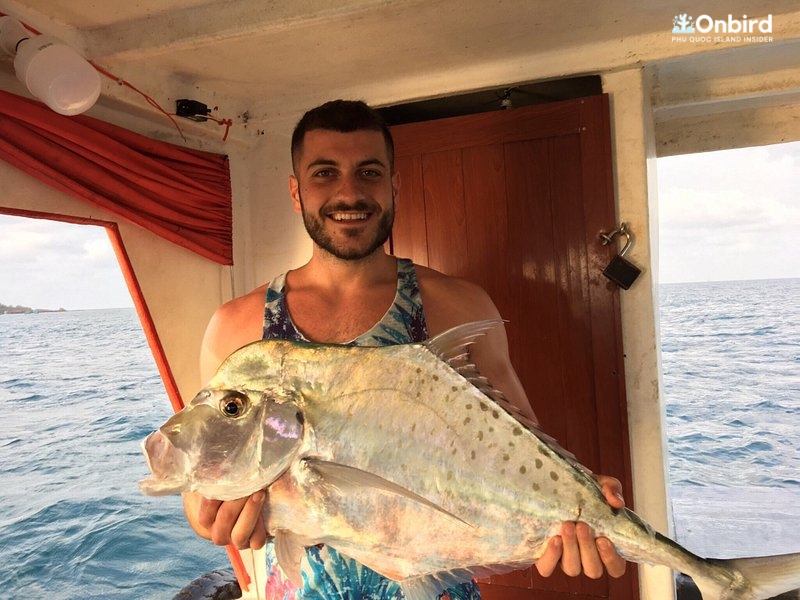 5. Kayaking in North Phu Quoc island
Sea-kayaking: Half-moon Bay Kayaking is definitely a unique kayaking tour in Phu Quoc, the kayaking route is about 4 km long on the calm sea, from Half-moon Beach and then reach Casuarina Beach – an untouched beach surrounded by the dense forest beyond the Half-moon Cape. For those who are keen on exploring hidden locales, during the padding time you can contemplate the idyllic beauty of the Northwest coastline of Phu Quoc Island.
Check out this Sea-kayaking tour in Phu Quoc island!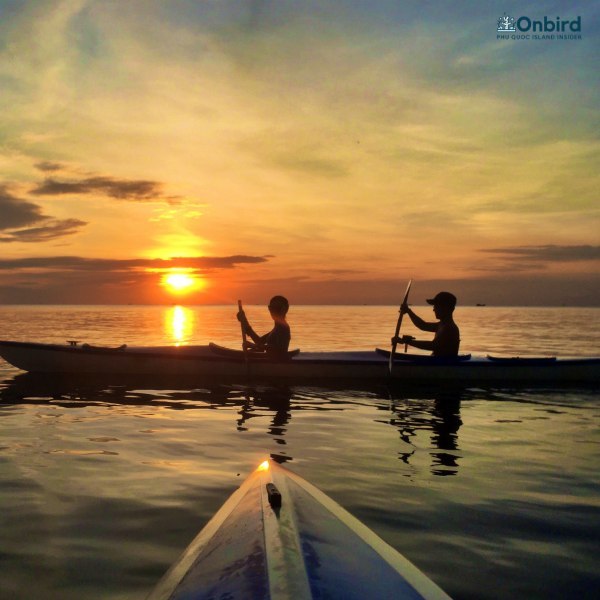 River-kayaking: Cua Can Kayaking is a unique river-kayaking in Phu Quoc, paddling along the river bank and see the landscape, mangrove forest, but for those who are not kind of seeking easy kayaking then this is not for you, quite boring to paddle along the river with not much to see.
6. Sailing by Eco-Dinghy or Catamaran in Phu Quoc
Sailing in Vietnam by cruise, overnight yacht or day-time catamaran seems to be more popular to date. However, most catamarans you join are gasoline-powered, not friendly with the underwater environment. There comes green ecotourism, sailing by Catamaran mostly powered by the wind and cost-effectiveness in Phu Quoc island. Exploring Phu Quoc doesn't need to cost you much in this smart way.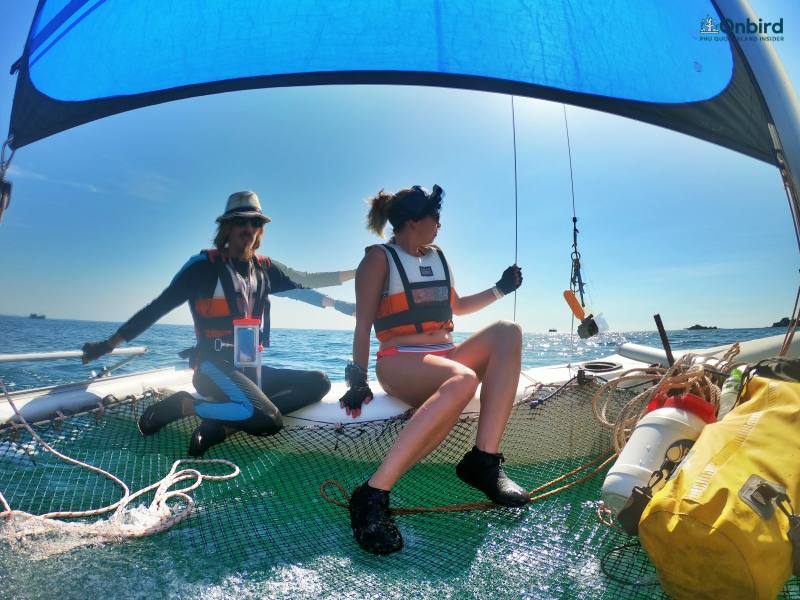 On a single trip to North Phu Quoc with OnBird, not only could you sail by Catamaran, reach a deserted island, you also have a great chance to stop for snorkeling with underwater guide supports to explore healthy coral reefs with respect in the Northwest Phu Quoc.
We already introduced a detailed Sailing by Catamaran experience in Phu Quoc, dive into the article below!
SAILING BY ECO DINGHY & CATAMARAN IN PHU QUOC – AMAZING ACTIVITY!
7. Sea SUP or Stand-up paddle boarding tours in Phu Quoc
Standup paddle boarding is a water sport born from surfing with modern roots in Hawaii, USA. Stand-up paddle boarders stand on boards that are floating on the water and use a paddle to propel themselves through the water.
For those who have a great passion for adventurous sea-journeys and desire to conquer challenges in Phu Quoc with SUP: then Sea SUP along Phu Quoc Northwest and landing on a deserted island would be amazing as well as a unique activity in Phu Quoc.
Conquer the calm Northwest sea on a 4-km route along the Northwest coastline of Phu Quoc Island. Enjoy the natural landscape while paddling on blue water before landing on Turtle Island and contemplate Phu Quoc's glorious sunset while paddling back.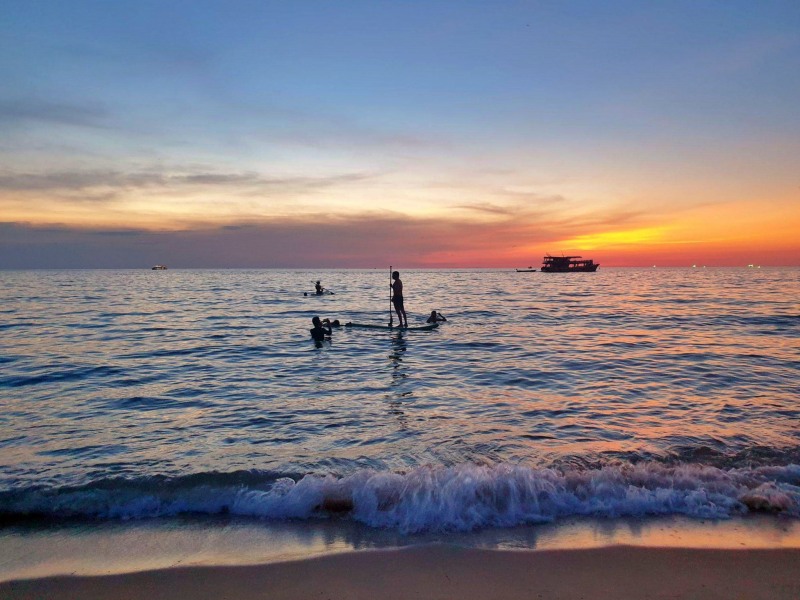 Other exotic experiences that engage in nature would be Forest Walking and Ham Ninh Mountain Trekking. We'll give more suggestions later.
Follow OnBird on Facebook or Instagram to get updated on useful information about Phu Quoc island guide.