Phu Quoc U-Turn is afar coral reef located 16 km in the south of Phu Quoc Island, this is a large coral reef and suitable and safety coral reef for scuba diving.
1. Geography – Phu Quoc snorkeling – diving site
The origin of the name U-Turn derives from the shape of its geographical form. However, due to the isolated location, the depth of U-Turn is 1.5 – 12m and the deepest spot is around 16m deep. The best time to visit here is in the dry season in Phu Quoc (October to April).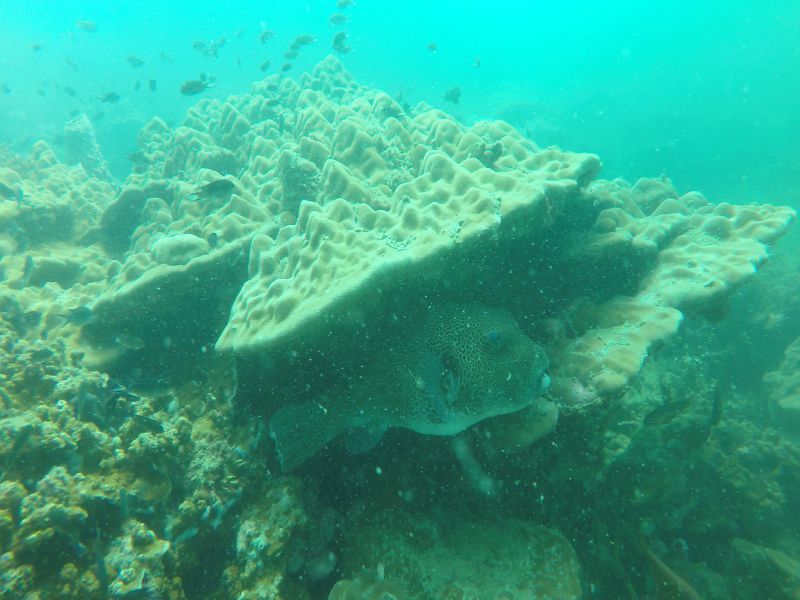 2. Coral species – Phu Quoc snorkeling – diving site
You could find both hard and soft coral, especially very large golden anemone clumps here. It's harder to recognize Neptha corals here than at Half-moon reef as they live on massive corals and look like hard corals from afar. Besides that, you will have chances to see black sea urchins living on hard corals and big table corals of the diameter of 1-2m.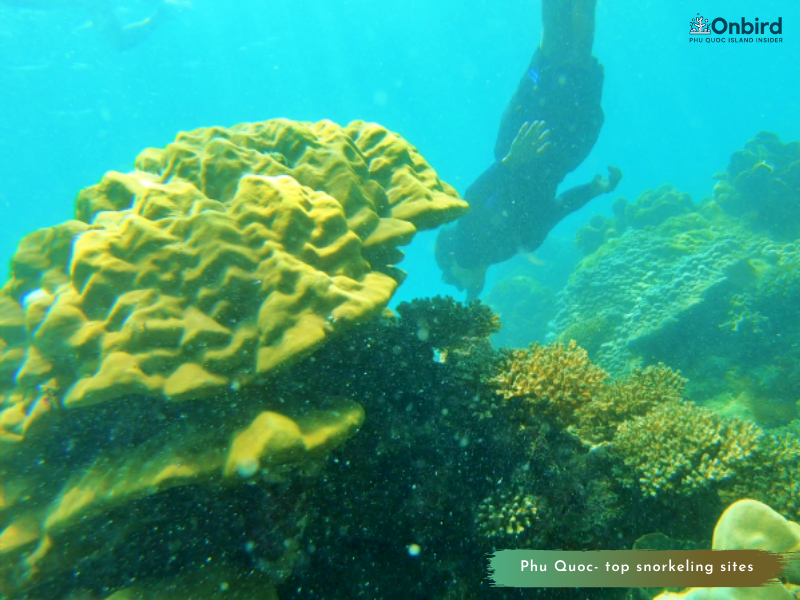 3. Health status of coral – Phu Quoc Diving – Snorkeling:
The health status of coral is pretty good, but not for table corals as we have done snorkeling at almost every coral reefs of Phu Quoc then except the Kingdom of Table Coral (close to Phu Quoc Turtle Island) where table corals have pretty good health status whereas in the South of Phu Quoc table corals seem to be dying, turning into dark color due to some kinds of chemical that the local fishermen use to kill fish.
4. The depth – Phu Quoc Diving – Snorkeling: 
The depth of Phu Quoc U-Turn ranges from 1m – 12m, on days of favorable weather its very ideal to explore coral here, especially diving into the depth of 3 – 4 m to see fish schools and soft corals.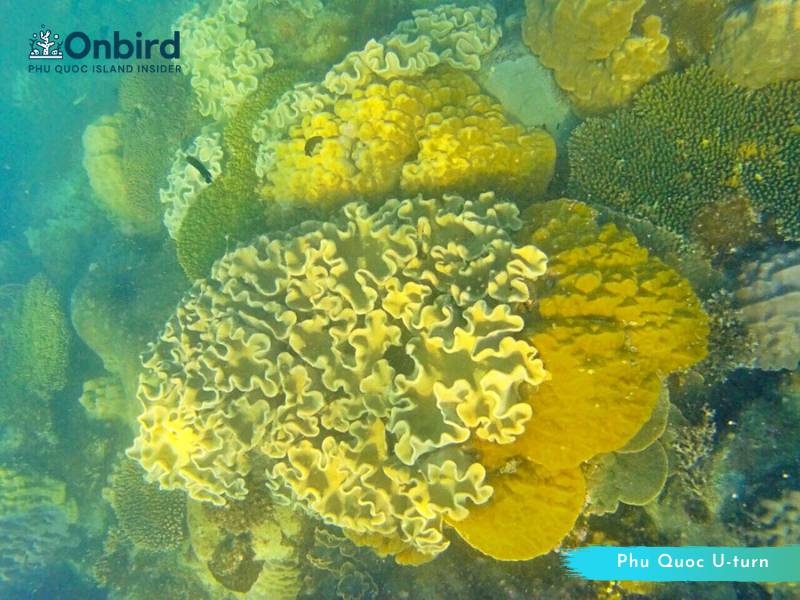 5. Skills you should arm yourself if wanting to explore the whole beauty of Phu Quoc U-Turn in-depth:
Swimming – Snorkeling: Very good swimming skill to handle in the water for 1 hour at least and especially you should have a fin with you because the area is quite large with fluctuated waves and currents.

Easy free-dive: Just need to dive 4 – 8m into the water you will be finding a completely distinct beauty from what you just see from the water surface.

Scuba-diving: Explore depths of U-Turn on a customized scuba-diving trip, please join our scuba diving trip to U-Turn