1. WHAT IS PHU QUOC HALF-MOON REEF?
Depth range: 0.5m – 10m 
Reef type: Non-fringing Reef
Coral Health Status: Alive coral area account for 90% of the reef
Coral Species: about 20 different coral species Table Coral, Cauliflower Coral, Mushroom Coral, Staghorn Coral, Octopus coral, Fiji Leather Coral, Brain coral, Giant Barrel Sponge, Sponges, Porite Coral, Cactus Coral, Honeycomb coral, Cabbage Coral, Leaf Coral, Anemone gardens, Carnation Coral…
OnBird has been documenting lives, developments, human-caused destruction of corals in Phu Quoc Half-moon Reef since 2018 to build our own data about coral reefs in Phu Quoc, Half-moon Reef is one of the top scuba-diving and snorkeling sites in the An Thoi archipelago, South Phu Quoc Island. Thanks to its shape of the new moon, OnBird named its as Half-moon reef, this coral reef is located 16 km in the South from An Thoi town, Phu Quoc island. (Read more about other coral reefs as well as snorkeling & scuba diving spots in Phu Quoc Island).
With its depth of ranging from 1 – 9m and possessing a great variety of coral species, Phu Quoc Half-moon reef is an ideal site for not only snorkeling but scuba-diving too.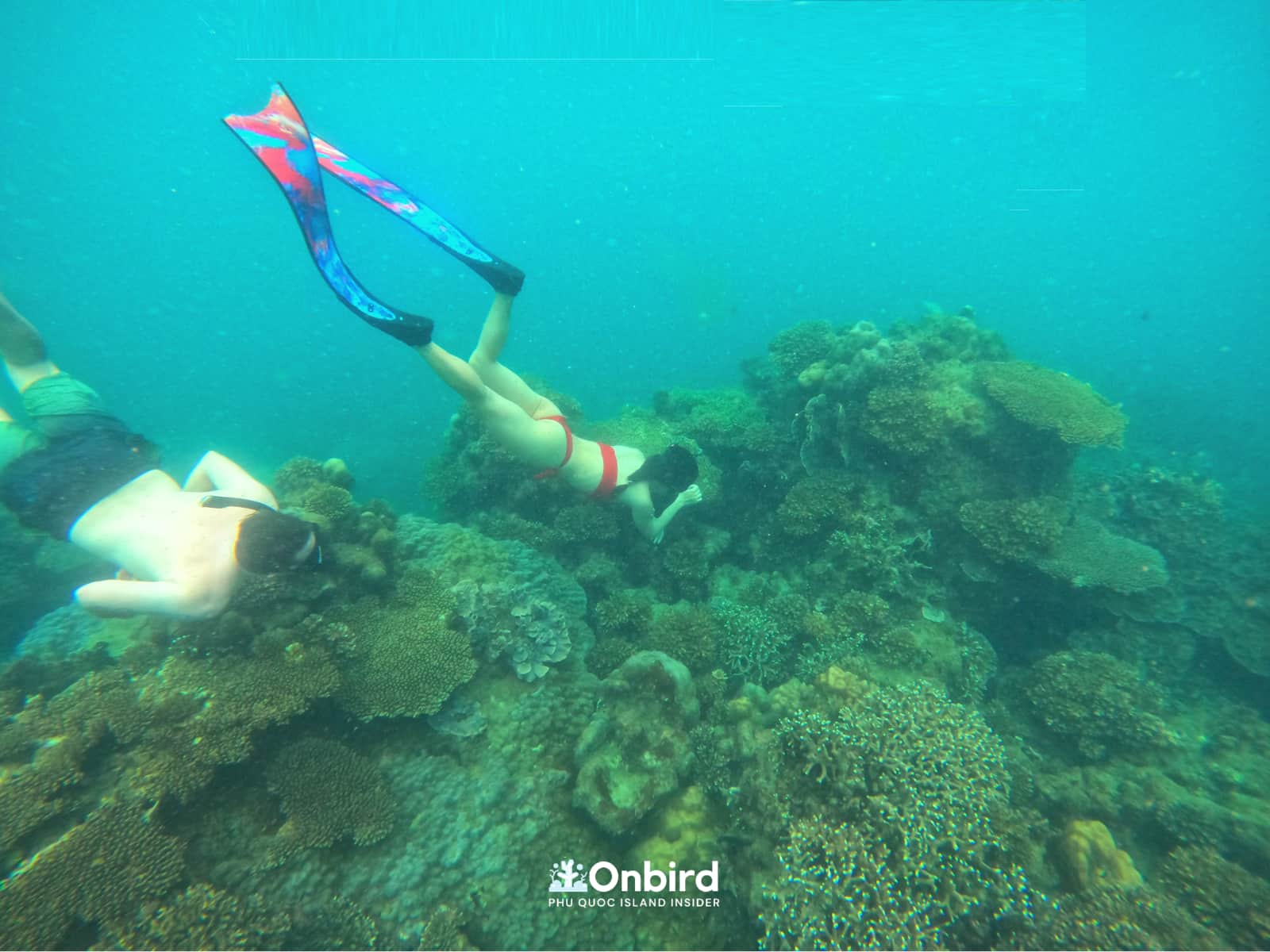 The best underwater sight we recorded was 9 – 10 m down and the worse sight recorded was just 1m. With an underwater rocky terrain with many cliffs and small canyons make Half-moon Reef one of the most attractive scuba diving, snorkeling, free-diving sites in Phu Quoc Island, Vietnam.
II. GEOGRAPHICAL FEATURES OF PHU QUOC HALF-MOON REEF
Phu Quoc Half-moon reef is a non-fringing coral reef with the water of 0.5 – 10m in an area of hundred thousand square meters. The surroundings rocks cover the water of Half-moon reef and protect it from North-east moonson thereby the best time to visit is from October to May when the water becomes calm not choppy, but sometimes in the summer (May till October) or rainy season the sea is calm.
Phu Quoc Half-moon Reef's calm lee water (in the Dry Season) is quite large as we usually take at least 1 – 1.5 hours to explore the reef in-depth and even longer if you would like to spend time for free-snorkeling. The underwater terrain is rocky with different depths, we find here coral-covered canyons, coral-covered cliffs, the ground of anemone at the depth of 4m – 7m, or big helmet-shaped honeycomb corals.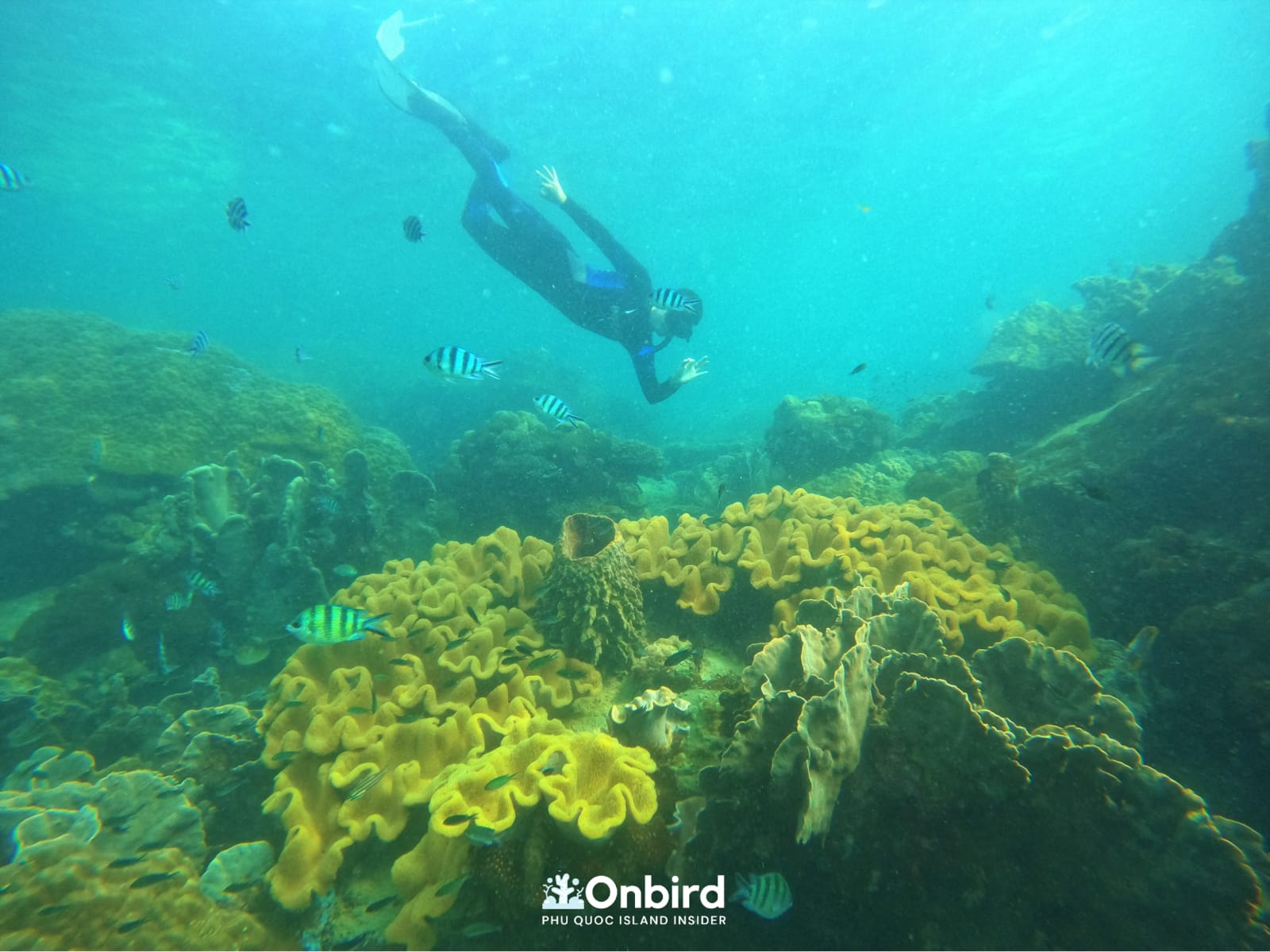 The average depth of the Half-moon Reef is 3 meters, and the deepest area is about 8-9 meter which is quite challenging to snorkelers and even free-divers.
III. CORAL SPECIES & SEA CREATURES AT PHU QUOC HALF-MOON REEF
It depends on your skills and level of free snorkeling. With our professional underwater guides who know exact where you are able to witness what kind of coral species, you'll have chances to discover the following types:
Hard coral: Cabbage Coral, Tube coral, Table coral, Branching coral, Lettuce Coral, Bushy coral, Cauliflower Coral, Honeycomb Coral, Stony Coral or Massive Porite Coral, Black coral and Brain Coral…
Soft coral: Leather coral and Sinularia Levi corals are two soft coral species that you find the most here, especially here you have a chance to see Carnation coral (one of the most beautiful soft coral) under OnBird's guides at the depth of 6 – 8m
Especially, we'll lead you to the Lettuce coral garden at the depth of 1.5 – 3m at Half-moon Coral Reef. Phu Quoc Island is one of the most beautiful snorkeling & diving spots in Vietnam and Half-moon Reef is one of the top sites in Phu Quoc Island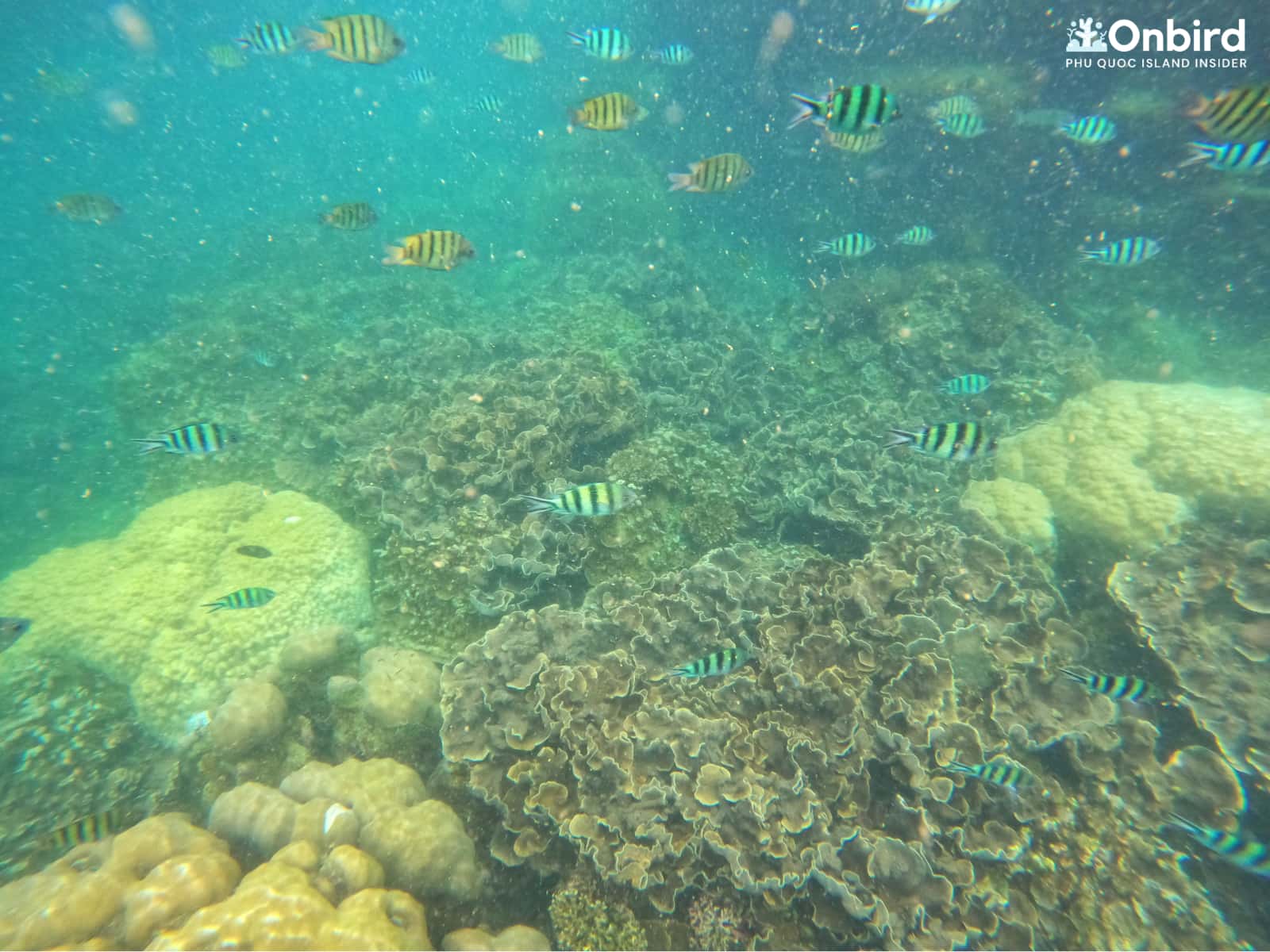 We also discover Carnation corals in Half-moon Reef Phu Quoc Island, Vietnam, the Carnation Tree Coral or Dendronephthya Carnation is one of the most beautiful and peaceful corals, and is also known as the Cauliflower Soft Coral, or Strawberry Soft Coral. We have an advanced snorkeling trip to explore this coral for advanced and professional free-divers.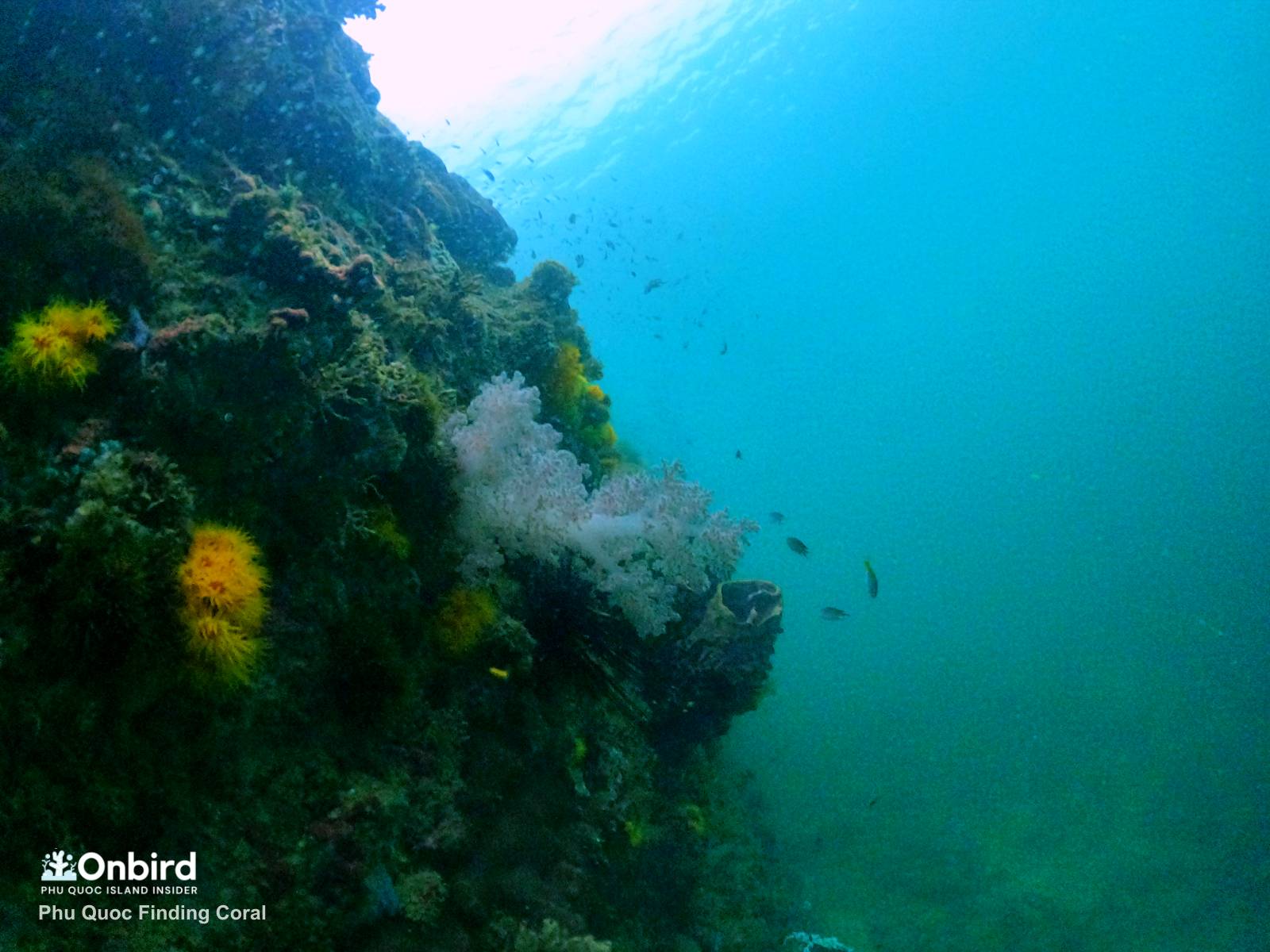 IV. HEALTH STATUS OF CORALS AT PHU QUOC HALF MOON REEF
The health status of coral is quite good, come back here many times of free-snorkeling, such as we explored the time of Leather coral reproduction from Golden color turn into white and then reproduced again into Golden color. Some hard corals are damaged by the impact of a few irresponsible speedboats as they dropped their anchor right on the reef.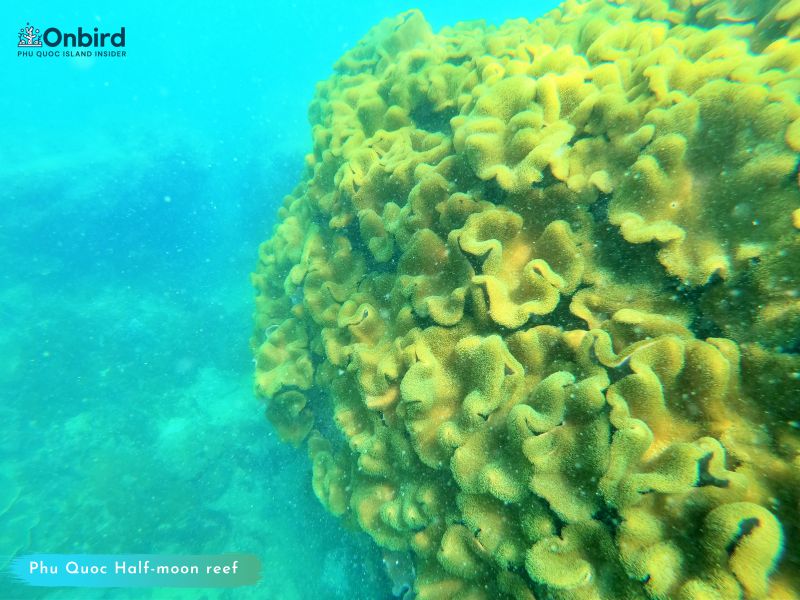 V. TIPS TO EXPLORE PHU QUOC HALF-MOON REEF
In our experience, Half-moon reef is very special which is suitable for both fun snorkeling and advanced snorkeling or free diving.
Below are some options which you may consider to join us to discover Phu Quoc Half-moon reef:
Skilled and experienced snorkelers/ Free divers: a professional snorkeling trip to explore Half-moon Reef in depth in combination with another challenging reef (U-Turn).

Good swimmers in combination with fun snorkeling: a

soft-adventure snorkeling trips, the itinerary designed appropriately which enables you to challenge yourself but still relaxing.

First-timers or a budget option: A

small-group snorkeling tour

to explore this snorkeling site and

Phu Quoc Coral Mountain

at Crystal Reef. On this trip, we'll have a training session for newbies before snorkeling.
For novices: It's subject to the water as you have no other way to explore the reef on bad weather days of fuzzy water.
Dive into a footage of Phu Quoc Half-moon reef snorkeling and diving scenes that we recorded our guests' moments.
Check out our customers' review about unique experiences with us at Phu Quoc Half-moon reef on TripAdvisor.