Phu Quoc Half-moon Reef is the top diving and snorkeling site in An Thoi archipelago, South Phu Quoc Island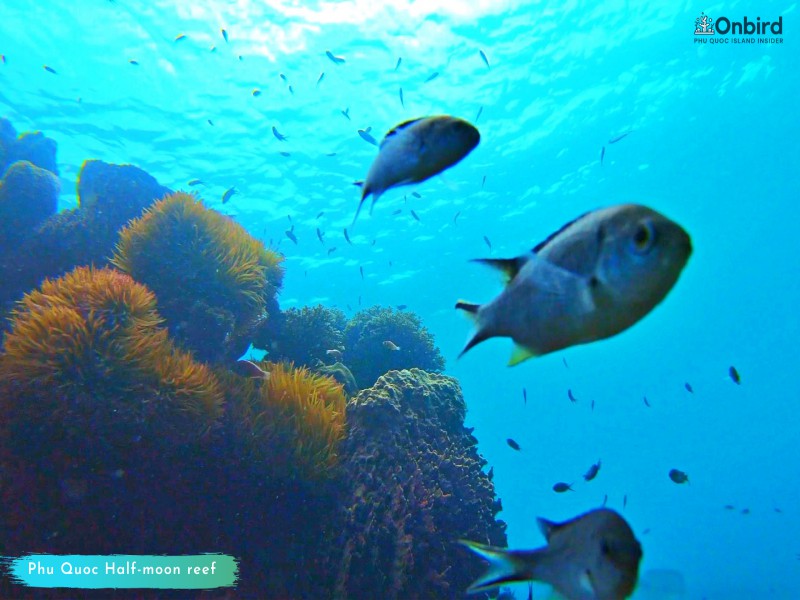 Phu Quoc Half-moon Reef is a name of fringing reef with the shape of the new moon, located 16 km in the South from An Thoi town. The reef is an ideal place for not only scuba diving but free-snorkeling due to the depth of ranging from 3 – 9m, possesses a great variety of coral species. If you are able to do free snorkeling, this reef is extremely ideal for you to explore marine life, otherwise except for bad days of fuzzy water due to the influence of monsoon then the underwater visibility is about 3 – 6m for snorkeling.
Geographical features – Phu Quoc Snorkeling – Diving Site?
The surroundings rocks cover the water, faces to the west thereby the best time to visit is from October to May, but on some days that Phu Quoc is under the influence of the Northeast monsoon the water will get fuzzy from the middle of November to the beginning of December. Phu Quoc Half-moon Reef's calm lee water (in the Dry Season) is quite large as we usually take at least 1 – 1.5 hours to explore the reef in-depth and even longer if you would like to spend time for free-snorkeling. The underwater terrain is rocky with different depths, you will be seeing coral-covered canyon, coral-covered cliffs, the ground of anemone at the depth of 4m, or big helmet-shaped massive corals.
Coral species – Phu Quoc Snorkeling – Diving sites?
Hard coral: Cabbage Coral, Tube coral, Table coral, Branching coral, Bushy coral, Stony Coral or Massive Porite Coral, Black coral and Brain Coral
Soft coral: Leather coral and Sinularia Levi coral are two soft coral species that you find the most here
Health status of coral – Phu Quoc Diving – Snorkeling:
The health status of coral is quite good, come back here many times of free-snorkeling, such as we explored the time of Leather coral reproduction from Golden color turn into white and then reproduced again into Golden color. Some hard corals are damaged by the impact of a few irresponsible speedboats as they dropped their anchor right on the reef.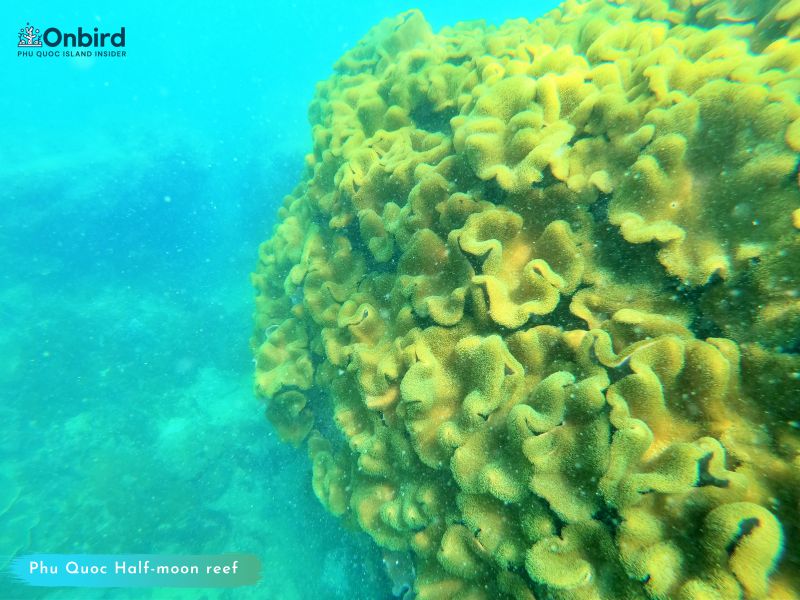 The depth – Phu Quoc Diving – Snorkeling:
The average depth of the Half-moon Reef is 3 m, and the deepest site is about 8-9 m. The deeper area, the better coral that you could find.
Skills you should arm yourself with if wanting to explore the whole beauty of Half-moon Reef in-depth:
Swimming: Very good swimming skill to handle on the sea for at least 1 hour
Easy free-dive: Just need to dive 4m into the water you will be finding a completely distinct beauty from what you just see from the surface
Join us on a Free-dive tour to explore the depth of Half-moon Reef or a soft-adventure snorkeling tour with a route that avoids the crowds or a small-group snorkeling tour with 8 pax in maximum to explore this snorkeling site and Phu Quoc Coral Mountain, Boat Wreck at Crystal Reef
For novices: It's subject to the water as you have no other way to explore the reef on bad weather days of fuzzy water.