Phu Quoc Sinularia Levi Coral Covered Cliff – Sinularia Levi Coral also known as Tree Coral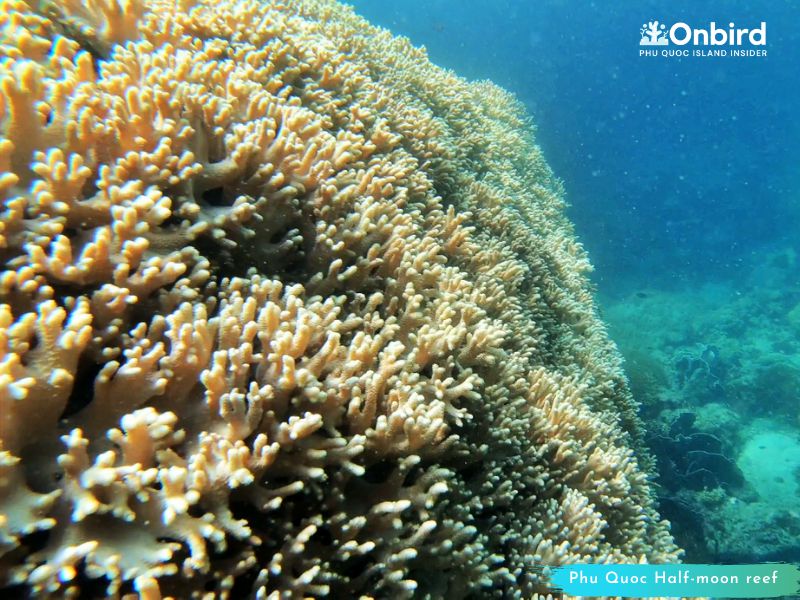 Lying at the depth of 5 meters in at Phu Quoc Half-moon Reef which is one of the best snorkeling sites in the An Thoi Archipelago – the South sea of Phu Quoc Island, an ideal spot for either snorkeling or free-diving, Phu Quoc Sinularia Levi Coral Covered Cliff is one of must-see Phu Quoc attractions – Phu Quoc ocean treasures for those who are capable of free-diving or good at holding the breath and interested in experiencing a trace of adventure feeling, just an easy free-dive of swimming along the Phu Quoc Sinularia Levi Coral Covered Cliff. Possessing a rocky terrain undersea thereby coming to Half-moon Reef there are a lot of things to discover for you. Hidden deep behind the dark look at sight is a fully attractive world, the nearer you dive down to the bottom, the more beautiful the marine world you will be discovering. The Phu Quoc Sinularia Levi Coral Covered Cliff is about 3 meters in length and 2.5 meters in height, this cliff is completely covered by Sinularia Levi Coral. Please take a look at the photo below, the position of the star is the beginning point of the coral-covered cliff and you must have been seeing a big Brain coral in the middle. (Check out more Phu Quoc Island Coral Reefs such as Phu Quoc Massive Golden Anemone Reef).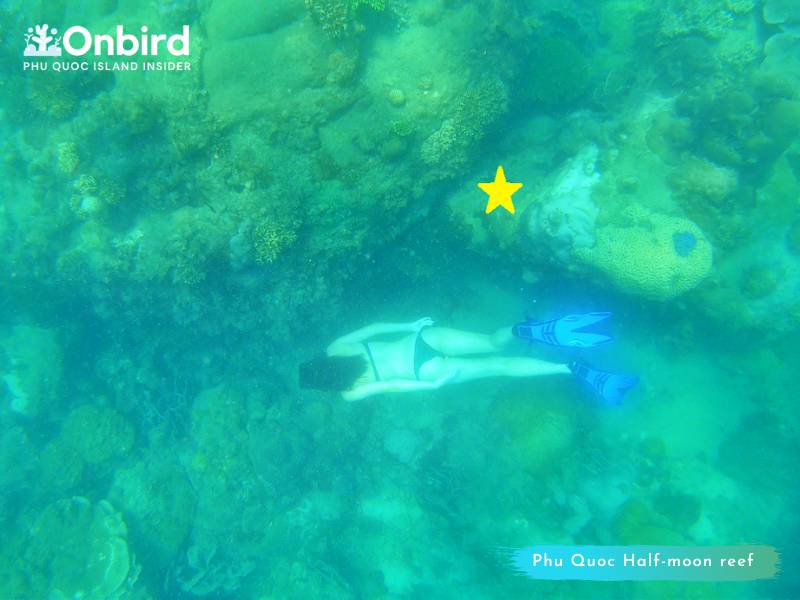 This is big Brain coral and the small lane where the star is placed in the photo below is corresponding to the beginning point of Phu Quoc Neptha Coral Covered Cliff. In exploring coral-covered cliff you must be skillful in order to avoid damaging corals living in a narrow space with your flippers.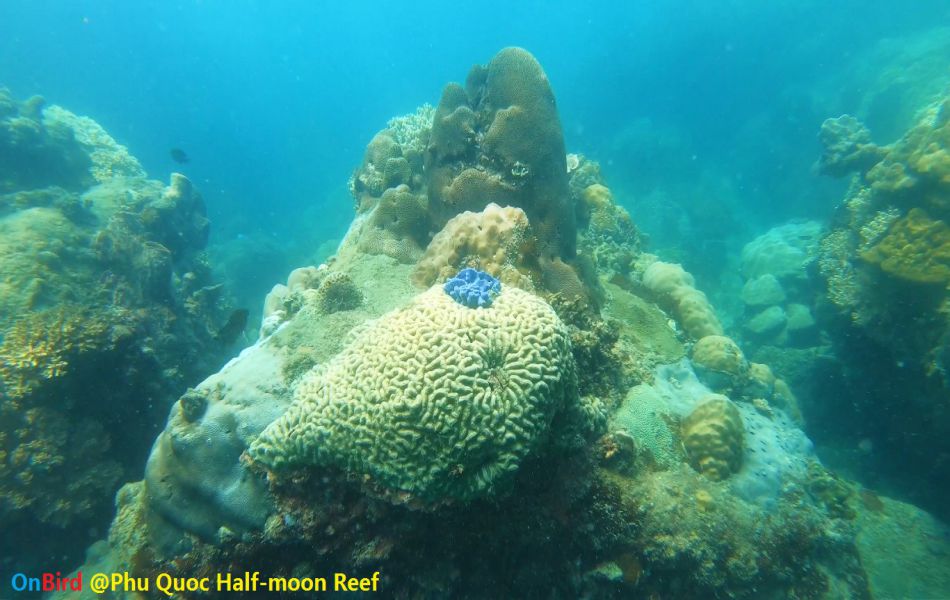 The photo below was taken at the beginning point of Phu Quoc Sinularia Levi Coral Covered Cliff, the width is only about 0.5 – 0.6 meters. At here you will first run into Pocillopora damicornis coral, Tube coral, Acropora coral, Porites Lutea Coral and especially many Brain corals before meeting Neptha coral completely covered cliff.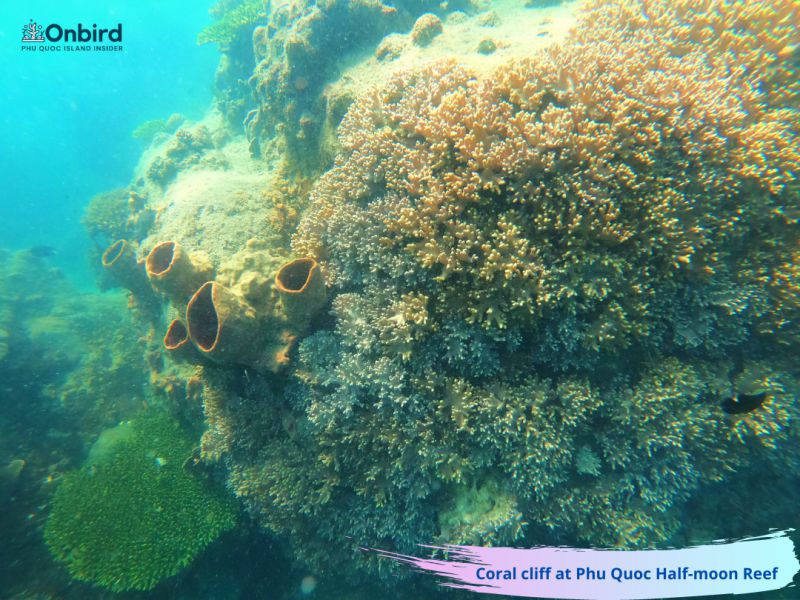 You will almost see nothing from afar but when getting closer to the Sinularia Levi Coral Covered Cliff the scenery of it will absolutely create out an interesting emotion in your mind. Besides that in swimming along the cliff, your movements will be producing stirs in the water thereby impacting Sinularia Levi Coral – a type of soft coral and giving a shake to them, it is an amazing look, but be careful in case of exercising harmful influences on the coral.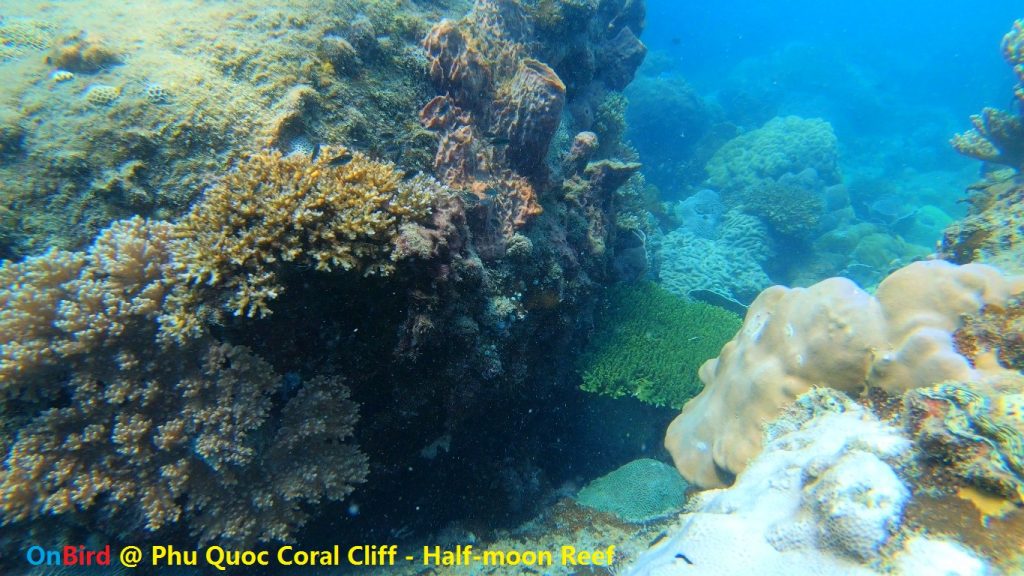 The thickness of the outer Sinularia Levi coral is around 0.1 – 0.2 meters, they are Sinularia Levi coral, in Phu Quoc, you almost find no this soft specie coral at coral reefs other than Half-moon Reef and Phu Quoc U-Turn. And there is not any better manner in order to enjoy all of the beauty of this type of coral by discovering their presence in a rocky terrain like Phu Quoc Half-moon Reef.
Coral-covered cliff is one of the unique coral structures of Phu Quoc Half-moon Reef in particular and Phu Quoc in general. The state of health of the Sinularia Levi coral reef here is still pretty well, it seems to be untouched owning to the depth that it is situated at then it hasn't been taken on any harmful impacts from tourists.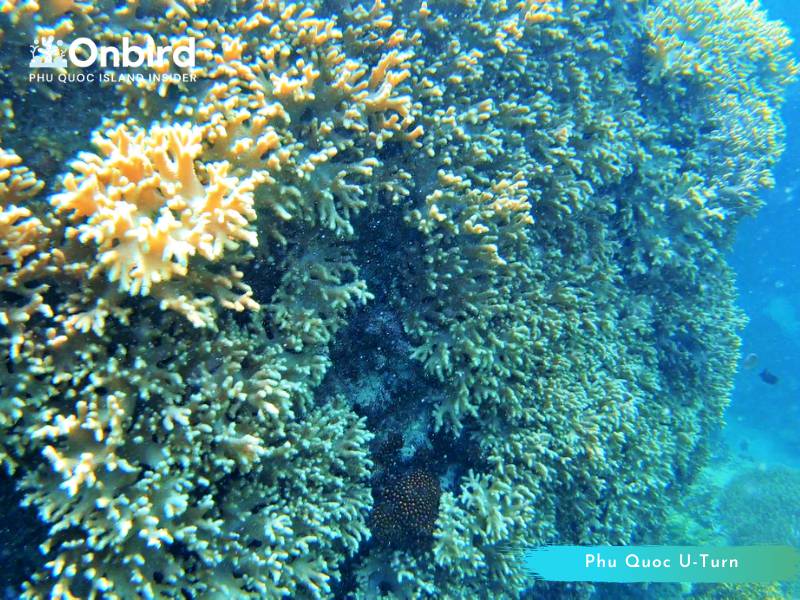 Swimming along the cliff, contemplating soft coral slowly moving in the water, other types of hard corals around here and small anemone reefs, you perhaps would like to see it again after the first dive. The scenery is quite miraculous on good weather days or under convenient conditions of sunny and calm water from our experience here.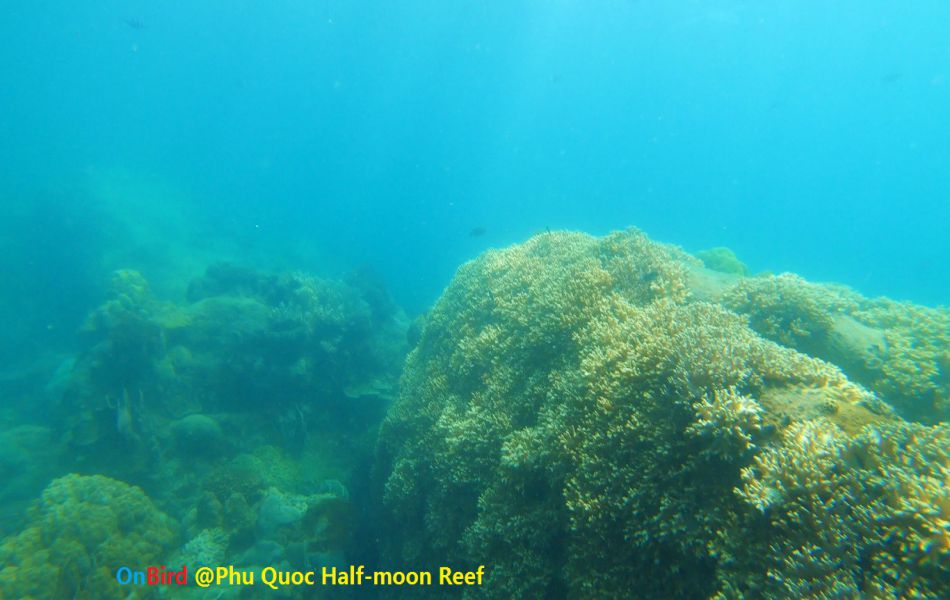 A close look from the endpoint of the Phu Quoc Sinularia Levi Coral Covered Cliff, don't neglect Phu Quoc's ocean treasures at first sight, let's get down and discover more you will not regret, it is not an overstatement with all sincerity. Join us in exploring Phu Quoc Sinularia Levi Coral Covered Cliff.