Are you seeking a heaven-like place in Phu Quoc 
☑️  Where you can spend your time on a white-sand beach?
☑️  At a completely isolated location?
☑️  Surrounded by dense jungle?
☑️   A hidden place that you can completely avoid the crowds?
☑️  And soak up in the jade water with a lot of starfish?
Top North Phu Quoc island is considered an untouched part, where you can still find dense green jungle, nice beach. However, tourism is on a strong rise so you may find crowds of tourists at most of the places you visit. For example, Starfish beach was quite deserted just 2 years ago, but for now, it becomes more touristy as people usually prefer to check in with starfish even the beach is not really nice as it is located right at the estuary, underwater there are a lot of sea-grasses and black sand in the water.
But don't worry, there is another hidden place that you could find completely quiet and peaceful, especially very clean seawater. It's Bãi Hàm Rồng (or Phu Quoc Dragon beach) which is white sand beach, turquoise water backed by dense jungle, definitely untouched by resorts/ mass tourism.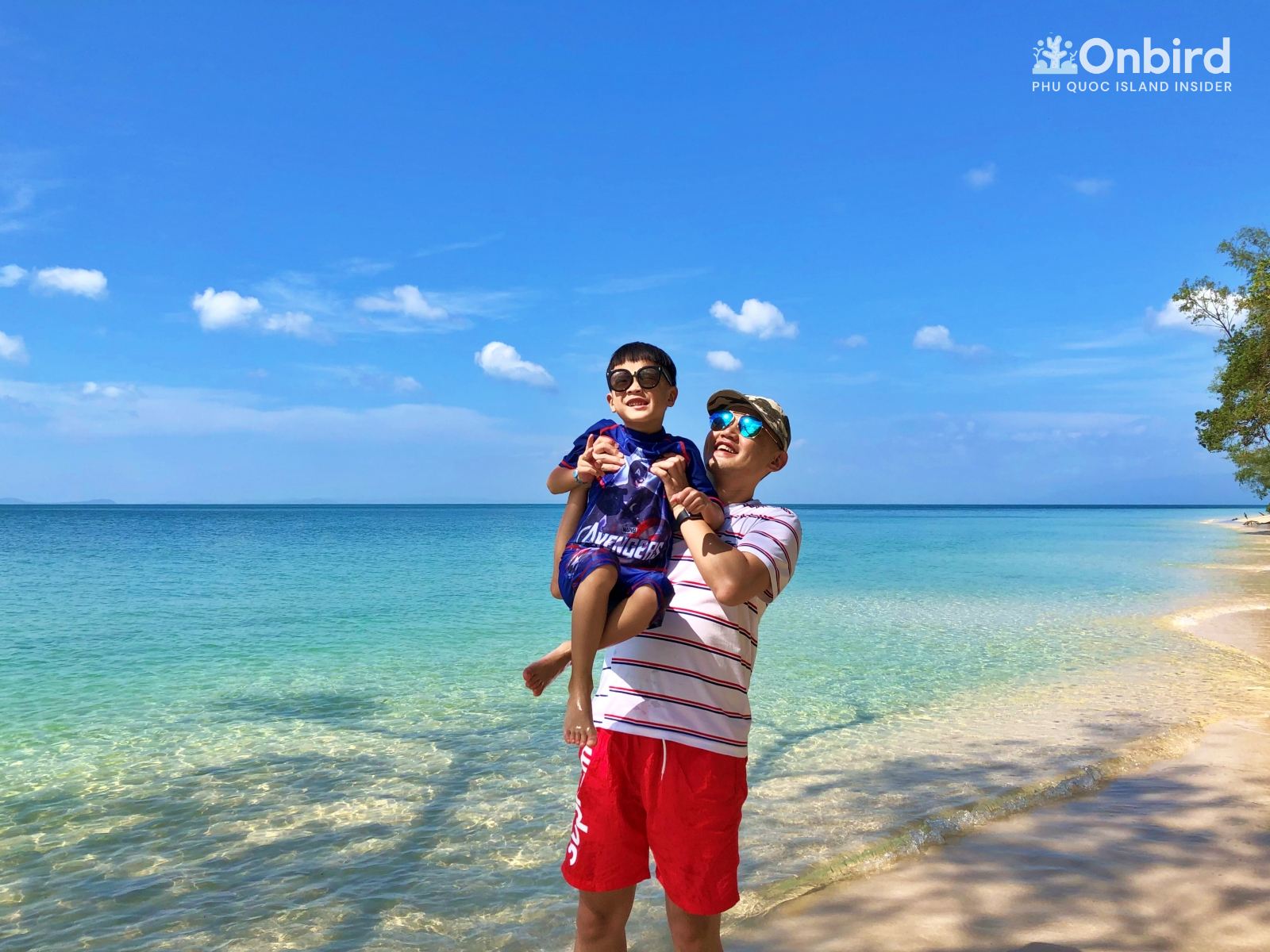 People think this heaven-like place is only accessible by boat but for us – the adventurous souls, we highly recommend you to take a hike from Rach Vem (Starfish beach to Dragon Beach). It's only more than 1 km but it's worth your exploration and also save money! 😀
Meanwhile the 10-minute boat ride which can be arranged from any of the seafood restaurants on neighbouring Rạch Vẹm beach costs you around 100,000 – 150,000 vnd/ person (depending on your group sizes), hiking is far more relaxing and offers you a lot to explore on the way.
Check out a footage we recorded our morning hiking from Rach Vem (Starfish beach) to Dragon beach.
You could not find the beach on Google map but on OnBird's map below! The heaven-like place – Phu Quoc Dragon Beach (Ham Rong beach) is just around 1 km away from Starfish Beach (Bãi Sao biển) on the right coastline. To enjoy the journey itself is more important than just to reach the destination. And for us, we always recommend our guests crowd-avoiding routes to explore the unseen beauty of Phu Quoc island.
There are a lot options of local restaurants here, you can just drop your vehicle at one of the restaurant area (such as Con Sao quan or Ngan Sao quan) then start to take a hike along the coastline.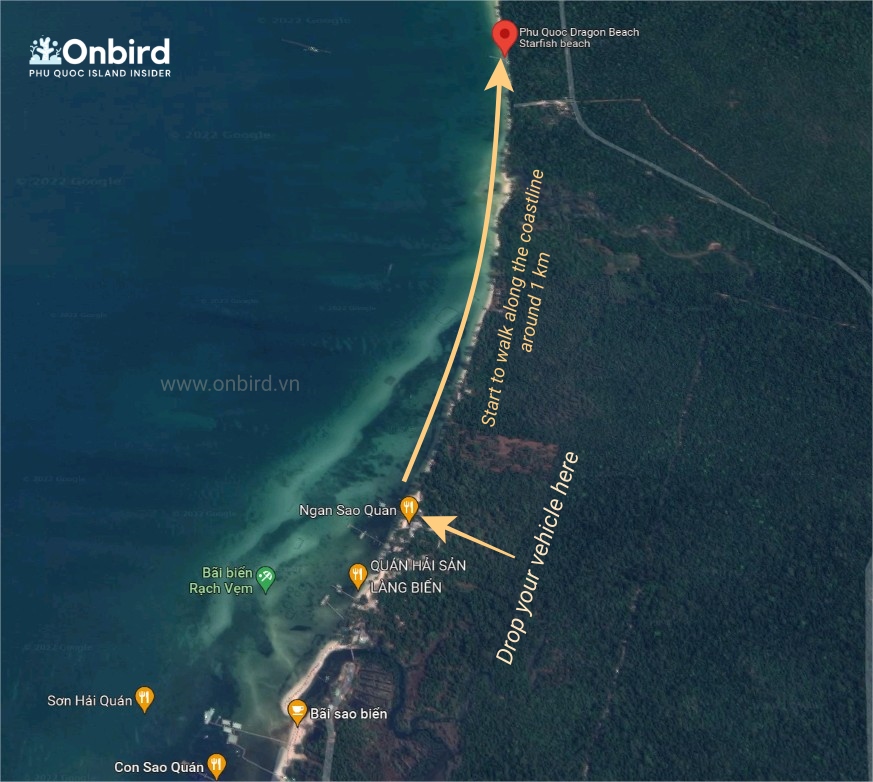 There is not any motorbike lane to take a ride there, you could walk along the coastline on the right way of Starfish Beach or could find a wooden boat at a moderate price to transfer your group there, it would be a nice beach to set up a BBQ at the beach.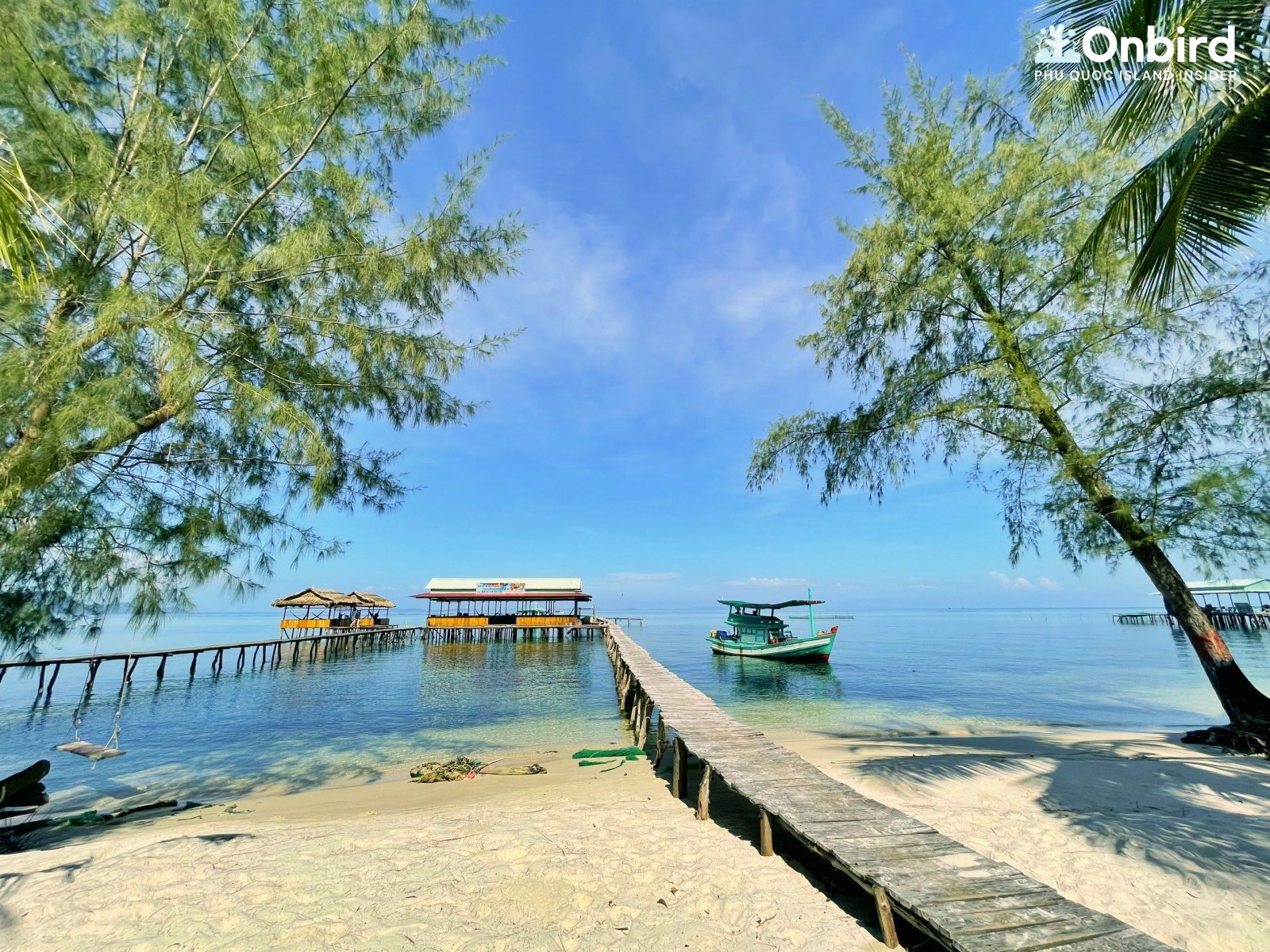 The idea of setting a BBQ at Dragon Beach is very nice, buy fresh seafood right at the fish farm nearby, get on the boat to a heaven-like locale, while away the time by the jade sea, the jungle at the behind, no noisy sounds from big groups of people.
If not, you can come back to the previous restaurant where you drop your vehicle then have a seafood meal here. The price is reasonable and seafoods are fresh.
We have a Facebook community named "Phú Quốc Charming" besides our fanpage to connect the souls who also seek the off-the-beaten paths to discover Phu Quoc island. You can join us and share your experiences as well.
Soak up in the jade water with schools of starfish around at Dragon Beach – Phu Quoc Map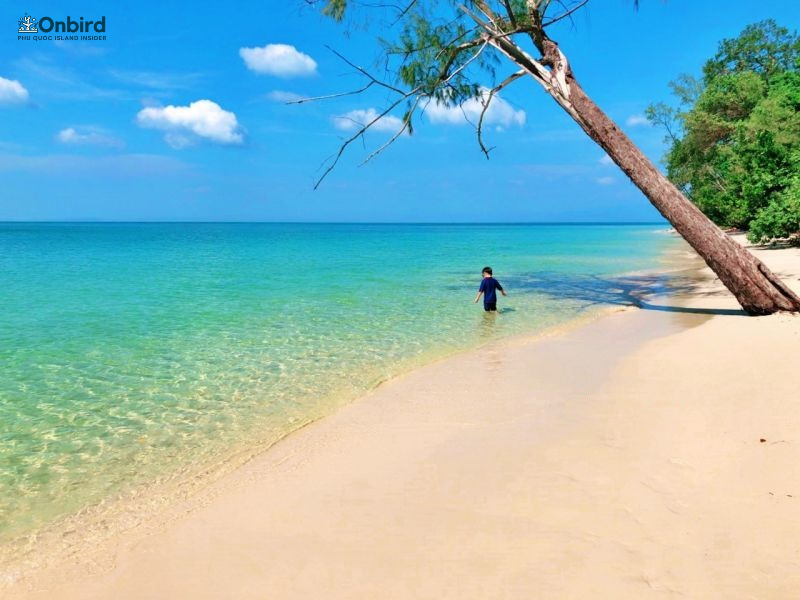 More to explore Phu Quoc island, check out our comprehensive guide to 16 beaches in Phu Quoc.
Follow OnBird on Facebook or Instagram to get updated on useful information about Phu Quoc island guide.