Located in a private bay in the northern part of the island, with both ocean and river-front views,
Fusion Resort Phu Quoc
is featured with its 2 famous concepts:
"all-spa inclusive"

and

"breakfast anywhere, anytime".
The resort is actually quite secluded that is 55- min drive from Phu Quoc Int'l Airport. A complimentary airport shuttle is offered each 40 minutes daily. Vinpearl Safari Phu Quoc is a 10-minute drive from the resort. Vinwonders Phu Quoc and Vung Bau Beach are also easily reached from Fusion.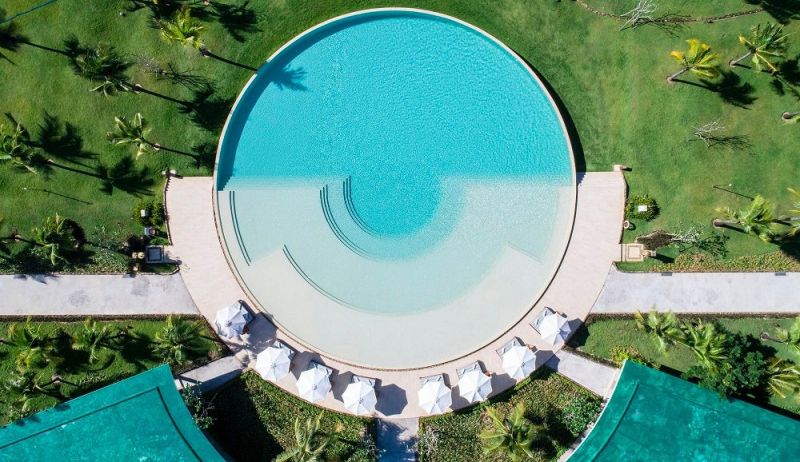 Usually, those who are willing to spend their getaways at Fusion would like to immerse their whole time in feasting on the very best in-door Fusion's.
Fusion's famous "all-spa inclusive" concept is something you won't find outside of Fusion and is one of the things they're most proud of.  At Fusion Resort, an extensive spa menu and dedicated spa and wellness facility are at your disposal*, at no extra cost. It's all included in the room rate.
Besides, following a holistic approach to health and wellbeing, Fusion offers a daily programme of yoga, tai chi, qi gong and meditation that awaken the spirit and energise the body.
BREAKFAST ANYWHERE ANYTIME with mouth-watering dining options:
They say that breakfast is the most important meal of the day, but they don't say you need to eat it in the morning. So Fusion's got you covered, day or night, with our signature 'breakfast, anywhere, anytime'. That means you can have breakfast by the pool, in the spa, on the beach, whenever you want. They'll even bring you breakfast in bed. Of course, you can always visit their impressive international buffet for breakfast, but that is morning only.
Located proudly and predominantly in the heart of the resort, it wouldn't be unreasonable to ask 'what's the secret?', but housed inside sits a lush tropical garden, tucked away from the outside surrounds and hidden from sight. This spacious and airy dining room, lounge, and bar area are where you'll find the immense early morning breakfast buffet. As the day continues, it offers a range of Cantonese and Vietnamese specialties, along with a selection of international favorites.
Phu Quoc is famed for its golden beaches, magical sunsets, and fresh seafood, and our ocean-side seafood restaurant combines all three to take you on an alfresco culinary journey with panoramic beach and sea views. Fresh from the ocean's waves, the restaurant serves a delectable selection of locally caught seafood in a casual, intimate environment, next to the resort's main pool and overlooking the beach and sea beyond. Pezcá ideal for long lazy lunches or sunset dinners with a cool evening breeze.
3. Soul kitchen
Not far from the ocean's quietly lapping waves you'll find a casual chair or a comfy sofa to sit with friends, watch the sun sink over the horizon, and sip on a signature cocktail, down an ice-cold beer or enjoy a fresh fruit smoothie. And it's the perfect place to think about what to have for dinner.
Taking inspiration from the local fishing boats often seen left upturned on the sand at the end of the day, The Beach Bar is one of guests' favorite spots in the resort. Kick back on a comfortable sofa, bury your feet in the sand, and enjoy a refreshing drink and tasty snack as the tide washes in. And if our ice-cold signature cocktails aren't enough to cool you down, you're right by the biggest saltwater pool in the world.
If you're feeling peckish by the pool, order from any of our food and drink menus and have everything delivered to your door, at no extra cost. BBQ parties or romantic candle lit dinners can also be arranged.
ACTIVITIES
Fusion offers complimentary games and sports equipment to keep the whole family entertained. They've got fun and games for the kids, an ocean-facing cocktail bar and a secluded adults-only pool for the grown-ups, plus an enormous infinity pool by the beach for all.
Phu Quoc is famous for its freshly caught fish, so we've also created one of the best seafood restaurants on the island.
and
VIP Travel and Luxury Stay in Fusion Phu Quoc: