Located 10km north of Duong Dong, the rustic
Mango Bay resort
is right nearby Ong Lang Beach. The ethos of Mango Bay is to create something close to nature, an unpretentious resort that is the antithesis of luxury.
Here, despite the size of the land, there are only 44 rooms and villas, each unique and each hidden away from the beach.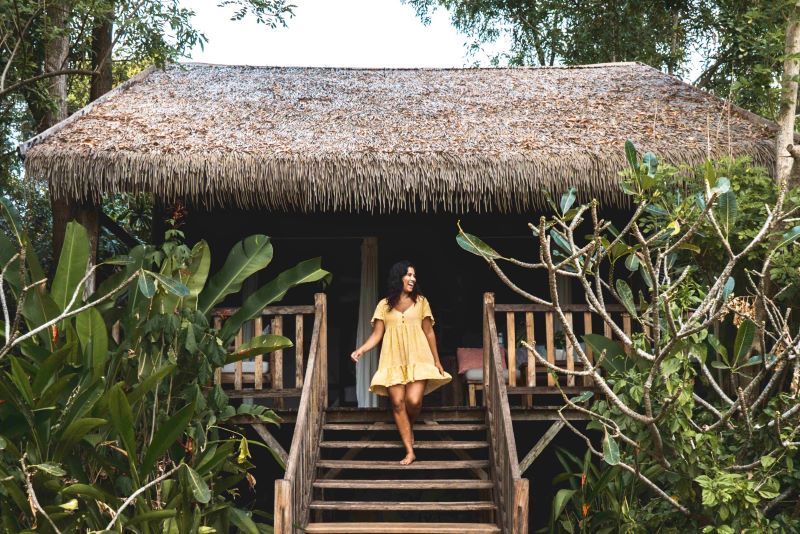 ——————-
The Mantra at Mango bay is 'At one with nature'.
This is a low-density resort, driven by a passion for the environment, intelligent use of materials, and strong support for island culture.
Mango Bay is tucked away off the beaten track, with Vietnam's first rammed earth bungalows, enclosed by beach and protected forest.
There are no air-cons, television sets or telephones in the rooms for a true fusion with nature at the island's first eco-friendly resort. Cool natural wind enters the rooms and bungalows through wooden shutters. Four-poster beds, ceiling fans and cotton mosquito nets are provided.
All rooms and bungalows enjoy views of either the sea or the garden from terraces. Solar-heated hot-water showers are equipped in the bathrooms.
—————————
Mango Bay 'On the Rocks Restaurant is famous for the best sunset views on the island.
Set on a small rocky promontory that separates the property's two beaches, the restaurant has a main fan-cooled indoor area and an outdoor wooden deck overlooking the sea.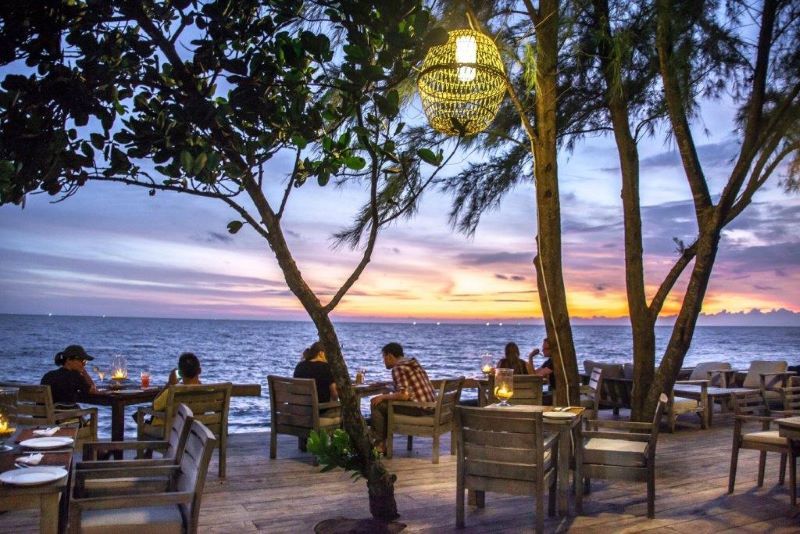 For sunsets, or for a place to eat under the stars, its location and ambiance is unrivaled.    
They offer complimentary Yoga and/or Thai Chi classes for their guests every day on the beach.
Snorkeling among the coral reefs, paddle boarding, canoeing, yoga in front of the spa at sunset and tai chi on the beach are just the start. Those into kayaking can take traditional, wooden-style fishing boats out into the sea, while the resort also provides free bicycle rental.
Mango Bay is a bit more rustic, something in touch with nature, and something that merged seamlessly with the surrounding environment.
Since 2006, Mango Bay has been supporting Wildlife At Risk (WAR) in conservation of the biodiversity of Vietnam, focusing on Phu Quoc Island.
Mango Bay Phu Quoc Resort is 9 km from Bai Sao (Starfish beach),
It is 10 km from Duong Dong Market in the city center while 11 km from the airport and the resort offers an airport shuttle for guests.
Besides, we offer complimentary pick-up & drop-off for all Mango Bay's guests joining us
the island discoveries!