"On the Rocks" — Mango Bay resort's main restaurant has gained a reputation for years on end. It t has become a destination of choice for both resort guests and non-resort diners on the island.
———————————————————————–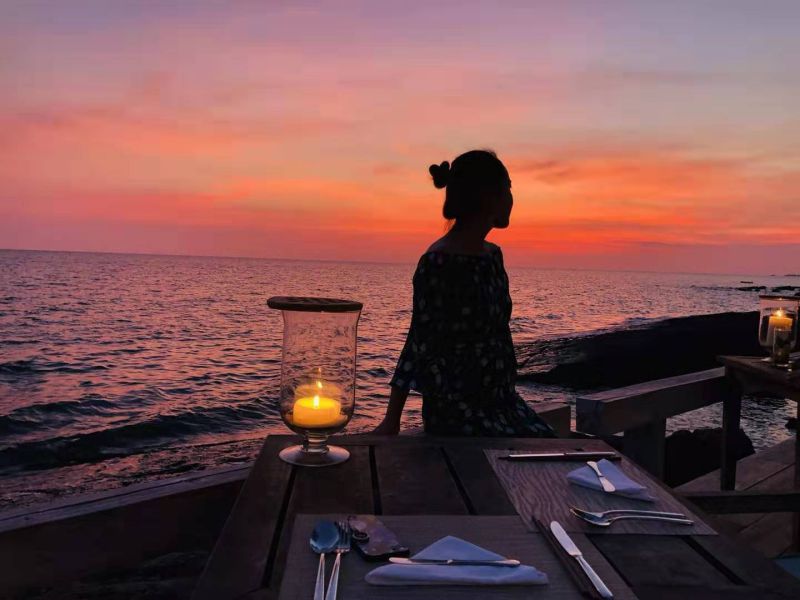 It is a little way north of Phu Quoc island and so a taxi will be needed for most non-residents. Not a problem but factor it into your costs. Some staying south of Phu Quoc island, it might take around 30- 40 mins taxi ride and $10— $15 extra for the transfer. Is it worth it?
Some guests once reviewed that they traveled enough in the world to know sometimes when you find a real gem like this experience at On The Rock, you should maximize the chance to enjoy it.
HERE ARE THE KEY why it's worth you every penny:
1. LOCATION: A sublime place for sunset view & unrivaled ambiance
 "On the Rocks" — Mango Bay resort's main restaurant has gained a reputation for years on end. It t has become a destination of choice for both resort guests and non-resort diners on the island.
For sunsets, or for a place to eat under the stars, its location and ambiance are unrivaled.    
Set on a small rocky promontory that separates the property's two beaches, the restaurant has a main fan-cooled indoor area and an outdoor wooden deck overlooking the sea, the gentle lapping of the waves accompany the whole experience.
——————–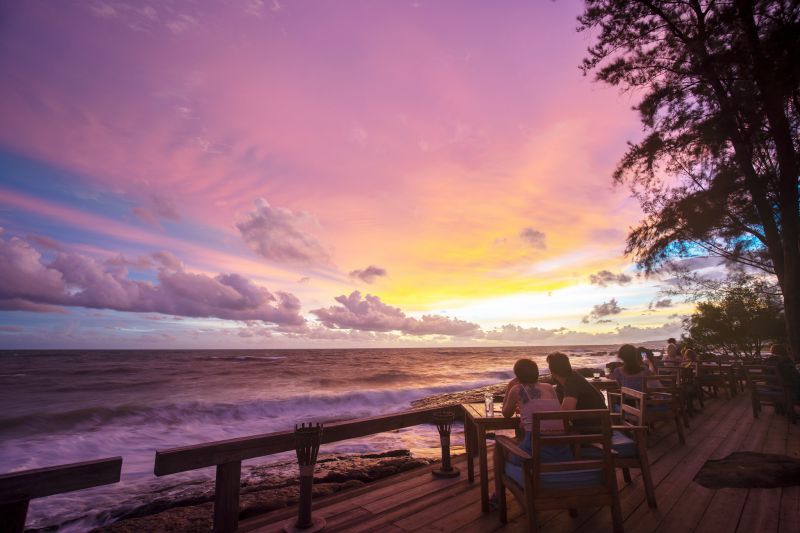 2.  FOOD: A playful treat for the eye and the taste buds!
Phu Quoc is a seafood paradise. The fabulous shrimp and other fish are caught fresh every day, and our squid is arguably the finest on the planet. To make the most of these wonderful ingredients, Mango Bay has developed its own style of fusion cuisine; a finely balanced mixture of Eastern and Western food styles with Vietnamese as the main underlying theme.
————
The restaurant offers a full range of foods, some Vietnamese and others with more of an 'Asian fusion' feel. Whether you decide to stay with Western food or go for Vietnamese/Thai food you will not be disappointed. Also, the dishes proposed go so well with the climate and surrounding environment, you have to give it a try.
From starters to deserts the menu is varied and there is a wide choice of dishes to which they also have a blackboard with their specials for each day.
Furthermore, If you are staying at the property, their breakfast is a delightful moment.  Everything is fresh and in abundance.
————–
Special plus: Loads of vegan/ vegetarian options!
There are great options for vegetarians and the food we had was always fresh and well-presented. They have a dedicated page of dishes in addition to many other vegetarian dishes throughout the menu.
As Bob from Netherland reviewed in 2019 that Mango has gorgeous views with higher-level F&B experience:
"Visited the Mango Bay Restaurant beach restaurant for dinner on a Tuesday evening. We made sure to be there around 5 pm and could still get a waterfront table. Well, the view of the sundown alone should satisfy you, but this place has pretty good F&B as well. Do expect to pay quite a bit more than you used to on average in Vietnam. We had some cocktails 'GT at the bay', 'passion fruit mojito', 'cinnamon whiskey sour', and 'Viet mai tai' which were all great. For dinner, we had the Yellow Fin Tuna which was prepared beautiful rare, and the squid from the grill. Great taste and presentation. For dessert, we had the lava cake and trio of creme brulees, also great. Add two glasses of wine and the 25k per person water refill program and it adds up to 1.900.000. Quite a lot for Vietnam standards, but if you are willing to spend a little extra on great F&B and a beautiful setting, Mango Bay won't disappoint."
F&B SERVICE: A little bit pricy but far exceeds the food quality
Extensive menu – expensive by Vietnamese standards but far exceeds the quality of the food we had elsewhere on the island! That's quite popular if you read guests' reviews on TripAdvisor that the price for a dinner is quite high in comparison with other restaurants in Vietnam but the key is you pay for F&B service, the perfect sunset view, and a nice presentation.
—————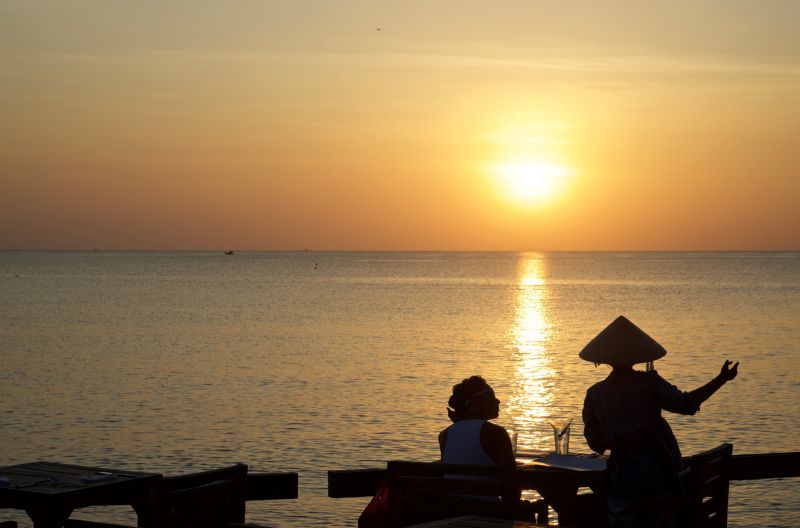 —————————-
So if you are just wanting to watch the sunset, there are better and cheaper places such as the beach or one of the hotels on the coast. If you are wanting to enjoy a fine dining meal (with moderate service), then this place is for you.
Overall, guests enjoyed our meal which is more expensive than other hotels or restaurants but it must be a lifetime experience for casual high-quality dining.
——————————
————
Note: "Must" make a reservation
You may get quite rush at the gold hours of sunset (from 5.30 pm to 7.00 pm) and the beachside table is usually blocked with other people or even the restaurant is full at this time. So make sure you book it before if you want the front line table.
———————–