The Phu Quoc marine protected area (MPA), part of the Phu Quoc National Park, is located in the waters of the Phu Quoc island district. It was established in 2007 and is among 11 marine protected areas in Vietnam at present.
There have been major tasks of conserving nature and serving tourism development which help to #savePhuQuoc.
A rich eco-system
The Phu Quoc MPA is home to many types of ecosystems such as coral reefs, seagrass meadows, and mangrove swamps, which provide habitats for various rare and precious fauna and flora species. 
As of August 25, 2020, the specialized zones in Phu Quoc Marine Protected Area have been adjusted as follows:
Of the more than 40,909 ha of the Phu Quoc Marine Protected Area, the strictly-protected zone covers over 7,087 ha, including some 6,658 ha for seagrass conservation in the northeast of the island and nearly 429 ha for coral conservation in the south.

The zone for ecological recovery covers more than 11,537 ha, including some 11,363 ha for seagrass ecosystem recovery in the northeast and 174.68 ha for coral ecosystem recovery in the south.

There are also 1,212 ha for seagrass and another 8,605 ha for coral in the 9,817-ha service – administrative zone.

A buffer zone of about 12,467 ha has also been set up to minimize the impact of socio-economic activities on seagrass and coral conservation.
The Phu Quoc MPA plays an important role in restoring and developing fisheries resources, developing the local marine economy, thus contributing to improving livelihoods for communities in coastal and island areas, as well as to scientific research, community-based education, eco-tourism, and environmental protection.
The coral reefs and seagrass meadows provide habitats for numerous types of fish and other sea animals such as sea horses, crab, or sea turtle. It is noteworthy that the waters are home to many rare and precious species that have been listed in the International Union for Conservation of Nature (IUCN) Red List of Threatened Species, for example, Dugong, sea turtle, and dolphin, to name just a few. Thanks to good conservation work, the number of such rare and precious sea animals has been on an upward trend over recent years.
However, surveys of scientists have shown that the marine resources in Phu Quoc waters have gradually become depleted, the seagrass meadow ecosystem has undergone changes, and water near the shore has been polluted, affecting the habitats and food sources of marine species.
The major factors leading to the worrying situation include rapid population growth, over-exploitation, use of backward fishing methods, and low awareness among local communities.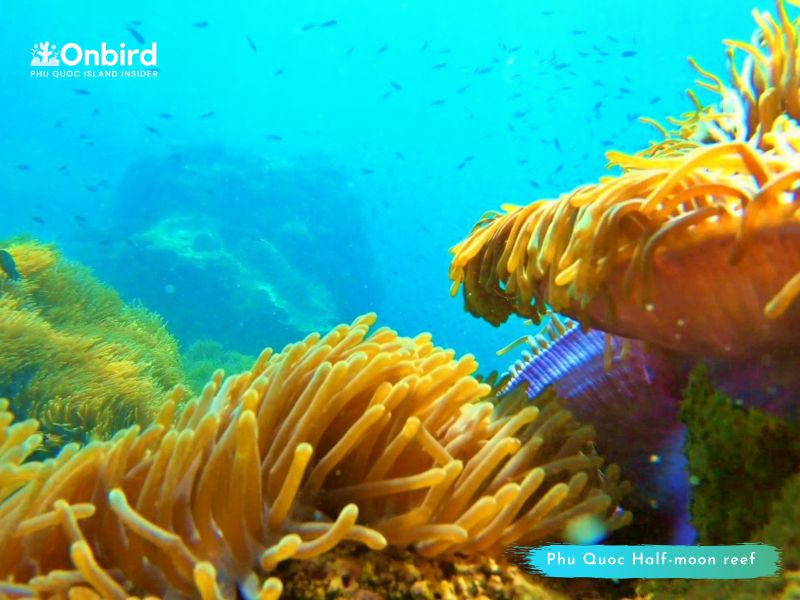 Working towards sustainable development
In implementing the strategy for sustainable development of the maritime economy towards 2030 with a vision to 2045, the provincial People's Committee said it is urgent to conduct surveys on biodiversity in Phu Quoc and adjust the sub-zones in the Phu Quoc marine protected area.
The provincial authorities have instructed the Department of Agriculture and Rural Development to tighten fisheries management in the marine protected area and intensify the enforcement of the Law on Fisheries.
The department will promote the dissemination of regulations on marine species subject to a ban of exploitation, as well as rules on fishing means, vehicles, fishing seasons, and fishing grounds in order to protect the marine resources.
A buffer zone of more than 12,467ha will be set up to limit the direct impacts of outside socio-economic activities on the conservation areas.
The provincial administration has also directed the Phu Quoc National Park to strengthen the conservation, restoration, and development of marine ecosystems and sea plants and animals.
The park will coordinate with relevant agencies and the People's Committee of Phu Quoc district to implement programs and projects to help people living in the marine protected areas to switch to other jobs. The agencies are required to provide vocational training to local fishermen and transfer scientific-technical advances to them with a view to helping them shift to sustainable fishing.
Meanwhile, the Tourism Department is tasked with managing and guiding suitable tourism activities in the marine protected area.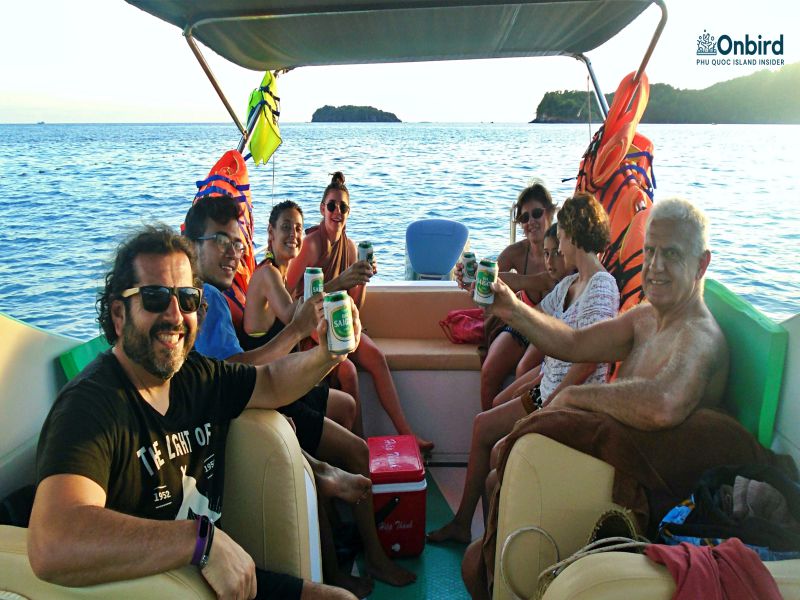 Besides, Phu Quoc has also promoted collective brand names for its agricultural products and improve personnel quality in service of agriculture-based tourism. 
Currently, there are 21 models where science-technology is applied in agricultural and fishery production in Phu Quoc, many households have turned local fruits into specialties.
Phu Quoc has become a top tourist destination after it built an international airport in 2012 and the government rolled out a 30-day visa-free policy for foreigners in 2014.
With a population of more than 100,000 people, the island received over 5 mil visitors last year, up 30 percent from 2018, including 541,600 foreigners normally.
#savePhuQuoc #savethereefs #coralreef #oceanconservation