Phu Quoc Island is located in a tropical area thereby with favorable weather, many coral species have been found in Phu Quoc water. And for those who are keen on exploring marine life, you must have had a great passion for contemplating coral reefs here, and curiosity for knowing what coral species you could see and where you could find them in Phu Quoc Island?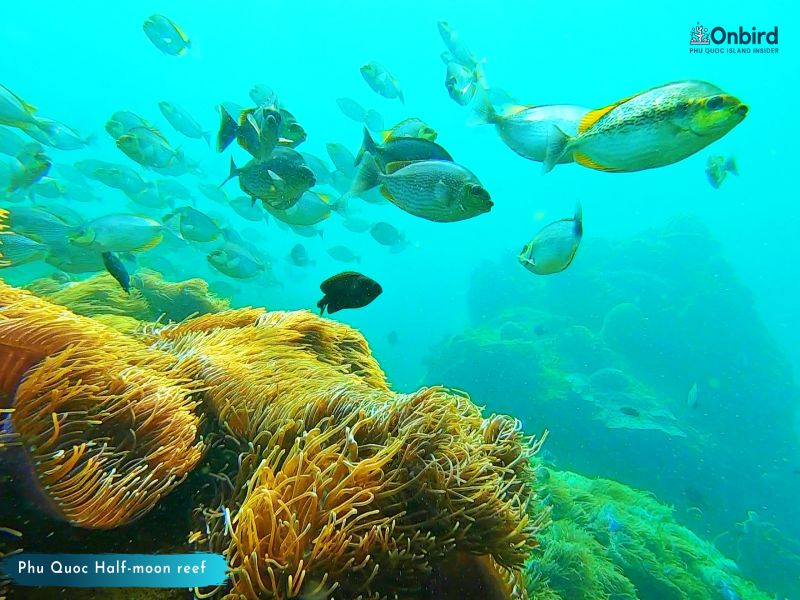 As the post title, we would like to clarify unaddressed related-anemone questions. Honestly, it's not easy to find anemones in Phu Quoc Island. Here we find the minority existence of soft coral as well as anemone species. Or soft coral is a kind of rare one in Phu Quoc water.
1. Ritteri Anemone in Phu Quoc:
At Half-moon Reef we could find this kind of anemone a lot at the depth of 3 – 6 m, we have found out large golden Ritteri anemone clumps at Half-moon Reef or an Anemone ground which is covered by many small Ritteri anemone clumps at the depth of 5 m here.
At Phu Quoc U-Turn you can see even larger Ritteri Anemone clumps at shallower depths of 2 – 3m with the length is about 3 m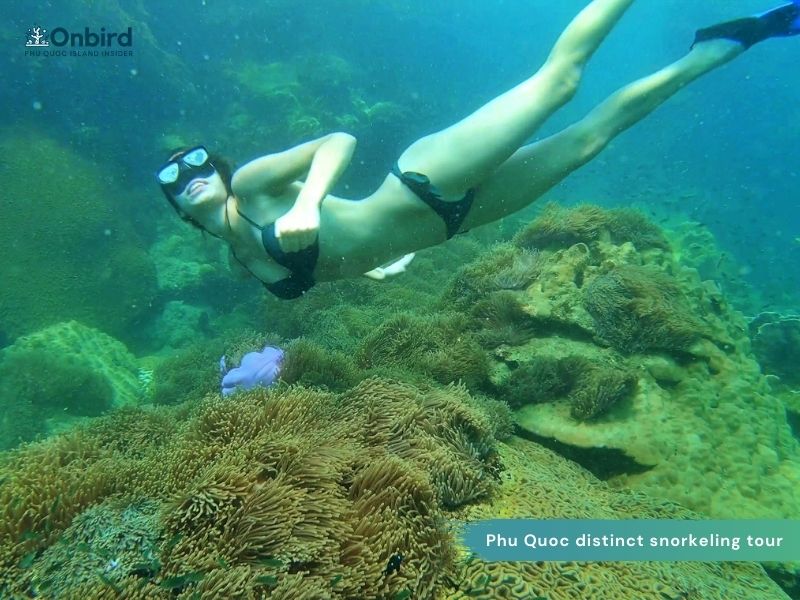 2. Carpet Anemone or Leather Coral:
We could find big Carpet anemone clumps in both Southern Phu Quoc and Northern Phu Quoc water, they are in golden color, especially at Phu Quoc Half-moon Reef and Phu Quoc U-Turn you could easily find their existence. In the North, at the Kingdom of Table Coral close to Turtle Island, there are fewer of this kind of anemone.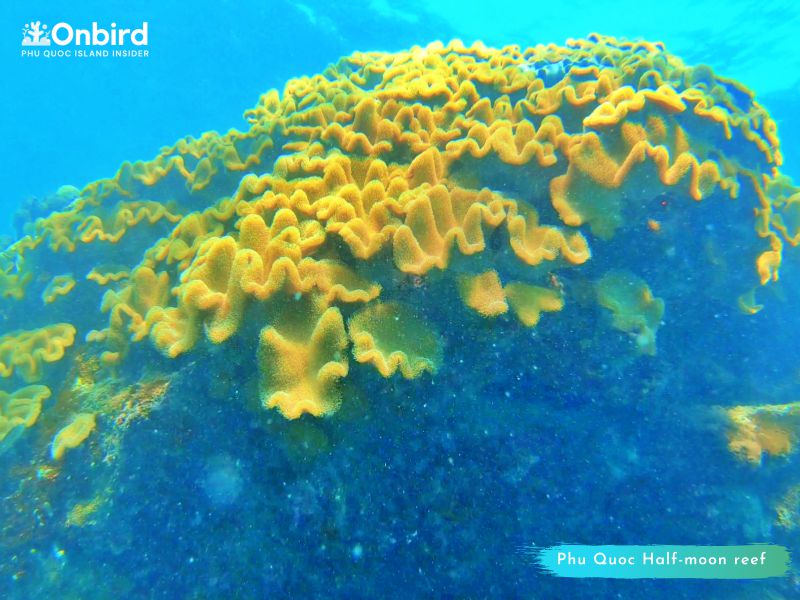 At other snorkeling sites such as Shallow Reef, we could find very small Carpet Anemone clump and at other coral reefs, you almost can not find anemone.
3. What kind of Nemo or Clownfish you could see in Phu Quoc?
So sorry for having to tell you that it's pretty difficult to find cute-looking Clown-fish in Phu Quoc like the one you watch in the cartoon "Finding Nemo", the most popular anemone-fish that we find in Phu Quoc is "Pink Skunk Clown-fish" or "Pink Anemone fish", like all anemone-fishes, it forms a symbiotic mutualism with sea anemones and is unaffected by the stinging tentacles of the host. From coral reefs: Phu Quoc U-Turn, Half-moon Reef, Kingdom of Table Coral (North Phu Quoc), Four-season within the depth of 2 – 6 m we just find this kind of clown-fish.
Explore Phu Quoc Golden Anemone Clump at Half-moon Reef by joining in our Free-dive Tour or Private Snorkeling Tour