Where to find the best seafood restaurants, Vietnamese food restaurants in Phu Quoc Island? We have been asked many times for these options. Frankly, it's difficult to find excellent, fresh, inexpensive, locally caught seafood restaurant in Phu Quoc Center, we would recommend our guests to take a half-day trip to visit Rach Vem/ Starfish beach and experience its floating restaurant seafoods. That's the most ideal scene in the dry season. Otherwise, you would go to The Northern part of Hàm Ninh village, Bai Thom area in the rainy season, just stop by some beachside restaurants and check yourselves.
In this blog, we focus more on some suggestions of Vietnamese food restaurants for foreigners when in Phu Quoc. There are quite many choices on where to eat in Phu Quoc Island however to highlight excellent places to eat with friends or families, there are just a few.
Suggest you tick off the places in the list as you visit them.
I. ANNA'S NHA CUON RESTAURANT (187 Đường Trần Hưng Đạo, Cửa Lấp, Phú Quốc)
A typical Vietnamese restaurant located on the beautiful island of Phu Quoc, Anna's Nha Cuon Restaurant is a different destination among the many places to eat and visit in Phu Quoc. The house sells familiar rolls, typical of Vietnamese family meals, besides there are Western European dishes created by the owner himself. The restaurant is very close to Salinda Phu Quoc Resort and Dusit Moonrise resort so if you stay at these two beach resorts, it's very convenient to drop by for dinner.
We would vote Anna's Nha Cuon as top one of Vietnamese food restaurants in Phu Quoc for three big highlights: 
+ Cleanliness: To be honest, Food hygiene and safety in restaurants in Phu Quoc is average. We appreciate the clean air-conditioned dining space and organized food presentation of Anna's Nha Cuon and their clean kitchen which is kind of really rarely-seen in Phu Quoc. Many of our guests had to cancel our snorkeling & diving tours last minutes due to being encountered food poisoning problems after dining at some restaurants in the center of Phu Quoc, thereby we understand & appreciate the issue of food hygiene and safety whereas many food and beverage businessmen in the island still underestimate this issue.
+ Very simple yet elegant interior decors. They bring Old Classics to a Modern Setting by showcasing Gốm Bát Tràng products (Bat Trang Ceramics of Northern Vietnam) in the restaurant. They also use Bat Trang dinnerware at different sizes and shapes to serve small portions of dishes.
+ Friendly and attentive staff: Staff are almost all around 20 years old but well-trained with attentiveness and cleverness.
Beside 3 big highlights from our experience, they deliver great options of rolls (which means "Cuốn") and skewers, very typical dishes in Vietnam. Rolls and skewers come with slightly fancier options: pork rolls, beef shanks, sugar cane shrimp, grilled lemongrass pork, crispy spring rolls. All items are served with unlimited refills or lettuces & herbs, and big highlights which are some types of sauces that are tasty.
Tips/ Side notes
Grilled fish is too fast, so you shouldn't choose this dish.

Some dishes are quite pricey, if you dine as a couple, 2 dishes with drinks are fine, budget around 500,000 VND for 2.

Menu is exclusive of 5% service charge which is reasonable because the staff is normally nice

Plan to stay: 1,5 –

2 hours 
II. NHÀ XƯA 68 (68 Lý Thường Kiệt St., Phu Quoc)
With a bold Southern and Vietnamese space and many Western delicacies (Mekong Delta), Nha Xua 68 is an "expensive" address for those who like to eat cozy country rice when coming to Phu Quoc.
Back to the simplicity, this restaurant reminds Vietnamese 80s people about their childhood.
The restaurant has 3 separate serving zones:
1. The outside zone – airy – close to the roadside – gives the feeling of closeness like Vietnamese street food style, although this area is quite clean.
2. Main zone inside the house with fan and no air conditioner
3. An enclosed zone with air-conditioning & more private: a little extra fee, about 60,000 VND/ hour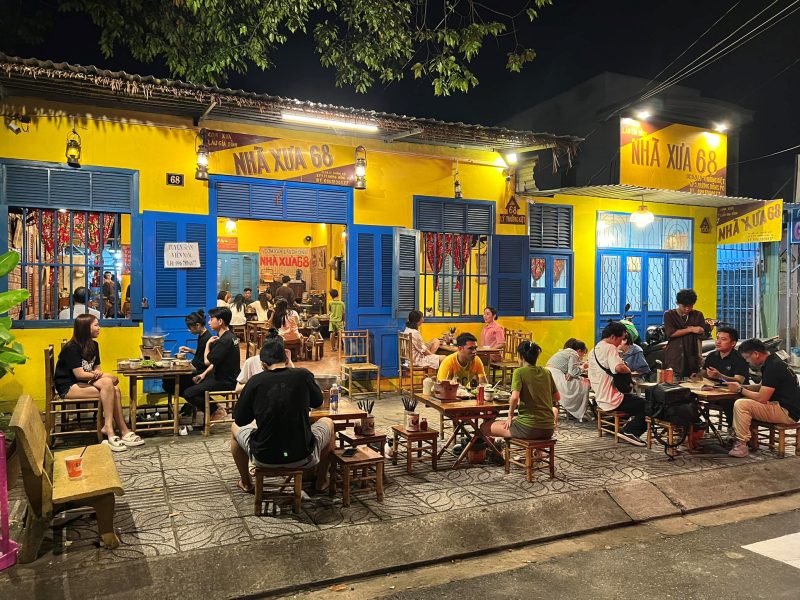 Typically-styled serving foods with crockery dishes, cast iron pot, and clay pot, Nha Xưa 68 truly attracts both foreigners and Vietnamese people with the authentic countryside style. 
The restaurant is designed like an old Southern house with many authentic "back then" items, from Bamboo tables and chairs, aluminum chopsticks, crockery dishes to the old antler mantle evoke a feeling of nostalgia.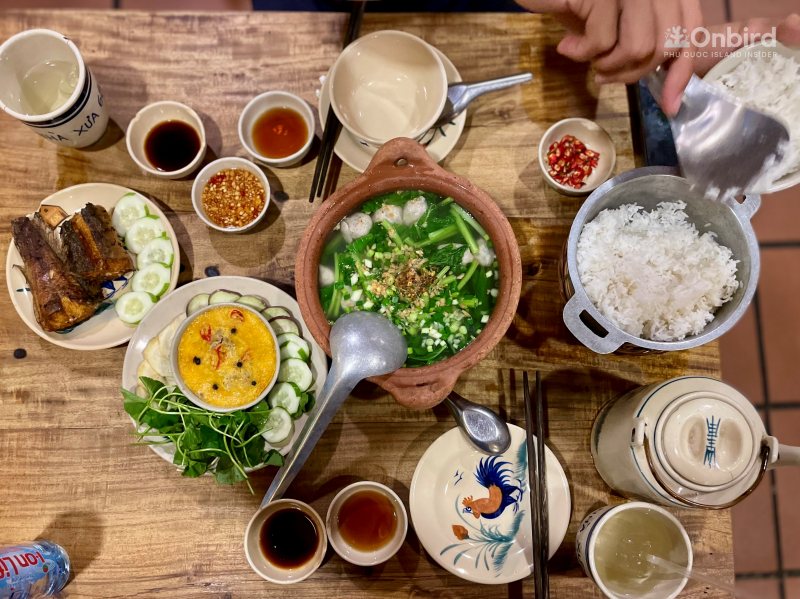 Some signature Southern Vietnamese foods people should try are: canh chua (sweet and sour soup), thịt luộc mắm tép (boiled pork served with sour fermented shrimp), and khổ qua xào trứng (bitter melon stir-fried with eggs), Lẩu mắm, a traditional hotpot which is common throughout the Mekong Delta of Vietnam, consists of a broth made from fermented fish and is served with a variety of pork, seafood, and vegetables.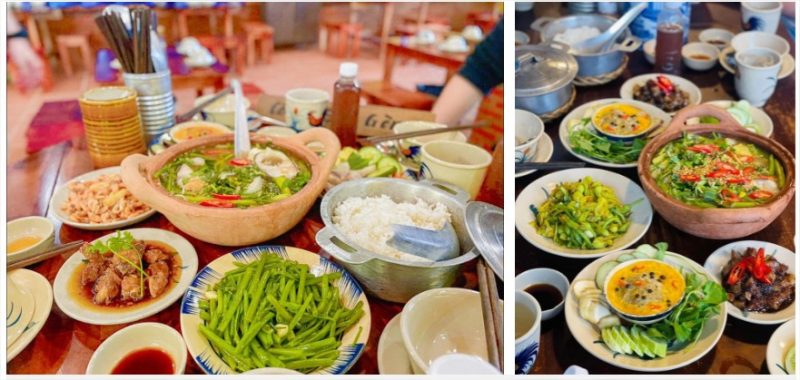 Opening hours: 11am – 9pm
Tips/ Side notes:
The quality seems to vary a lot, not constantly every time we dine

The staff hardly speaks English but they are helpful and you can manage with Google Translation

The location is not too close to the city center

Some dishes are quite sweet in the Mekong Delta style, which may not really be suitable for the masses. However, you're in the Mekong Delta City, why not try this time? 🙂
3. THE SPICE HOUSE- CASSIA COTTAGE (100C/ 12 Tran Hung Dao, Duong Dong, Phu Quoc)
Housed in a charming open pavilion with pool & sea views in Cassia Cottage – a very first 4-star resort in centre of Phu Quoc., the Spice House is one of the must-try bucket lists of foodies.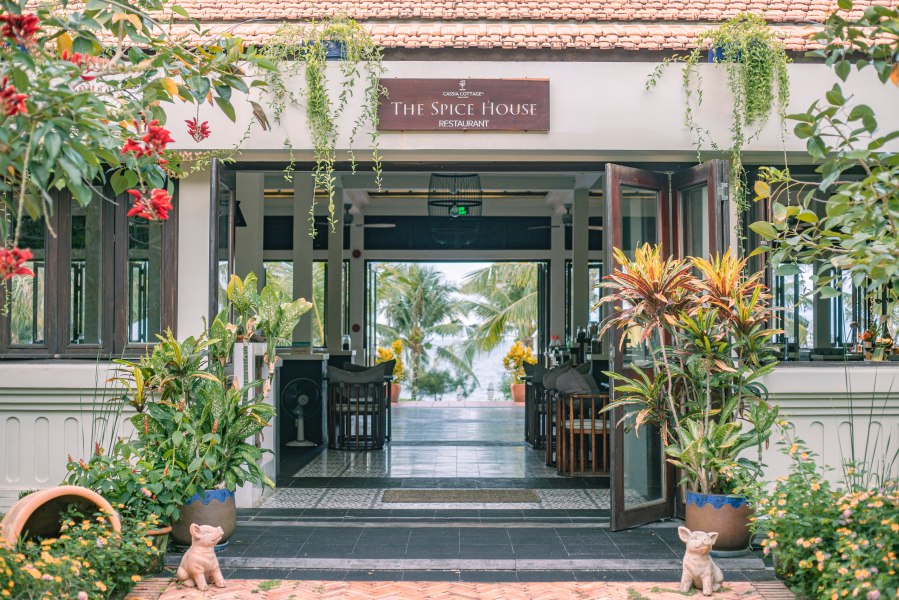 The dishes take advantage of fresh local ingredients and deep knowledge of Vietnamese spices. All are completely free from MSG, preservatives or coloring. The result is a menu that blends Vietnamese dynamism with Mediterranean sensibilities; complemented by an impressive wine selection from France, Italy, Spain, Germany, Australia, America and Chile, as well as imported spirits and cigars.
Some great Vietnamese dishes you should try here are the Vietnamese pancake (Banh Xèo), spring rolls (gỏi cuốn), the green mango and shrimp salad, and of course, the chocolate lava cake! More expensive than other restaurants in the area but it is part of the hotel and quite luxe.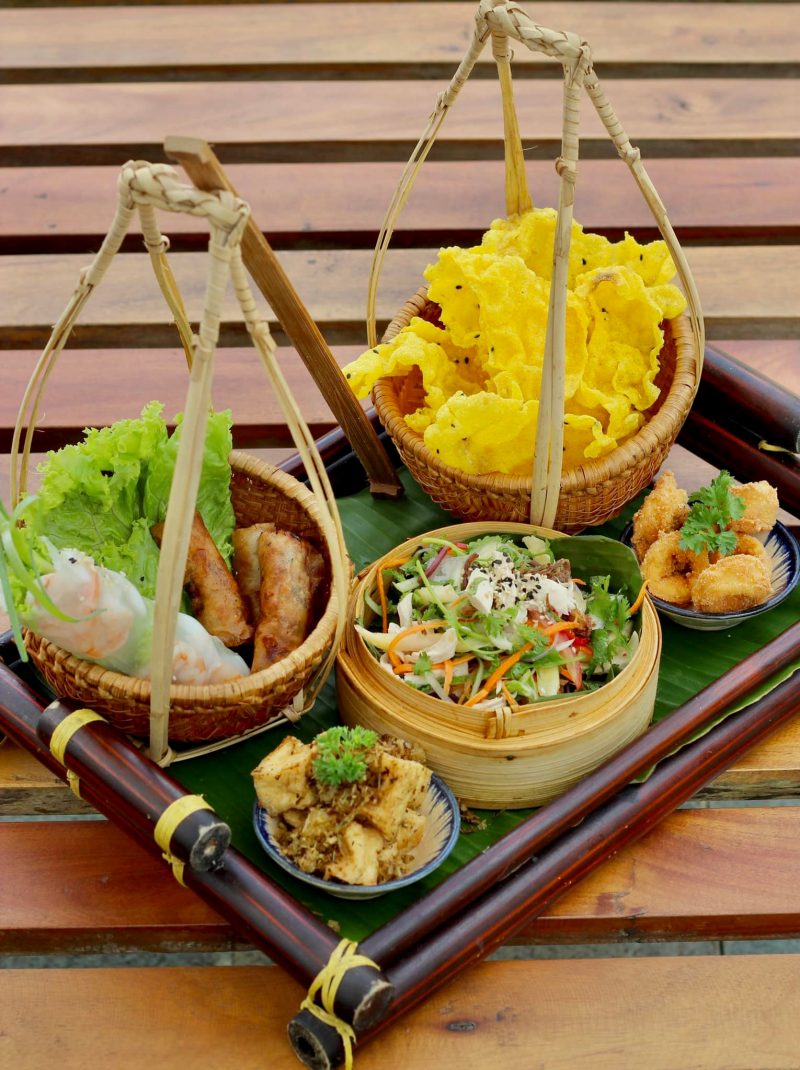 Many times (especially at dinner time), you may have chances to meet with Mark or Hoang (the friendly owners) who come to chit chat with the guests, which is considered as a lovely welcoming touch. Would recommend it if you're after a more upmarket place to dine at in Phu Quoc!
Sit back, relax and enjoy the food and wine!
Tips/ Side notes:
* Price is at least 700,000 vnd for 2, more premium than the two previous restaurants
* They serve both in-house guests and outside guests at the same time then it's better to make a reservation in high/ peak season from November to March