Dear Islanders and Tourists those who've been in love with the Pearl Island – Phu Quoc,
No killing Parrotfish – the fish that shapes the reefs is the statement that we would like to convey to you to save Phu Quoc marine life.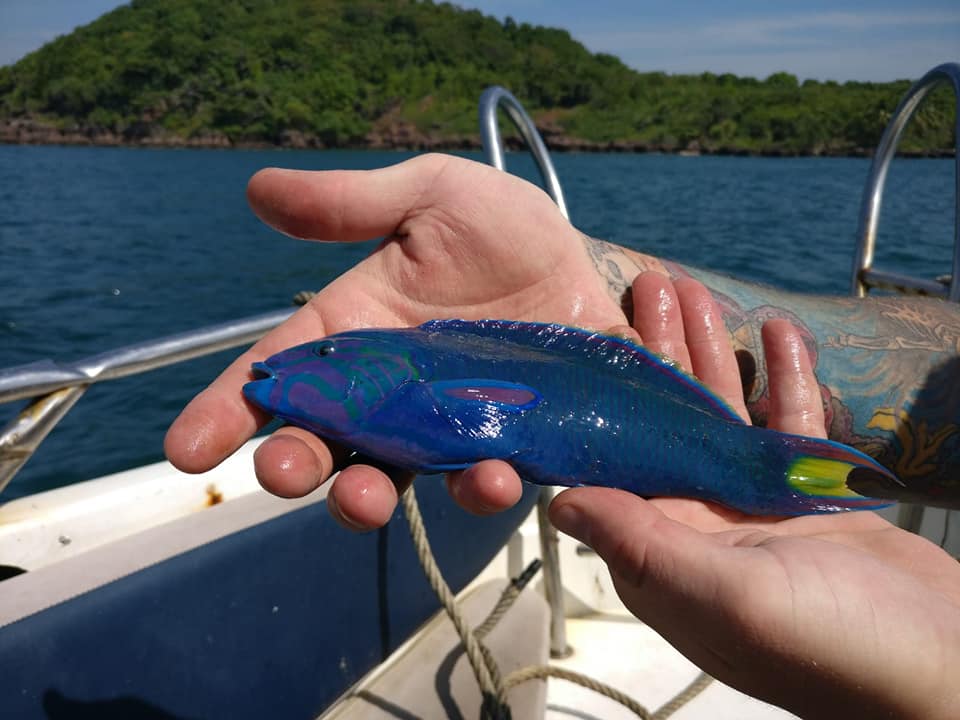 There are many spearfishing men on the island who regard spearfishing as a kind of entertaining activity for themselves quite often and for tourists also.

At times, we saw many spearfishermen coming up from the sea with what so-called "spoils" after their "entertaining spearfishing" are Parrotfish.
However, if you are aware of the fact that Parrotfish possesses an important position in the marine ecosystem, you probably behave differently.

Most parrotfishes live on coral reefs, where they eat seaweed, they are herbivores, feeding mainly on epilithic algae. Their feeding helps to keep the reef clean, ensuring that corals are not smothered by seaweed and that there is room for new coral larvae to attach.

This allows our reefs to stay healthy and grow, providing habitat for other fish and invertebrates. As they graze, parrotfish also consume rock and dead coral, which is ground up and excreted as sand. A large parrotfish can produce hundreds of 150 – 450 kg of sand per year, which helps to build our island-famous beaches", and corals provide sanctuaries where young fish can fatten up, supporting large fisheries as well as tourism industries. Coral reefs also protect coastlines from erosion and flooding.

Please stop and no killing Parrotfish, let's be responsible to protect the marine life in Phu Quoc! 
Another thing that you might concern about the fact in Phu Quoc island, w
e are seeing a dramatic reduction in reef fish population including Parrotfish than ever whereas a rapid increase of dead coral ongoing

. With its vital cleaning function, Parrotfish consumes dead coral or cleans algae from corals then grinds the inedible calcium carbonate (reef material made mostly of coral skeletons) which is excreted as sand back onto the reef to build a beautiful beach like at most beautiful islands of Phu Quoc, notably: Dam Ngang Island, May Rut Island and Fingernail Island.
If the situation of catching Parrotfish keeps going on at such a rate, we still witness the striking disappearance of beautiful coral reefs in Phu Quoc. 80% of Phu Quoc coral reefs are now in very poor conditions with the significant invasion of seaweed; thereby it's urgent to be conscious of the importance of Parrotfish as well as enriching ourselves with the proper knowledge before getting on a sea trip.
In case you gonna join a spearfishing or fishing trip, please keep in mind that: do not hunt for Parrotfish, saving Parrotfish is one of the very few efforts to save Phu Quoc sea.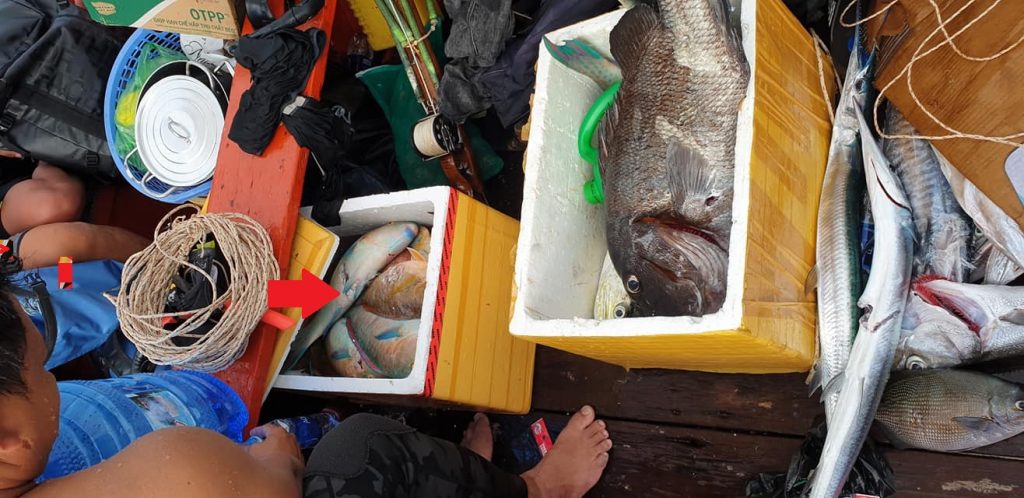 Coral reefs can't speak for themselves, we have to speak for them.
Follow OnBird on Facebook or Instagram to get updated on useful information about Phu Quoc island guide.