Apart from the weather, the light, the water we want to explore coral reefs in a completely quiet atmosphere which just has the sound of waves & birds but not the noise of crowds. That why we would like to have a snorkeling experience in the early morning.
🔛 Location:
Phu Quoc Coral Mountain is located in a very shallow and calm jade water which is 16 km in the South from An Thoi town would be a coral reef that cannot be missed in this case, especially its beauty also very worth exploring.
We left Duong Dong town at 7:30 by OnBird's car after had breakfast, we headed for the dock in An Thoi town which is a beach facing the West. After boarding the speedboat we left the beach for An Thoi archipelago in the dawn of sunlight. Crystal Reef is the first venue in our route in this exclusive snorkeling trip.
Due to the weather then we would not be able to visit U-Turn in February thereby the second snorkeling site was Half-moon Reef.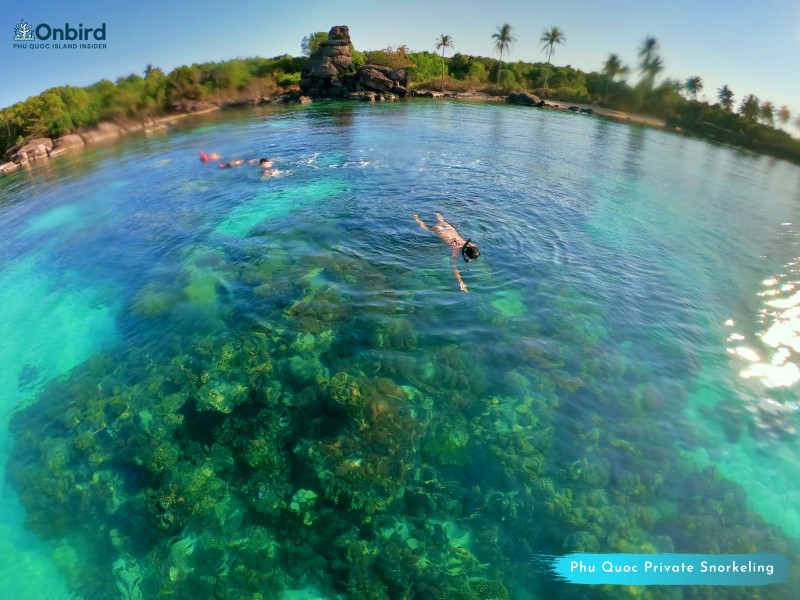 OnBird took us to Crystal Reef for exploration of Coral Mountain and a genuine social of huge Massive Corals.
🔛 So what exactly Phu Quoc Coral Mountain is?
Phu Quoc Coral Mountain is a large clump of Cactus Coral (Pavona Coral) coral that has been growing in Crystal Reef with a lot of massive and table corals surrounded. You can imagine that you will be getting into a genuine hard coral society in a shallow depth of 1 – 3m.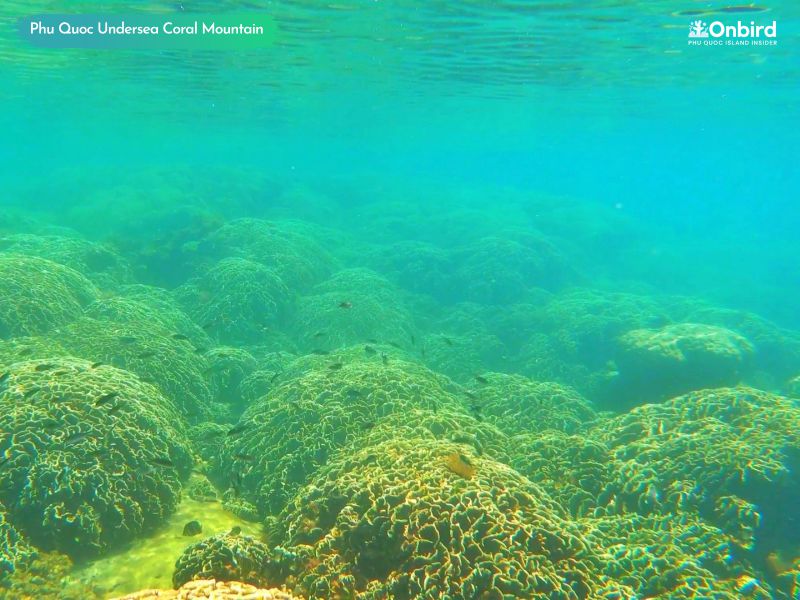 Jumping off the speedboat into the jade water, due to the presence of a lot of massive corals which play a critical role in keeping superb underwater visibility of 10 – 20m. You could see large schools of SARDINE swimming across, around, and over huge Massive corals, and you know what? the seabed is covered by white sand made by cute-looking Parrotfish.
🔛 How to find Coral mountain underwater?
To find the exact location that Coral Mountain is situated at, we need to have a guide lead the swimming way in the water. We swam across huge rock-like Massive corals.  After 5 minutes of swimming, Coral Mountain gradually appeared. It was super huge and majestic; especially because it is situated in shallow water that the top is just 0,3 – 0,4 m from the surface. It made us feel kind of extraordinary fascinating.
Follow the guide, we circled the coral mountain, sometimes we stopped to be floating ourselves to take a look at cute reef fishes and closer contact with Cactus Corals (Pavona Corals). We saw coral polyps in a very close range. We did have to try to keep the water around as calm as possible to avoid the strong impact on the coral also.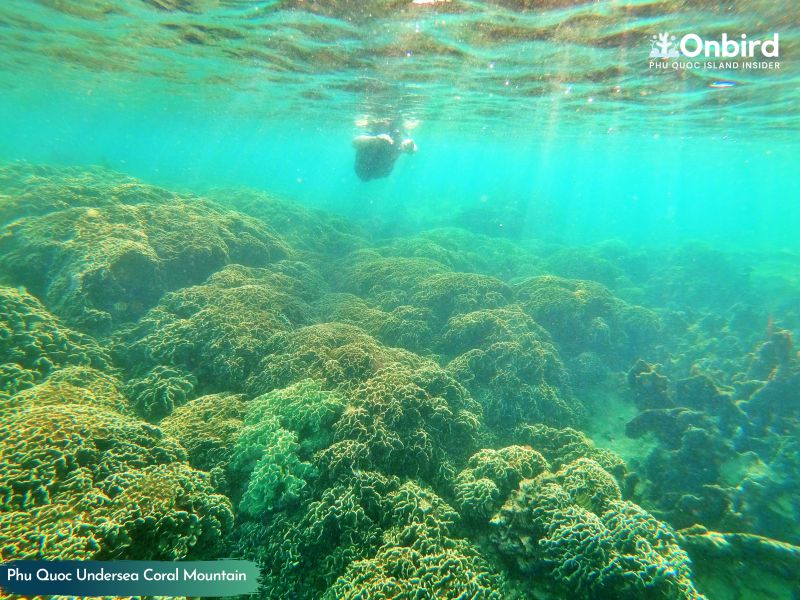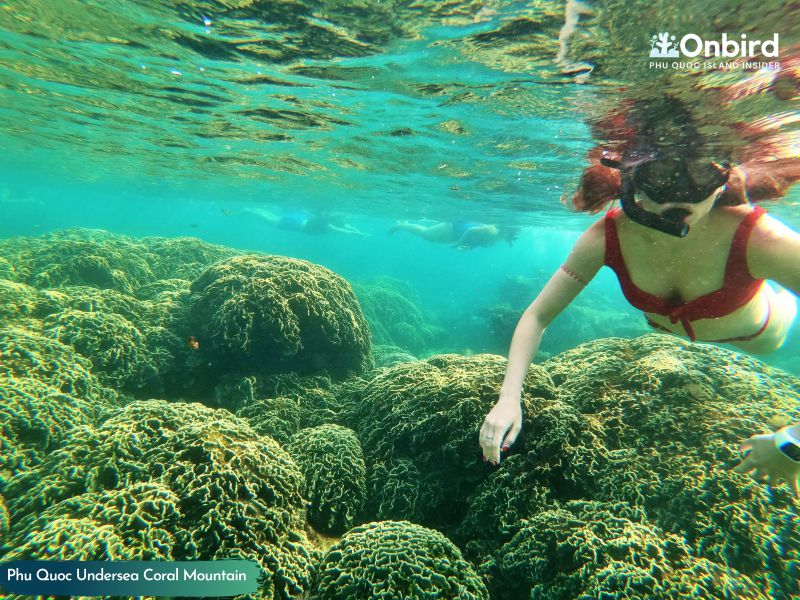 🔛 What're special things we figured out at  Phu Quoc Coral mountain?
As the Coral mountain is just under 1 m away from the water's surface, we saw a lot of light waves running across the Coral Mountain due to the light refraction when sunlight is bent by the water's surface. The scene was quite interesting! And of course, we saw many yellow convict tang swimming in search of prey on the coral, the Coral Mountain is also the home to many sea worms which would sink into their shell if feeling threatens.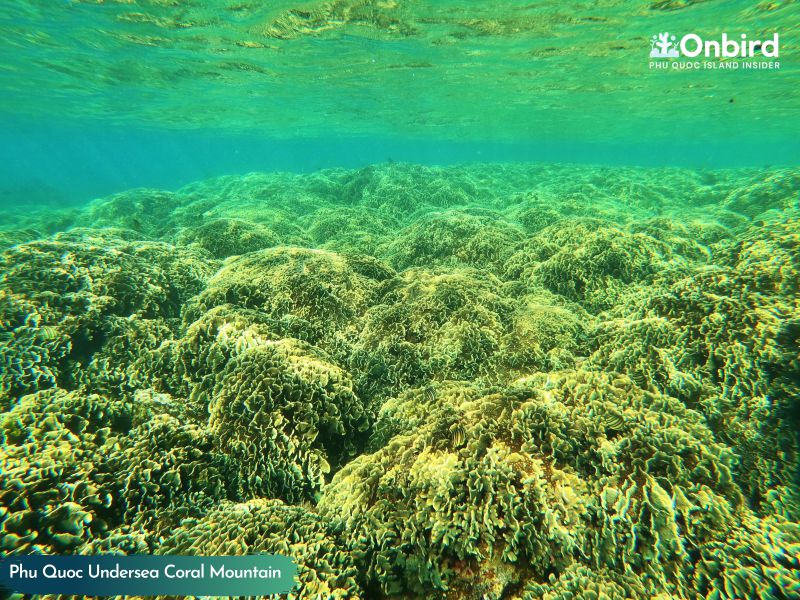 At the highest point of Coral Mountain, around 3m from the seabed, the Cactus Coral (Pavona Coral) coral has been forming a rough terrain with a completely mountain-like outward appearance. Swimming at leisure just like an exercise in the early morning in mild, non-harsh sunlight as if you are swimming in a big swimming pool between the sea. After got back to the speedboat, we had time to relax and witness natural surroundings in a fresh space, absolutely quiet before headed for Half-moon Reef.
Please make a reference to Exploration of Coral Mountain in the early morning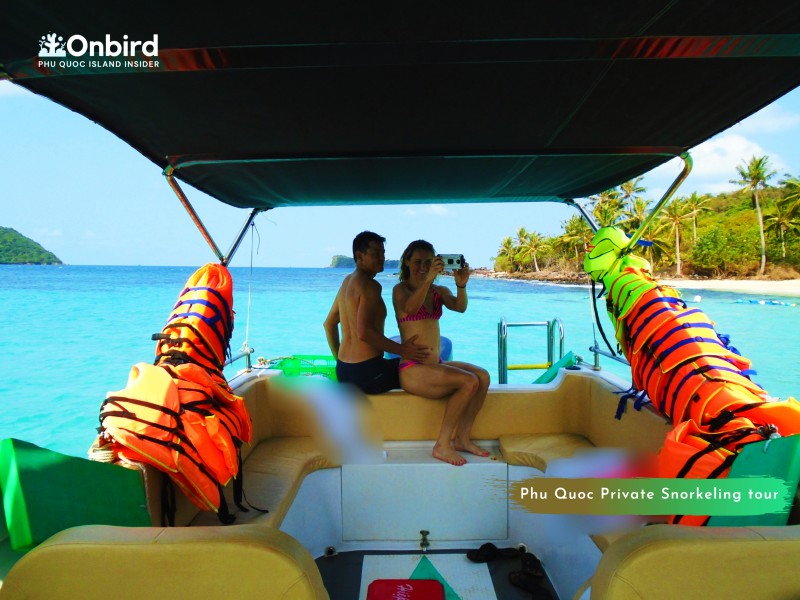 Follow OnBird on Facebook or Instagram to get updated on useful information about Phu Quoc island guide.