A green oasis in the heart of the Pearl Island, "Fingernail island"
Mention to Phu Quoc, we will think to the famous landmarks such as the Sao beach, Long beach, Ong lang beach, … However, if you miss "Fingernail island" and many other beautiful islands in An Thoi archipelago was viewed as still not know about Phu Quoc. This small islet was voted as one of the most beautiful island in the heart of the An Thoi archipelago.
Fingernail island owns the blocks of natural stone is quite fancy, cool water, full of white sand to help the island become fascinating destinations with the scene as paradise.
The nail polish
Where is the Fingernail island?
Fingernail island belong to An Thoi archipelago – where include many other islands such as: May Rut Trong Islet, May Rut Ngoai Islet, Gham Ghi Islet, Doi Islet, Goi Islet, pineapple island, Anh Dong Islet, Anh Tay Islet, Kho Islet, Dam Islet,…. located in the south of Phu Quoc Island.
If departing from Duong Dong town, you will move toward An Thoi Port about 30 km, after that moving more 10 km to come The Nails. At the port, you can rent a boat, or cano to come to this beautiful island. However to get the service and good price you should book before you come and avoid the absence of ships at the port because of the number of passengers, you have to go back quite far.
Which transport we can use? How about the cost?
Nowadays, the people of Phu Quoc promoted tourism activities, improved services and more development. Therefore, to visit the Fingernail island, you have countless ways, you should find any service suitable with "your wallet", then choose it!
1.Renting a local speed boat
With this option, you will save your money, cheap or because are free to visit and experience. The cost to rent a small boat prices range from 1-1.2 million/ 4 persons, your close friends has 10 persons still enough. Divided equally the cost of rent, each also a little, super save always. I saw that foreign tourists like to go this way, cheap fun and they have just the right style with their freedom.
If you choose rent a small boat, you need to go to the An Thoi port. If you go from Duong Dong town, you can call a taxi ( about 30 minutes) or rent a mortobike ( this way is so cheap and fun,too). There are many boat rental units, cano you can easily be touted. However I think you should book in advance to ensure good service and specially in high season will not have board, cano, when you have to go so far to come it.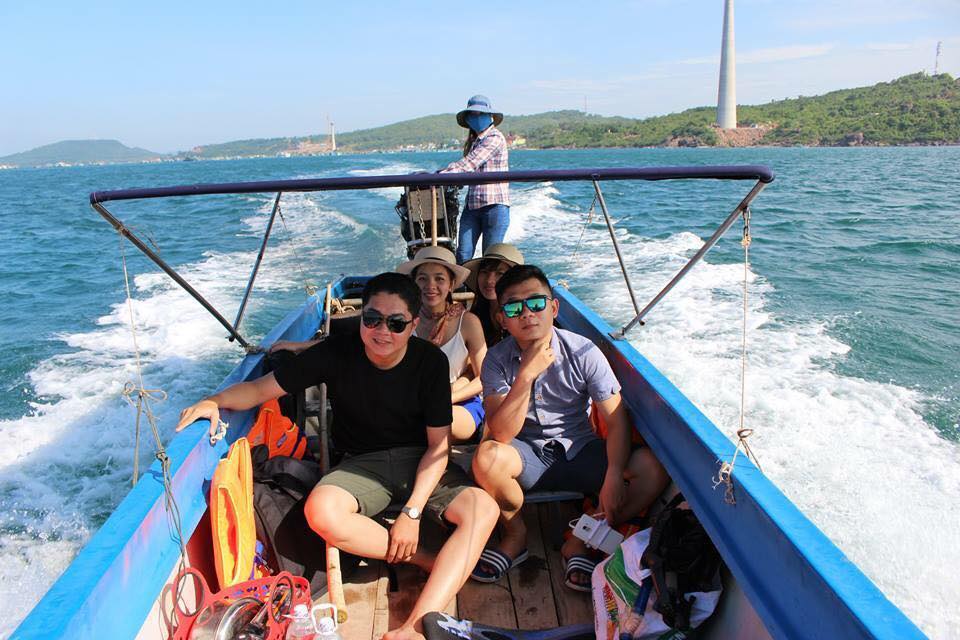 Rent a small boat to the nail island
2.Rent a speed boat or book a speed boat tour.
This is probably the highest cost in the kind of service to move out to Fingernail island. However, the advantage is going on a separate time, to play in any place, smoothly, luxurious, on a big wave day it will be safer than a boat, but in the dry season both of them are safe.
The time to move by canoe to the islet will be faster than the large ship, less seasick and visit to most of the island that the large ship does not reach, need a the smaller one so it's inconvenience. Not only a comfortable canoe move, but also you delight taking pictures between the sea coast, enjoying the freshest atmosphere of Pearl Island with a blue water.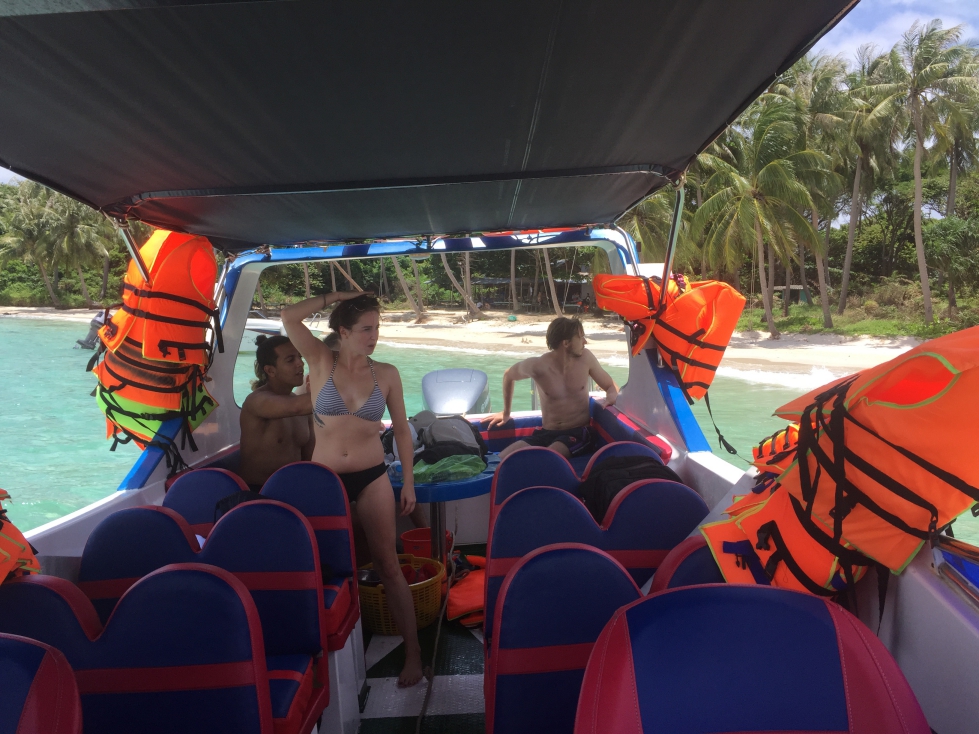 Canoes separate nail polish
3. Using a combined speed boat
To save the fee, you can refer to the service combining canoe. The cost varies from 500.000 to 600,000 vnd per person (excluding shuttle). However, you also know that the schedule is fixed, depending on your partner. But for many guest this does not affect too much because they still have a great day. If you go to a group of about 4 or more, rent a separate canoe is so "cool" and comfortable for you.
4. Rent a private boat
This would be a rather ideal hint for groups of friends or families who want an absolute private space, quiet trips, grilling seafood, party, kitchens, toilets…. All aboard the sea, lying on soothing couch, watching the beauty of Mong Tay Islet and other stunning islets in the archipelago.
However, the large vessel will not enter to Mong Tay islet, May Rut islet but it will be parked near the shore, which can be easily swim or some large ships with small ships that will carry you into islet. Price of this service from 2.5 – 3 million/1 large ship. It's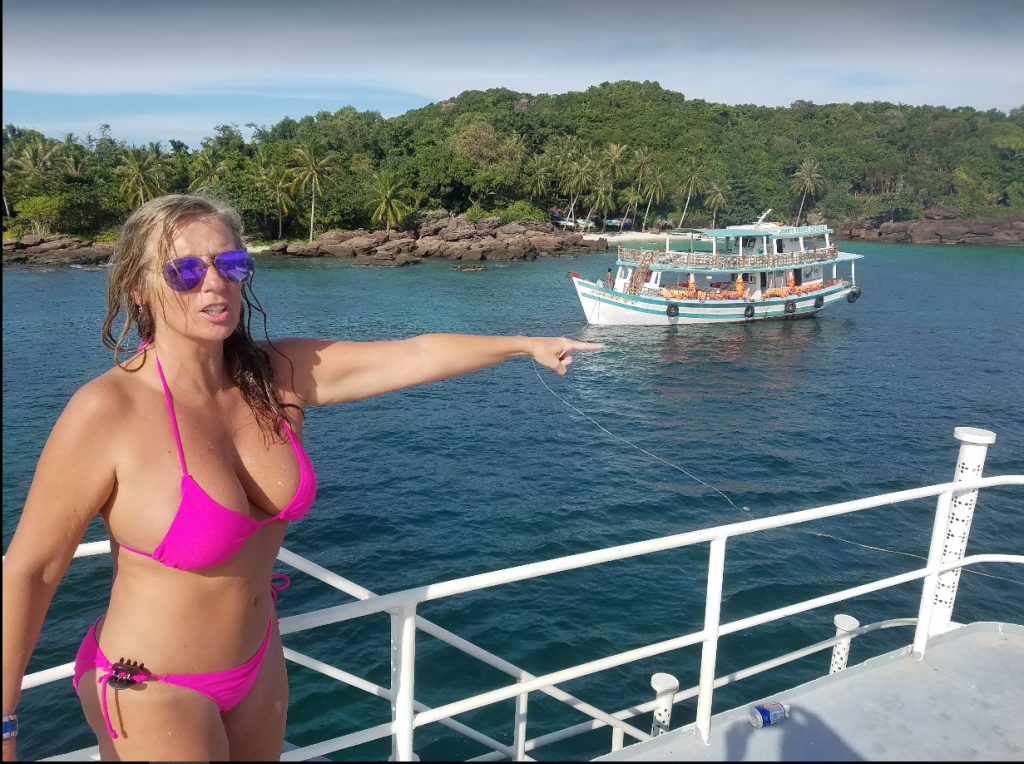 5. Booking group tour.
If you would like everything to be sorted out as a hotel shuttle, schedule, lunch on board,… for your trip you should follow the large ship tour is the best choice. However the time and schedule is fixed and sometimes it's quite a shortly so if you want to have more time to swim, enjoy the beautiful paradise of fingernai island and Hon may Rut ,Hon gham ghi it's impossible.
Besides, sometimes on board there are up to 30-40 people but if you are an easy person, like exchange in crowded, it's not a matter of uncomfortable.
The cost per person is about 720,000 VND/person. With this service you can easily book in advance in your hotel .
What to eat in Mong Tay islet?
1. Seafood
When you visit Phu Quoc without eating seafood is a "loss" because seafood in here so fresh, delicious to the last minute. In general, the prices in Mong Tay islet are not too disparity than in the mainland. Seahorse shrimp 700, crabs ( small – 600 – 800), Bailefr Shell 500, Sea Urchin (small 20 -30), Cat clam 200, garlic clam 400, flag snails 200,…
Noodles fried with vegetables 100, noodles fried with seafood 200, fried rice wit seafood 200, Hotpot (seafood/ grouper – 500 -600 -800), Squid 700, Shimp 800 – 1200,…
(All prices on calculator for 1kg, thousand units (vnd))
The best moment for a trip to visit fingernail island..
The beach will be beautiful and rainy at least in Phu Quoc will fall between November and May annually. So if you have a plan to visit Pearl Island, don't miss this period.
Fingernail island are owned a beautiful scene by natural, but there is quite a small area. However, every day it must pick up a large number of tourists to visit, so sometimes you can't see the beach . Therefore, if you want to admire or have take a
Note
Recently, Fingernail island lost much of the natural beauty because breaking stone to expanding, building many of the food store. So, in the schedule of visiting the Mong Tay islet, you should combine the orther islets, that are incredibly beautiful nearby as May Rut Trong islet, May Rut Ngoai islet, Gham Ghi islet, Bom islet, and diving coral in here is the most beautiful and untouched.