We've usually received questions from holiday-makers that do our snorkeling trips include fishing activities yet.
Our answer is ALWAYS NO as we don't like some other tour operators whose aim is for tourists to experience the sport of fishing.
You may be amazed by the fact that most of these kinds of fishing trips will take place on touristy-big wooden boats and speedboats. Tourists usually catch small-sized ones or unadult fishes under 0.5 kg with a simple fishing reel. This so-called "entertaining fishing" has been destroying the marine ecosystem in Phu Quoc water.
Read more details on our blog regarding these alarming fishing tours right here!
STAY AWAY FROM SNORKELING TOURS INCLUDING "FISHING"- SAVE PHU QUOC
Thus, as for genuine fishing activities that you can engage in on Phu Quoc island, we recommend a Deep-sea fishing charter.
Let look at what exactly Deep sea fishing in Phu Quoc is!
Deep-sea fishing in Phu Quoc is a kind of fishing that requires a trip out into the Gulf of Thailand, which is regarded as a must-do experience when in Vietnam! The water depth should be at least 25 – 30 meters to be considered a deep-sea fishing area. If traveling by boat tends to make you a little queasy, then plan ahead and be ready with the proper medication. This fishing technique is typically referred to as sport or offshore fishing or big game fishing.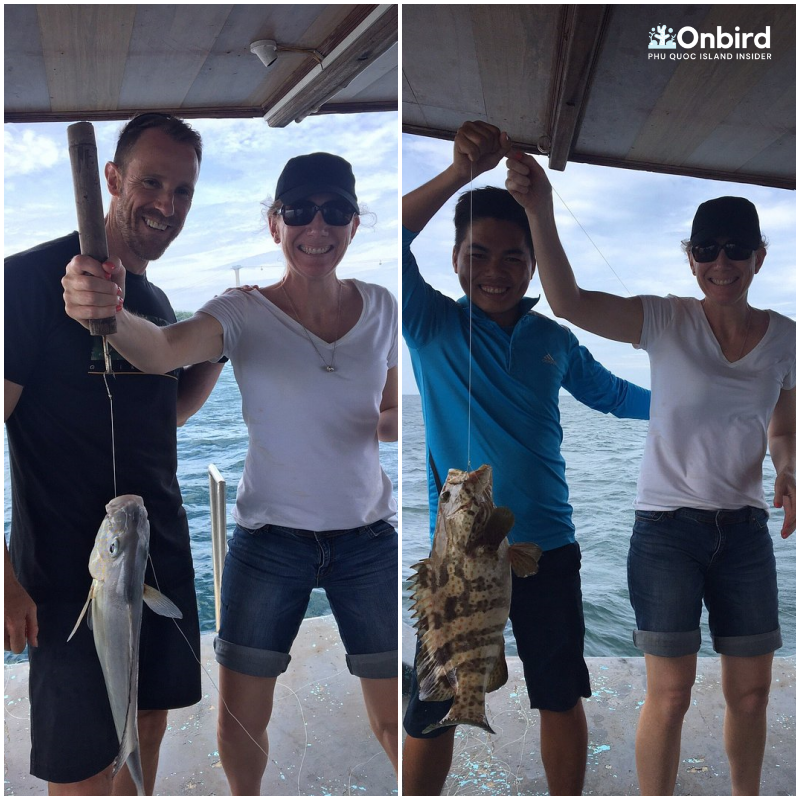 How does Deep Sea Fishing in Phu Quoc differ from regular fishing?
Delighted you asked!
1️⃣ Firstly, it's a charter trip.
As deep sea fishing is not so popular activity for tourists like snorkeling or island hopping trips in Phu Quoc, you're usually required to charter the wooden boat (sharing this with your own group).
2️⃣ Dry season, both day & night time
The best season for deep-sea fishing in Phu Quoc is the DRY Season which starts from October till early May.
The Phu Quoc Deep-sea Bottom Fishing Charter takes place on a wooden fishing boat that is equipped with GPS Sonar guests could join both Night-time or Daytime fishing.
          ☑️ Day-time Fishing 6:30 AM – 2:30 PM (Including lunch – drink)
                For daytime fishing: could visit a snorkeling spot if having enough time left
          ☑️ Night-time Fishing 5:00 PM – 00:00 AM (Including dinner – drink)
 
3️⃣ Fishing Target: 
These are entirely different from your routine shallow water fish. We are talking big game fish – Barracuda, Grouper, Queen Fish, Giant Trevally, Cobia, Spadefish…to name a few. You usually will not find these types of sport fish closer to shore, as they need open and deeper waters to feed. Vacationing swimmers and sun-seekers are grateful for that. You then enjoy your self-caught lunch or dinner.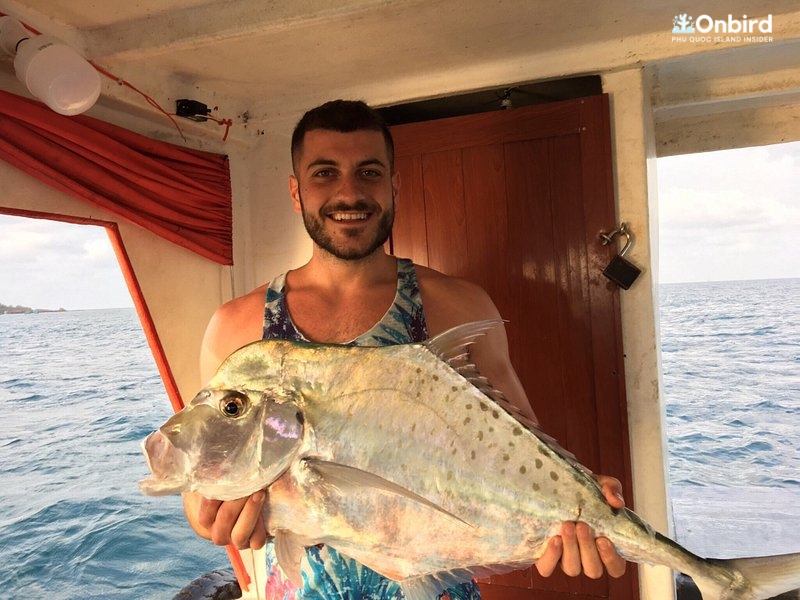 4️⃣ Fishing method & Techniques:
In 8 hours of dedicated deep-sea fishing, the fishing methods here are bottom fishing-anchored and live bit with some techniques such as bottom fishing, jigging and trolling. Traditional Reels or Rods are provided at your request. Specially equipped boat for deep sea fishing which includes the art fish finder GPS, full- covered deck to protect you from direct sunlight, toilet on the boat, and as such you have a higher rate of catching big fishes.
5️⃣ Deep Sea Fishing Suggestions
Be One With Nature.  Your deep-sea fishing guide through experience knows how to see indicators of where the big fish are located that a beginner may not catch.  Schools of smaller fish mean that larger fish are also in the same area.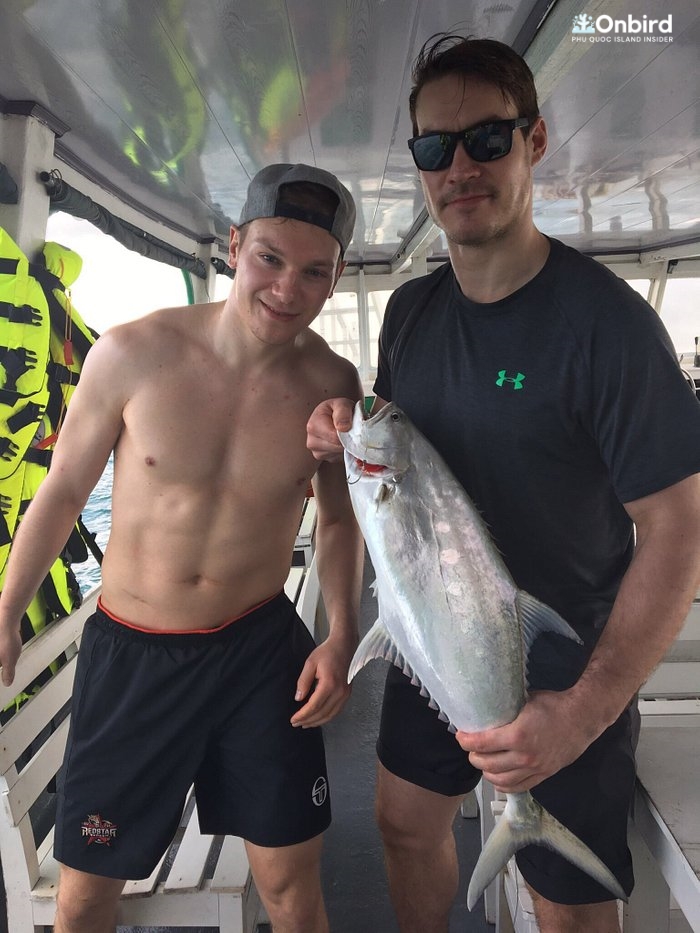 Motion Sickness. As we mentioned earlier, this is something to consider if you are an amateur who has never headed out deep sea fishing. The purpose of the journey is expected to be thrilling and satisfying. It will turn out to be very different than anticipated if you are susceptible to movement illness. There are medications you can take to alleviate a few of the signs, however, if you are truly vulnerable to it, then reevaluate the deep sea fishing idea.
Choose Experts. It is a smart idea to have someone on board as your guide who understands a lot about deep-sea fishing. If you are new to deep sea fishing you should never travel in a group alone as this is a sport that is more dangerous than your average fishing exploration.
At OnBird Phu Quoc you have the option of chartering a boat just for you and your friends.
It is suggested to find as many deep-sea fishing details and knowing products as possible prior to heading out!
Follow OnBird on Facebook or Instagram to get updated on useful information about Phu Quoc island guide.