Vietnam is among the world's leading exporters of black peppercorns.
Meanwhile pepper from its largest island- Phu Quoc is regarded by culinary experts as one of the finest peppers in the world.
The soil characteristics, the weather conditions, and naturally hand-harvested methods would be major factors making the peppercorn productivity on the island distinguished.
The soil on Phu Quoc Island is extremely rich in quartz which is a necessary mineral needed for strong peppercorn plant growth. Mineral-rich solid is usually found at the base of mountains, which is why on the island you'll easily find most of the pepper farms in the mountainous northern regions (part of the National Park).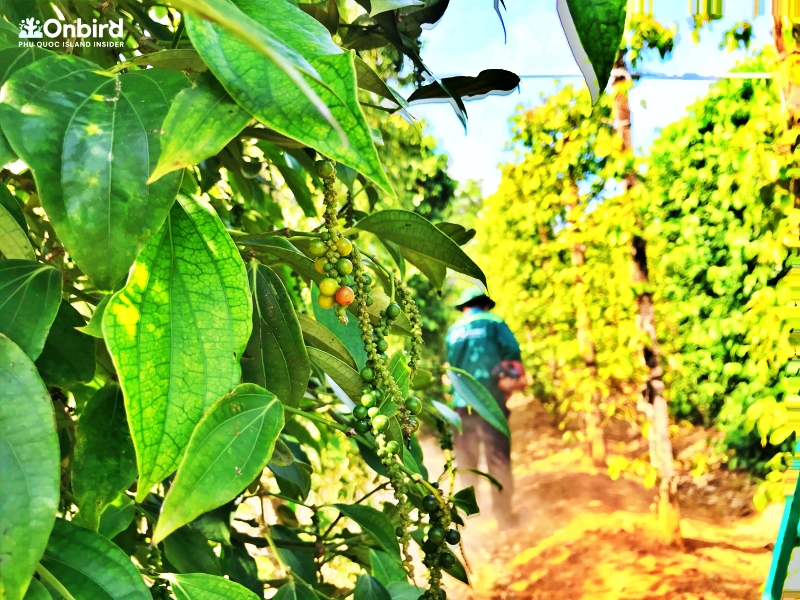 .In Vietnam, pepper farms are called vườn tiêu (peppercorn garden), easily identified by the tall columns of bushy pepper vines.

Pepper is a fruiting flowering vine in the family Piperaceae. When dried, the fruit is known as a peppercorn. 
Pepper changes colour and flavour as it matures. On Phu Quoc island, pepper is hand-harvested and sorted, which is organic farming at its best, no chemicals are used then left to dry naturally in the sun.
The main harvesting season is between February and July when the ripe peppercorns are harvested and sorted into three types: red, black and white.
Most of what we eat is black pepper but the fruits have different flavours at different times of maturity.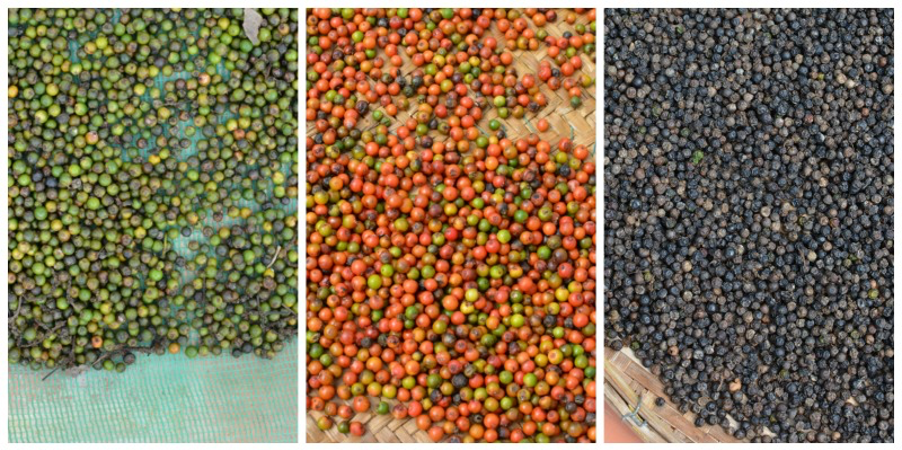 The highly-prized reddish peppercorns are ripe and have a sweet, citrusy heat that's similar to Cambodia's Kampot pepper. Compared to the famed Indian
Tellicherry peppercorns, the Phu Quoc variety is not as spicy hot.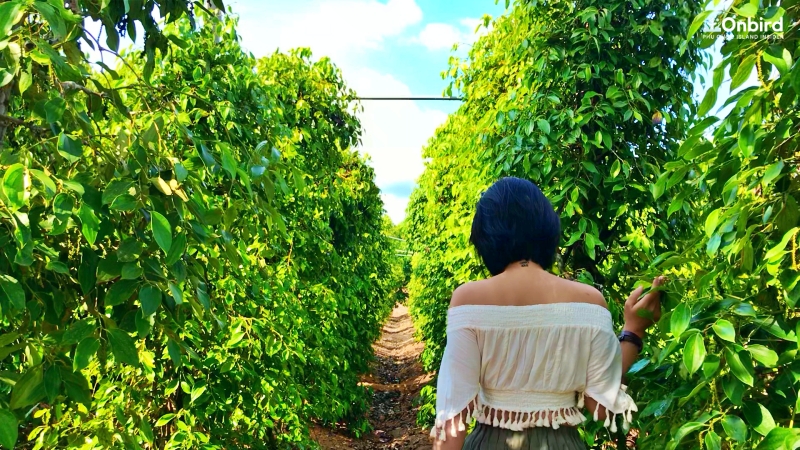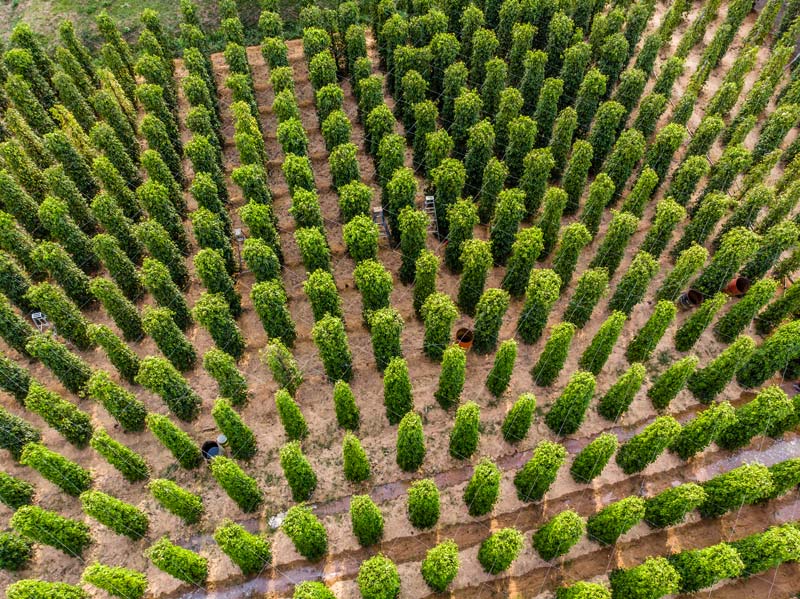 .Vietnam has been a leading exporter of pepper to foreign markets with the best quality black pepper in Vietnam coming from Phu Quoc with big solid corns, leaving behind many competitors in the market.
There is approximately 385 ha of pepper plantations on Phu Quoc Island which are throughout the central and northern regions of the island – Cửa Dương, Gành Dầu Village, and Cửa Cạn. However, Phu Quoc pepper prices have been fallen deeply in recent years. Pepper farmers have no profit or even suffer heavy losses after subtracting production investment costs, which results to the fact that many families quit growing pepper, reducing the acreage of pepper gardens. Alternatively, they might switch to work for luxury resorts and hotels where they are provided with a good range of insurance coverage (from social and health to personal accident).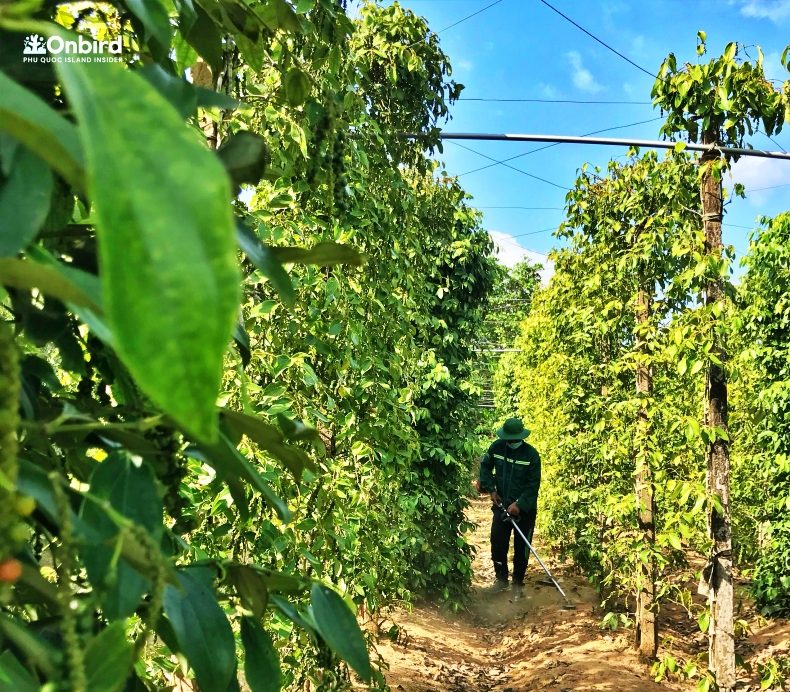 Phu Quoc currently produces in excess of 1000 tons of pepper every year, with the main harvesting (from Feb through to Jul), however, you can visit the farms all year round by yourself with little fees or take an organized tour for a close look at the pepper gardens to witness the hand harvesting, sun drying and sorting.
Buy some packs of authentic Phu Quoc pepper to take home, esp. the RED ones!
Planning for your next vacation in Phu Quoc? Explore the island right here!
Follow OnBird on Facebook or Instagram to get updated on useful information about Phu Quoc island guide.