Sun protection might be a top priority when you pack your beach bag. Of course, sunscreens are important shields against skin cancer in our increasingly warming world. However, the sunscreen you apply may not stay on your skin when you swim or join any underwater activities as sunscreen may wash off and enter the waterways. Many found the fact that an oily, iridescent sheen on the surface of the water lingered after the mass of tourists had gone home; it was supposedly caused by sunscreen washing off the swimmers.
⏭️ Quick facts about how sunscreen chemicals can affect marine life:
Scientists have also discovered that some of the chemicals found in sunscreen and other personal health products threaten the health of coral reefs. How these, and other compounds, affect reef ecosystems remains an active area of research.
Green Algae: Can impair growth and photosynthesis.
Coral: Accumulates in tissues. Can induce bleaching, damage DNA, deform young, and even kill.
Mussels: Can induce defects in young.
Sea Urchins: Can damage immune and reproductive systems, and deform young.
Fish: Can decrease fertility and reproduction, and cause female characteristics in male fish.
Dolphins: Can accumulate in tissues and be transferred to young.
Chemicals in some sunscreens that can harm marine life mainly include Oxybenzone, nano-Titanium dioxide, nano-Zinc oxide, Octinoxate, Octocrylene.
⏭️ You now can decide alternative ways to protect both your skin & aquatic environments while swimming/ snorkeling.
✔️  Wearing UV-rated/ blocking clothing like a swim shirt or rash guard.
Try to reduce the amount of sunscreen you may use by applying lotion to only the neck, face, feet, and backs of hands can reduce sunscreen loads into the water by 90 percent. Your body might be covered by sun clothes, swim shirts, or rash guards which are designed to reduce UV exposure. They are pretty easy to find out on the market today.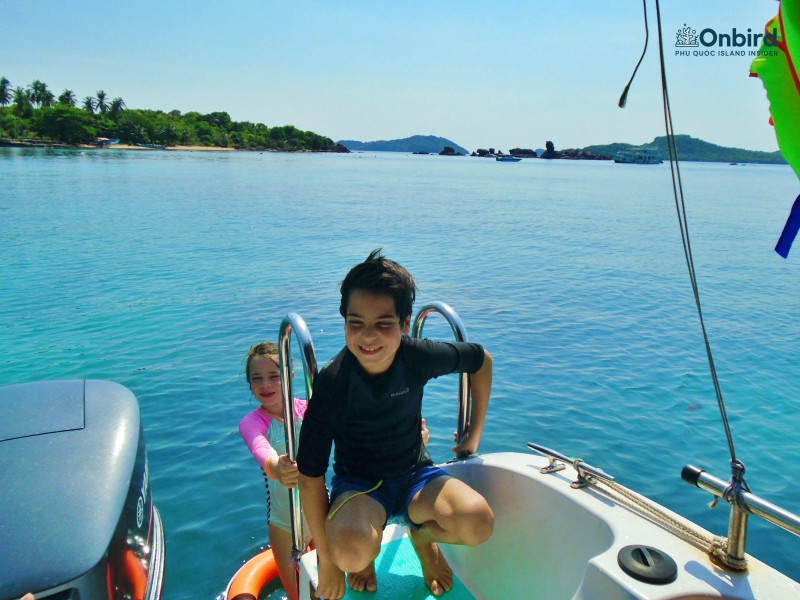 ✔️  Avoiding swimming & seeking shade between 10 am and 2 pm
You can definitely protect yourself from the sun's intense rays and keep harmful chemicals out of the ocean by seeking shade between 10 am & 2 pm. Given that you're on a snorkeling tour, you can decide your itinerary with snorkeling periods yourself.
In every OnBird's unique snorkeling tour, our snorkeling activities usually take place from 8:30 to 10 am (for the morning tour) and from 2 pm to 4.30 pm (for the afternoon tour). The timing itself not only helps to protect guests from sun rays' harms but also avoids the crowd. You can check out the unique snorkeling tour ins Phu Quoc, the largest island of Vietnam we offer right on the links.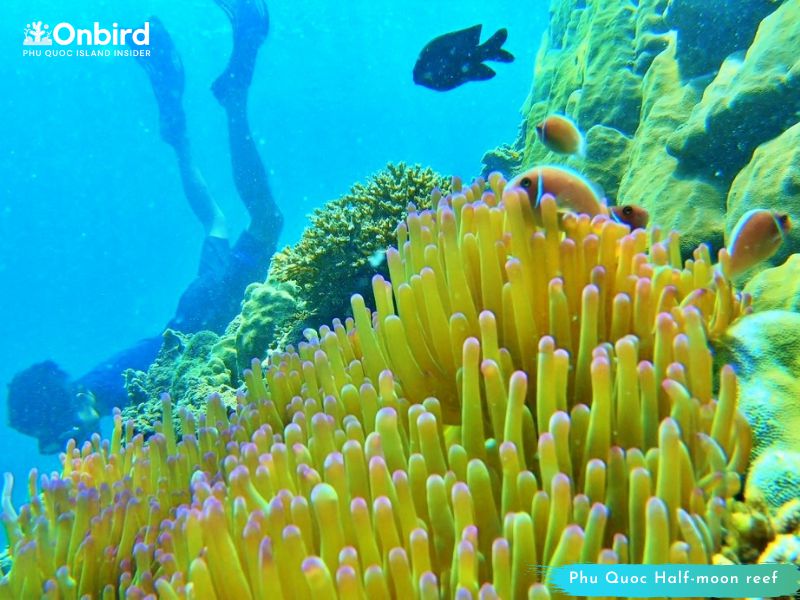 ✔️  Looking for reef-safe sunscreen free of oxybenzone
To know what to look for when purchasing reef-friendly sunscreen, you should understand sunscreen as belonging to one of two categories: physical sunscreens and chemical sunscreens.
Reef-safe sunscreens are physical sunscreens that contain tiny minerals that physically block harmful rays from the sun. Ingredients found in mineral-based sunscreens include zinc oxide and titanium dioxide.
Chemical sunscreens use synthetic compounds that absorb UV rays from the sun before they reach the skin. Ingredients to avoid when shopping for sunscreen products are the synthetic chemicals oxybenzone, octinoxate, and avobenzone.
Your sun protection choices can also affect the beautiful coral reefs. Preserving coral reefs is crucial, given that humans depend on them for everything from food to medical research to protection from damaging coastal storms. However, more than 1 million people jump into the ocean to explore coral reefs every year, and the sunscreen they apply washes off into the water and over the coral.
Coral reefs can't speak for themselves so we can help, even with a single little effort, right?
Follow OnBird on Facebook or Instagram to get updated on useful information about Phu Quoc island guide.