Phu Quoc island has been being an emerging destination among global travelers, getting known by marine discoverers, divers. Many concerns regarding Phu Quoc's sustainable tourism development thereby have been set out. However, it seems quite sluggish thus far to force irresponsible profiteers to comply with the government's regulations.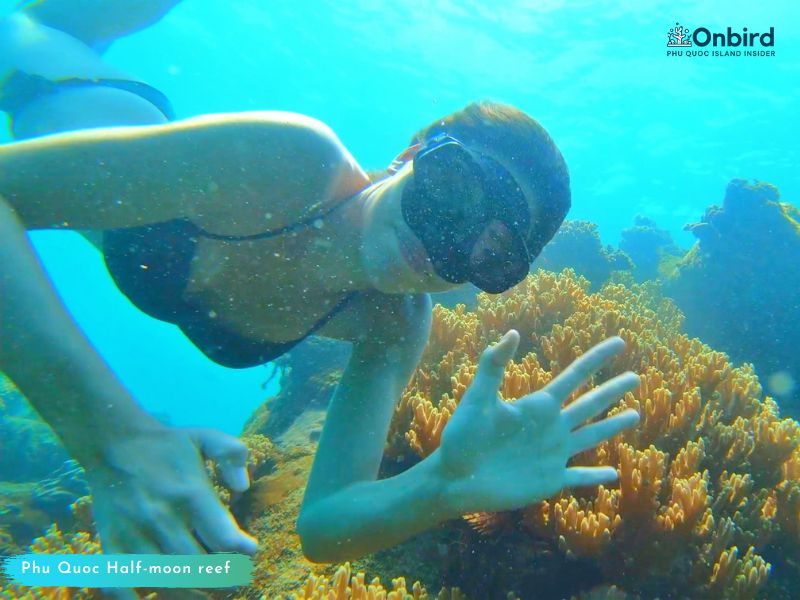 To continue our series about Save Phu Quoc actions, as a snorkeling tour operator, we hope the post regarding tips for a responsible snorkeling trip in Phu Quoc could somehow reach you rightly. Accordingly, you might somehow get more aware of your affections on our undersea habitats and environments if you intend to join snorkeling activities and island hopping trips.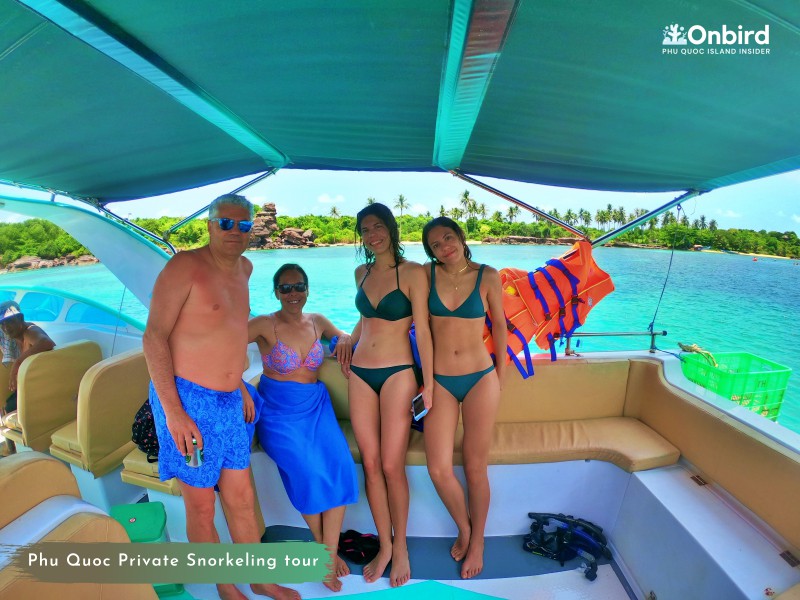 As our planet is facing sharply weather changes, it's a top priority for each of us to be ecologically minded in both the daily grind and on vacation.
Especially, if you are planning a trip to Phu Quoc, our largest island, a fast-developing destination with nearly 60% of the landmass covered by dense green patches and a wide variety of marine specials, mindful activities towards our dry land & underwater marine environment should be the most important thing.
Phu Quoc is located in the Pacific tropical belt therefore the water here has a wide variety of marine species and is especially home to many coral species including both soft and hard corals. So the vast majority of underwater activities on Phu Quoc island offered by tour operators are related to Snorkeling, Diving or island hopping.
🔛 MAIN PROBLEM
Profit-based collaboration is the key relationship among accommodation providers and tour operators on our such a huge tourism industry as our Pearl island, in which hotel owners help to entertain their guests with recreation activities thereby they also get profits from their tour booking meanwhile tour operators get the main incomes from those guests.
However, even 5-star world-class hotels such as JW Marriot PQ, InterContinental PQ, Novotel PQ, Best Western PQ, Pullman PQ…. which are high-end brands with mindful strategies towards local sustainable tourism development have been found it struggling to force their collaborators (tour providers) to follow their sustainable development guidelines.
It means that what the big names in hospitality can only work in what so-called best criteria: oldest – big brand name, good sale, big- size (easy to accommodate any requirement from hotels), highest-paid ones in order that their guests feel like "suit their luxury standard", which also means those hotel staff might get higher commissions. It turns out they don't care much about the tours that do not ensure environmental friendliness.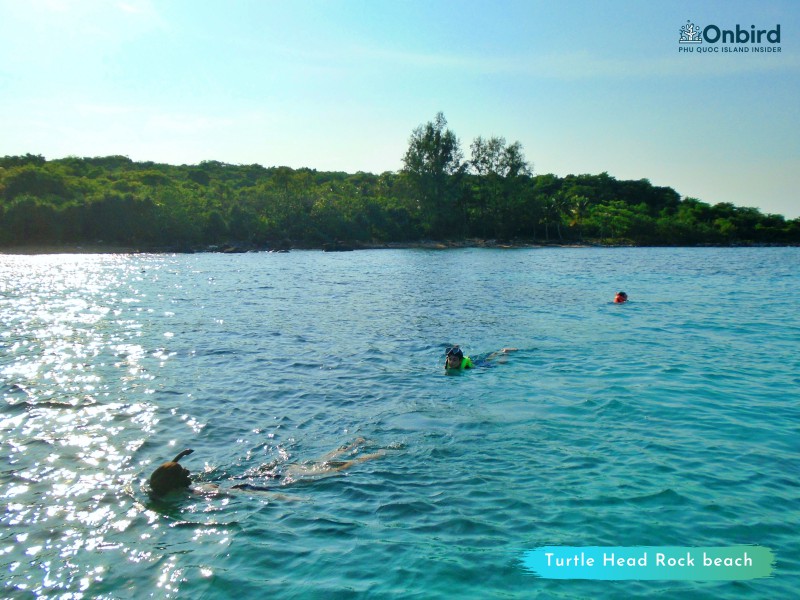 🔛 HERE ARE 7 TIPS FOR A RESPONSIBLE SNORKEL in Phu Quoc Island
1/  Bring long-sleeved shirts instead of being sun-cream covered-bareback during snorkeling
Read quick facts about how sunscreen chemicals can affect marine life below and you'll know why.
2/ Don't join a lunch-included tour, do you know that a lot of dishwashing liquid from wooden boats, the on-island restaurant is discharged into the sea daily from 60-80 people carrying boats and restaurants on islands? You may not notice but that is what happening in Phu Quoc. And indeed they don't care too much about the hygienic standards.
3/ Don't choose a tour companion based on the aforementioned criteria (good-sale, big-size) as you will get stuck among the noisy crowd not only in big wooden boats which could accommodate 50 – 60 people but also at destinations. And they discharge Phu Quoc sea a lot of chemical dishwashing liquid after lunch.
4/ You should not rent a speedboat or long-tail boat yourself. Many of them are less responsible for environmental protection, they usually drop the anchor down right on coral reefs. Or else, you should know clearly of Phu Quoc coral reefs' locations in the water. As I saw many tourists seem to be not conscious of damages made by the captain when they stop and drop down anchor right on coral reefs. 
If you want to rent a speedboat for self-excursion with a tailor-made or customized itinerary according to your requirements then please make reference to this speedboat rental service or this touristy-avoiding snorkeling tour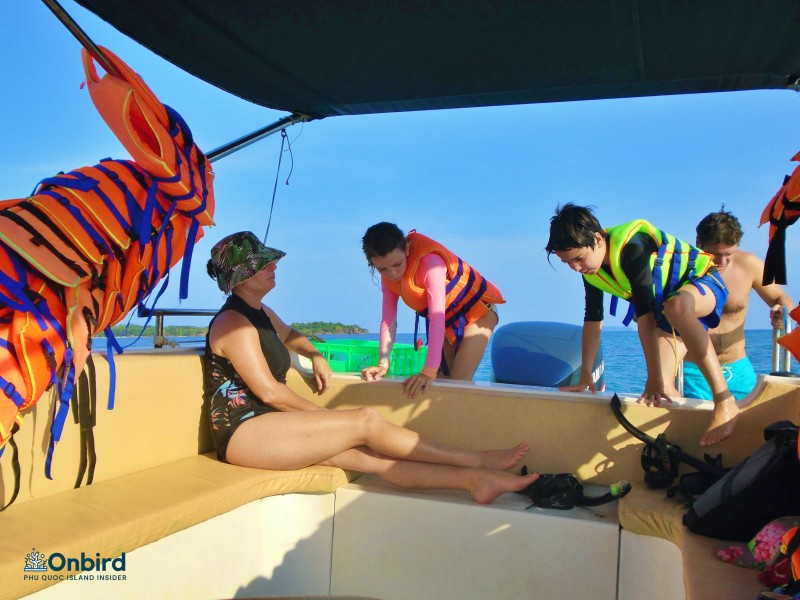 5/ If you don't join Deep-sea fishing then don't join any tour that includes fishing in the itinerary as what you and companions fish would be supper small-size, those fish are too small to cook for you and crews often eat some of them and drop the remaining fish back into the sea in a dead state. What a nonsense activity of destroying the marine ecosystem as thousands of small fish caught by tourists in those tours?
We've explained the cases very clearly in this post, click to read it in detail.
STAY AWAY FROM SNORKELING TOURS INCLUDING "FISHING"- SAVE PHU QUOC
6/ Don't join group tours that include a flycam or photography as you will have to line up for flycam videos of course it does not matter if you care about photos, videos instead of genuine experiences. On top of that: many of these tours offer photo-taking right at coral reefs and make the area overcrowded then you turn out to stand on stony corals spontaneously.
7/ Finally, check out departure times and compare with other operators to make sure you are not joining a regular itinerary which will lead you to average experiences at the end of the same itinerary, same route, touristy venues.
We hope you have a well-prepared snorkel on our tropical island!