The flagship resort by Pullman has officially opened to global nomads in Phu Quoc Island in August 2020.
This eco-resort, a 150-m stretch of Long Beach (Bai Truong), is definitely tailor-made for those in search of SERIOUS PLAY & A PLAYFULL PLACE TO WORK.
Spanish architect and urban planner Salvador Pérez Arroyo gave the hotel complex fluid lines and a kinetic whirl. From the air, the resort resembles a fish swimming towards the Gulf of Thailand: the side wings are the fins, the pool its body, and the main building a fantail.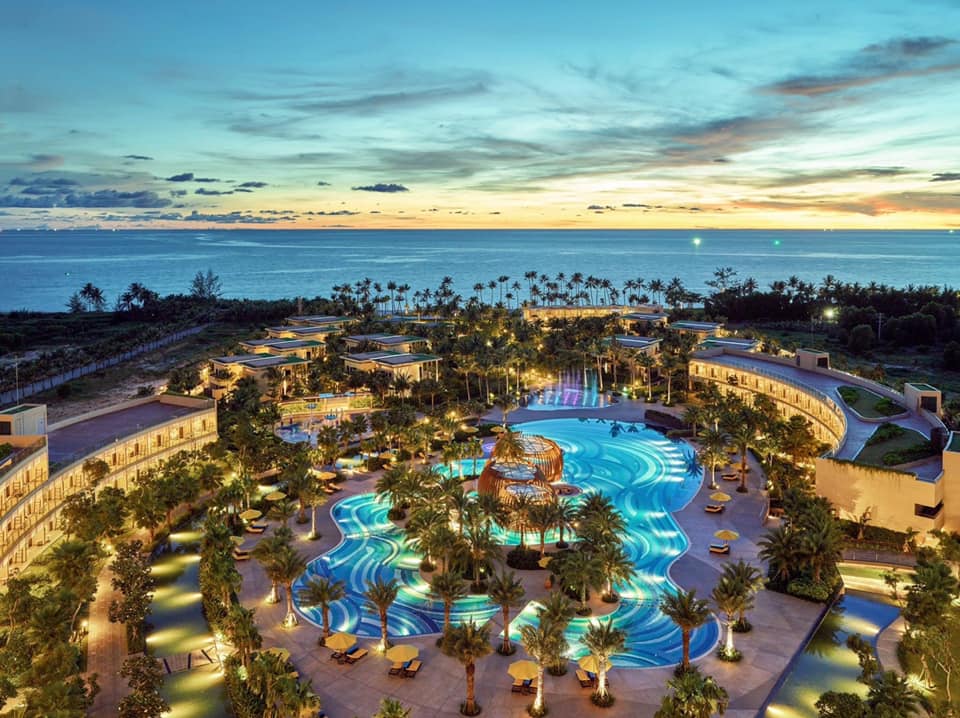 This is no concrete jungle. Greenery or golden sand makes up 80% of the seven-hectare resort. At the western edge is a 150m stretch of Long Beach (Bai Truong), for the use of hotel guests and the occasional local fisherman. And beyond that, the endless sea and sky.
Inside the lobby, one space flows seamlessly into the next. Dark wood and curious artwork draw the eye to the impressive winding staircase and, then, an overhead passageway.
The towering Lighthouse Bar shines as both a beacon and centrepiece. This is The Junction, a vibrant hub for co-working and co-playing, a welcoming space for savouring your welcome drink and other refreshments.
Rooming
Stylish rooms in 8 categories with 331 sophisticated rooms, suites, cabanas and a decadent pool villa. Each space features the latest in connectivity and technology (walk-in rain shower and advanced Japanese washlet toilet) as well as a personal terrace or balcony for uplifting downtimes. The Phu Quoc Pullman Signature Bed has a mattress enhanced with nine high-performance layers and reinforced with a titanium frame, and a motion-activated lighting system means never stumbling in the dark. A pillow menu, a super comfortable hypoallergenic duvet, and linens with Centium Core Technology® complete the Phu Quoc Pullman bedding concept. 
This is the global nomad's base – a home away from home. Because when travelling the world, Pullman knows there's nothing better than an intuitive, in-touch room.
6 restaurants:
Salt 'n' Pepper: for all-day dining

Mad Cow Wine & Grill: Phu Quoc's best rooftop steakhouse, open 4.30 pm to midnight daily

Sea Stars: Located under the night sky, Sea Stars is the resort's al fresco Vietnamese seafood grill,

Open 5 pm to 11 pm, weather permitting

Lighthouse Bar: Never closed, always aglow, set in the centre of The Junction lobby area, is open 24-hours.

Beach house:

This casual beach bar with swimming pool exudes a free-spirited vibe from early until night.

Coconutz: Swim-up or walk-up, Coconutz is all about delicious fun and family-friendly treats. Natural sodas, local craft beers and ice cream creations are some of the featured menu items at this inviting pool bar, o

pen 10 am–8 pm daily.
Lifestyle at Pullman is a way of life. No one is left out.
Pullman Phu Quoc Beach Resort has one of the island's largest and most comprehensive fitness gyms. Classes range from Vietnamese dancing and yoga sessions to cooking and traditional crafts. Pullman Spa exists to relax, revitalise and rejuvenate guests.
The pool and 150m beach are popular playgrounds for games and sports.
The Hub, just west of the main pool, is a multifunctional space for fitness classes, movie nights and musical fountain displays.
Children are little VIPs at Phu Quoc Pullman. They have their own indoor clubhouse, outdoor playground, splash pad and the shallow area of the immense pool. Teens also have tailored activities and spaces just for them – away from their parents. The activity board in the lobby keeps guests up-to-date on all the lifestyle events and offerings currently available at the resort.