Scuba Diving is a kind of attractive activities to anyone who keen on exploring the sea besides Snorkeling. However, it requires some advanced techniques and knowledge to do scuba diving safety because not like snorkeling, scuba divers will use some dedicated equipment to descend and ascend whereas snorkeling require advanced personal skills to descend or dive down. Thereby scuba-diving is mostly for licensed divers who passed their training course of 3 days to basically use these dedicated equipment and understand about safety guides while diving.
But many people are still pretty curious about this activity when looking for sea activities. So to clear the vague information for guests, we do provide helpful understanding about this activity and especially for those who have no license yet and want to try scuba diving experience in Phu Quoc Island, Vietnam.
1. Scuba Diving for non-licensed divers
In scuba diving there is an option called "Try-dive" designed for non-licensed people only, this is dedicated diving option for those who does not have scuba diving license to try the feeling of being submersed in the water.
2. The Diving Sites
Try-divers will be on boat with licensed scuba divers for the same diving sites however the depth will be limited to 6 m deep due to the safety, risk-avoidance standards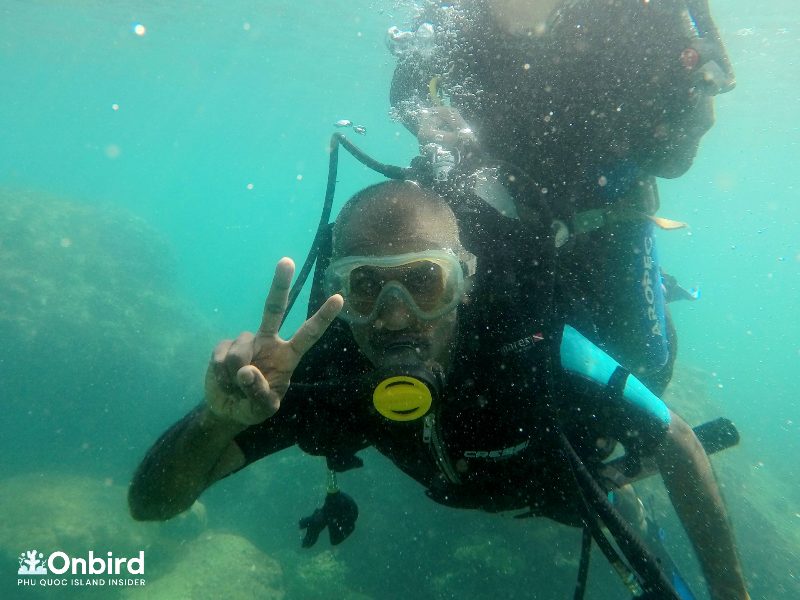 3. The Dive Buddy
Not like licensed scuba diver, try-divers cannot learn everything in just few hours before the diving so to make it easy a dedicated instructor will accompany and take care of you and control BCD (Buoyancy Control Device) during the diving time.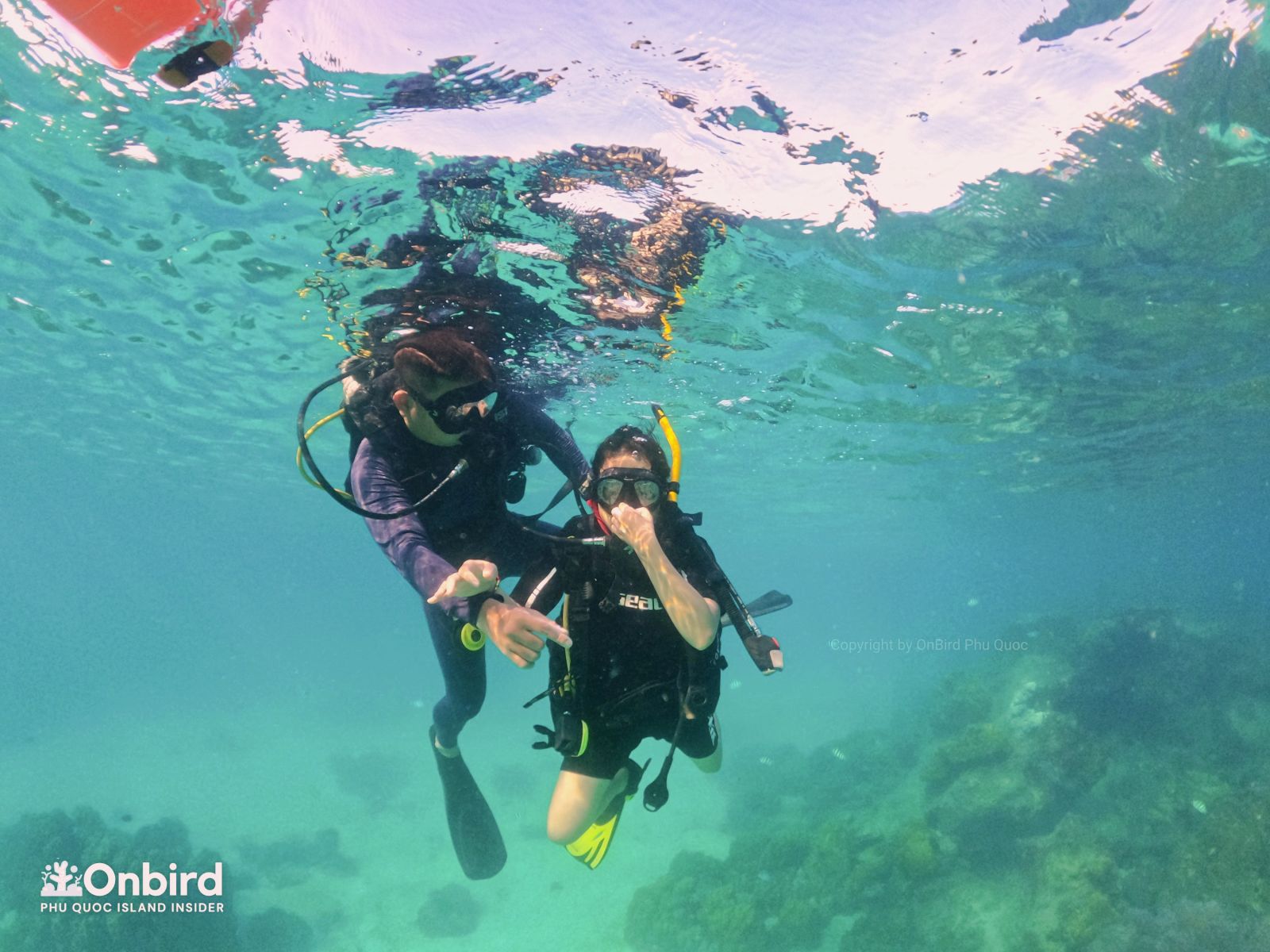 4. Diving Time:
The diving time for try-divers won't last as long as those for licensed diver, try-divers will be in the water for 20 minutes in maximum; this is the maximum time for
5. How Many Dives Non-Licensed Guests Can Do?
The standard Try-dive package in Phu Quoc is always inclusive of 2 dives, however it is subject to the adaptability of the participants to do that, some guests feel uncomfortable in just 10 minutes after descending the water but they can relax and try again otherwise just stop.
6. What you can see on the try-dive?
For the safety then try-divers will be always kept at a same depth during try-dive time. You could see some fish and coral, coral growth strongest in the shallow water of 1 – 6m but try-diver will mostly enjoy your time at the outer area of the reef but not inside the reef for the safety where there are many obstacles (corals…, stony terrain) for the purpose of limiting the number of depth changes.
Besides that many first-time divers can run into fear of water, strange shape corals and underwater objects.
So the priority to choose dive sites for try-divers is spacious watery areas, a little bit afar from the coral areas.
So thereby try-dive not means you are seeing the beautiful corals
7. Where You Can Book For Try-dive In Phu Quoc Island?
We have 2 options of Try-dive: North Phu Quoc (available from October to April) and South Phu Quoc (whole year)
[JOIN-IN] TRY-DIVE IN NORTH PHU QUOC ISLAND (FOR NON-LICENSED DIVER)
[JOIN-IN] TRY SCUBA DIVING IN PHU QUOC ISLAND (FOR NON-LICENSED DIVER)