After few days in Phu Quoc, as very hungry for a kayaking trip in the beautiful island, we searched on google for kayaking in Phu Quoc island with returned result mostly refers to kayaking on the Cua Can river then we decided to ride a motorbike from Sol Beach House where we stayed in our holiday in Phu Quoc island, it took us 1 hour to get a kayak rental spot on the bank of Cua Can river from our hotel by a rented scooter. The river looks very nice as it is surrounded by a mangrove forest but not so dense, we were eager for this on-river kayaking trip with hopes of seeing many things along the river. But it turned out so boring after 1 hour of paddling against the current in the direction to the mangrove forest and we decided to get back the beginning spot then visited a pepper farm nearby.
I have to say that nothing much, nothing special to see on the river except if you would like to do exercise by kayaking, the river was calm and really smooth by the date we got there and the current was not strong and you could do kayak at easy but that is all experience we gained, we left Cua Can for the pepper farm and then returned out hotel with an unsatisfied mood.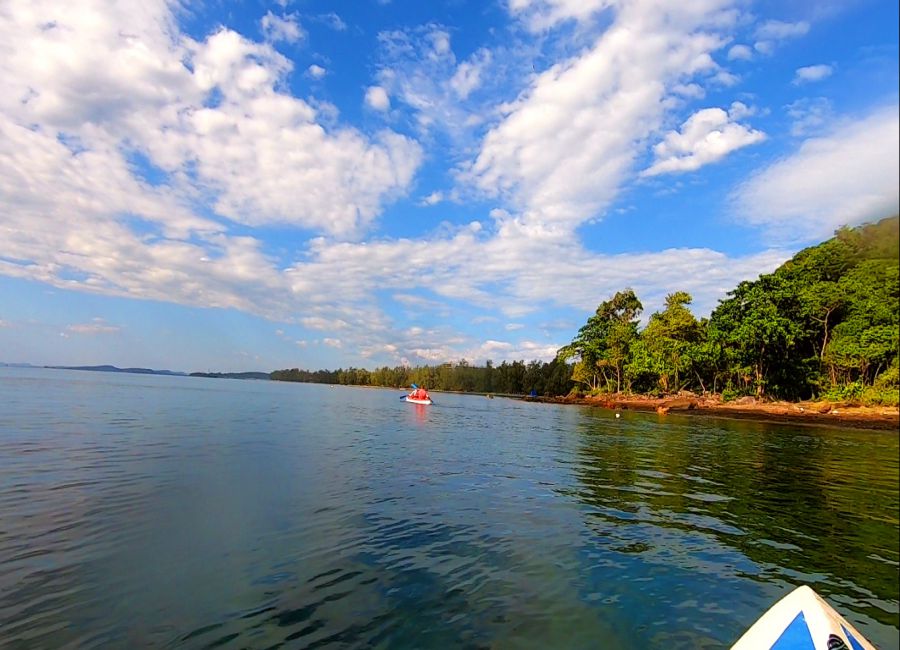 With an unsatisfied mood, we decided to try again and search for any amazing kayaking trip as we were told by our friends who visited Phu Quoc before that there is very amazing kayaking trip in Phu Quoc island organized by an un-well known company and it is a genuine excellent – romantic kayaking trip and especially that they do kayak on the sea with a route of 2 – 4 km long in total with few stoppable venues such as natural beach, remote island. We contacted our friend again to get their contact, we were told that: try to search for private sunset kayaking in Half-moon beach by OnBird. Oh yes, it worked, and we found that sunset kayaking trip, dug more we found their kayaking trip also listed on Tripadvisor without any review by that date but for other snorkeling trips, they are ranked on the top in Phu Quoc island. Well, we read the detailed itinerary of the sunset kayaking trip on their website and no doubt, we booked directly via their website with my name, hotel name – Sol Beach House and departure date, very soon after they did email back to us to confirm pick up time with some tips before the trip. Everything was done well, we were waiting for their pickup 2 days after.
As the made appointment, by 1:30 PM, picked up just on-time by our ever-smiling guide Anchovy and driver, we were transferred to the North of Phu Quoc again to the so-called Half-moon beach which we never heard about before 🙂
Went through a small lane running through a forest and a coastline that we saw for the first time in Phu Quoc island we arrived a beautiful beach located behind the jungle and we were introduced that: that is Half-moon beach we would start from as well as where we would service on-beach dinner in this kayaking trip. No comment for this attractive introduction 🙂
Followed the lead of Anchovy we have obtained the best one in comparison with our many kayaking trips before, after 20 – 30 minutes departed from Half-moon beach we reached Phu Quoc Northern Fingernail Island, paddled around the island, we could actually be able to take a swim at the small white-sand beach of the island but we decided to head for another natural beach, genuine untouched beach beyond Half-moon coastline. Took another 20 – 30 minutes, a beautiful beach with a row of Casuarina Trees growing along the beach appears before our eyes, no one else there except ourselves and a small simple beach restaurant of a local family. In the itinerary the name of the beach is Casuarina and Anchovy explained to us the origin of the name derives from rows of Casuarina Tree that we saw at the beach. Very impressive here as we were immersing ourselves amid a super peaceful atmosphere as well as the rural. We enjoyed the shallow jade water and coconut at the beach here till 4:45 when we should start getting back for the experience of sunset-drifting along Half-moon Beach.
Anchovy always kept our paddles slow enough for us to really obtain an enjoyable feeling. And the water was calm enough without any worries of wavy and strong current but you still need to have a good kayaking skill.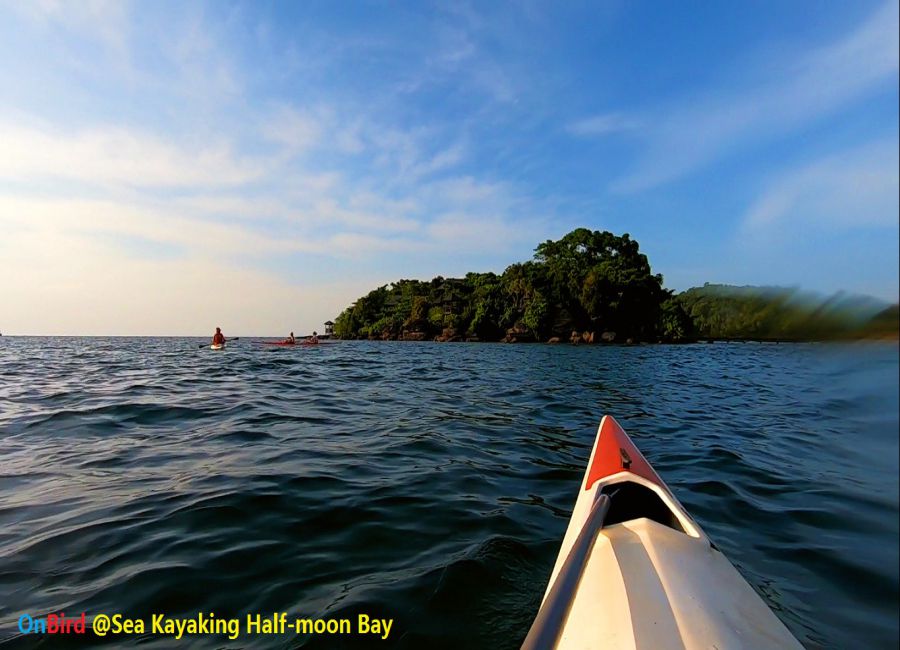 We paddle back to Half-moon Bay just in time right before the stunning sunset, follow the lead of Anchovy we paddled to the water in the front of our beginning spot at Half-moon beach and then let our kayak go with the current what is so-called Sunset-drifting. Contemplating sunset between the sea from the kayak which was slowly moving with the light wave taking us closer to the beach. The calm water, light waves, completely quiet atmosphere, stunning red sun going down beyond the cape, a stunning ambiance, we waited for the sun to set over the cape before paddled back to the beach, originally intended to record that moment with the camera but we were happy to record it in our heart instead of getting it technically. No more words to express our fascinating irresistible feeling at that time, one by one, lovey and lovey between the peaceful sea, mountain, island, forest around.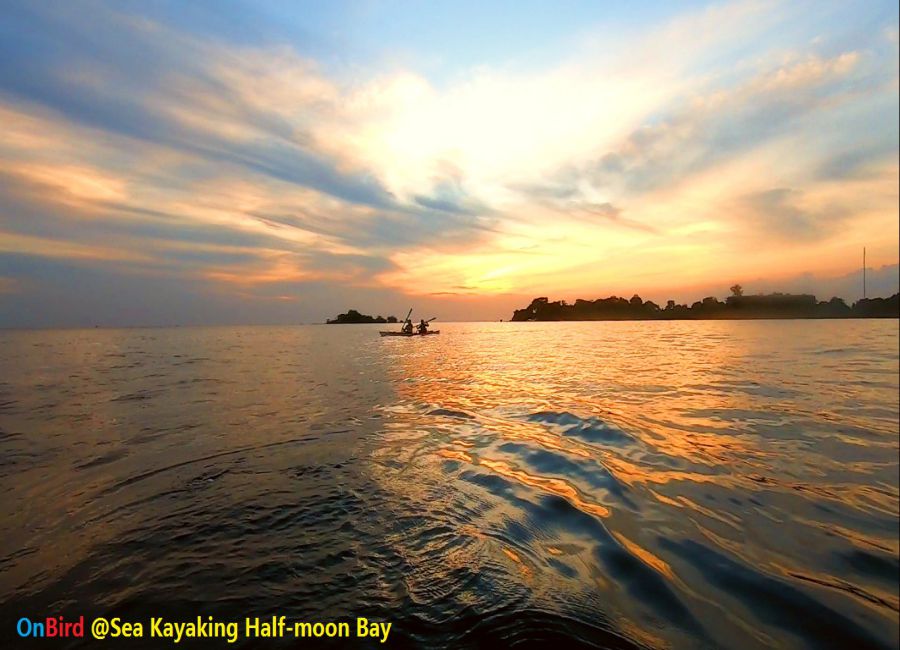 After sunset, we paddled back the beach in a few minutes, enjoyed a delicious seafood dinner by the beach in a very private ambiance.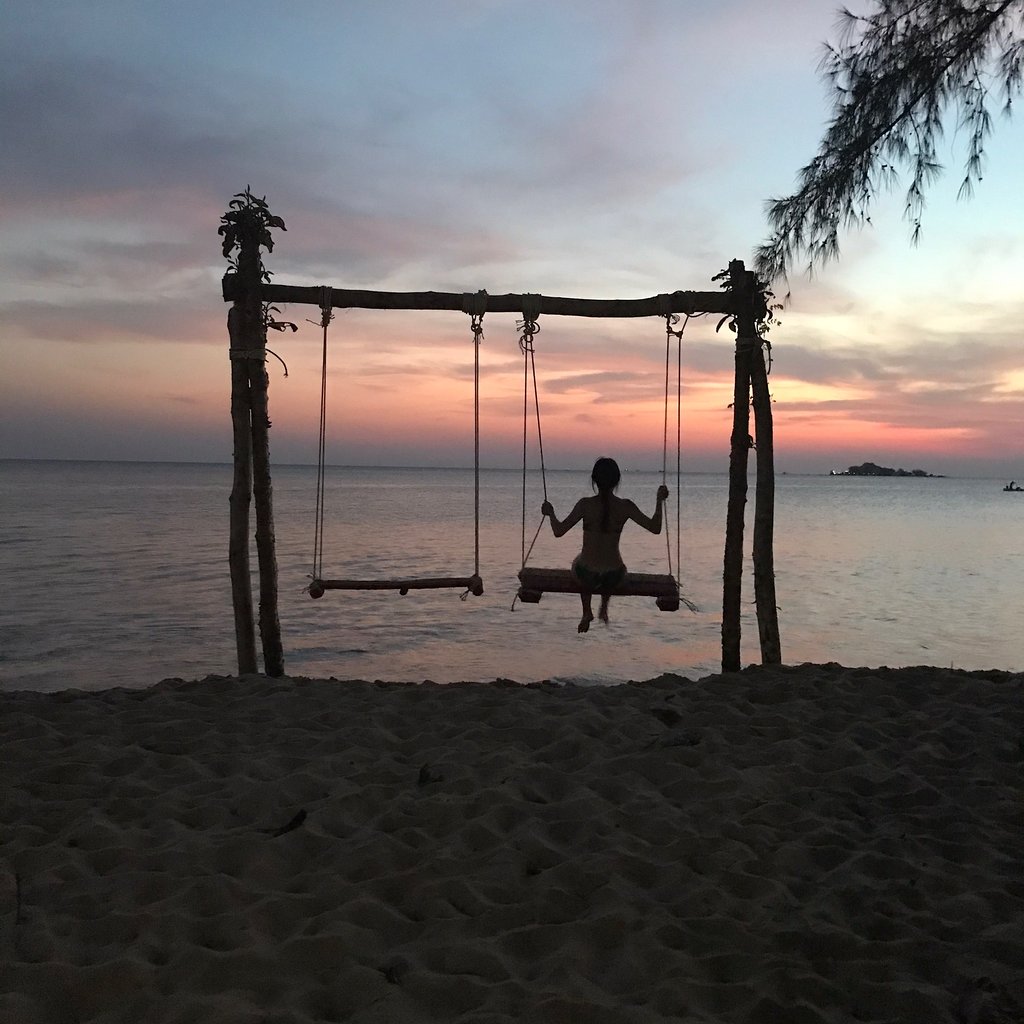 Deeply Thanks to OnBird and Anchovy, we have recorded one of the most beautiful moments for our love. And if you are reading this, let's contact them as quickly as possible, you will not regret it.