Vietnam currently accepts Covid-19 vaccine passports from 72 countries and territories, and is discussing the issue with 80 others, the foreign ministry said Thursday.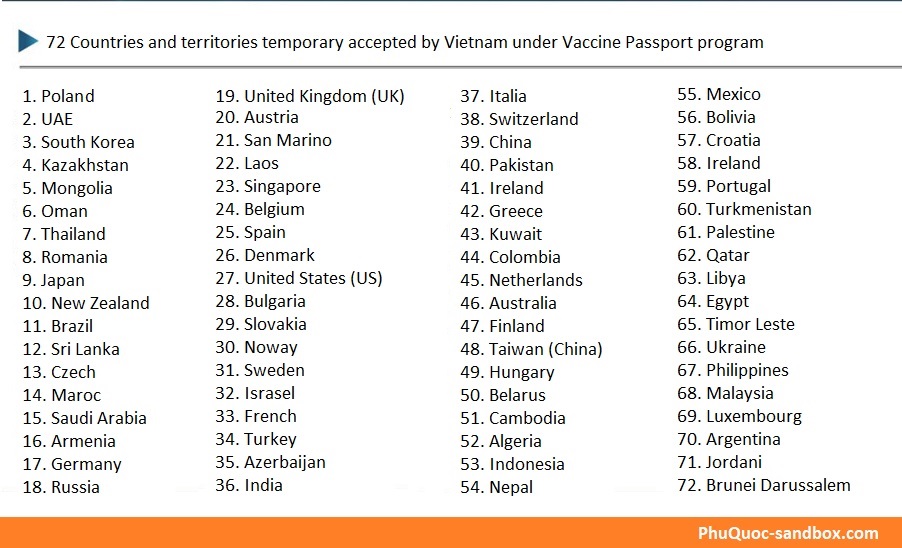 "Vietnam is temporarily accepting the vaccination certificate forms, otherwise known as vaccine passports, from 72 countries and territories that have been recommended to the Ministry of Foreign Affairs via representatives," foreign ministry spokeswoman Le Thi Thu Hang said at a press meet.
She was responding to questions about Vietnam's policies to let fully vaccinated foreigners enter the country.
"The ministry is also discussing with nearly 80 partners the acceptance of each other's vaccine passports. Vietnam's vaccination certificates have also been accepted by certain countries and can be used to enter those countries," Hang said.
In September, Quang Ninh's Van Don Airport welcomed several flights with vaccine passport holders on a trial basis, allowing hundreds of Vietnamese from the U.S., France and Japan to return to Vietnam. All passengers were fully vaccinated, in good health and had coronavirus negative results from tests done within 72 hours before their flights.
Under current rules, even those with vaccine passports have to undergo centralized quarantine for seven days.
For Organizing Charter flights to Phu Quoc Island, please contact us for further information if you are travel agency.
Regards,
OnBird team
Phu Quoc City in the southern province of Kien Giang should complete second Covid-19 vaccine doses for all residents aged from 18 by the end of this month.
A biggest-ever Covid-19 vaccination for the first jab happening in Phu Quoc
According to Mr. Huynh Quang Hung, chairman of Phu Quoc City's People's Committee, the city is conducting the biggest-ever Covid-19 vaccination to give the first jab for 112,000 people over three days, from October 1 to 3, 2021.
Kien Giang Province's Health Department has mobilised 900 medical staff to support Covid-19 prevention and control activities on Phu Quoc. "Phu Quoc has aimed to provide the second shot of Covid-19 vaccine for all people aged from 18 this month to reopen its tourism services from November, said Mr. Hung.
According to Mr. Hung, over the past three days, the city has detected no new locally-infected Covid-19 cases, except for several patients in quarantined and sealed-off areas in An Thoi Ward. Local authorities are concentrating on the Covid-19 testing in the community to detect Covid-19 cases.
The city has proposed Kien Giang People's Committee to issue specific guidelines for tourists to visit the island.
In the past week, more than 300 youth union members have registered to participate in the prevention and control of the Covid-19 epidemic as well as support locals in difficult circumstances in isolated areas.
Covid-19 cases in Phu Quoc up to date
As of 12:00pm on October 1, 2021, Phu Quoc recorded a total of 235 cases of F0. All patients infected with Covid-19 are being treated at Phu Quoc General Hospital and the Field Hospital (Phuoc Loc Tho). Also, on the same day, 05 cases have been cured and discharged from the hospital, they are continuing to self isolate to check their health condition at home for the next 14 days.
Last week, Kien Giang authority announced their plan to reopen the island city for international tourists from November 20, 2021, which is scheduled to happen in 02 phases.
We'll follow up on the latest updates and keep you posted on new policies as well. Take time to plan for your trip and stay tuned!
Regards,
OnBird team
From today (October 1, 2021), Ho Chi Minh City starts new measures on COVID-19 response and economic recovery more than three months after social distancing rules were imposed in the entire southern metropolis.
Commuters are allowed to visit museums with the maximum of 10 visitors at each visiting area.
Cultural, art, sports are allowed but limited to 70 participants and provided that all of them are fully vaccinated or have recovered from COVID-19. Weddings and funerals are allowed with no more than 20 attendees for each event. Residents are allowed to visit religious sites with the maximum number 10 visitors. Dwellers are not allowed to travel to other cities and provinces, except for emergency cases.
Non-essential services and businesses, such as beauty salons, karaoke venues, discotheques, pubs, bars and massage parlors, and ware and lottery ticket peddling remain closed.
Authorities also require people to use a QR code during travels for checking by relevant agencies.
Without a QR code, people must have documents proving their recovery from COVID-19 for less than 180 days or have been injected with at least one shot no less than 14 days before travels.
Ha Noi allows outdoor sport activities
Ha Noi allows outdoor physical and sport activities from September 28 after more than two months of suspension, according to document issued by the municipal People's Committee on Monday. 
The city also allows reopening of trade centers, fashion and cosmetics stores while food and beverage establishments are only allowed to serve takeaways.
Da Nang reopens beaches, hotels as COVID-19 put under control
Da Nang authorities have decided to reopen traditional markets, public beaches, hotels, and religious sites, starting from September 30, after the COVID-19 outbreak has been put under control.
Hotels and other accommodation facilities can only rent out no more than 30 percent of their rooms or up to 50 percent if all the guests are fully vaccinated or recovered from COVID-19 within six months.
The central city also allows outdoor physical and sport activities but a gathering of over 20 persons are prohibited, as well as meetings and training courses with no more than 20 participants in a room.
Other services such as amusement complexes, karaoke parlors, bars, night clubs, movie theaters, casinos, cultural festivals, sports tournaments, night markets, and pedestrian streets have yet to reopen.
Regards,
OnBird team
WELCOME "VACCINE PASSPORT" TOURISTS FROM NOVEMBER 20, 2021
On September 23, the Ministry of Culture, Sports and Tourism had a meeting with the People's Committees of Kien Giang Province and Phu Quoc City on the preparation of
reopening to int'l visitors to Phu Quoc through the "Vaccine Passport" from November 20th. The plan takes place in 2 phases, over 6 months.
On the testing stage, Phu Quoc will organize one to three charter flights a day, from which to evaluate and learn from the operation process, pick up and serve guests.
Currently, there are 17 accommodation establishments (including eight 5-star resorts), 5 tour operators and 7 "entertainment enterprises" in Phu Quoc registered to participate in the program.
Also according to the change plan, after the period of testing, from December 20, it will be implemented with 2 phases.
Phase 1 (from December 20 to March 20, 2022) pilot welcomes 3,000-5,000 passengers/month, through charter flights, and deploys to serve guests within a limited range and locations.
Phase 2 (from March 20, 2022 to June 20, 2022) after evaluating the results of phase 1 pilot implementation, if the requirements are met, it will expand the expected scale to welcome from 5,000 – 10,000 guests/ month.
International tourists come from countries and territories with high safety in terms of disease prevention and control Covid-19 in some areas
such as Europe, the Middle East, the United States, Korea, India India, China, Taiwan, Hong Kong, Russia, Italy, Australia…
URGENT CONSTRUCTION OF 650-BED FIELD HOSPITALS
Several days after applying Directive 19 of the Government, Phu Quoc has recorded 107 cases of F0 COVID-19 infection as of 12:00 today (Sep 24). Currently Phu Quoc has decided to implement Directive 16 for An Thoi ward. Areas F0, F1 still keep the blockade order, strictly control inside and outside, to avoid spreading the disease.
At the same time,
Phu Quoc authority has arranged land to build a 500-bed field hospital on Duong Dong street in Cua Can commune and another center with 150 beds at Phu Quoc General Hospital, on Tran Hung Dao Str., Duong Dong town.
According to a quick report from the Medical Center of Phu Quoc City, as of 19:00 on September 23, a total of 78 cases were positive for COVID-19, with RT-PCR test results. In addition, there are suspected cases of infection through community screening testing awaiting confirmation of test results.
Currently, Phu Quoc has vaccinated more than 30% of the population, the rest (109,000 people aged 18-65 years old and over 3,000 people over 65 years old) are expected to be vaccinated at the same time (from September 24 to September 27).
This September, the Ministry of Health has announced and is waiting to deliver the COVID-19 vaccine to the locality.
Regards,
OnBird team
Recently, Vietnam has seen a number of cities and localities, namely Ha Long, Vinh Phuc, and HCM City
reopening tourism services to domestic travelers after nearly 5 months
of the latest wave of the COVID-19 pandemic nationwide.
Ha Long City (Quang Ninh province), with nearly 90% of its local residents aged from 18, reopened beaches to the public from noon, Sep. 19. A bunch of exciting activities has been promoted to celebrate the Mid-Autumn Festival.
Ho Chi Minh City, the largest coronavirus hotspot during 3 past months, has launched a "closed bubble" tourism model in both Can Gio and Cu Chi districts. Saigontourist Travel Services company has been appointed to host nearly 200 medical workers and front-line doctors who have actively assisted the southern city in the COVID-19 fight. Indeed, these tour packages will be extended beyond September 30.
Meanwhile, about 120 km away from HCM City, Ba Ria – Vung Tau Province has also permitted Grand Ho Tram Strips complex, Meliá Ho Tram hotel, Binh Chau hot spring resort, and Six Senses Con Dao resort, to pilot the return of domestic tourists with "closed" services.
Besides, Vinh Phuc Province in the north reopened resorts, tourist attractions, and golf courses on September 13, all of which are now allowed to operate at more than 50% of their capacity.
Previously, Khanh Hoa is anticipated to welcome domestic arrivals from the middle of October, with 12 accommodation establishments in Bai Dai area expected to be put into operation. After 2 phases of the reopening program (applied for national tourists), the south-central province is going to welcome back international visitors with a vaccine passport by the end of the year.
A flight carrying

37 experts from the Republic of Korea

landed the Cam Ranh international airport in central Khanh Hoa province on September 18.
The flight of the RoK's  Asiana Airlines had been licensed by the Civil Aviation Authority of Viet Nam (CAAC).
All the passengers work for a shipbuilding in Viet Nam.
This is the first international flight to the airport which has been open to handle repatriation flights since late April when the fourth COVID-19 wave hit Viet Nam.
The same day, 30 Korean nationals took the return flight from the airport to Incheon.
Cam Ranh airport has been upgraded at a cost of US$17.4 million and is ready for the re-opening of international routes to the central province./.
Previously, there were 3 int'l flights for Overseas Vietnamese from Japan & the US getting back at Van Don Int'l Airport (Quang Ninh).
Up to date, there are only 3 communes at very high risk, 22 others at high risk and 26 at risk with the totality of 15 village-level points in 10 districts of the capital city. What's more, the safe zones are 528 communes in total.
During 88 days before 23rd July 2021, Ha Noi recorded 10.4 new infections per day and the infection kept increasing including community transmission.  Focused testing and vaccination are keys to isolate risk from the community. Hanoi's healthcare workers are busy days and nights carrying out mass vaccination for people living in the capital.
The Civil Aviation Authority of Vietnam (CAAV) on Monday proposed it would resume domestic flights in three phases, depending on pandemic progress.
In the first phase, airlines would be allowed to resume air routes with a flight frequency not exceeding half that in the first week of April, the time before the fourth coronavirus wave hit Vietnam. Allowed passengers would include those as following:
on official missions
fighting the pandemic
carrying approved papers by local authorities for travel
with certificates to prove they have completed their quarantine periods
with documents to prove they have either been fully vaccinated or recovered from Covid-19 for up to 12 months prior to the flight.
In the second phase, the frequency would be increased to not exceed 70 percent, while the final phase would see flight frequency return to the level as seen in the first week of April (but not exceeding it). Allowed people would be more categories like people who have confirmed their stay in areas not under social distancing orders as dictated by Directive 16 for up to 12 months before the flight.
Airlines would be able to resume flights as they wish after all localities lift social distancing orders as dictated by Directive 16, the CAAV proposed.
For air routes that had only one flight a day even pre-pandemic, they can resume operations as normal.
345 Vietnamese citizens fully vaccinated in the U.S. arrived at the Van Don Airport in the northern province of Quang Ninh in two flights Sunday. 
All passengers on the flights had already been fully vaccinated and had negative RT-PCR test results for Covid-19 validated by authorities in the host country 72 hours before departure, therefore meeting the Health Ministry criteria outlined in the vaccine passport program.
The passengers will be quarantined at the Vinpearl Resort and Spa Ha Long Hotel for seven instead of the usual 14 days.
The Van Don Airport had welcomed its first international flight under the vaccine passport policy from Japan earlier this month. 
Since November 2021, Phu Quoc island will be the first destination to reopen to foreigners on a pilot basis, according to the Viet Nam National Administration of Tourism.
Yesterday, PM Pham Minh Chinh agreed with the Ministry of Culture, Sports and Tourism's proposal on re-opening Phu Quoc island.
Accordingly, Foreign tourists who wish to visit the island shall be required to:
get two vaccine jabs, with the second one taken at least 14 days and not more than 12 months before the date of entry.
test negative for COVID-19 via the PCR method within 72 hours before their departure.
register to participate in the package tour program of a travel agency.
The Government chief tasked the provincial People's Committee of Kien Giang to coordinate with the Ministry of Culture, Sports and Tourism and relevant agencies to develop a specific and feasible plan to implement the pilot policy.
He also assigned the Ministry of Health to work with the Ministry of Information and Communications and the Ministry of Foreign Affairs to provide guidelines on issuance of COVID-19 vaccination certificates, give priority to allocating vaccines to Phu Quoc island.
Ho Chi Minh City authorities allowed the resumption of take-away and food delivery from restaurants and eateries between 6:00 am and 6:00 pm from Sept. 9 within each district. Eateries can only use online delivery services.

The city has also allowed supermarkets, grocery stores, and pharmacies to open from 6:00 am to 9:00 pm. 
HCMC People's Committee Chairman Phan Van Mai said in a live-streamed talk show Monday that from now until Sept.15, the city will let the "green zones", the low risk areas, pilot the reopening of some takeout services. After Sept.15, if the situation improves, the city will open several activities in a safe area to ensure people's health and socio-economic development.
As of Sep.10, 2021, Vietnam's Ministry of Health confirmed a total of 576,096 cases of COVID-19.
Vietnam government plans to launch a pilot inbound tourism program in which "Phu Quoc sandbox' is expected to net 2-3 million foreign visitors by this year's end, according to Prime Minister Pham Minh Chinh, on Sep 6, 2021.
Addressing the Cabinet meeting on Monday, PM underscored containing COVID-19 outbreak is now the highest priority while gradually reopening economic activities in safe areas.
Also, Vietnam sets September deadline for Covid situation control.
Vietnam received 33 million doses of vaccines as of September 4 and the figure is expected to increase to around 50 million doses by the end of September.
To date, Vietnam has administered 22,012,123 doses, with 3,338,783 people fully vaccinated./.
Regards,
OnBird team
On Sep 5, 2021, Vietnam has begun piloting its

new quarantine regulation

for international arrivals who have been fully vaccinated against COVID-19 with the landing of nearly

300 Vietnamese citizens

from Japan.
The flight landed at Van Don Int'l Airport has become the first to enjoy the
shortened 7-day quarantine policy under a trial vaccine passport program.
So it marked the new policy to shorten the mandatory quarantine period for fully vaccinated int'l arrivals.
After a weeklong quarantine, the passengers will have to remain another 7 days in self-isolation.
The vaccine passport policy will apply for another repatriation flight for Vietnamese nationals returning from the U.S. on September 12.
For leisure foreigners to Vietnam,
stay tuned to new pilot vaccine passport or green travel pass policies to come.
Regards,
OnBird team
The Tourism Advisory Board proposed piloting the use of a green travel pass to enable fully vaccinated tourists or those recovering from COVID-19 to easily travel within the country.
1. WHAT EXACTLY THE TRAVEL PASS IS?
The travel pass or green travel pass is basically
a digital pass that would be issued for those:
  * having received two doses of the COVID- vaccine
  * COVID patients who have been granted recovery certificates
  * have tested negative for the virus within the previous 72 hours.
2. WHAT'S THE TRAVEL PASS USED FOR?
The travel pass is expected to
allow its holders to travel between provinces and cities in Vietnam.
It's to include, but is not limited to, participation in domestic events and having meals at restaurants.
The digital app
incorporates a person's test results, COVID-recovery and vaccine certificates,
would create conditions for people to conveniently travel within the country and help revive economic and tourism activities.
Many countries around the world have also started applying digital travel passes. 
While the green travel pass is piloted, the government should prioritize negotiations of mutual recognition agreements with ASEAN countries, the EU and International Air Transport Association's Travel Pass (IATA pass).
We'll get updated on latest news regarding this green pass official application as well as pilot vaccine passports for foreigners in Vietnam.
Regards,
OnBird team
Vietnam tourism ministry plans to
trial a six-month vaccine passport program
in Phu Quoc Island from October.
Some of Vietnam's major tourism markets with high Covid-19 vaccine coverage the ministry is eyeing include
China, South Korea, Japan, Taiwan, the U.S., Germany, Russia, the U.K. and France.
To enter Phu Quoc,

foreign tourists need to
:
1. Furnish a vaccination certificate showing they have got
two shots of a Covid vaccine approved by Vietnam.
The second shot must have been taken between 14 days and 12 months before the date of entry.
2. Those who had Covid and have recovered must furnish
a certificate from the country of treatment.
The discharge date must have been within the previous 12 months.
3. Visitors must present a
negative result
in a PCR test done within
72 hours before departure.
According to the plan, the trial reopening will last six months and be divided into two phases.
The first, which lasts three months from October,

will welcome some 2,000-3,000 visitors per month. During this phase, tourists can only reach the island on charter flights and stay in sequestered areas of selected resorts or destinations of a large size, who have proven their capacity of ensuring safety for tourists.

Starting from the fourth month of the plan,

the island may be able to take in 5,000-10,000 visits per month, as regular international flights to and from the local Phu Quoc Airport will have been reconnected, while more travel locations will be made available to foreign travelers.
Regards,
OnBird team