Let's join us – Phu Quoc Island Guide in exploring Leather Coral Covered Canyon at Half-moon Reef, Phu Quoc Island which is one of the most beautiful coral reefs in Phu Quoc, Vietnam. Corals at the Leather Coral Covered Canyon mostly are Golden Leather Coral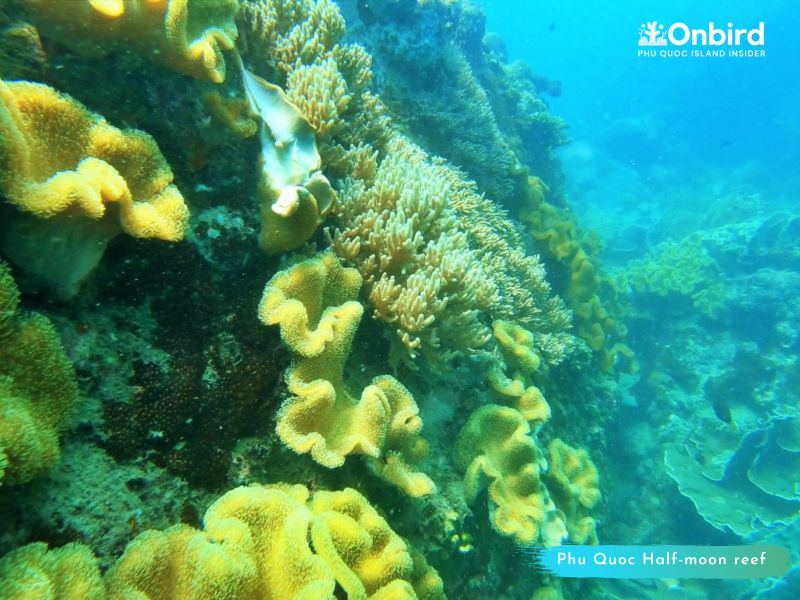 Phu Quoc Coral Covered Canyon is hidden at the depth of 5 m underwater in the South Sea of Phu Quoc Island – at one of the best coral reefs in the An Thoi Archipelago, this is a canyon that is covered by types of soft and hard coral.  As a part of the rocky terrain underwater here, this is another ideal spot for those who are interested in experiencing the beautiful marine world by either snorkeling or free diving. When mentioning Phu Quoc Coral Covered Canyon to you, many of you must have been thinking of adventure which is absolutely pertaining to explorations but other than adventure what you will obtain through the experience of swimming along the canyon is an amazing emotion of miraculous marine ecosystem. This canyon is around 5 m in length and almost 3 m in height and is almost completely covered by types of soft coral such as Golden Leather Coral and Yellow Sinularia Levi Coral and on the seabed surface, you will be seeing the presence of Montipora Monasteriata Coral and Brain Coral…coral species that you will be meeting the most that are living on the canyon is Golden Leather Coral.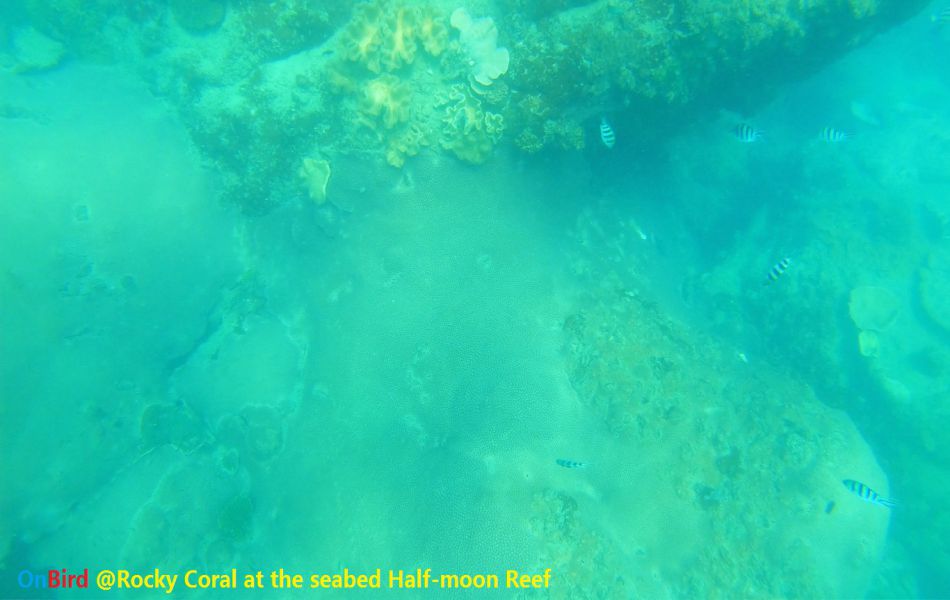 On the way diving down you will firstly see Phu Quoc Great Porite Coral (Check here) which is another Phu Quoc ocean treasure. Onsight, lots of us will be imaging a super big rock to ourselves due to the like-rock outward appearance of it. But in getting closer to it, millions of small polys on the surface of the like-rock object will certainly surprise you and you will acknowledge that it must be a certain type of coral. On the surface of this Great Porite Coral, there are few Golden Leather Corals living. The impressive size of the Phu Quoc Great Porite Coral will probably have you feeling a certain worry as well as curious in approaching the Phu Quoc Coral Covered Canyon.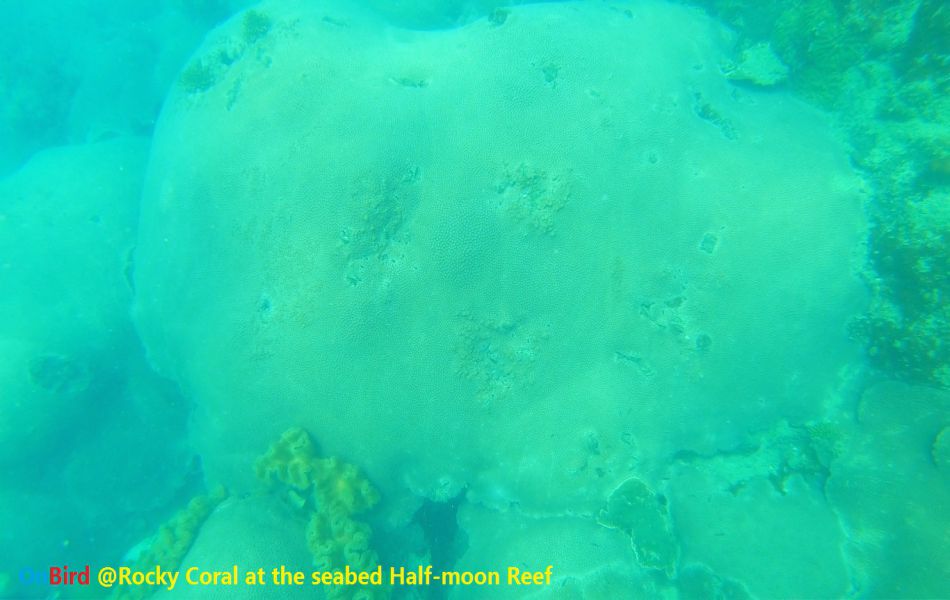 Going on swimming, keeping your eyes on the front, you will go on to meet the small gate leading into the Phu Quoc Coral Covered Canyon as the photo below. The scene right before your eyes is a canyon whose corners are filled with corals. Among that, Golden Leather Corals occupy an important position in creating the spectacular scenery here, put the presence of corals aside then another important factor that has you being attracted is dark visibility in the water that makes the scenery more mysterious.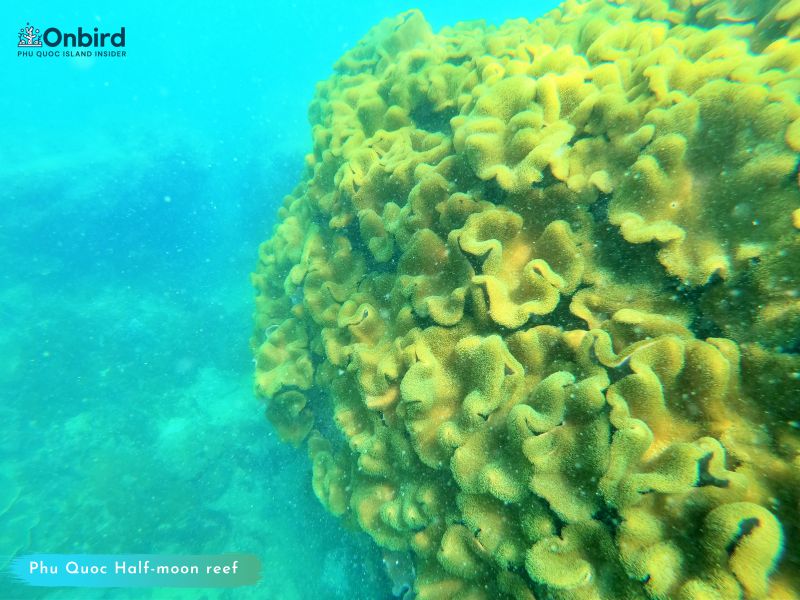 Regarding the state of health of corals here, they are still in a very good state, sometimes when we came here and saw Golden Leather Corals turned their color into white because they were over period of undergoing a Leather change at that time. It would be the most ideal if you come here over periods Leather Corals get on the golden color.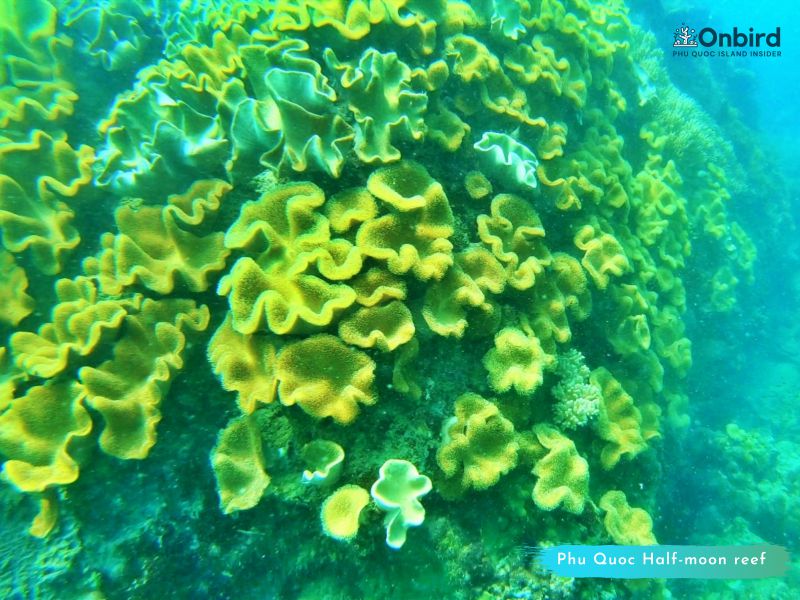 Then from here you could swim along the canyon and get the closest look possible at Golden Leather Corals, immersing yourself in the world of coral and schools of reef fish, about you from the bottom to beside your shoulder fully filled with corals regardless of being not so colorful. As the origin of the name Leather Coral, having a close glimpse of Leather corals you will see millions of tiny polys shaking back and forth with the flow. Besides the presence of Golden Leather Coral you will see Yellow Sinularia Levi Corals living between Golden Leather Corals (let's explore the Phu Quoc Yellow Sinularia Levi Coral-Covered Cliff).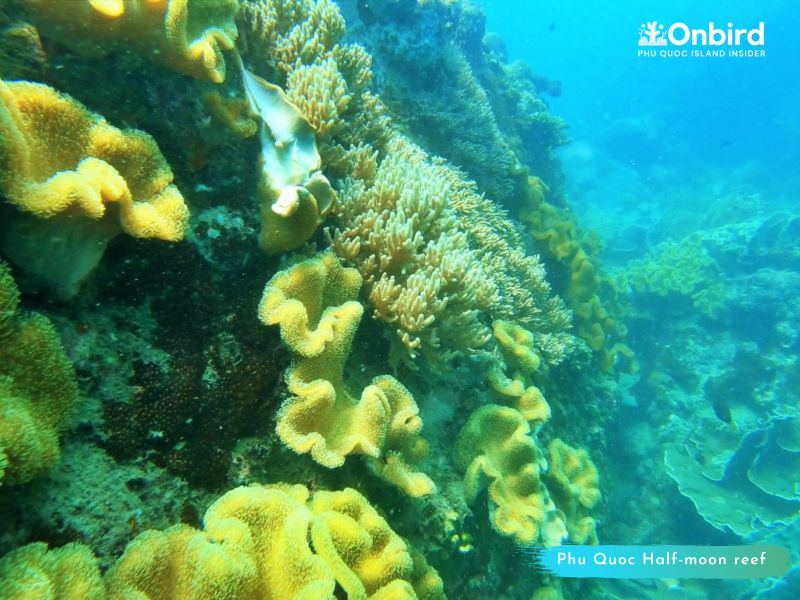 Few of Golden Leather Corals are white but they are not being bleached but they are over a period of waiting for new skin layers, new leather layers.
Around the coral covered canyon, there are many baby Brain Corals and Encrusting Corals which are covering most of the seabed surface here.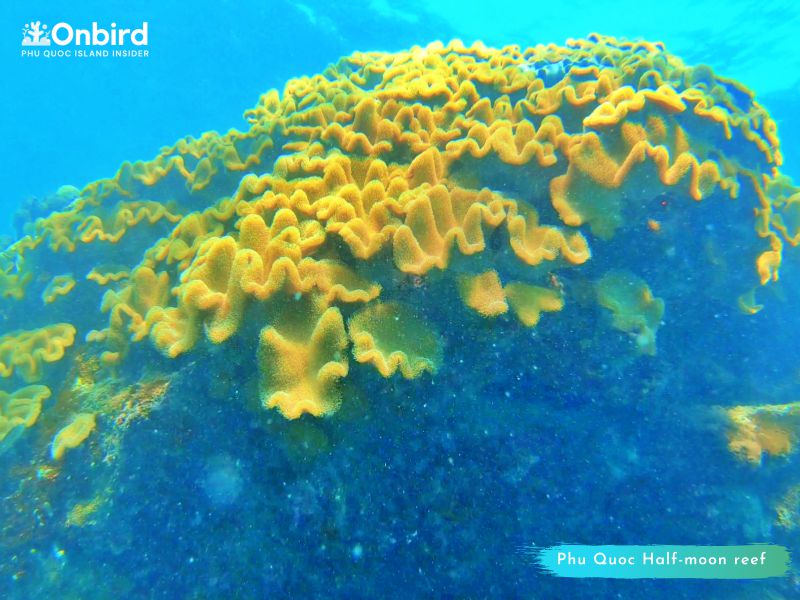 You will meet a Golden Leather Coral Covered Cusp at the end of the canyon, the beauty of Coral covered cusp combined with the light shining through the blue water surface is true "the Heaven Light". Check out other Phu Quoc coral reefs here such as Phu Quoc Undersea Coral Mountain, Phu Quoc Golden Anemone colony, Phu Quoc Yellow Sinularia Levi Coral Covered Cliff… Let's join our exploration in discovering Phu Quoc Coral Reefs on snorkeling tours in Phu Quoc Island