Phu Quoc Snorkeling – Free-diving: Phu Quoc Coral Reefs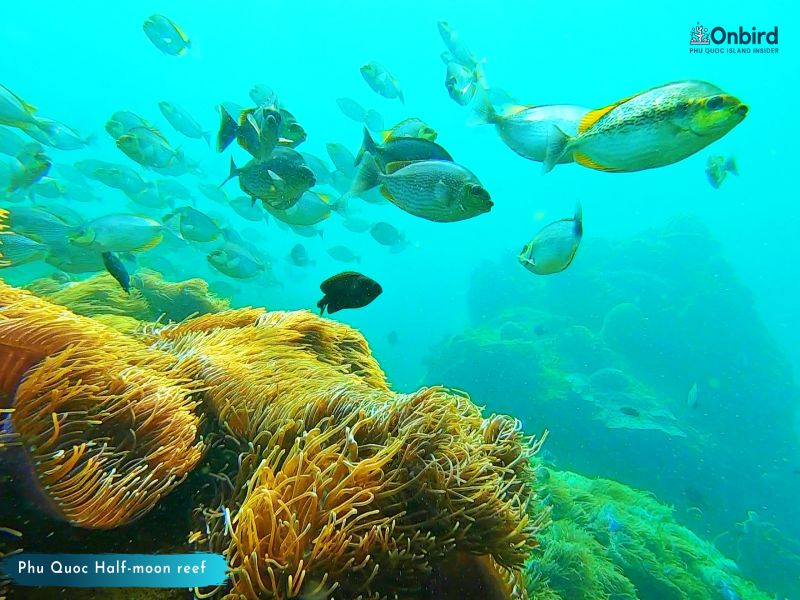 Join us to explore one of the largest anemone population of Phu Quoc Island at Half-moon Reef, South sea of Phu Quoc Island. Phu Quoc large Golden Anemone Reef is one of the ocean treasuries in Phu Quoc Sea that we discovered through our exploration of Phu Quoc coral reefs. It is a large anemone reef that is a golden color and we name it Golden Anemone Reef for that reason. Situated by the foot of a large cliff at the depth of 5 meters then it is usually ignored by tourists as it is not within the range of vision on days of turbid water. You need to decensde down at least 3 meters or 4 meters to get a clear view of the Phu Quoc large Golden Anemone Reef. (Check out Phu Quoc Coral Observations). Check out the snorkeling tour to explore this Large Golden Anemone Colony in Phu Quoc?
While diving down, as you see in the photo above, within a vision of 5 meters view on good weather days it is still a trace of difficulty in recognizing the Phu Quoc large Golden Anemone Reef. That why the proper way to admire the beauty of the Phu Quoc large Golden Anemone is to dive down 3 m or 4 m. One of the experience for you in exploring coral reefs is to swim at slow speed to be able to recognize strange objects underwater, most tourists came here ignored the beautiful objects under the sea. As usual, in order to explore all of the reefs in this spot, we probably take almost 2 hours including the free-dive part.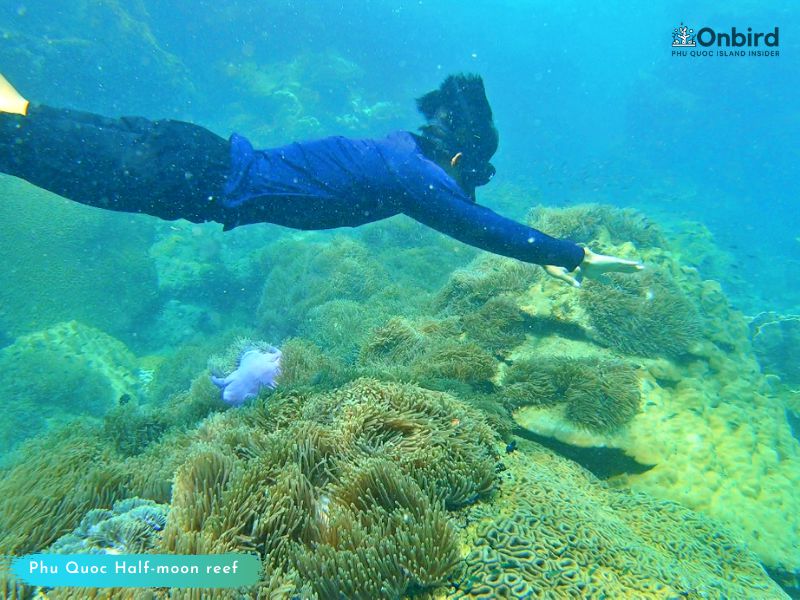 The Phu Quoc large Golden Anemone Reef has been growing on a large coral that has a like-rock outward appearance; don't touch them when you will be getting close to large coral.
The total area of the Phu Quoc large Golden Anemone Reef is about 4 – 5 square meters according to our estimation through our inspections. The closer you get close to the reef, the more the scenery will surprise you, looking at moving anemone and cute clown fishes swimming at a close distance will certainly have you feeling better about marine life.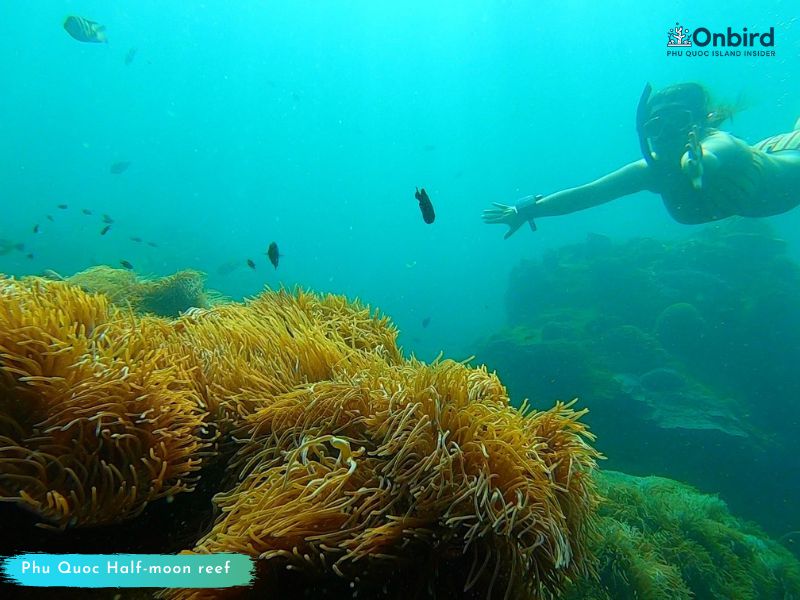 Because the Phu Quoc large Golden Anemone puts on Golden color purely thereby it is not so really colorful under the influence sun ray, but regardless of being not so colorful, it is still extraordinary when you reach close to the large Golden Anemone. In diving by the reef, you will certainly run into cute anemones and schools of fishes.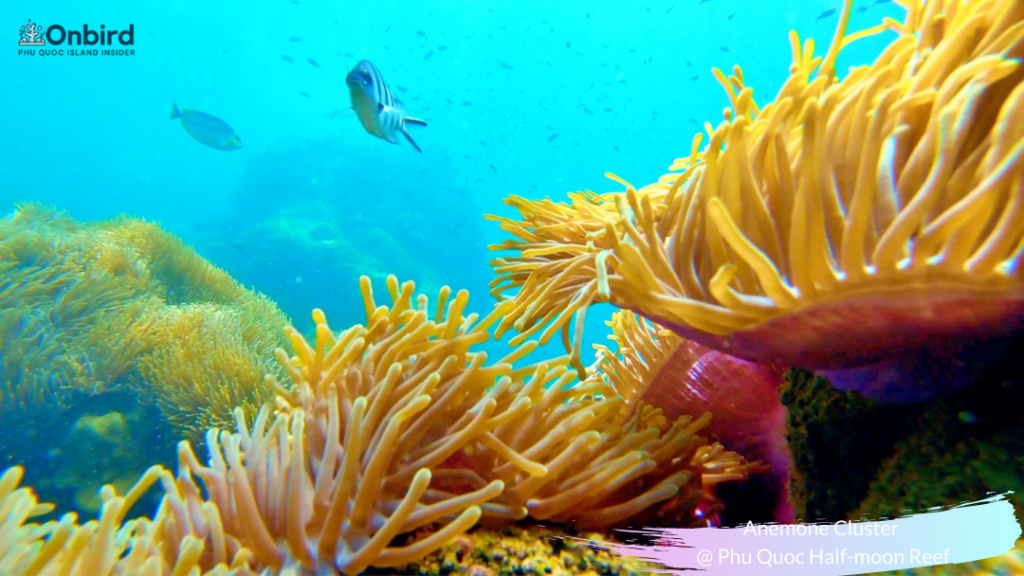 If you are capable of doing free-dive well or at least can hold your breath long enough to admire the fabulous scenery from the Phu Quoc large Golden Reef to the surface, I would tell you for sure, it is extremely impressive that you will never forget, it is like the heaven light. If you are capable of free-diving you can get down the bottom and find out some safe spots to stand and arrange a camera for a fabulous photo by the Phu Quoc large Golden Anemone Reef.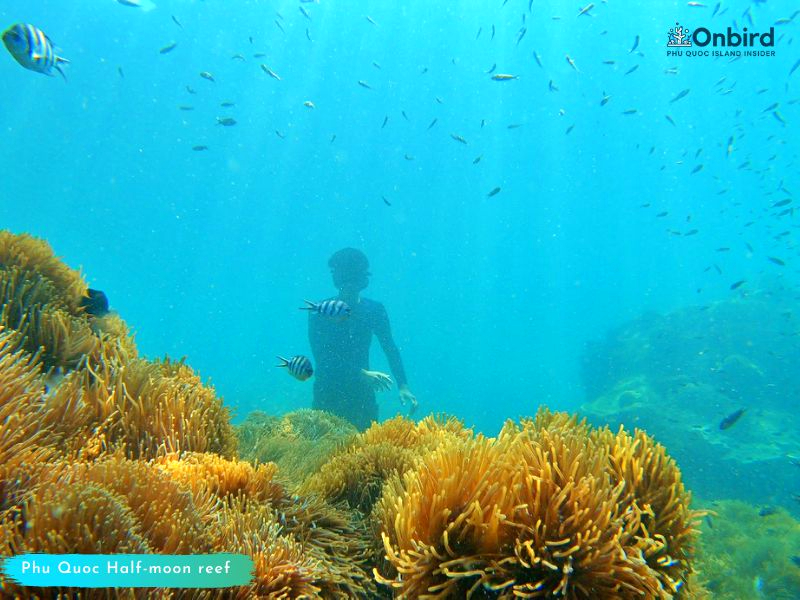 In diving near the Phu Quoc large Golden Reef at a close distance of 0.1 – 0.2 meters, you should be careful. Actually, I touched anemone with bare-hand as I didn't acknowledge the risks of getting burned, maybe anemone reefs here are not dangerous but you should not try out for your safety as some of them are extremely poisonous.
One of the essential as well as indispensable tools for you when you join the exploration of coral reef is a water-proof camera to record unique moments.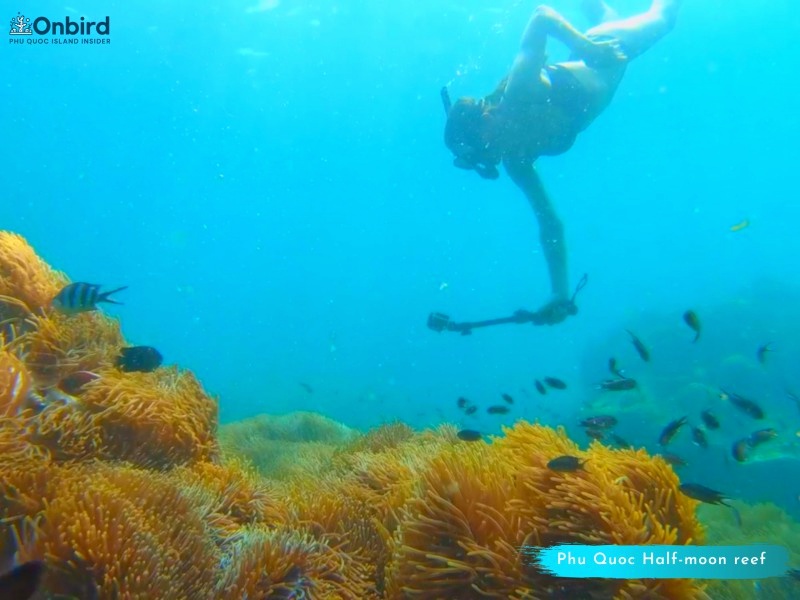 As mentioned above, the Phu Quoc large Golden Anemone is situated right at the foot of a giant cliff then you can set up your camera at easy if you would like to record your exploration of the reef.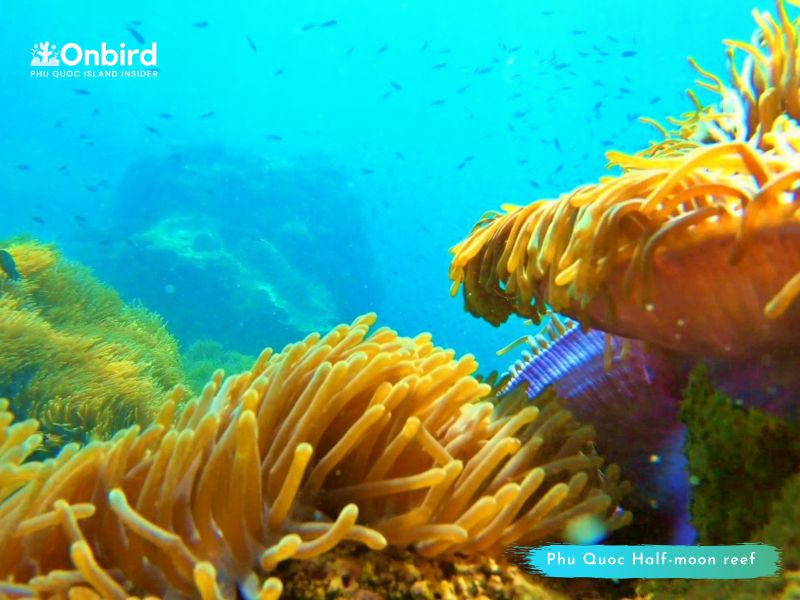 Aside from this Phu Quoc large Golden Anemone Reef, there is another larger anemone reef here, but it is a trace of difficult to reach because it is located at the depth of 9 meters. Let's join our snorkeling tour in Phu Quoc to admire the beauty of these Ocean Treasures in the Phu Quoc  Sea such as Phu Quoc "Undersea Coral Mountain" –.