General information Northern Fingernail (Mong Tay) Island:
Located in the Northwest of Phu Quoc Island, 2km down to the South by East from Turtle Island, Being a part of Vung Bau bay (Half-moon Bay) at the coordinates 10°17'59.5'' North latitude, 103°51'44.9'' East longitude. On where Phu Quoc's most beautiful bar is situated – Rock Island club, ideal place to contemplate sunset. The island possesses a small sandy beach that you can only reach by kayaking from any spot at Half-moon Beach – Vung Bau Beach or by speedboat if you will be staying in Nam Nghi resort. From my experience then exploring Northern Fingernail Island by kayaking on the sea is truly extraordinary fabulous experience.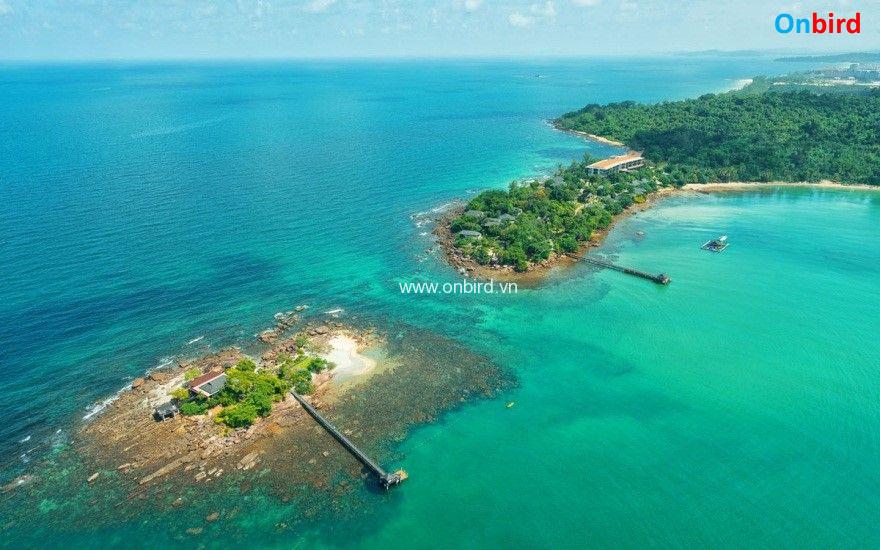 Geography Northern Fingernail Island (Mong Tay):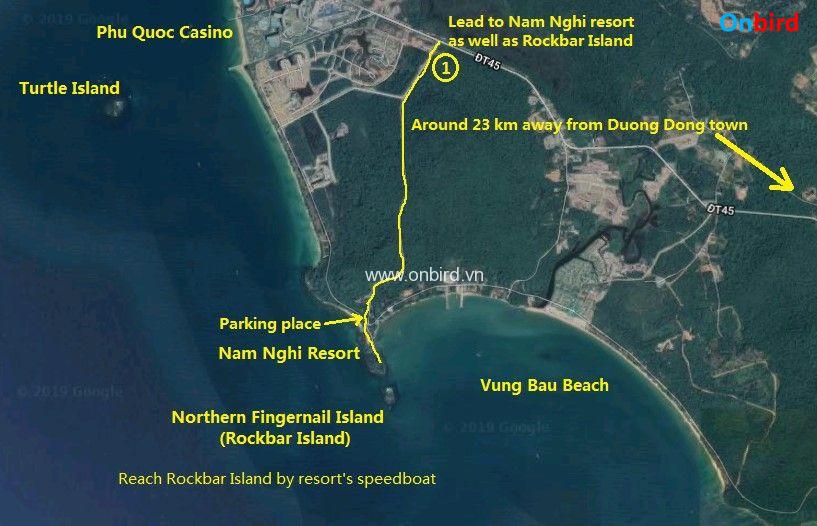 There are 2 manners in order to reach the island, one is to go into Nam Nghi resort the investor of the Rock Island club on the island and require them to take you to Rock Island Club, but the bar is opened for public using late in the afternoon only till midnight (5 PM – 1 AM). But on some days for reason of unfavorable weather Rock Island club will be closed then prior to departure time for the Bar you should ring the reception of Nam Nghi resort about open time of the bar via this phone number: 0297 3891 234. You will be transferred to from the pier at the cape to Northern Fingernail (Mong Tay) Island by speedboat as the photo below. (Check out Phu Quoc weather in detail here)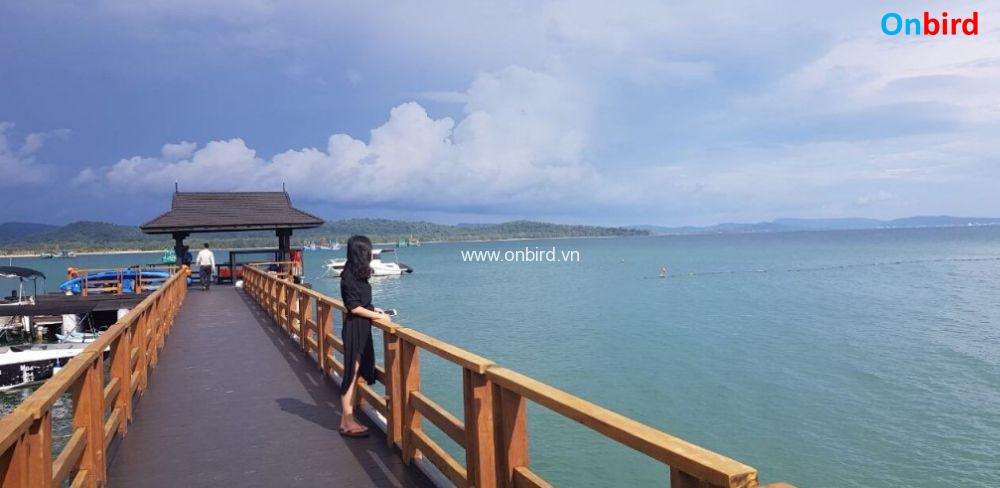 You will be taken to pier by resort's tramcar before getting onto the speedboat (in the photo below) for the island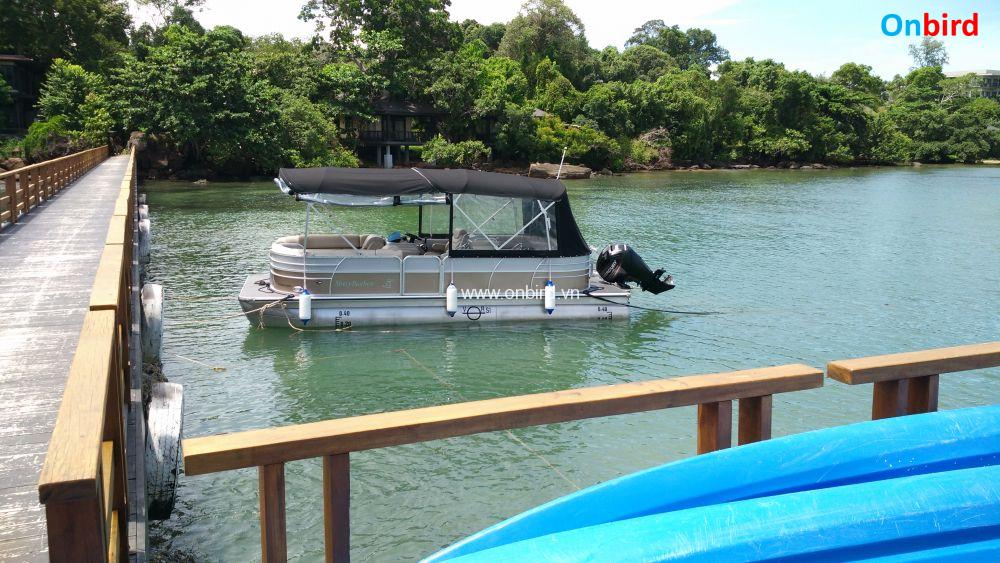 Other alternative to discover the beauty of the island is to explore the island in the afternoon or in the morning by kayaking, it takes about 20 – 30 minutes to reach the island from Vung Bau Beach – Half-moon Beach depending on your starting spot. But please wear life vest on in case even you are good swimmers.
Behind the kayak is pristine scenery of Vung Bau Bay – Half-moon Bay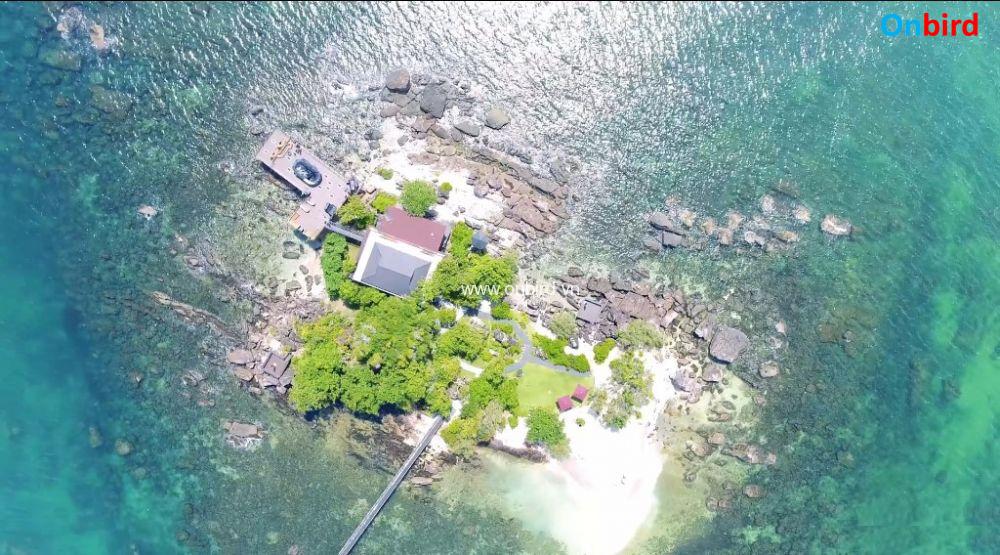 The panoramic aerial view of Northern Fingernail (Mong Tay) Island and Rock Island Club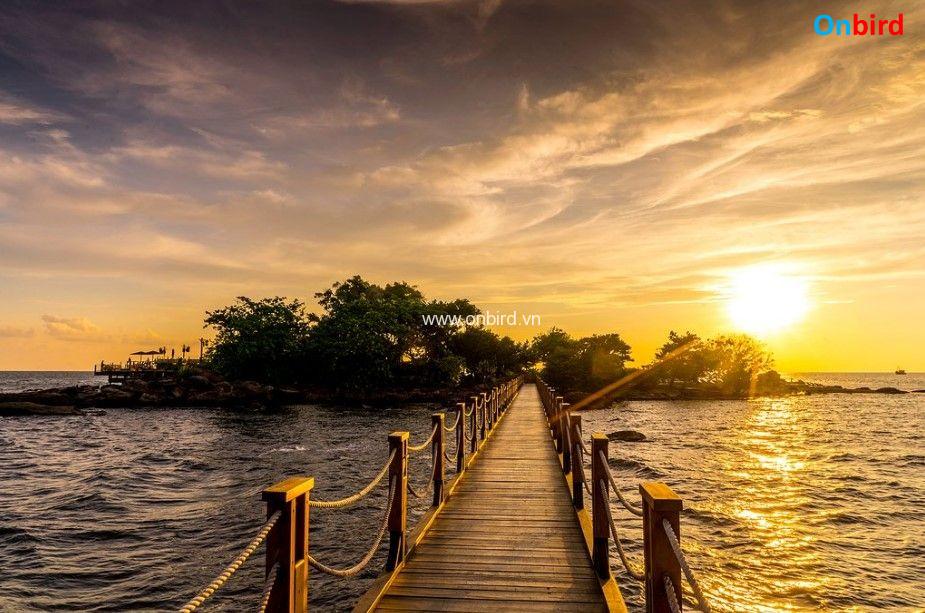 Welcoming sunset time from pier at Northern Fingernail (Mong Tay) Island. Two photos below are outside area of Rock Island Club. It's really worth visiting here on a Dry season day.
As the sun goes down, in the meantime don't forget to take beautiful photos – Things to do in Phu Quoc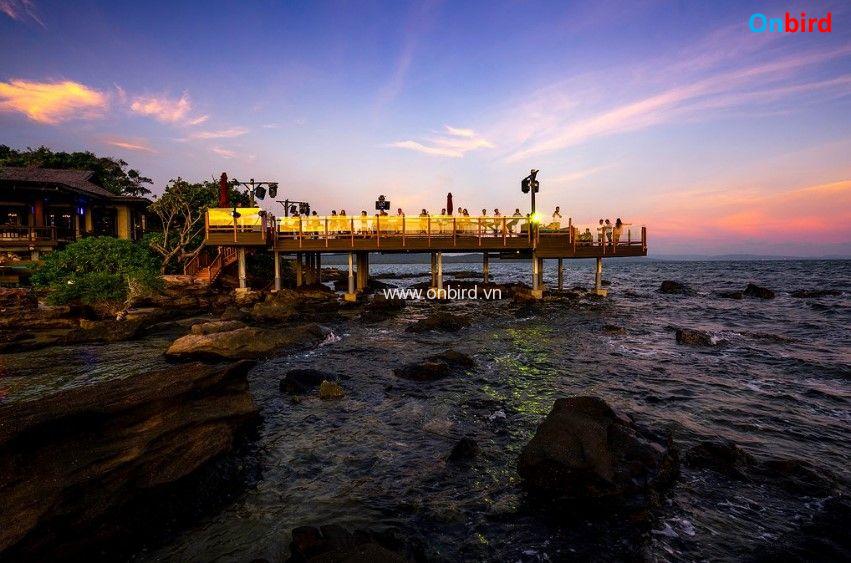 When the night falls it would become a musical party on the island, they will play live DJ at the bar – Things to do in Phu Quoc
Fanciful scenery of Rock Island Club at night.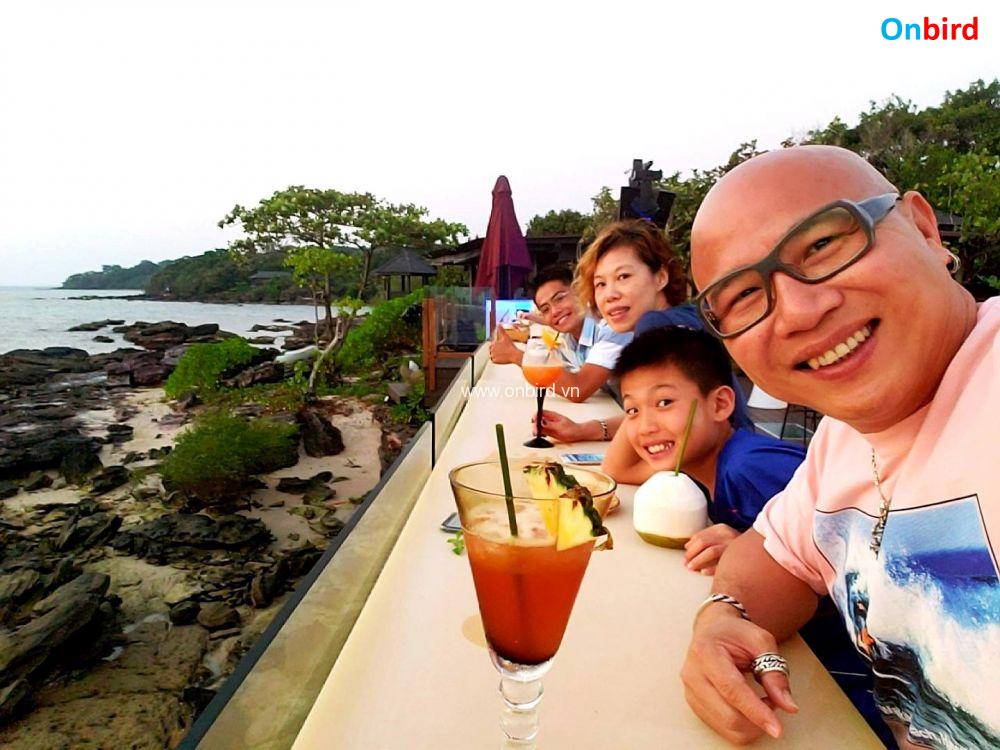 Welcome sunset time with some cocktail or mocktail at affordable prices at Rock Island Club – Things to do in Phu Quoc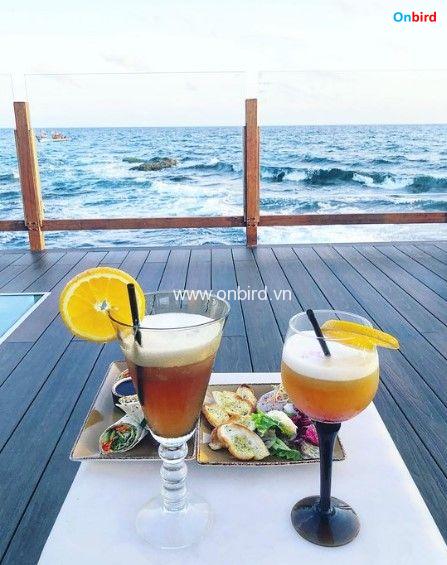 And if you feel hungry they have some light foods (as above) for you or you have another option is to enjoy Thai-Viet foods at the opposite restaurant – Tree House restaurant – a restaurant blended in with the nature, is situated on the cape facing at the Northern Fingernail (Mong Tay) island, right under a 800 years old tree (you can find location through the photo below). You need to ring the reception of Nam Nghi resort to inform them about your reservation prior to your arrival, no fee applied for pre reservation.
Fanciful scenery of Tree House restaurant in the sunset time
Tree House restaurant offers you both outside and inside area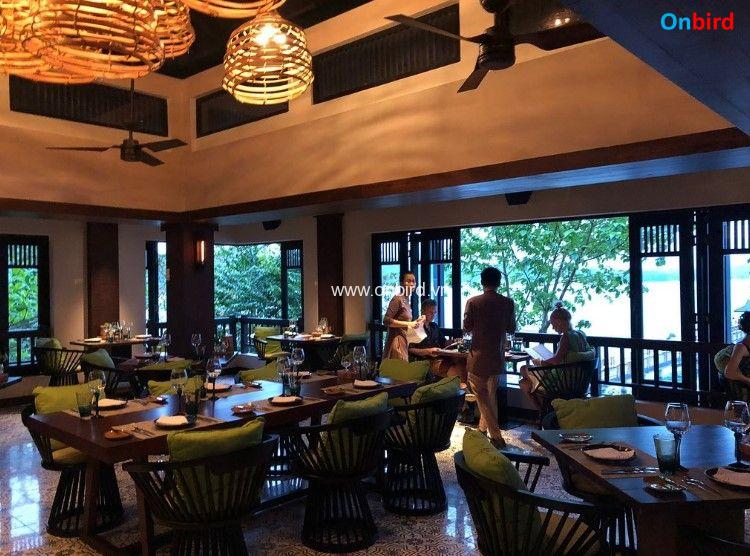 The internal scene of Tree House restaurant where they have good knowledge staff on provided foods, they can provide you with a board understanding about ingredients for each types of food.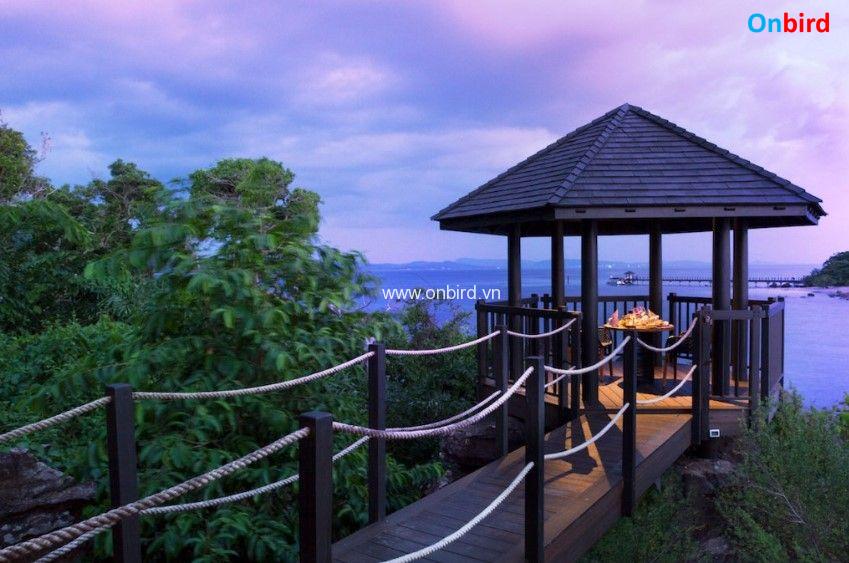 In the outside of restaurant they have some huts, ideal places for those who want to enjoy romantic atmosphere beside your lovers, honey, enjoying delicious food besides contemplating the beauty of Rock Island Club in the evening is not a bad idea.
After all you can get back your motorbike or your car by their tramcar, it would be safer for you if you take a car or taxi come here instead of driving motorbike at night.
Northern Fingernail Island (Mong Tay) – Coral reefs – Things to do in Phu Quoc:
Exploring coral reefs is prohibited here as an effort to protect coral reefs here from the impacts of big wooden boats and.