WHY SHOULD YOU CHOOSE VIETNAM FOR YOUR KID-FRIENDLY SNORKELING ADVENTURE? 
1. In recent years, snorkeling has still been considered an unsafe outdoor activity  by some parents. For many countries which are located in the Temperate Zone, snorkeling is a hard -played outdoor activity for kids because undersea water is too cold for the kid's physical body. Vietnam is a Tropical country that possesses a 3.260km long coastline with ideal water temperature just about 20-25 degree C, so allowing kids to join undersea activities such as swimming and snorkeling 
2. Actually, we don't have the large Coral reefs along our coastline (our coastline terrain is separated), but we have over 400 endemic coral species with quite pristine reefs – becoming one of the most diverse coral reefs ecosystem in the world 
Surely, this thing can bring you and your kids an amazing experience.
3. For your children in a developing period of intelligence and world outlook, interacting, and experiencing things like discovering all world-round directly will help kids enrich knowledge, imagination, and maturity in their personality.
Based on these reasons, the snorkeling coral reef discovered is considered one of the venture tour forms and top-ranking outdoor activities with high safety conditions for kids.
The process of selecting suitable spots, and experience and adventure levels require setting safety criteria up and being an expert in underwater terrain, and streamflow in each area, especially those experienced standards have to be friendly with kids. To bring kids a good snorkeling experience, we should guarantee the following criteria: SAFE – EASY APPROACHING WITH KIDS – AT ONCE CHALLENGING FOR KIDS -LIVELY (exciting imagination, desiring discovery). 
Hence, to get experience with a coral reef snorkel adventure for members of a family, a lot of parents have been looking for an authentic organizational unit that has a profound about undersea terrain
OnBird Phú Quốc is proud to be the first unit in Viet Nam, especially on Phu Quoc Island designed snorkeling on coral reefs discovery for families and kids (from 4-to 12 years old) with a crowd-avoiding itinerary around Phu Quoc archipelago. During the past 3 years, OnBird has gained the trust of many families including Vietnamese and foreigners.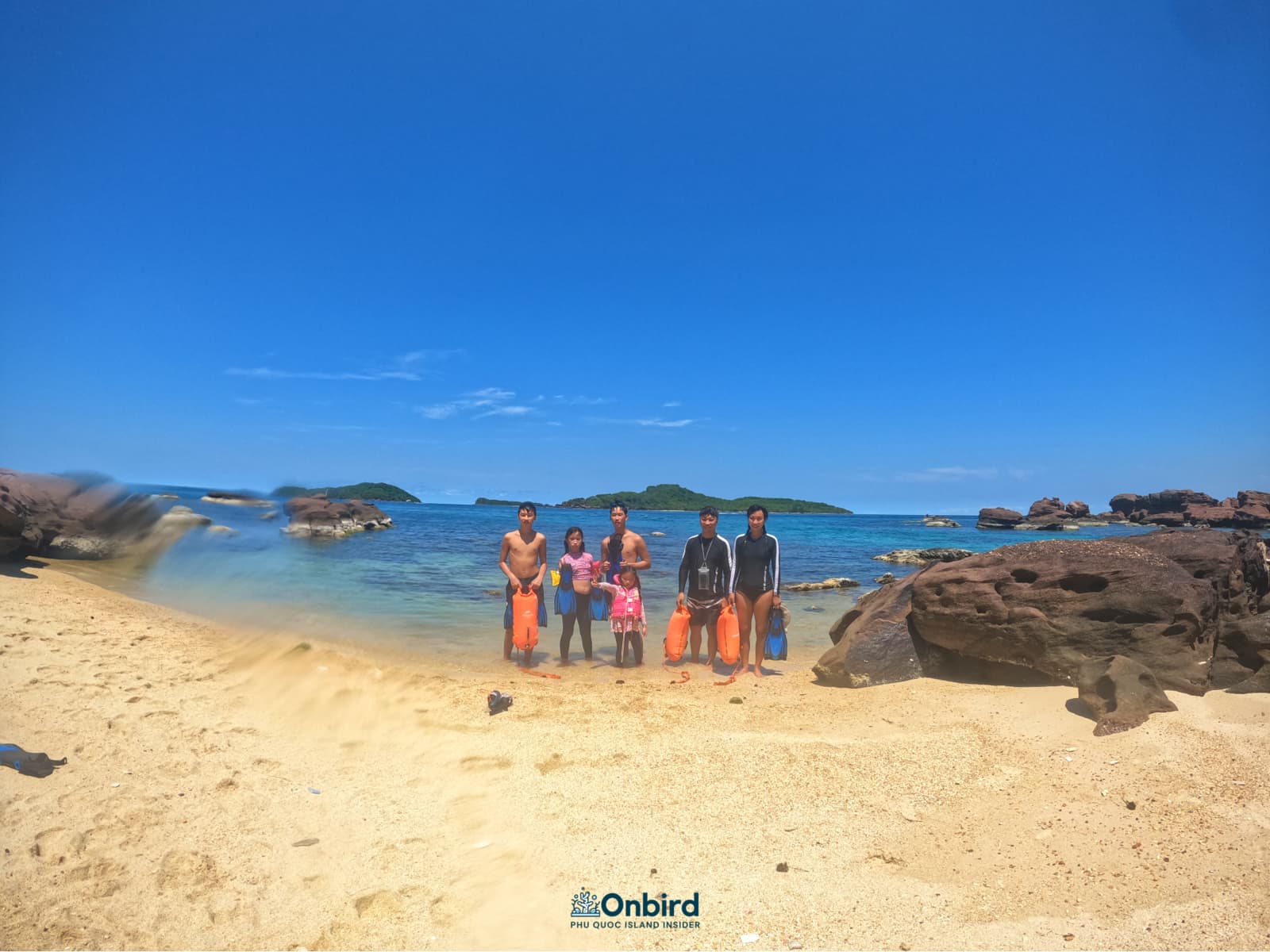 WHY PARENTS SHOULD CHOOSE ONBIRD FOR THEIR SAFETY SNORKELING TRIP?
1. Weather condition, hydrography, and snorkeling time frame
For snorkeling activities, to get the best experience and most safety, we must consider the current, the amplitude of the wave, and the underwater visibility at each Coral reef at different time frames.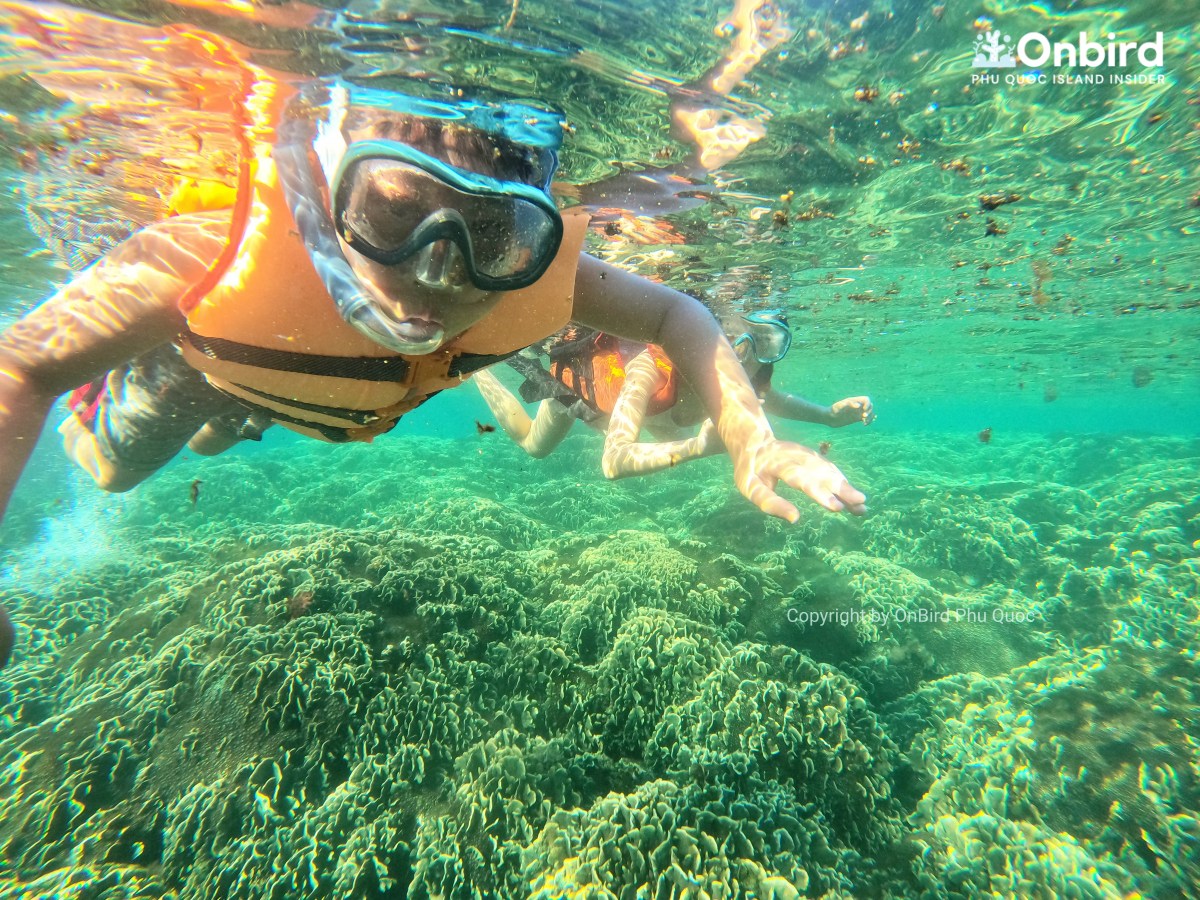 Calm water helps snorkeling become easier with a newbie for the first time, or for those who have certain experience; it also minimizes some risks when we join swimming, snorkeling, or scuba diving, at once bringing you a feeling of excitement and security.
Please note, that water condition and UV rays volume will change differently in every time frame within a day. Each time frame will bring you a different experience. Especially for the feeble habitus of our kids, choosing a time frame with calm water without current is extremely important for a safe trip.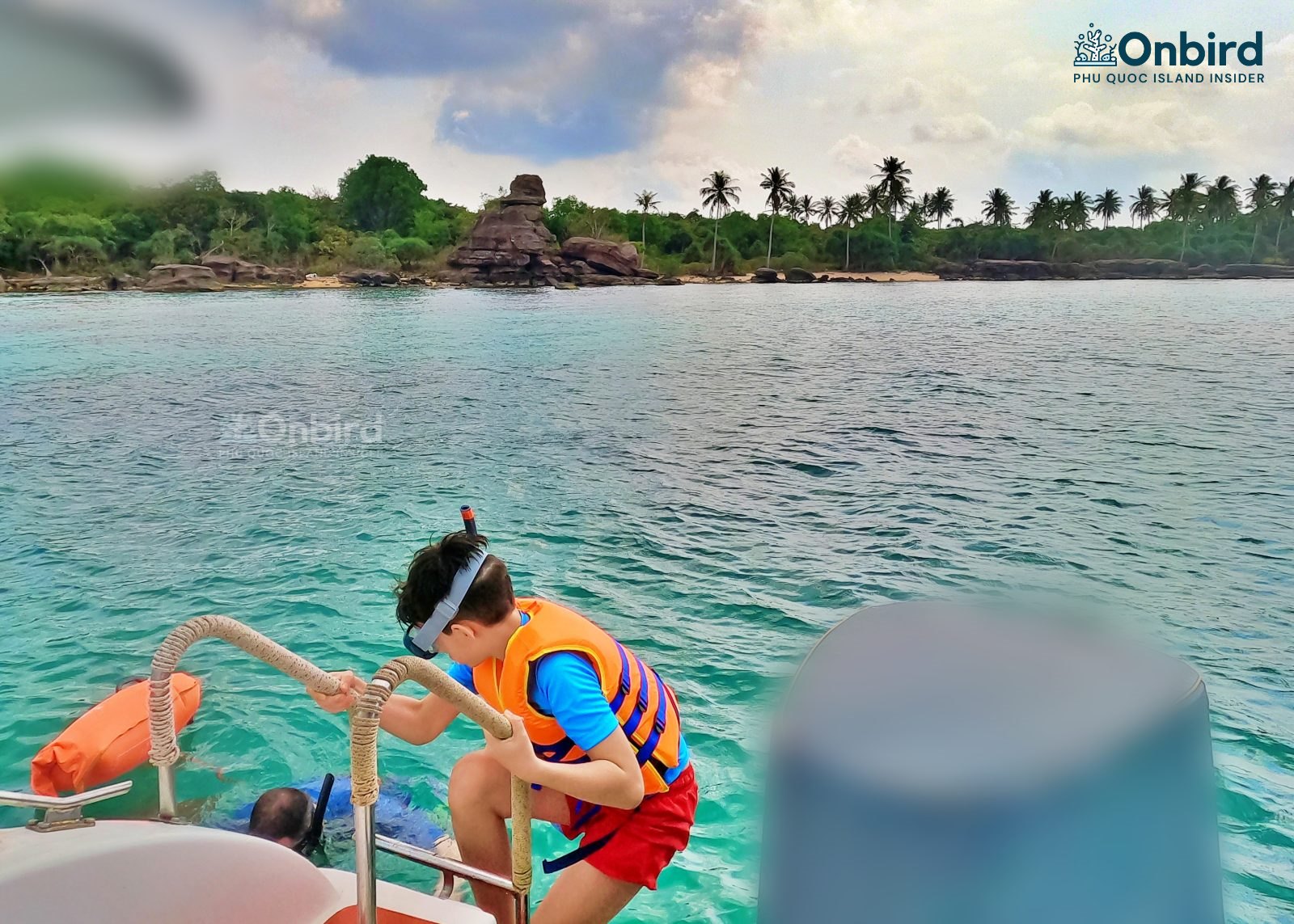 Since developing this product, all our snorkeling trips on OnBird in Phu Quoc have been designed based on a flexible itinerary, and adjustment time slot every day. Thus, before joining a similar tour, within a week later, you will get an announcement and offer experts about suitable snorkeling places, underwater visibility, and a schedule of calm water.
2. Location, terrain of coral reefs
Our selective snorkeling spots to see corals must have calm water, and limit currents and waves to ensure safety for parents and children.
Coral reefs and other ocean living creatures around the globe are being harmed and dying gradually due to the greenhouse effect and tourism's overexploitation. Plenty of coral reefs all over the world in general and Phu Quoc in specific are damaged alarmingly. Through Onbird observation, biodiversity loss is becoming clearer day by day -about 80% of the acreage of Coral reefs in Phu Quoc was dead.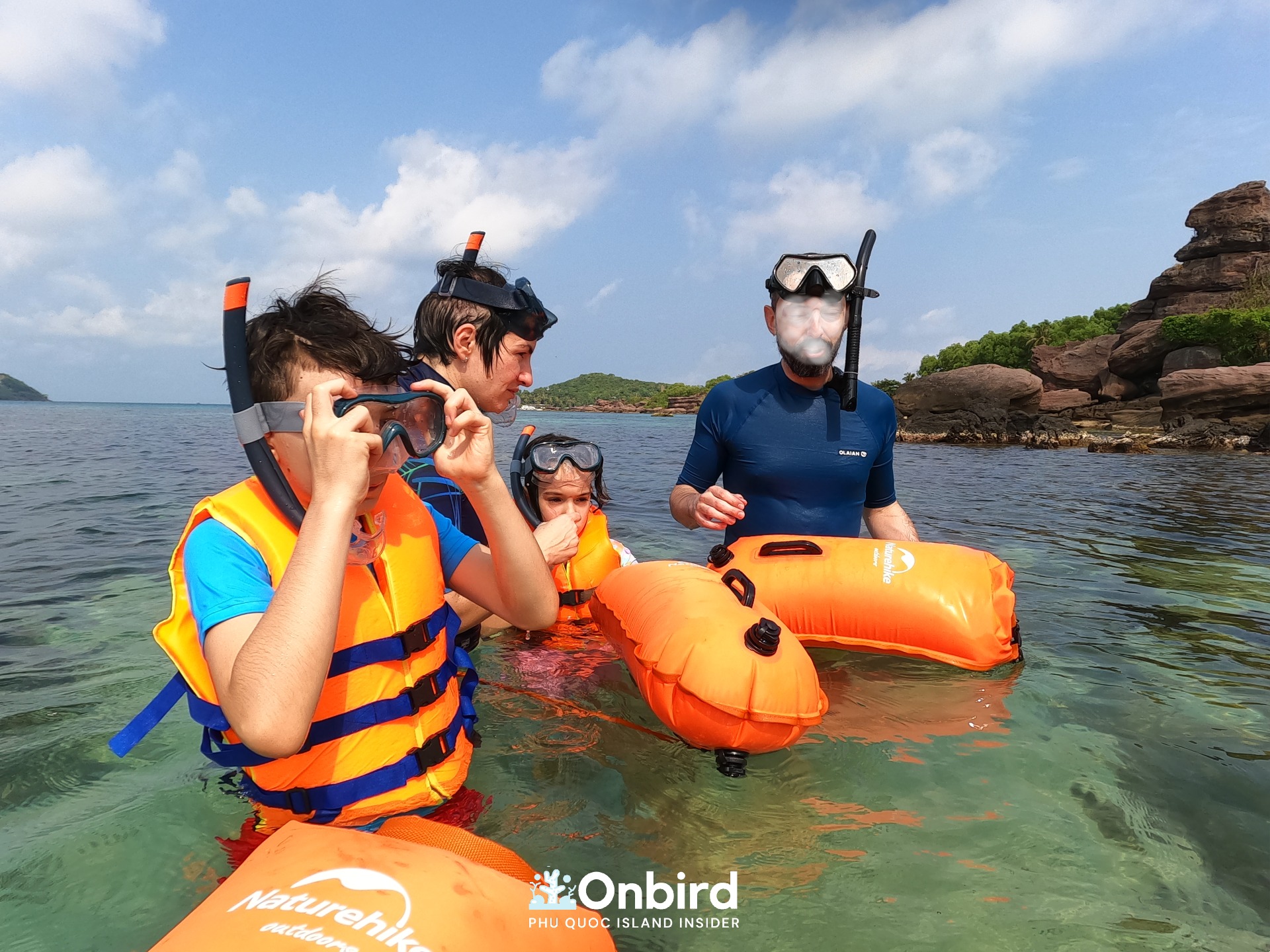 Coral reefs are located in different depths, having different levels of species diversity and topography; so, choosing suitable coral reefs and coral sightseeing spots were researched and evaluated for a long time by OnBird experts aiming to bring tourists the best experience, especially kids.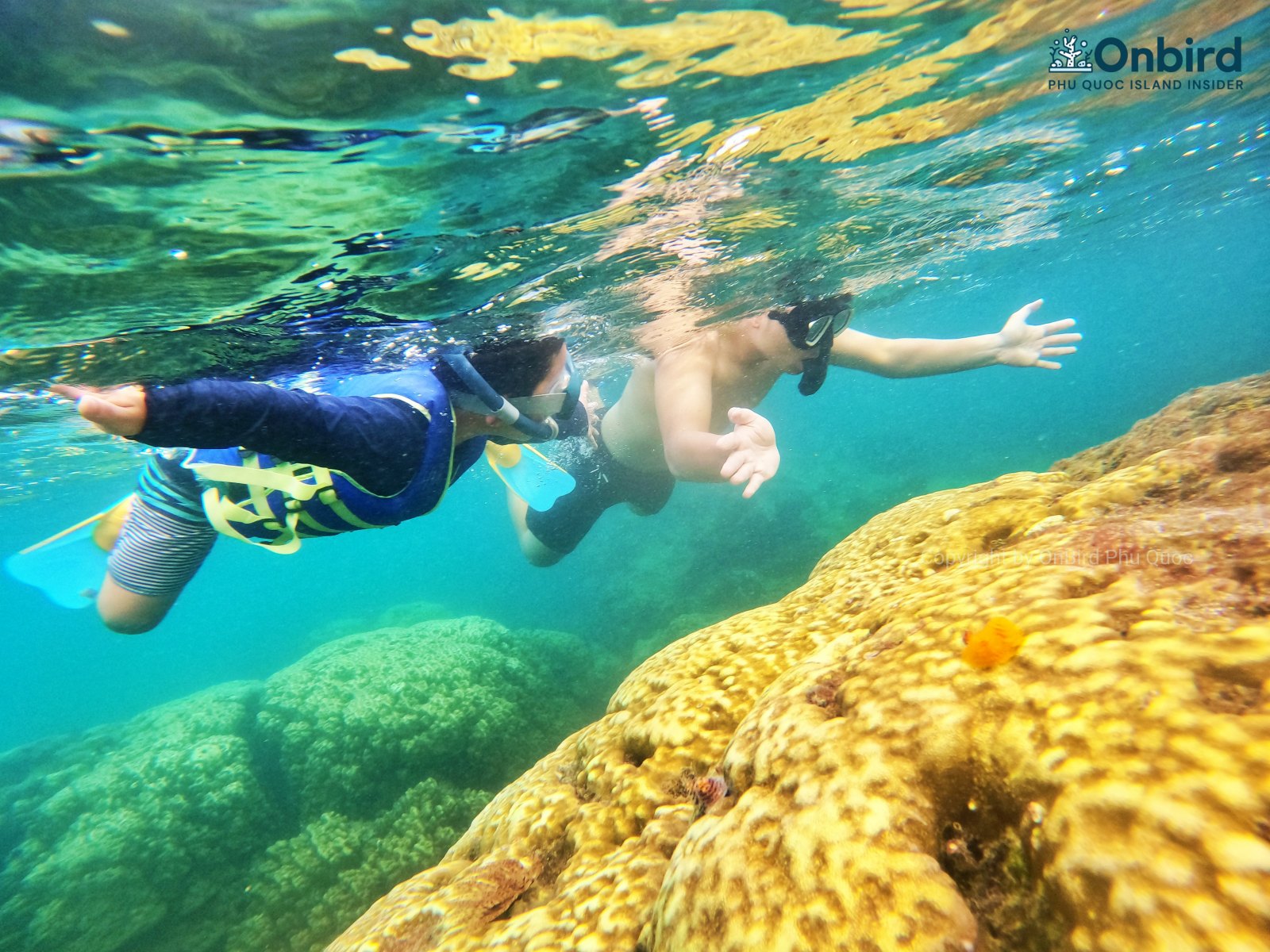 We understand that the first impression of the underwater scenery always gives the family with kids deep memories. So, OnBird quite attaches special importance to research and define coral reefs, then craft snorkeling routes to guarantee both safety and a sense of beauty for the whole family. For example, OnBird designed for kids some spots such as Coral Mountain, Crystal Reef with Christmas tree worm, Lecture coral garden, Plate coral garden, Coral steep reef,… are beautiful and safe coral reefs spots from 0.5 to 2m deep help kids and parents look at coral reefs easily.
3. Professional snorkel gear for a group of family
Being the first unit in Vietnam that builds private kid-friendly snorkeling adventures for families, OnBird understands that snorkel gears play a very important role with those who join this outdoor activity, especially for children.  
The snorkel tube's size has to fit the kid's mouth, so it does not cause gum pain; the strap of the snorkel must be light and  elastic, so it does not cause pain or feeling tightly. 

Glasses need to be anti-fog due to kids not having blur-eliminating skills underwater like an adult.

Open water inflatable swim buoy or small-sized life vest fits every kid. 

In Particular, fins for children can support their snorkeling time. 
All of this snorkel gear is carefully selected and sourced by OnBird product team.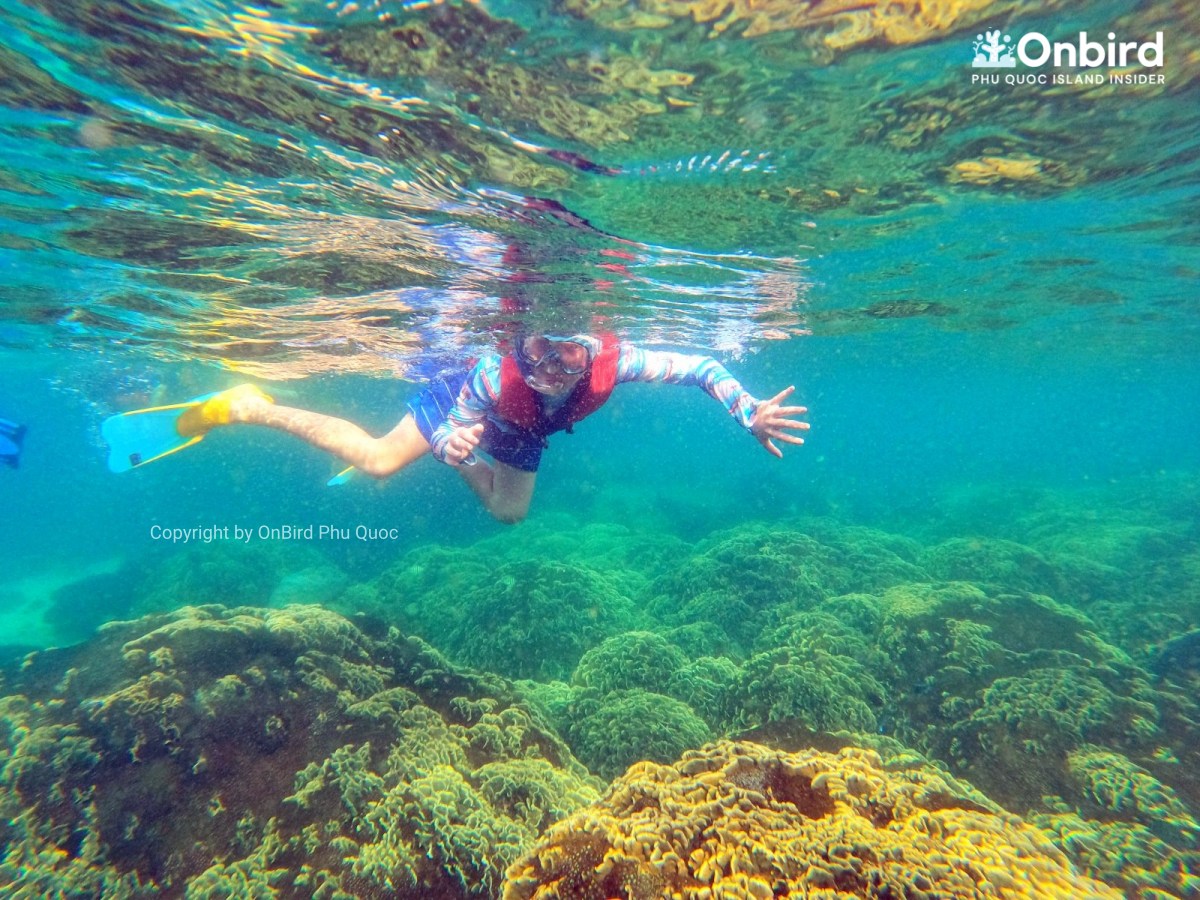 OnBird equips the kids with fit-sized snorkel gears according to  different ages including fins, tube, anti-fog glasses, swim buoy
Moreover, hygiene is also a top priority in our standard. Snorkel gear is sanitized, cleaned up, dried out, and boxed after each trip. These things bring parents and kids feeling safe. For those snorkel gear without following these standards can cause infection and a bad smell affects the experience of guests.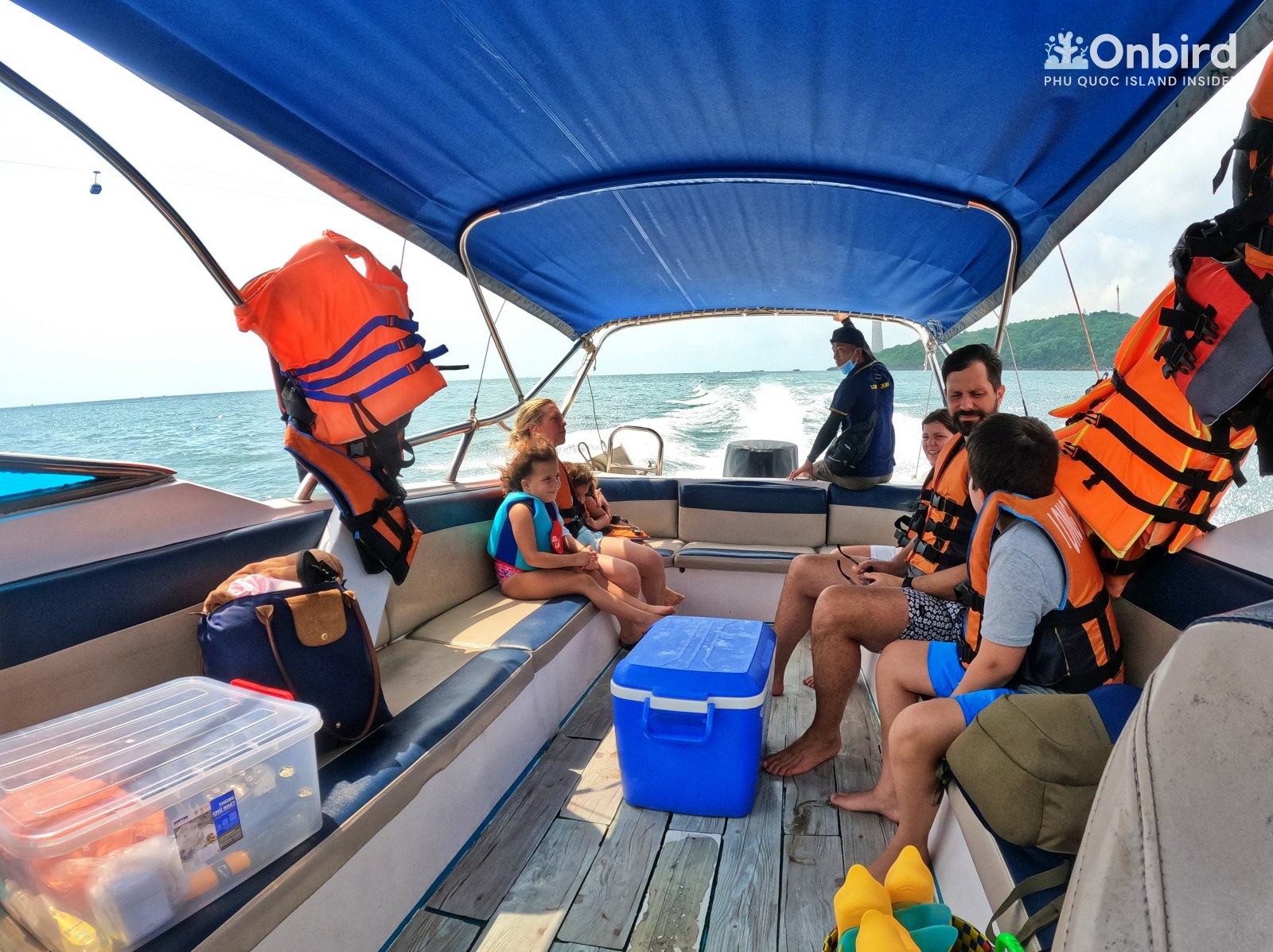 Besides, snorkel gear size is also an important factor. Children aged from 4-12 years old have different body sizes, so preparing private snorkel gear for kids which is suitable to their age and body sizes from our OnBird, that is informed carefully to the family. Before every trip, Parents will give the information of foot size, face width, and height to OnBird sets suitable snorkel gear up. 
See more videos about families has children used to snorkel with OnBird Phú Quốc.
4. Professional snorkeling guide supports guests underwater
Snorkeling on coral reefs is an active sport that requires many abilities to solve problems. To make an experience trip useful and interesting with kids, guiding them on how to wear snorkel glasses, and tubes; how to use fins or swim correctly in a detailed way is a prerequisite.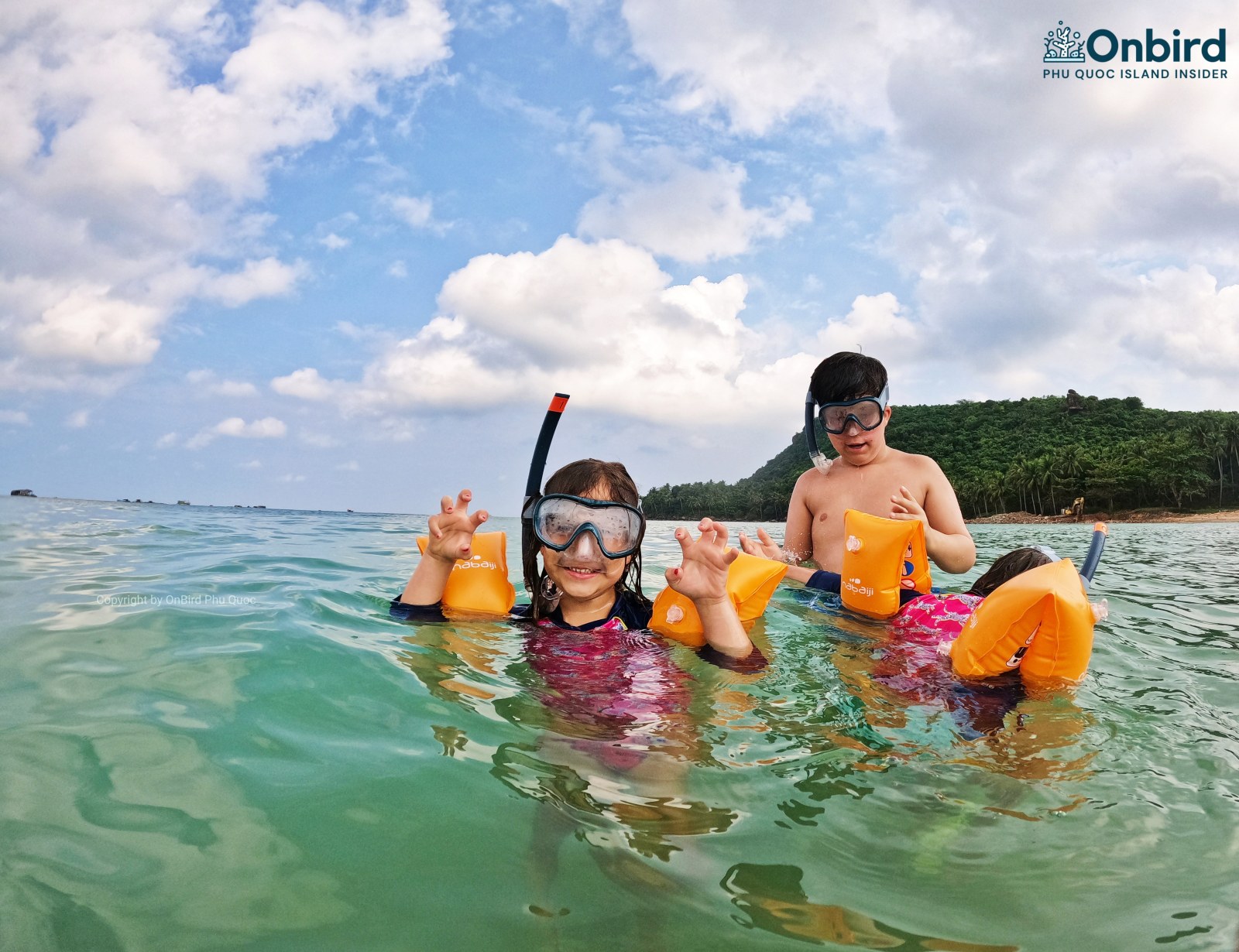 Kids do not need to know swimming and can also join experiences but should be guided in some technical skills. Thus, OnBird designs a kid-friendly snorkeling tour including a safe practicing spot that makes kids adapt with snorkel gear, water temperature, and wave amplitude with just about 1-1.5m deep, the visibility of water makes both kids and parents feel safe.
5. Professional snorkeling guide supports guests underwater
Localizing Coral Reefs, and snorkeling spots to bring guests the best experience, so our underwater guides are trained to have sharp skills to lead each individual guest during the snorkeling time and support them underwater to explore defined coral reefs following our own dive site maps.. OnBird will not let guests experience without tutoring or any support.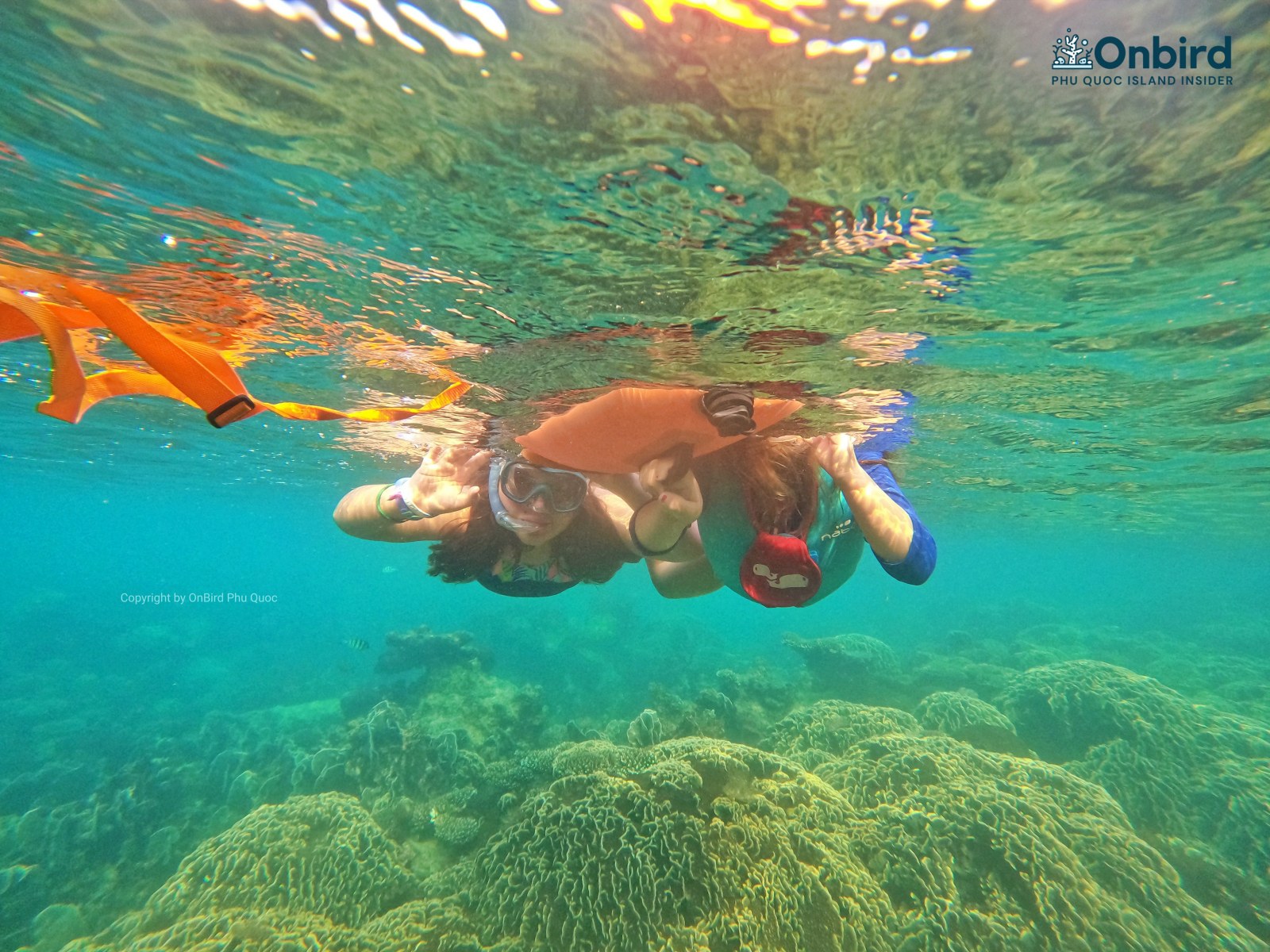 The OnBird guide will follow guests on a safe route because some coral reefs are kinda shallow, just 0.2m – 0.5m deep, so guests easily run aground. 
Running aground not only harms coral species preventing us to some localized coral spots but causes injury to guests if they step on those coral pieces (especially several hard coral species).
Welcome parents to consult the Private family snorkeling adventure with kids aged from 4 to 12 to discover Phu Quoc coral reefs by speedboat.