1. Some basic information of Mr. Choo's family
Mr. Choo's family, his wife, and their 04 children (two sons 13-14 years old, one eight-year-old daughter, and another is 05 years old) who come from Korea,  just moved to Vietnam and lived here for 07 months to work in the law faculty of a university in Hanoi Capital. His family lived in the Manor area, which is also the living place of the largest Korean community in Vietnam. They had just arrived here when Vietnam was affected by the 4th Covid pandemic wave. The movement condition was quite restricted. As soon as the government loosened travel policies, Choo's family decided to spend time enjoying a long-day trip to Vietnam. 
Because Choo and his family are snorkeling lovers, they spent a week in Nha Trang in October. However, it was the rainy season, so his family didn't have a perfect experience, then they visited Hoi An (Quang Nam), Quy Nhon (Binh Dinh), Mui Ne (Phan Thiet), and the last one was Phu Quoc in December 2021.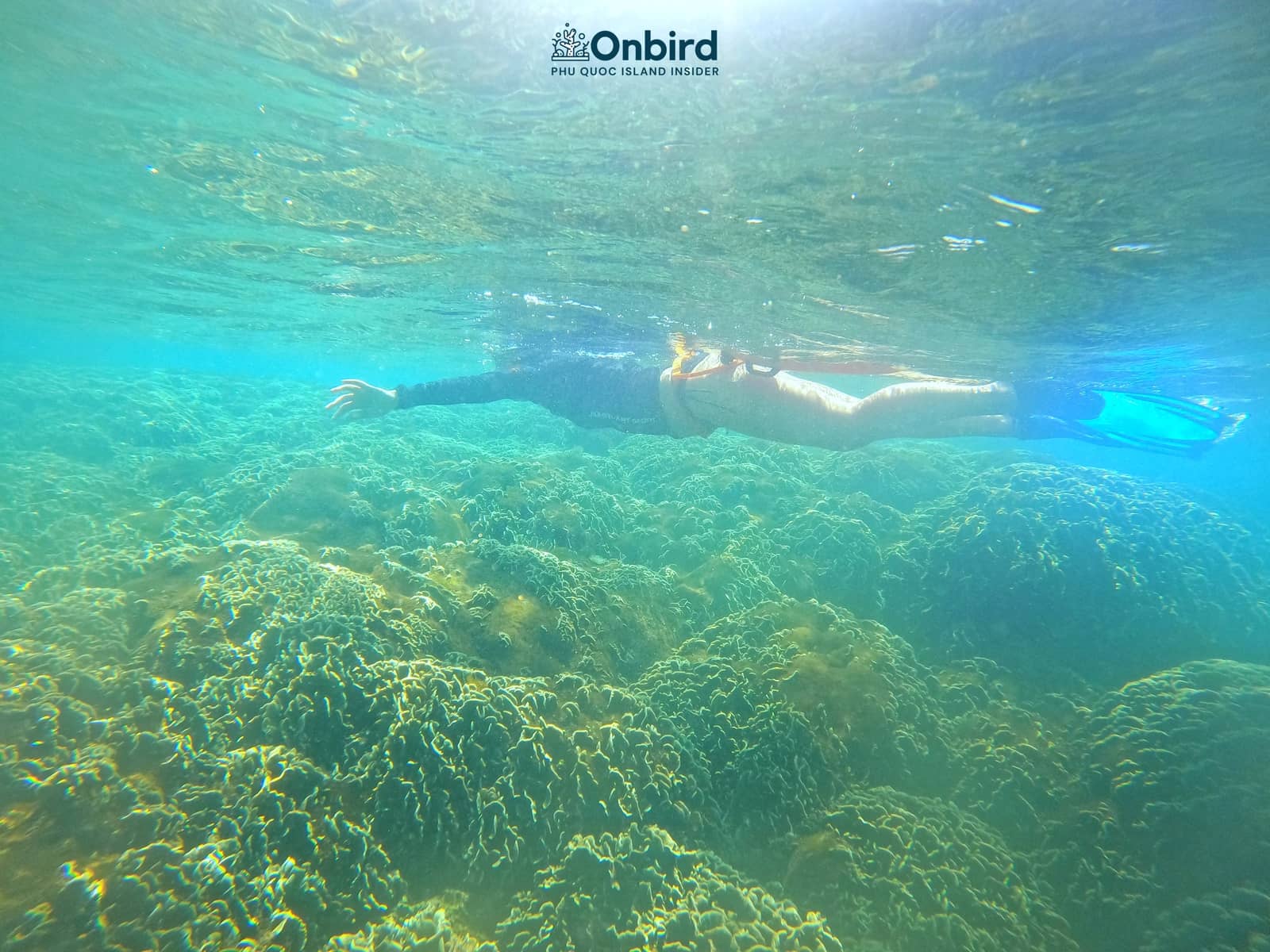 On this trip, Choo's family joined a snorkeling tour around An Thới archipelago from his friend's reference.
Three months later, his family returned to Phú Quốc again and spent two weeks relaxing at two leading hotels in the Bai Truong Phu Quoc area: Sol By Melia and Pullman Phu Quoc.
This time back in Phu Quoc, Mr. Choo and his wife contacted OnBird designing a snorkeling trip in the north of Phu Quoc island for their family with the following requirements: A relaxing day out in Phu Quoc on a detached island within a day (from morning time to  sunset time), the trip must avoid touristy places and other groups of guests. In particular, his family did not prior to snorkeling experience because on their previous trip to the South Island, they experienced a coral reef that wasn't as impressive as they thought.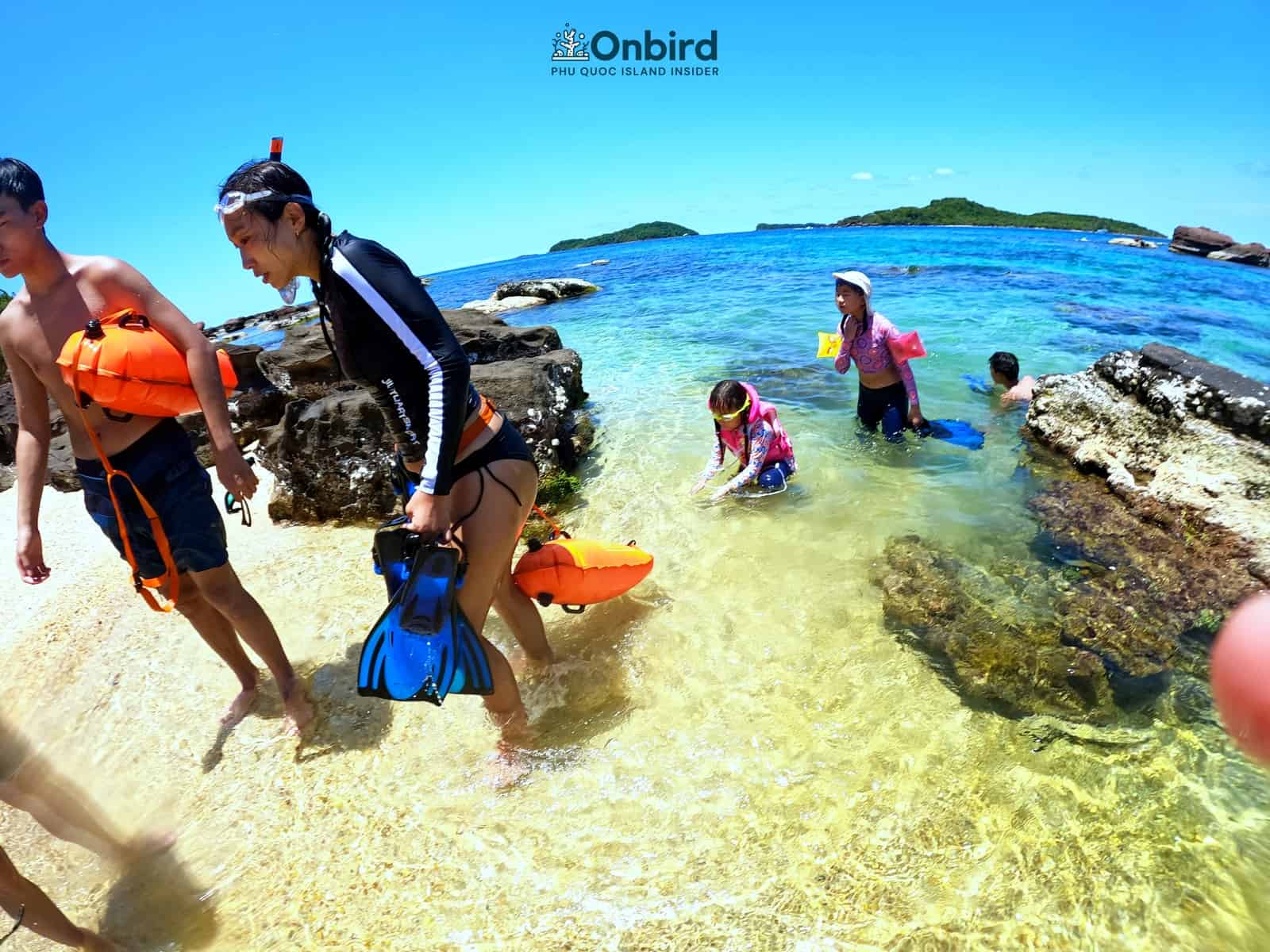 Consulting customers about island exploration combined with snorkeling trip
OnBird checked the sea weather and water conditions right after receiving requests, then gave Mr. Choo's family information about the sea weather and water conditions in the last days of March in the northern region. This season, the northern part of Phu Quoc island is not suitable for diving activities. The sea is rough all day, and the underwater visibility is not good. So, tourists should not organize sea activities, bathing, or watching coral.
Onbird advised Mr. Choo's family snorkel again in the An Thoi archipelago area (South of Phu Quoc island) because the water conditions in this area on some mornings are very nice, the waves are soft, underwater visibility is ideal, in stark contrast with the North Island sea. But,  Mr. Choo's family's previous snorkeling experience was not impressive, so his wife turned down the option. 
OnBird tried to convince Mr.Choo and his wife that each OnBird's experience is different from their previous experience, namely: avoiding the crowds, arranged with the best diving time of the day, and selecting coral spots rarely known with full of professional equipment including: snorkel gears (mask, tube, flipper) with good quality and different sizes for parents and kids; life vest, swim vest, open water inflatable swim buoy. Not only that, but OnBird also has a professional diving guide and ready support during the snorkeling time
After deciding to go with OnBird, Mr. Choo shared that:
On their last trip, the guide just sat on the canoe after arriving at a place and let their family swim to see the coral by themself as well not provide safety equipment: they were broken, unsanitized without any fin). Ms. Choo said: the coral species at that time were not beautiful and diverse, the underwater vision was also quite blurry (2 girls were quite scared because the last time they swam, the sea was turbulent)
Convincing Mr. Choo's family was a challenge because they were hanging out at Hon Thom cable car, so they didn't have time to carefully look at the videos and photos of guests who had accompanied OnBird. Therefore, the consultation process is constantly interrupted. Fortunately, they spent about 1 hour resting in Hon Thom to see the photos and videos about coral reefs and snorkeling in the South of Phu Quoc Island which were recorded by OnBird on the previous adventures with our guests, accompanied by very carefully consulted information:  regarding the snorkeling spots and different time-frames. Mr. Choo's family was totally convinced.
The unique experience that OnBird designs is a journey to avoid crowds, and diving to see coral with two diving sites: Exploring Coral Mountain at  Crystal Reef and Northeast reef (the schedule has been changed based on weather conditions), a half-day detached island exploration for Mr. Choo's family on the morning of March 27, 2022.
A Picnic Trip combined snorkeling starts
As far as scheduled, Onbird's tour guide and private car were present at Pullman Hotel at 7:45 am to pick up Mr. Choo's family. We headed to  An Thoi port and took a speedboat. This itinerary includes Crystal Range – Unspoiled beach and Northeastern coral reefs. Our speedboat will not stop at the restaurants on the crowded island for lunch but will prepare snacks (bread, snack, fruit,… on the speedboat) for Mr. Choo's family in the middle of diving.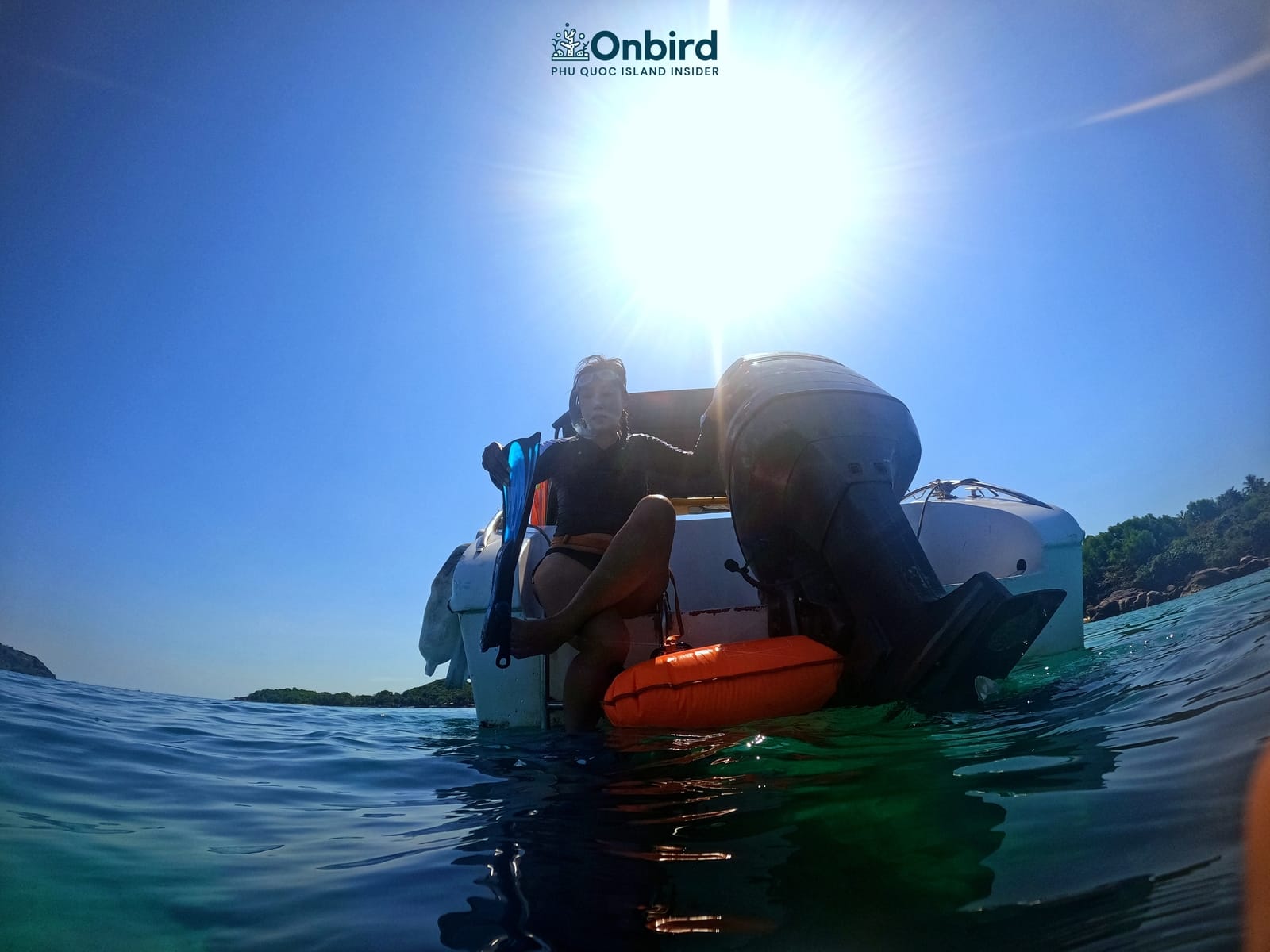 When arriving at Crystal Reef, Onbird's guide informed them about safety procedures when swimming, instructed them to use snorkeling equipment and open water inflatable swim buoy for about 20 minutes, then brought the members into water, warming up gently for about 10 minutes before swimming to the Coral Mountain area.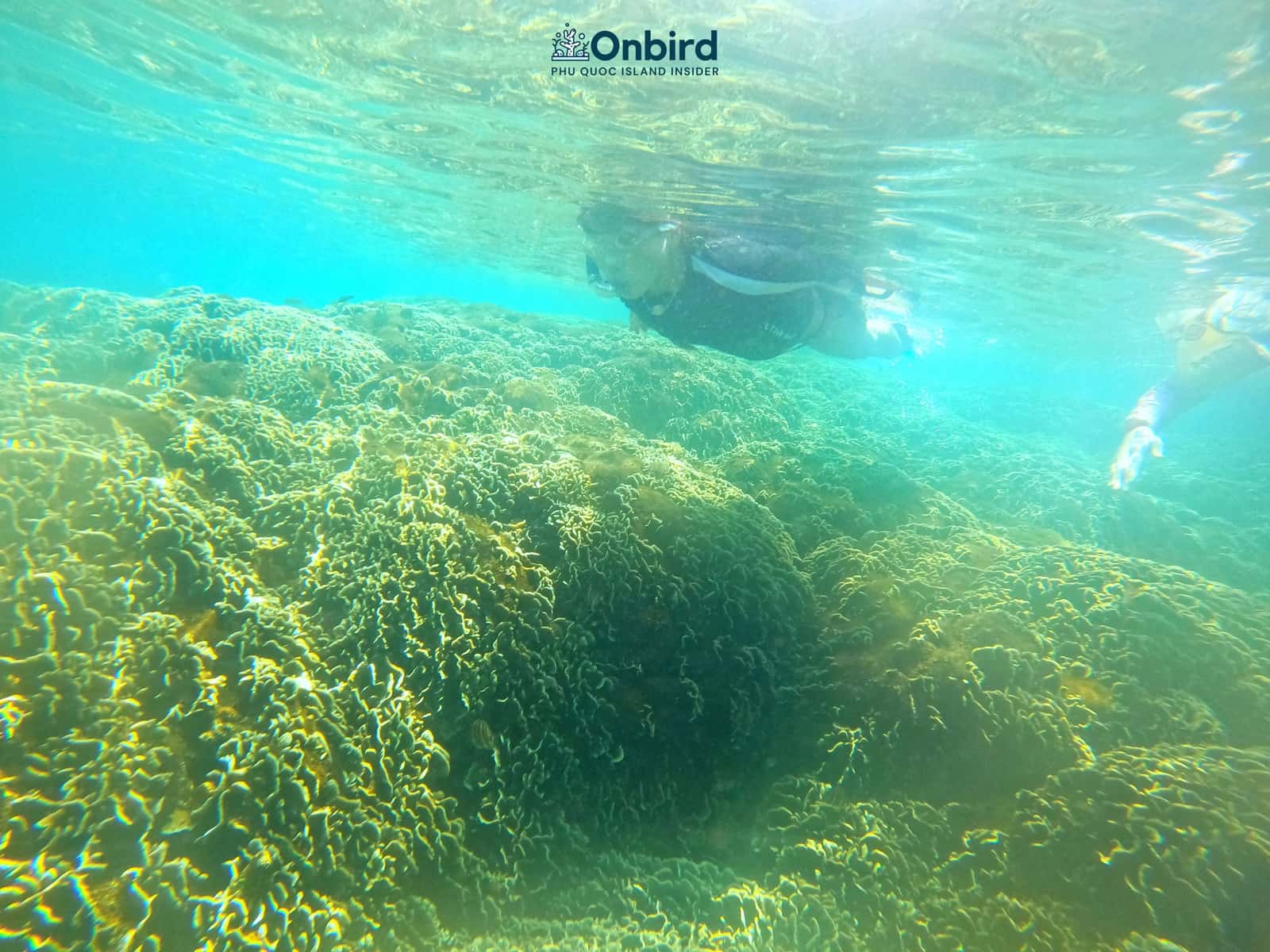 As we have checked, the seawater was calm in that early morning, the visibility is at 8 meters, creating a magical scene of the Crystal Range, all members approached Coral Mountain with surprising, the sunlight reflected on Coral Mountain creates a scene like a lightful net, a 6-year-old girl wearing all safety swimsuits that OBbird equipped, swam with her mother for 50 minutes because she was so excited. The ocean explorating experience for children is also focused on and strongly developed by OnBird soon, please see more details at: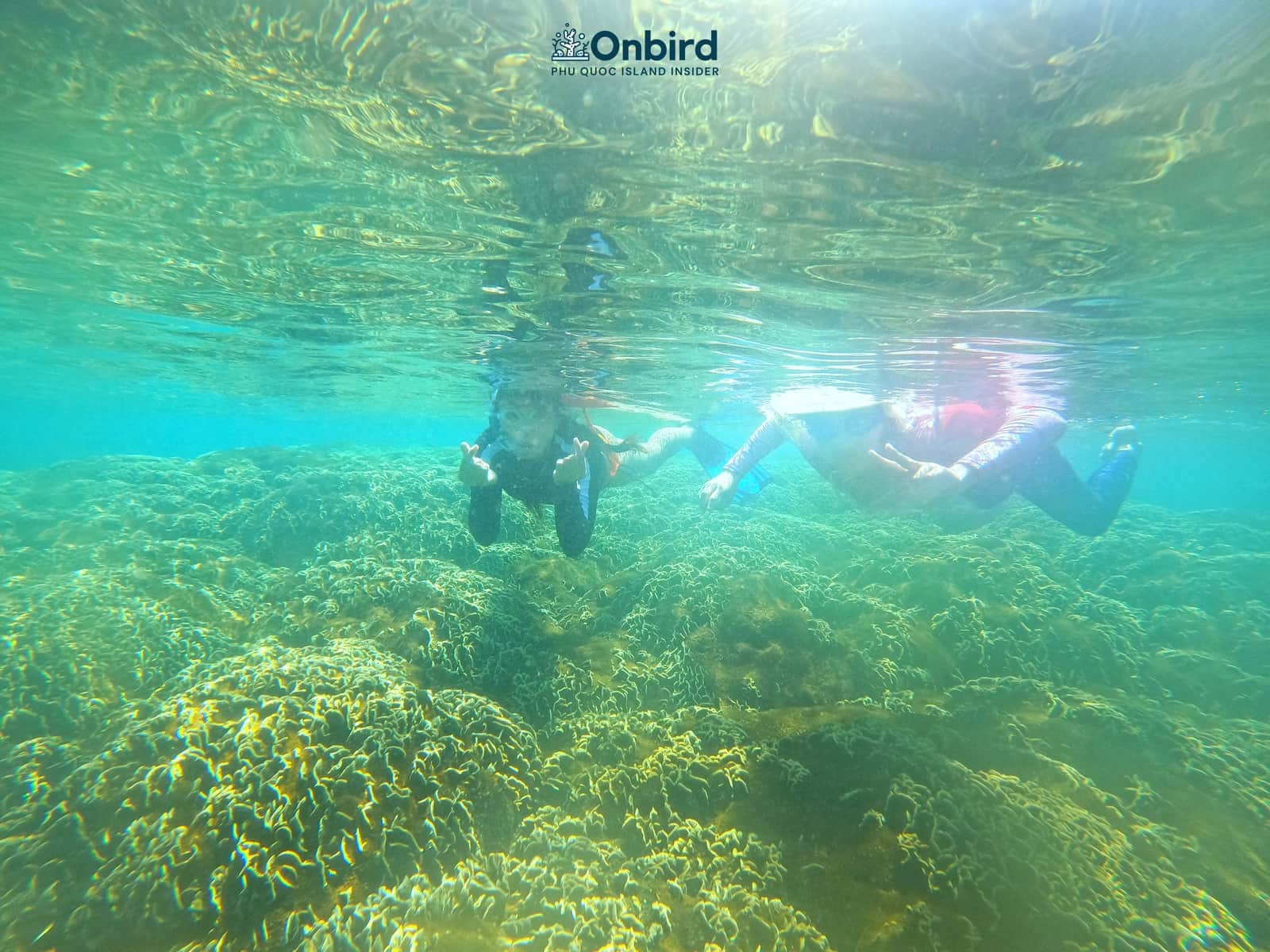 After seeing the Coral Mountain with the Christmas tree worms, the whole family returned to the speedboat with cold spring water prepared and headed to the pristine beach, where only their family was alone at noon.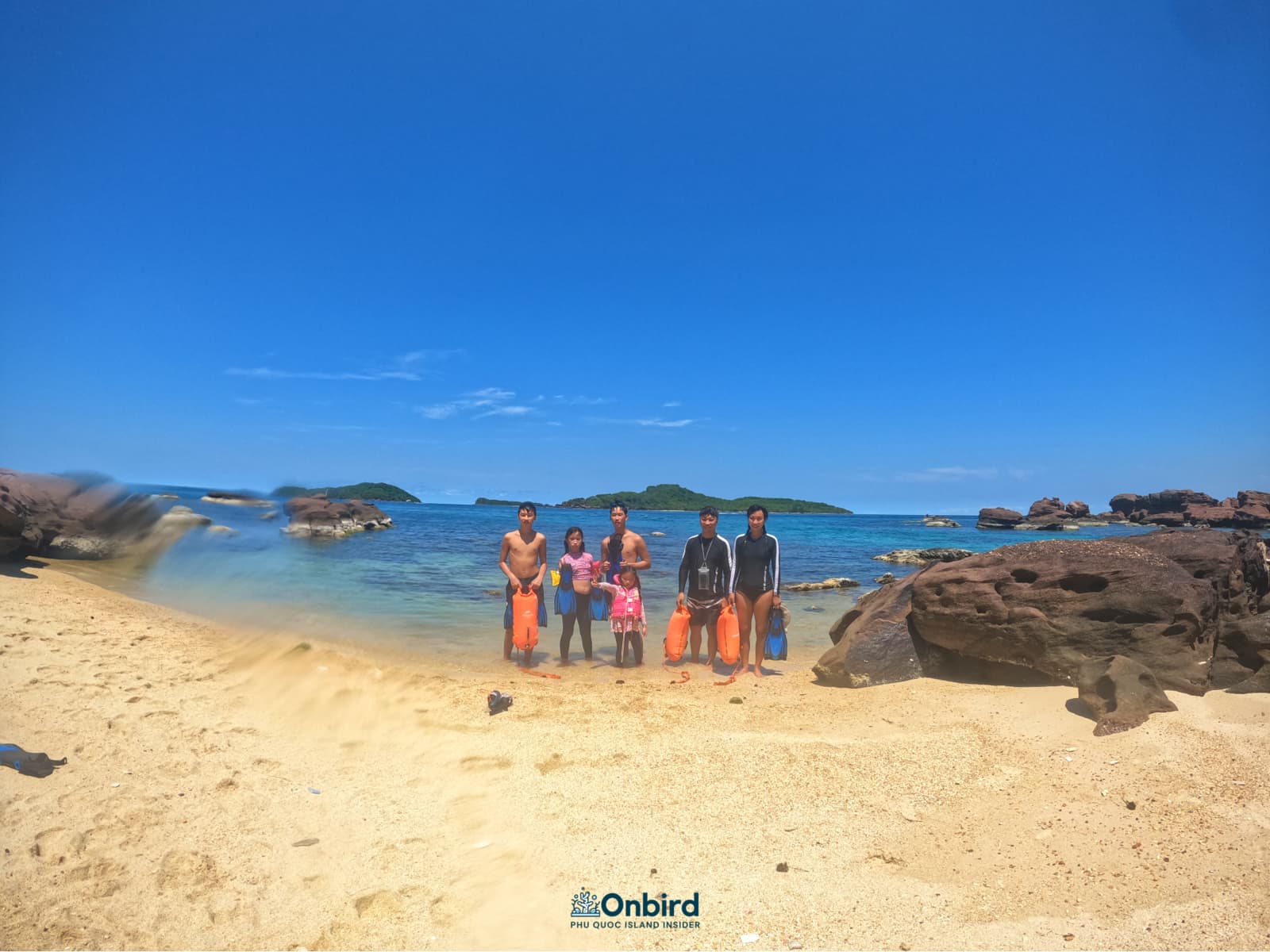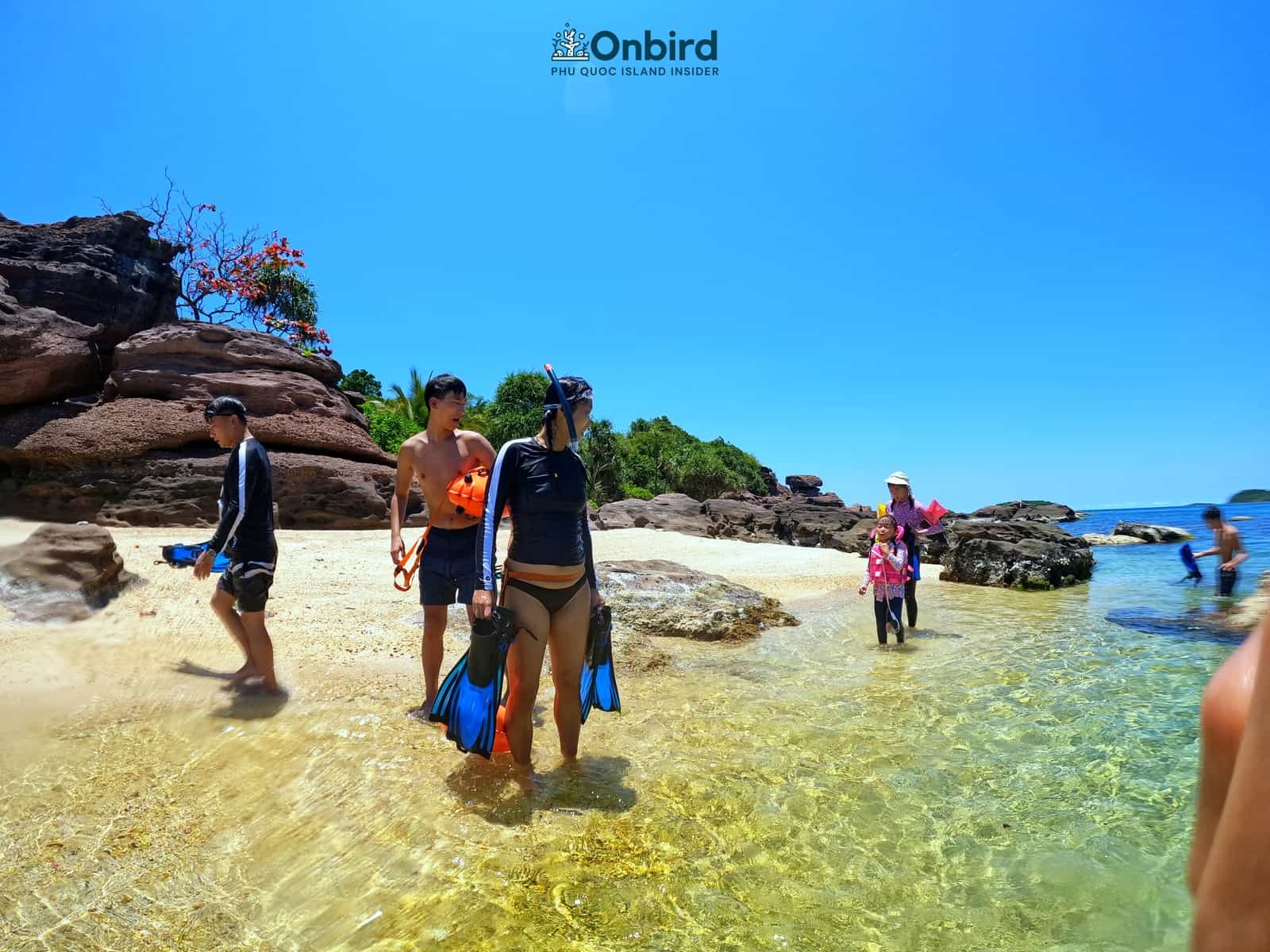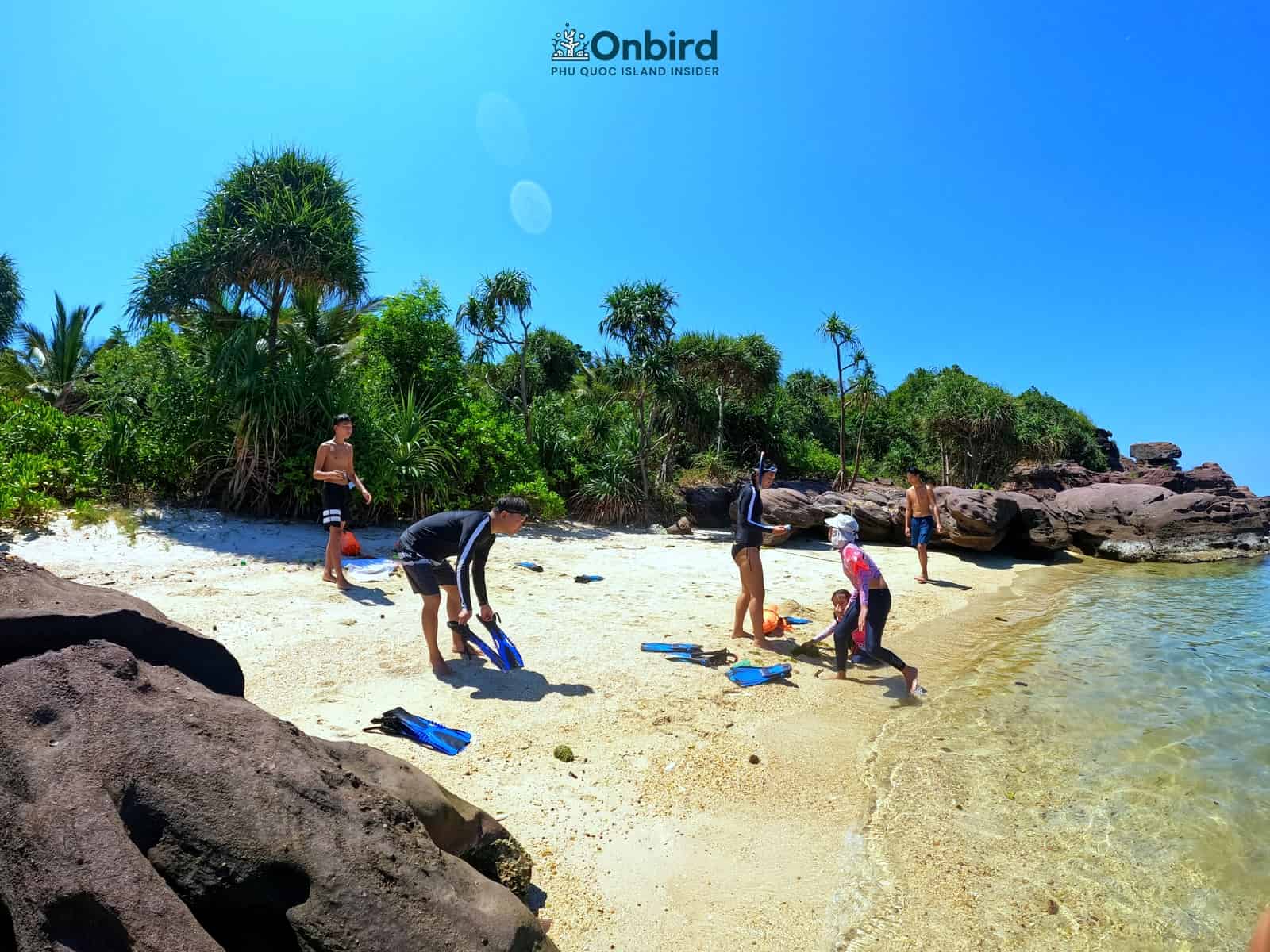 The whole family went to the pristine beach, a non-touristic area for swimming, and resting. Mr. Choo's wife sat in the shade watching the children play with their father. During this time, the Onbird tour guide talked with Mr. Choo's wife to understand more about their family and life after coming to Vietnam.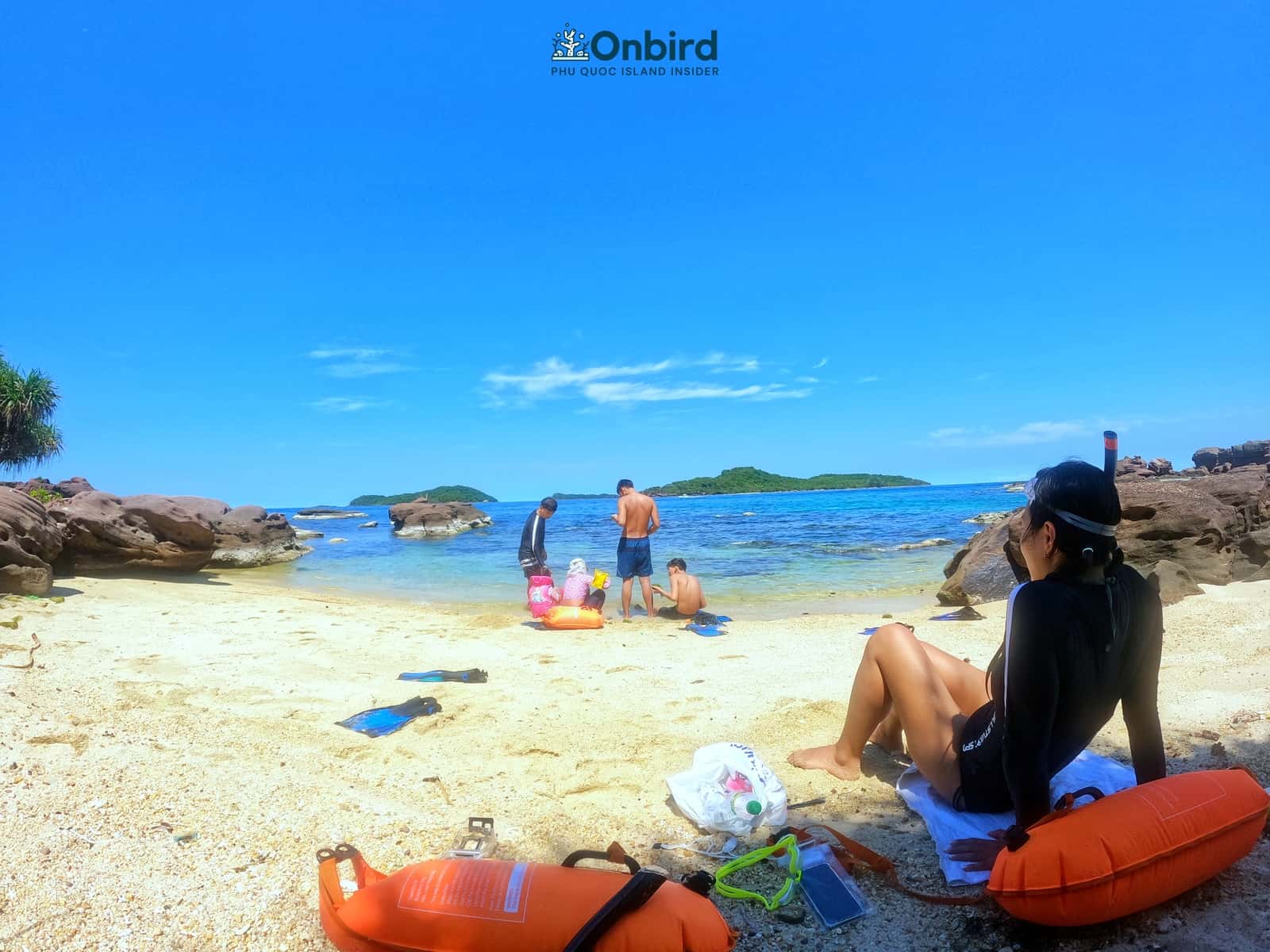 At 12 o'clock, we started to have lunch with cakes, fruits, and light drinks as requested from Choo's family. During lunchtime,  they said that Coral Mountain was much more beautiful than the coral reefs on December's trip. Her children loved it because they could see the coral so close and so vivid, they never thought there was such a coral reef in Phu Quoc.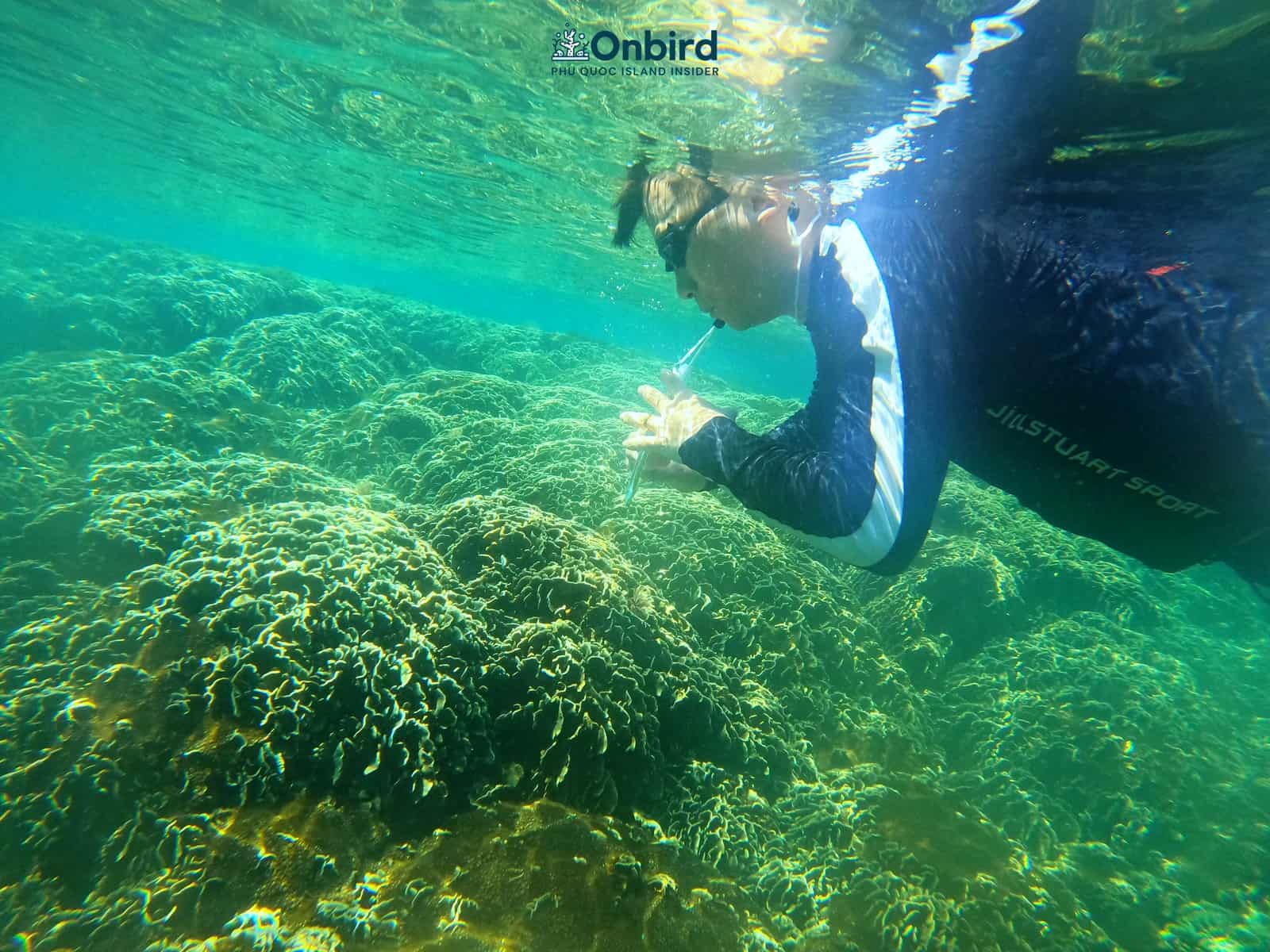 After having lunch for about 30 minutes, we rested for a while and then headed to the Northeast coral reef, the whole family enjoyed the spectacular underwater visibility down to 7m here. It's a a deeper coral reef with a depth of 2 – 8m, the Northeast reef. Northeast Reef) has the most coral diversity in Phu Quoc, the whole family can see anemones, carpet corals, fingernail corals and giant sponge tubes with sea urchins.
Some other photos of snorkeling scenery and coral reefs view in previous Korean guest's snorkeling trip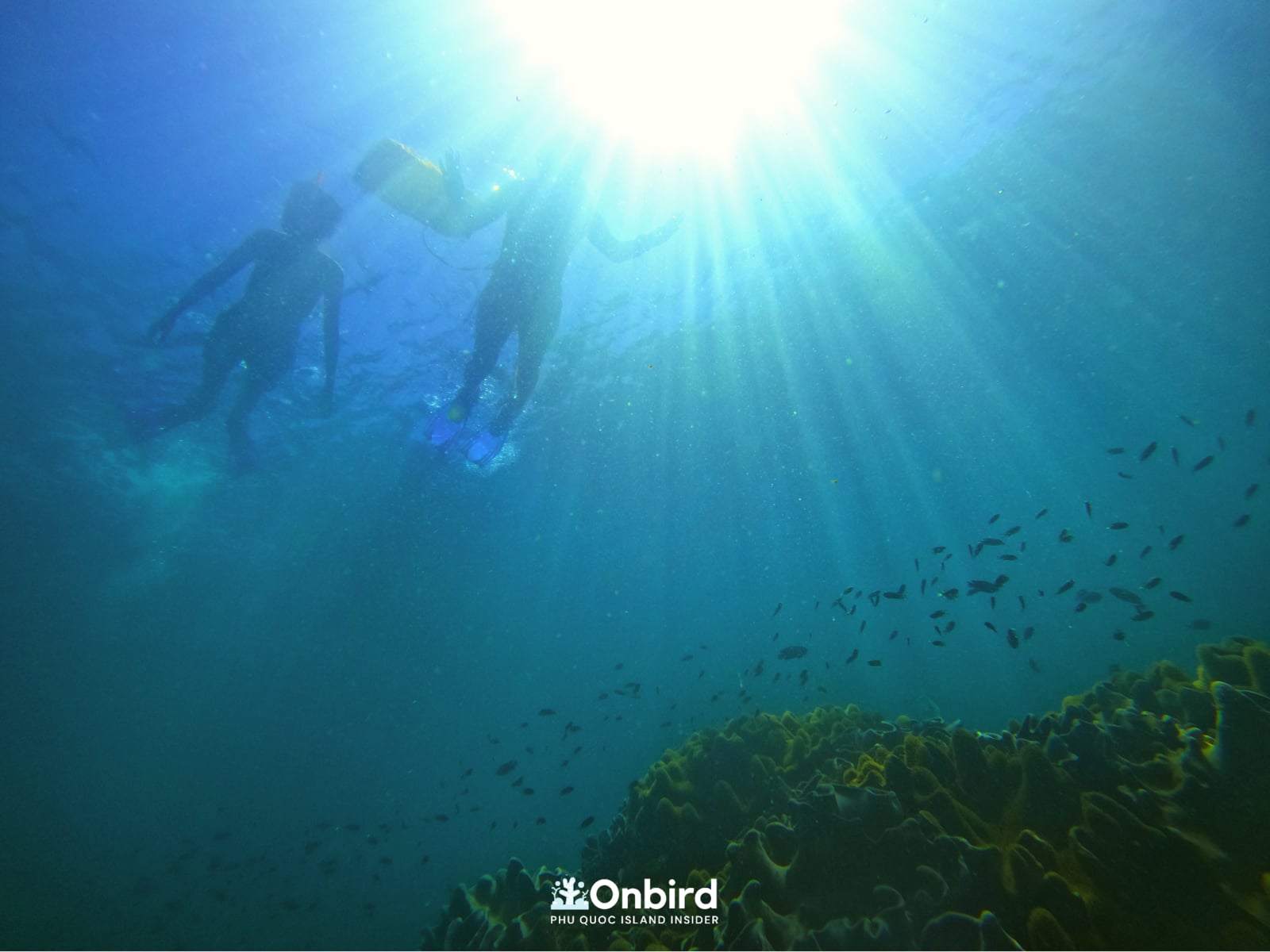 They swam to see above while our underwater tour guide dived to help capture beautiful coral views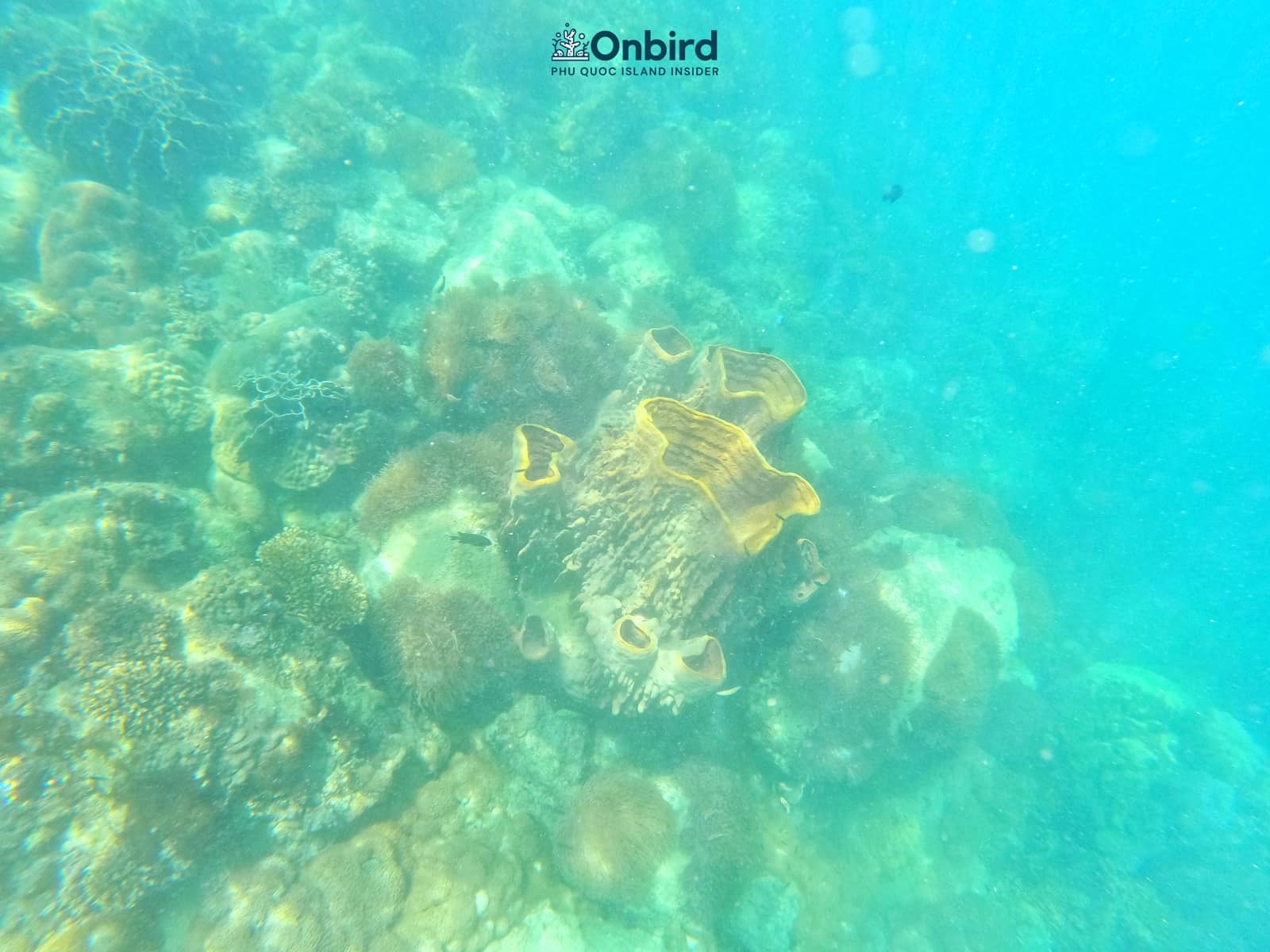 During the family trip, they encountered sea urchins hiding in beautiful coral reefs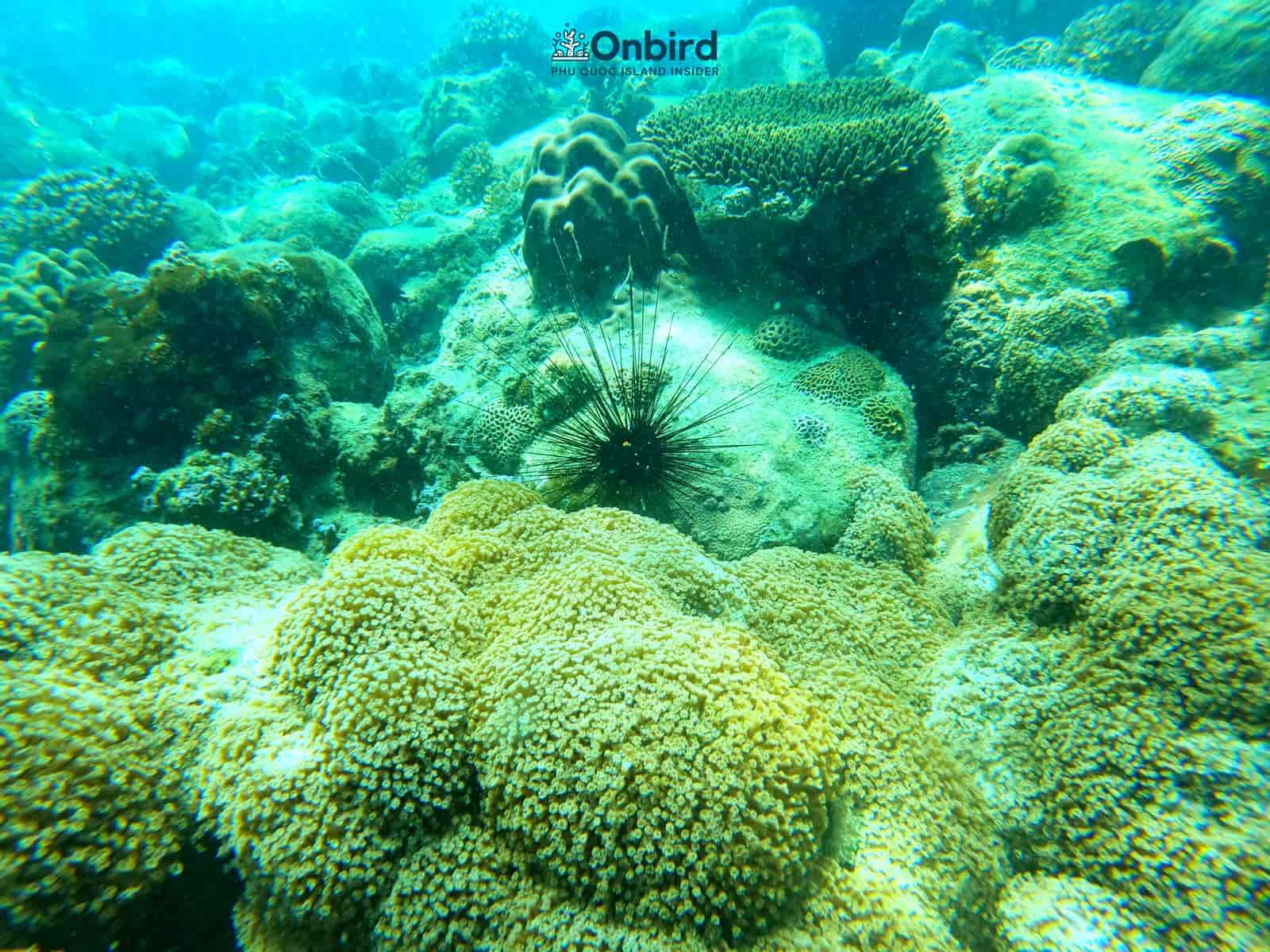 OnBird always prepares open water swimming buoys and floatation devices for our guests, which help them rest assured during swimming and snorkeling time freely but safety. The buoyancy devices are to support guests floating and resting, as well as mark a signal swimming and diving positions for other members and crew members to follow. Timely support tracking.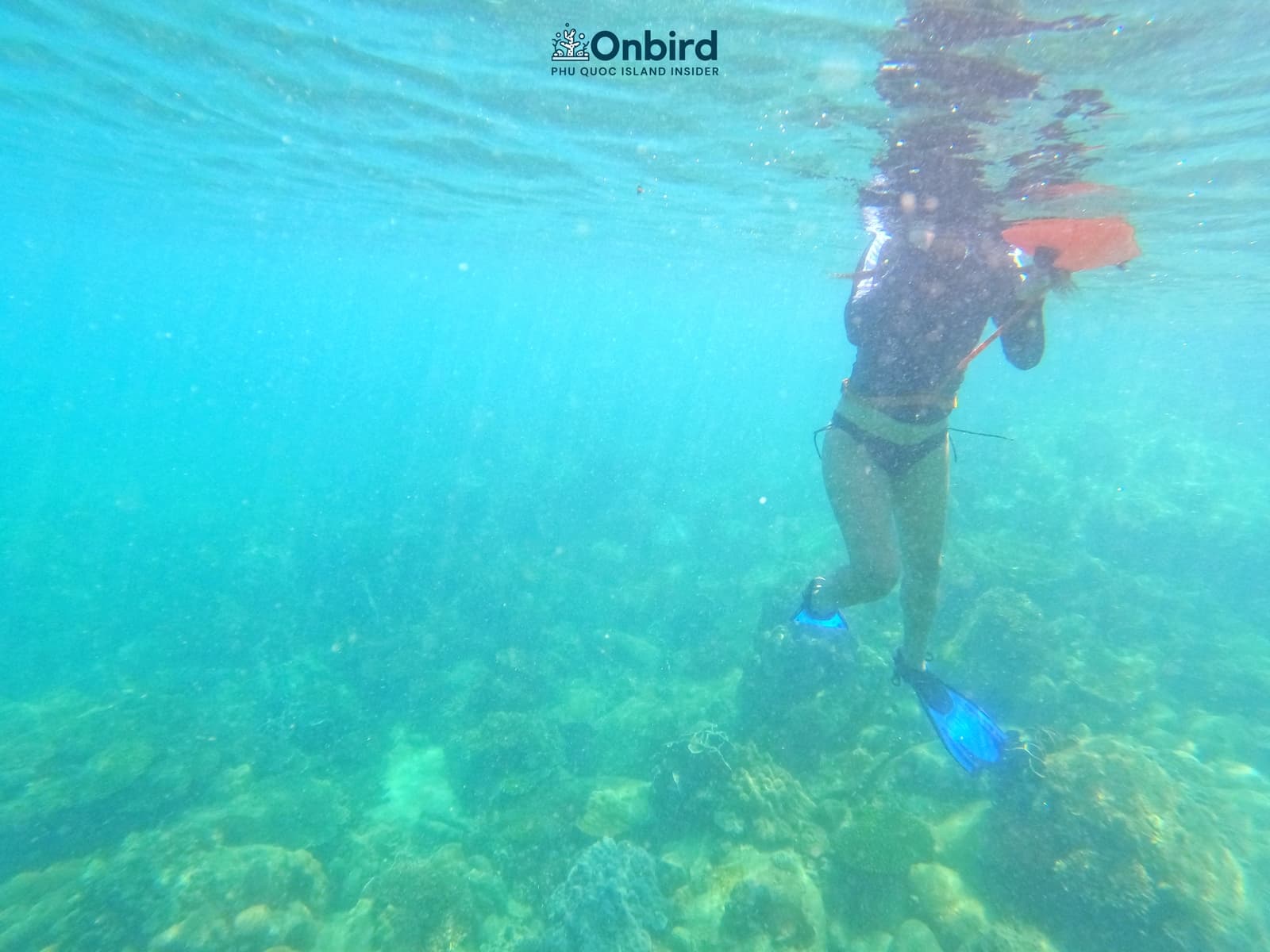 A fan coral branch that the tour guide took during the trip with his family, with the support of the tour guide underwater, Choo's family was taken to the right coral reef  as committed by OnBird.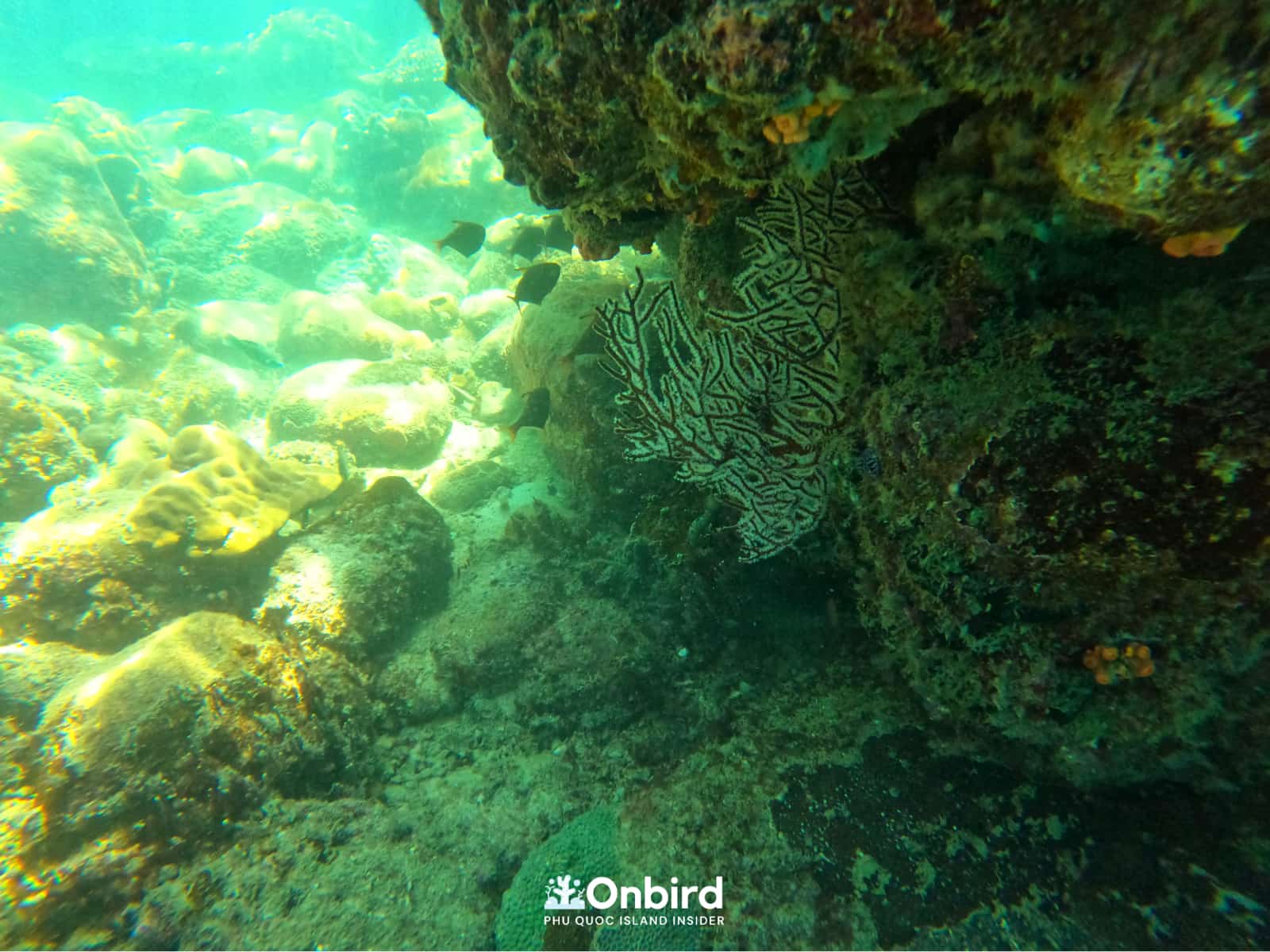 They were astonished and just uttered in excitement. The snorkeling trip ended after 1:30 PM when the speedboat started moving back to the port. The customized snorkeling combined with the picnic trip  completely exceeded expectations, and they made an appointment with OnBird on the next adventures or our island-hopping & picnic at lazy beach trip.
Join the most authentic and unique Phu Quoc coral discovery journey which is designed specifically for families with young children in Phu Quoc with OnBird, tour details, please see here.
.