Basic information about our two guests
Jay Lim and his daughter, whose nationality is Korea, have been living in many countries in Southeast Asia for more than 10 years in the Philippines, over 3 years in Ho Chi Minh Vietnam, and working as a senior manager of a Korean multinational company.
The opportunity to scuba dive and the long experience in the Philippines, named as a part of the Coral Triangle with 76% of coral species, home of 6/7 species of sea turtles in the world, 37% of the world's reef fishes; all have aroused their passion for scuba diving and discovering many beautiful coral reefs whenever they have free time in the nations where they lives.
"I have joined more than 10 snorkeling and scuba diving trips in Bali, Lombok, Amed of Indonesia, and some coral reefs in the Philippines, Malaysia", Jay Lim shares during a snorkeling trip with OnBird in April 2021. Therefore, when coming to Vietnam, he cannot ignore Phu Quoc, which is considered one of the most interesting diving & snorkeling areas in Vietnam as the next discovery point with his 15-year-old daughter.
Let's follow some scenes from their snorkeling trip to Phu Quoc for the first time with OnBird in 2021.
The first hurry trip in the beginning of the rainy season in Phu Quoc
With an eagerness for a discoverable trip to Phu Quoc beach, Jay took advantage of Vietnam's Reunification Day April 30 – May 1, 2021 to snorkel with his daughter in Phu Quoc island. It is difficult for him to make travel plans because of the rush of time and lack of reviewing the weather or consulting OnBird, which led Jay to only contact OnBird 1 day before arranging a privately snorkeling tour by speedboat with a schedule to avoid crowds after arriving in Phu Quoc in the last days of April.
The weather was very erratic at that time; therefore, we announced the weather and underwater visibility conditions as well as the best time of the day water conditions as soon as OnBird received his request. However, with his determination and short holidays, Jay still decided to join a diving trip to the Crystal Reef and Phu Quoc Coral Mountain.We arranged one of our most experienced guides – Jack Sparrow to accompany Jay and his daughter on this trip.
(OnBird's guides are all experienced snorkelers, great divers and diving instructors with good foreign language skills.)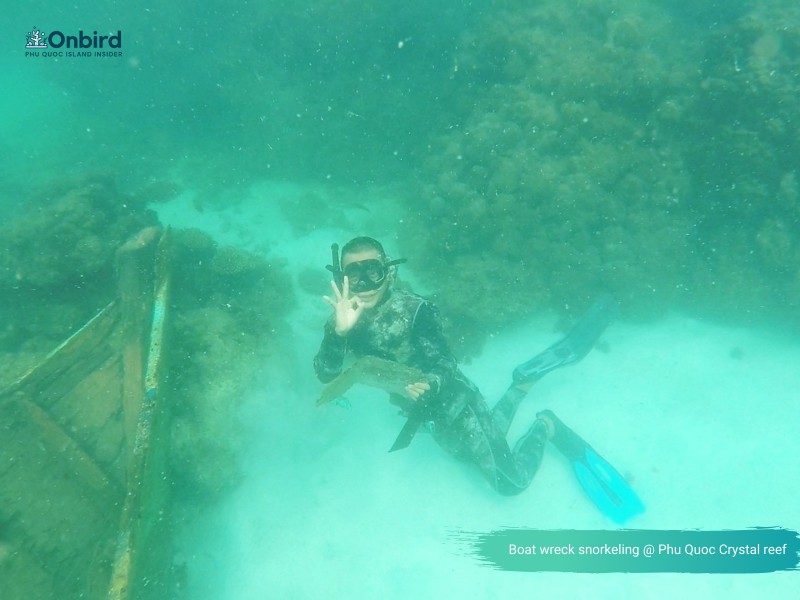 The trip exceeded expectations despite the bad weather
The snorkeling trip starts off with relatively cloudy weather and mild sunshine and calm waves as OnBird customized to choose the best diving time of the day as well as a route avoiding crowds. From April to the end of summer, Phu Quoc's water temperature is quite warm.
The first destination of the journey is Turtlehead Rock Beach.
Jay and his daughter dressed up and got acclimated to the water and sea temperature of Phu Quoc, warmed up before diving, and re-acquainted with diving equipment within 30 minutes. After a long time of not diving since arriving in Vietnam, it is essential for them to prepare while listening to Jack introduce diving sites in the journey along with diving safety.
After that, Jack took them to the Crystal Reef and discovered Coral Mountain – the first snorkeling spot.
Having never seen the coral at such close range on their previous dives, they felt excited about  snorkeling around the Coral Mountain area, slowly observing the reef fish hiding and eating right on the coral.
A very large coral reef surrounded by a small bay and barely affected by the  monsoon, Crystal Reef is always one of the safest diving spots despite the rainy weather.  It is forecasted that the underwater visibility is only about 3 meter at the Crystal Reef; however, it did not affect the viewing experience of Phu Quoc Coral Mountain because of its massive coral reef. Coral Mountain is formed by large cactus coral reefs and located at a depth of only 0.5 – 2m, which is extremely unique; therefore, the experience is rarely affected when visibility is limited by the weather.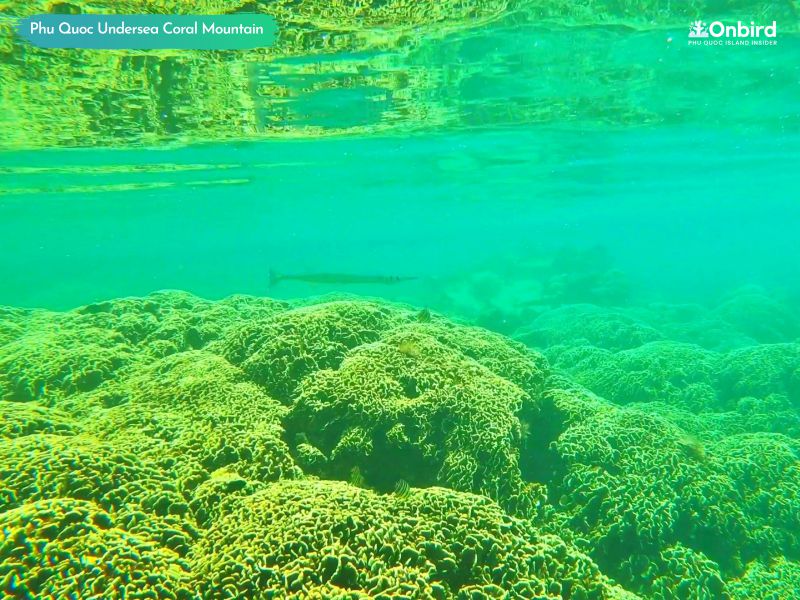 ______
The rain came while we were snorkeling
When exploring Coral Mountain, a downpour came; even so, the exploration continued as a result of the warm water and elaborate preparation for bringing a swimsuit or long-sleeved diving suit. However, they decided to skip the deeper diving point (Crescent Moon Reef) instead to enjoy the whole Crystal Reef (80% of the corals here are in very bad health, so OnBird only selects a few locations along with Coral Mountain or Massive Coral Cape for visitors to take pleasure in the coral beauty).
One of the most enjoyable things for them is snorkeling and keeping their eyes on sea creatures: crabs, snails, reef fish, etc. Meanwhile, the Crystal Reef is a large coral with many corners – a hiding place for fishes, crabs, sea snails, squids, etc. Therefore, this is a fascinating diving spot to satisfy their discovery interest.
________
A wrecked fishing boat was found
How surprising! When Jack took Jay Lim and his daughter to explore the Table Reef area of Crystal Reef, they saw a faint shadow in the moss green water with limited visibility. The curiosity prompted them to come closer and became excited when they discovered a 5 to 6-meter-long shipwreck at 4 meters depth. They took lots of impressive photos of this shipwreck where small fish were hiding. Maybe this ship belongs to a fisherman crashing at sea because there are some seafaring tools here. Jay Lim and his daughter were full of enjoyment because they unexpectedly met such an object during this dive on Phu Quoc island.
Jay Lim and his daughter were exhausted after more than 2 hours of non-stop exploring the nooks, crannies, and different coral reefs at the Crystal Reef. When they returned to the canoe, the rain had stopped while the sky was still overcast, so they decided to end this snorkeling trip early with great satisfaction and promised to come back with OnBird next time to explore other coral reefs.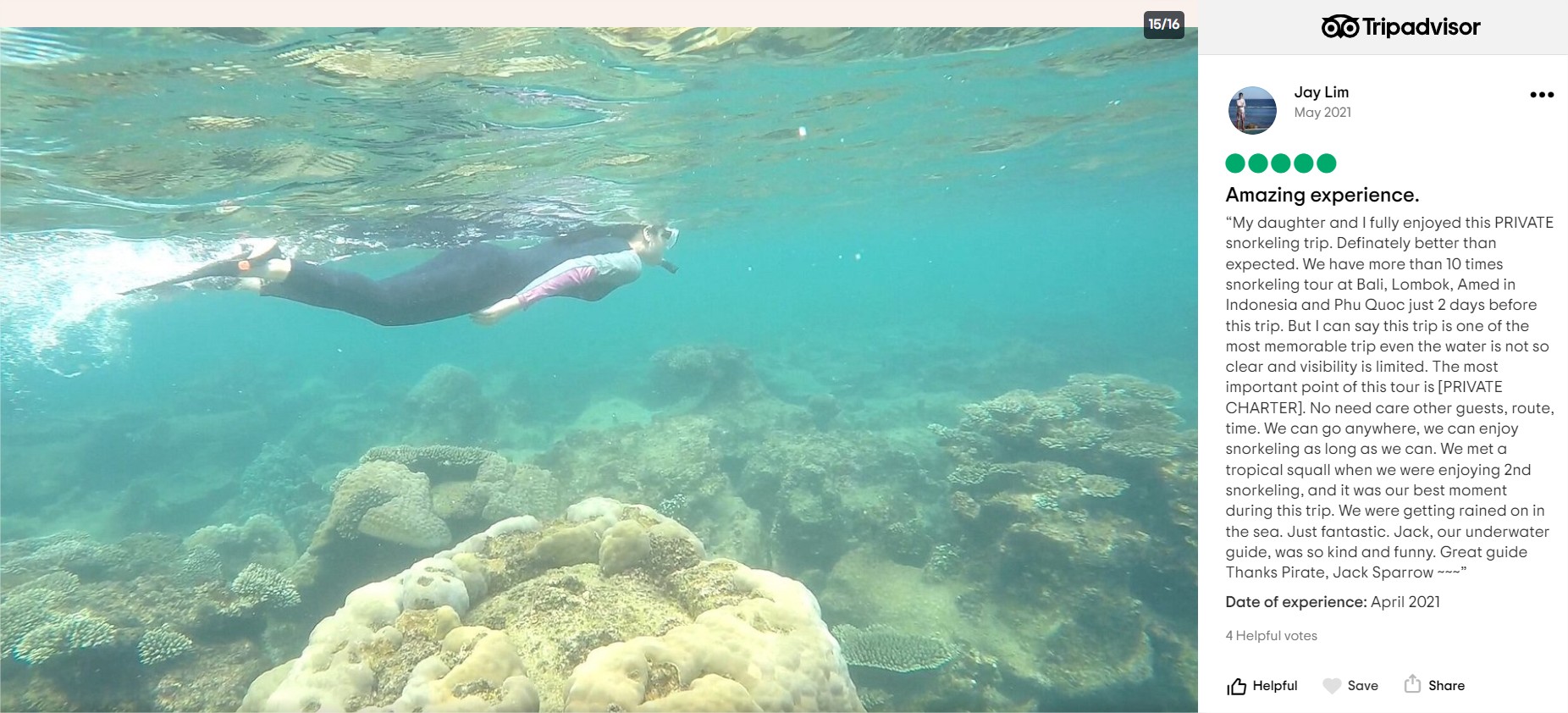 We will share Jay Lim's 2nd and 3rd experiences with OnBird for the next blog.
Let's refer to other interesting Phu Quoc beach explorations here!