Phu Quoc Turtlehead Rock Beach – A place to chill in your snorkeling trip – Phu Quoc Map
Want a natural place to chill on sunny days included in your snorkeling trip? Situated 8 km South from An Thoi town of Phu Quoc Island, at the South of Pineapple Island, Turtlehead Rock Beach is surrounded by mountains and massive rocks shaped an outward appearance like a Turtlehead. Not having thin white sand like Phu Quoc Dragon Beach in the North or Sao Beach at the Southeast side, but here you could find a stop to relax, get your muscle ready before snorkeling as we have done usually in our snorkeling itineraries.
A short footage of Turtlehead Rock beach where our guests freely enjoy during the snorkeling journey with us.
Turtlehead Rock Beach is a so-called islands-front beach as the beach faces small islands in the An Thoi archipelago. Being still an untouched area thereby when coming here you just find completely dense patches and rows of natural coconut trees.
Join us exotic snorkeling journeys in the South of Phu Quoc island to have relaxing time at Turtlehead Rock Beach
Unlike other beautiful beaches on the island, you can gain a beautiful experience of approaching Turtlehead Rock Beach from afar and have an overall view of Turtlehead Rock Beach beach as a speedboat is the only proper vehicle to reach the beach.
The giant dense patch that covers up whole the area could have you being overwhelmed at first glance.
A very proper watery place for children to play with water in safe as the Turtlehead Rock Beach becomes very calm during the dry season and especially very shallow, an ideal place to get children acclimated to the water and snorkeling gears before getting into genuine coral reefs.
Here children could try practicing with masks, lifevest, and find some small fish underwater.
For adults, we could chill out a little, get involved in some talks, practice in nature before going on to do snorkeling.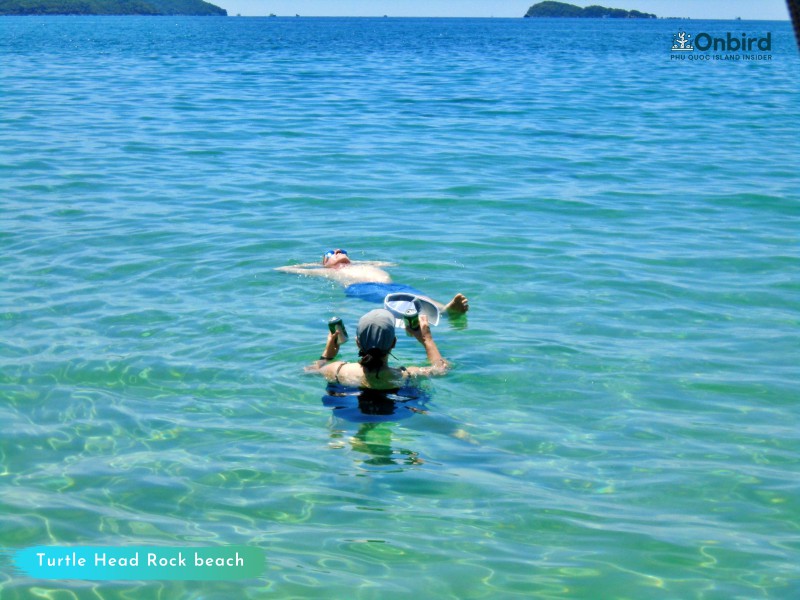 Dive into a comprehensive and latest updated guide to 16 most popular beaches on Phu Quoc island!
Follow OnBird on Facebook or Instagram to get updated on useful information about Phu Quoc island guide.