Update as of Oct 2023 – OnBird's ultimate guide to Top 10 Best – Value Beachfront Resorts with Refreshing Green Spaces in Phu Quoc – Where Nature's Beauty Unfolds
The crystal-clear blue waters, pristine white sandy beaches, and warm sunshine of Phu Quoc Island never fail to captivate the hearts of both locals and travelers, especially during the summer. To make the most of your trip to this paradise, choosing the right accommodation is a crucial decision. Phu Quoc now boasts a wide range of lodging options, from luxurious resorts to comfortable hotels that cater to various budgets. Join OnBird as we explore these choices in the article below:
Cassia Cottage is a 4-star resort located in the heart of Duong Dong, maintaining the East Asian charm from the 1990s. It can be said that Cassia is a safe choice for those who prefer convenience right in the center, an all-in-one experience at an affordable price, with Duong Dong's sunset in clear view, and meticulously manicured gardens. The resort offers well-equipped rooms and bungalows, a diverse culinary experience at the restaurant, and pleasant spa services, and it even has its own private Ba Keo beach. This allows you to relax on the smooth sand and enjoy the tranquil beachfront under the shade of lush coconut trees.
Cassia Cottage features three infinity pools where you can unwind and indulge in the resort's ambiance. At The Spice House restaurant, guests have the opportunity to savor local specialties made with ingredients like cinnamon and pepper, along with beverages at The Malabar beachfront bar.
Onbird is quite impressive to a guest's review, who used to stay here:
"Marooned in Paradise. Great hotel Don't be fooled by the word "Cottage". This beachfront hotel has spacious, well-maintained rooms with balconies and lots of windows to take in the stunning gardens and sky." 
A testimonials by Mr. Mark Barnett gave to OnBird Phu Quoc:
"OnBird has been our excursion partner for the past three years.
Cassia Cottage guests arrive in Phu Quoc seeking the Vietnam of legend, with warm personal service. We offer that at our cozy 60-room retreat, and we seek proper suppliers to extend our courtesy, style, and deliberately quaint ambiance.
OnBird staff, transport, boats, and equipment are comfortable, clean, and safe. Their drivers and dive guides are stylish and courteous.
OnBird staff character gives our guests a lasting impression to carry in their holiday memories. Cassia Cottage guests experience a Vietnam that's increasingly rare. OnBird matches our desires and goals."
Many outside guests find the way to The fabulous restaurant of Cassia – The Spice House for a fine dining opportunity. Take a look at some reviews of our Vietnamese food restaurant in Phu Quoc Island here, The Spice House is a name you shouldn't miss out.
____
A perfect 5-star accommodation option right on Tran Hung Dao Street, Duong To, Salinda is likened to a seductive lady with timeless beauty. Despite the rapid development of new hotels and resorts on the island, Salinda has preserved its status as a top 5-star resort in Phu Quoc with the number one rated breakfast on the island and impeccable service, perfectly suited for couples. 
Explore more about the 3 reasons why Salinda is the perfect destination in Phu Quoc.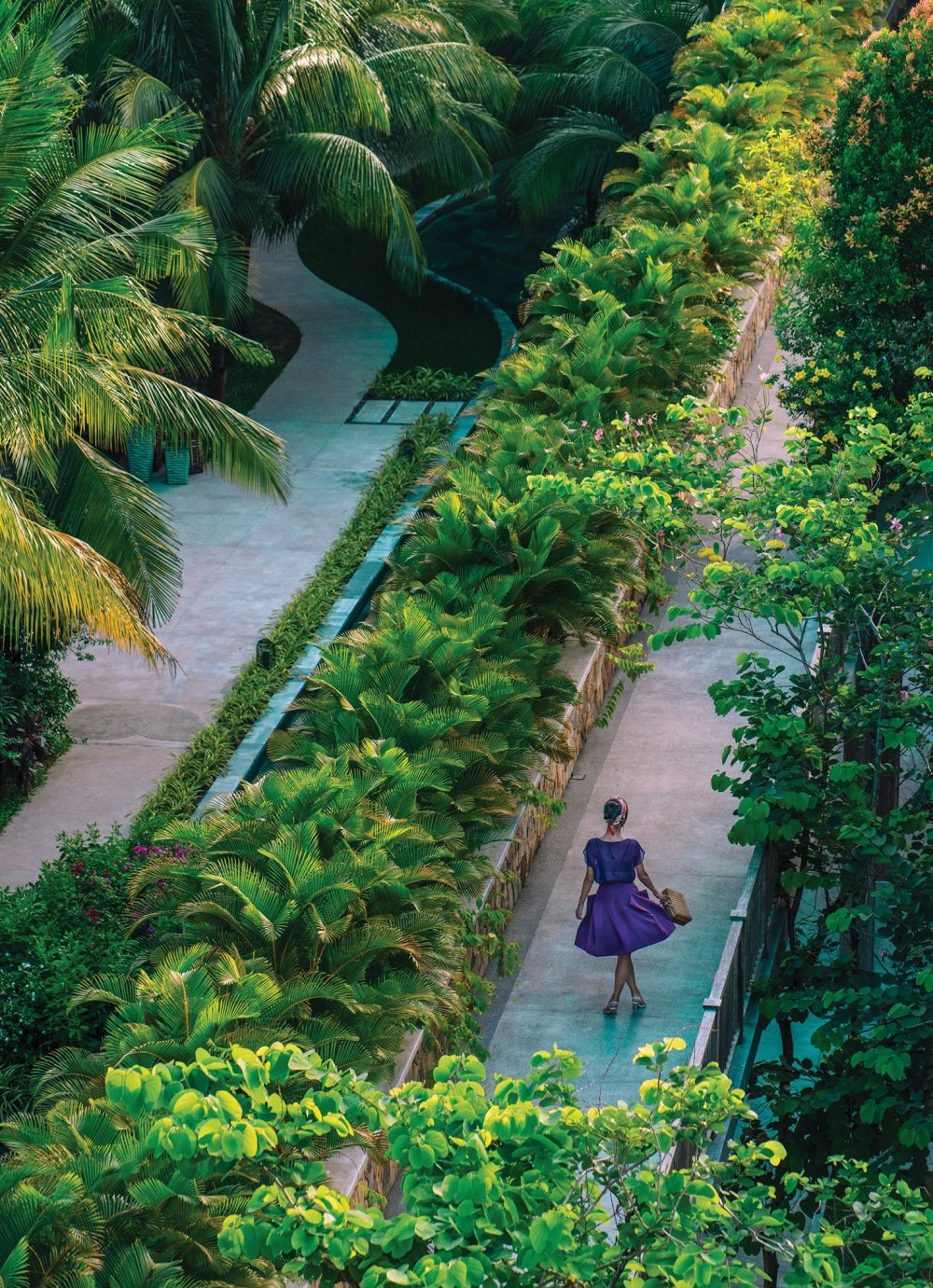 With a unique blend of local culture and modern architecture, the resort boasts 121 rooms and villas with distinctive architectural styles. Exemplifying luxury, the resort offers special amenities such as a salt electrolysis pool and an outdoor infinity pool, just steps away from the beach. The salt electrolysis pool uses natural salt, ensuring a safe swimming experience for the skin and hair. The resort is surrounded by a colorful tropical garden, providing fresh fruits like bananas, mangoes, jackfruit, and the special sim fruit of Phu Quoc. Additionally, there are facilities such as a children's play area, karaoke, and a shopping area, ensuring guests a memorable vacation. 
The name Mango Bay has become quite popular recently, so OnBird won't share the details further. The resort is built on a sprawling 10-hectare property with low density, hiding many special things, from unique tropical cocktails to enticing dishes combining Italian cuisine and Vietnamese specialties.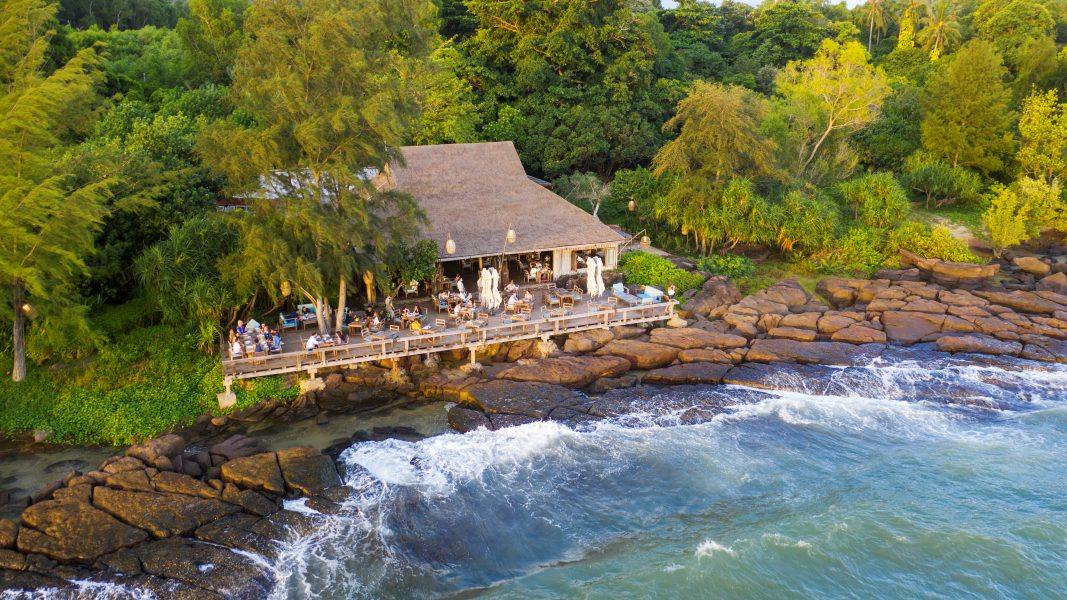 With a focus on using fresh and natural local seafood and ingredients, Mango Bay takes you on a delightful culinary journey. Mango Bay's iconic "On The Rock" restaurant, formerly highly praised by foreign guests for its food and beautiful view, is renowned for its sunset view. In the past year, more Vietnamese guests have been visiting Mango Bay, so it can be quite challenging to make a reservation at the "On The Rock" restaurant as well as to stay at Mango Bay Resort. The newly rebuilt Spa area is ready to provide a relaxing experience. What makes Mango Bay special is the variety of activities to make guests' vacations more enriching, such as custom-designed yoga classes, cooking classes, and kayaking activities for the whole family. Additionally, children have their own fun activities like kite-making and gardening.
Learn more about Ong Lang beach, one of the most charming beaches for sunset indulgence here.
To find a tranquil and beautiful escape with fewer crowds, you can consider suggestion number 4 below.
4. Chen Sea Resort & Spa

(Ông Lang Beach)
As a 4-star international standard resort that tends to be selective with a unique blend of Cham-pa culture, Chen Sea deserves further exploration than you might think. It boasts some unique and luxurious space designs, a refreshingly private beachfront restaurant, and a splendid experience of having dinner by the sea at sunset.
Guests here predominantly indulge in all-inclusive resort services. Chen Sea Resort also offers various amenities to enhance the guest experience, including a spa, fitness room, beachfront bar, and a restaurant where guests can savor exquisite meals, including breakfast while enjoying captivating views of the Gulf of Thailand. Definitely worth giving a try.
Read more about Chen Sea Resort & Spa here
Get yourself a 'Jungalow' – beautiful throughout. This is commonly considered the perfect decompress after a long trip to the big cities as many travelers mentioned.
Almost everywhere in the resort, you could just relax to the sound of the waves. The resort is immaculate and well-maintained by personable staff. It seems to attract customers who seek a hideaway with a long stay and couples who would love to spend a romantic escape together on their honeymoon, or wedding anniversaries.
Green space architecture at Green Bay Phu Quoc Resort & Spa including 81 rooms will give you feel great resort space, with both wood traditional architecture and modern comfort.

Located in the center of Phu Quoc town, Thanh Kieu Resort offers a completely different experience from traditional high-rise hotel designs. Instead, it opts for a charming architectural style with red-tiled bungalows. Thanh Kieu Resort Phu Quoc exudes natural and tranquil beauty, making it ideal for those seeking to escape the hustle and bustle of urban life. When viewed from above, this place resembles a miniature Vietnamese village with spacious green gardens and charming red-tiled houses, creating a sense of intimacy, familiarity, and ultimate serenity.
The crescent-shaped swimming pool nestled within the garden area, facing the sea, allows guests to unwind in the cool water while admiring the breathtaking beach sunset views. The on-site restaurant offers a diverse menu ranging from Western to Asian cuisine, along with a bar and lounge area to create a relaxing atmosphere. Additionally, there are numerous outdoor activities available on the beach, such as camping, picnicking, snorkeling, surfing, and fishing. Alternatively, you can also explore the island on your own by renting bicycles from the resort.
7. La Veranda Resort – MGallery Phu Quoc (Center town – Duong Dong)
La Veranda is refined and elegant, built to resemble a 19th-century French seaside mansion with large terraces and exquisite views. This member of the MGallery Hotel Collection has 74 spacious rooms and villas that create a perfect harmonious mix of classic colonial elements and elegant Vietnamese motifs. Every detail has been carefully considered, be it dark wood, mosaic tiles, or ornate bricks. Coupled with comfortable ceiling fans, these spacious rooms and villas create an irresistible atmosphere of comfort and luxury.
La Veranda has 70 rooms, each with its own private balcony, with sweeping views of the ocean or of the lush gardens. The resort has two restaurants offering varied cuisine. The Pepper Tree Restaurant specializes in international cuisine and Le Jardin offers oven-baked pizza and other healthy and hearty choices. Besides great F&B services, the graceful La Veranda is also well-known for Tinh Wellness boasting 1500 Square Meters with 8 Treatment Rooms.
No minuses although be aware that other hotels and beach clubs are nearby so there can be 'shared' music on some evenings but this always stops at midnight or before because there are some beach bars nearby the resort.
As a heritage of over half a century in the top luxury hotels, Regent Phu Quoc has redefined luxury resort experiences in Vietnam. Guests are welcomed by the pristine white sands of Bai Truong Beach, accompanied by an entire resort area consisting of luxurious villas. With Regent Phu Quoc, it's not just a simple vacation; it's a perfect experience. Here, guests or travelers can enjoy private and upscale amenities, making it a truly remarkable destination.
Regent Phu Quoc is a space designed to create exceptional personal experiences. From the comfort and amenities of the bedrooms to the beachfront restaurants, everything is geared towards giving you and your loved ones the chance to escape from everyday life while enjoying the highest level of Regent's service quality. From cuisine, scents, music, and reading materials to bathroom amenities, everything is customized to make you feel completely at ease and to dedicate your time to meaningful and special moments, such as:
Refreshment Gallery Minibar: Offering a variety of alcoholic and non-alcoholic beverages, tea, coffee, and light snacks.

Daily Laundry Service: Your clothing is laundered and ready in your bedroom every day, ensuring a fresh start to each day of your stay.

Complimentary Services for Young Guests: Free services for young guests and access to the Kids Club, ensuring a fun and enjoyable experience for children.

Taste Studio

with a myriad of diverse culinary options and unique interactive experiences, Regent Phu Quoc offers a dining experience like no other.
Located at Ong Doi Cape, the southernmost tip of Phu Quoc Island, Premier Village Phu Quoc Resort is a hidden gem nestled amidst the lush greenery of the sea and the idyllic natural surroundings. Surrounded by the sea on two sides, the resort boasts stunning views of every sunrise and vibrant sunset. Spend your time relaxing in one of the 215 luxurious villas and enjoy the unique multi-level infinity pool that connects both sides of the beach.
Experience tranquility and rejuvenate your positive energy at the Plumeria Spa and Fitness Centre, perched on a hilltop with breathtaking views. Indulge in exquisite Vietnamese dishes at The Market restaurant and savor unique grilled dishes at Corallo restaurant. Premier Village Phu Quoc Resort offers a perfect blend of natural beauty, luxury, and relaxation for a memorable getaway.

From architecture to interior design, InterContinental Phu Quoc Long Beach Resort offers a diverse range of accommodation options, with each space crafted as a work of art, reflecting the essence of the sea. There are rooms with garden and sea views, ensuring that the resort's accommodations are always bathed in natural light and a refreshing atmosphere.
The design of standard rooms, suites, and villas is inspired by the natural beauty of the islands, seamlessly blending with modern amenities. Attention to detail is evident, even in elements such as intricately woven bed linens, combined with high-quality silk accessories from Vietnam to ensure the comfort of guests staying at the resort.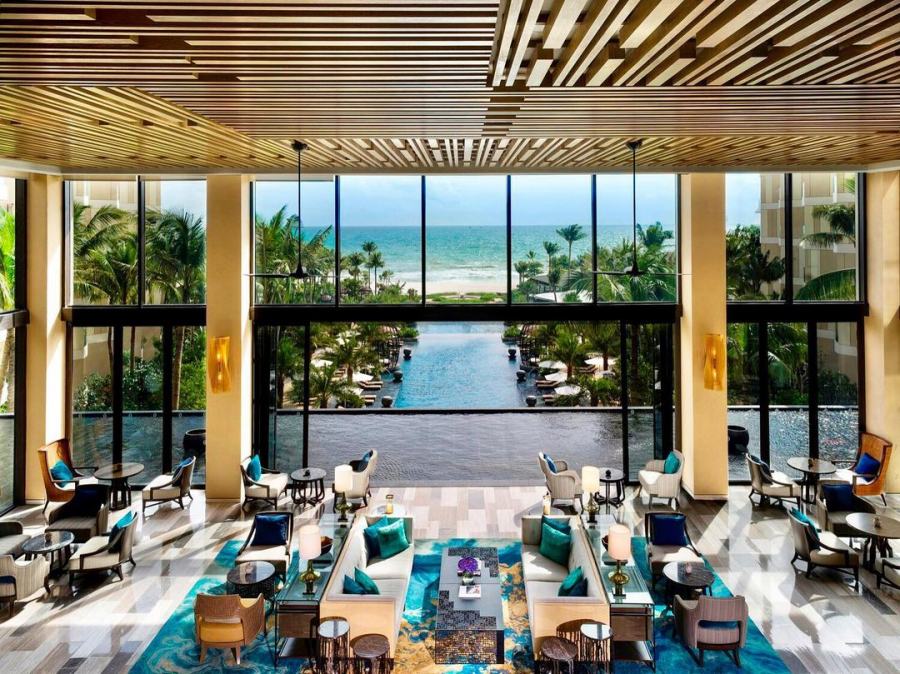 Swimming Pools: The resort boasts a diverse selection of

four swimming pools

, ranging from the Oasis Pool, Vista Pool, and the family-friendly SPLASH! pool, to the exclusive pool for guests staying at Club InterContinental. Guests can relax and enjoy the refreshing water at any time.

Kids' Club and Game Room: Young travelers will never be bored at the

Planet Trekkers kids' club

, which spans 250 square meters, and the Hideout game room.

Indoor Cinema: Guests can spend their time enjoying movies at the resort's indoor cinema, which provides a convenient entertainment option right within the resort.
We hope you will choose a beautiful resort when visiting Phú Quốc. Contact us if you want to look for some information about the travel experience, and a destination with the most reasonable price.
Let's join our Phú Quốc Charming group! – where we can share crowd-avoiding experiences, discover the little-known beauty of Phú Quốc Island
Come and experience the luxurious resorts in Phu Quoc with OnBird and immerse yourself in the breathtaking beauty of this island paradise. Furthermore, you can uncover the secrets beneath the azure sea through exciting activities like snorkeling and scuba diving. Join OnBird to craft your own beautiful journey today!