As the sun gradually sets over the Gulf of Thailand, Phu Quoc transforms into a natural poetic masterpiece, where the sunset scenery is absolutely mesmerizing. Nestled in the azure waters of the Gulf of Thailand, Phu Quoc is not only a paradise of stunning beaches but is now also a gathering place for luxurious restaurants with breathtaking sunset views. Here, esteemed guests can savour exquisite cuisine in a romantic setting, fully enjoying their vacation time, whether with family, friends, or loved ones. In this article, join OnBird as we explore the beauty of the sunset and highlight the restaurants with captivating views in Phu Quoc!
1. On the Rock Restaurant at Mango Bay


On Phu Quoc Island, the On the Rock restaurant, located at the edge of the ocean, creates a fairy-tale destination to enjoy the stunning sunset. As the sun gradually sets, the sky transitions from a warm golden hue to a symbol of peace and romance. It is perhaps not an exaggeration to say that this is one of the most romantic places in Vietnam.
The On the Rock restaurant embodies simplicity yet is filled with sophistication. Here, you will have the opportunity to explore a menu featuring the finest flavours of cuisine, indulge in premium wines, and enjoy the captivating scenery. The restaurant is open to serve guests from 6:30 to 22:30 every day. To secure a good seat, OnBird recommends that guests make a reservation in advance to get the most desirable spot. To make a reservation, you can message the On The Rock fanpage or call the Mango Bay hotline. To get to On The Rock, you can easily search for the restaurant on Google Maps for convenient navigation.

Whether you visit during the day or at night, On the Rock restaurant always sparkles like the ocean out there, taking you on a culinary adventure and immersive experience in the beauty of the ocean's lullaby at night in Phu Quoc.


2. Draft Beer Restaurant at Sunset Town
Sunset Town, a poetic name, is not just a compliment to its beauty, but also a truth that anyone who comes to the Southern Island must acknowledge.
In the heart of Sunset Town, the Draft Beer restaurant stands firm as a must-visit destination. Not just because of its rich menu, but also because of its prime location. From here, diners can admire the warm sunset panorama, the sun gradually disappearing behind the horizon, and the sparkling Phu Quoc beach under the last rays of the day. But what makes Draft Beer Phu Quoc special is its uniqueness in every detail. Thanks to extensive research on local culture, the restaurant has recreated the breath of the sea, making visitors feel like they are in a familiar home in the heart of Phu Quoc Island.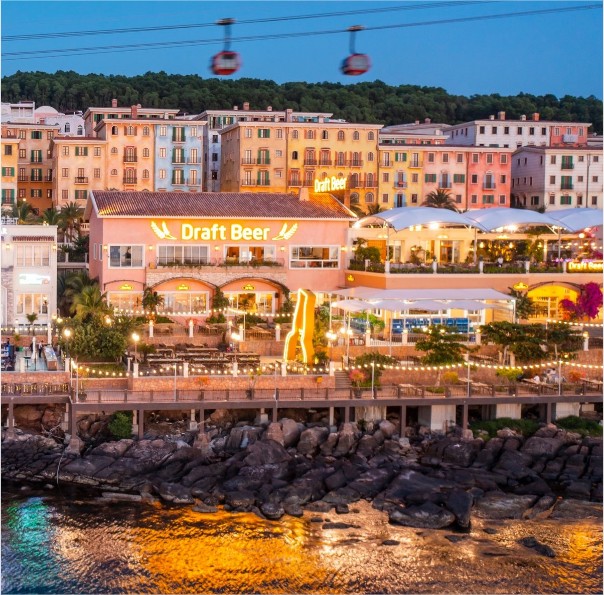 The rough red brick walls combined with the deep green colour create a tranquil space, helping visitors have moments of silence to listen to their souls. And don't forget the rich menu with delicious fresh seafood, from scallops, and clams to various types of fish, porridge, and soup. Each dish is a delicate combination of sea flavours and unique cooking secrets.

But that's not all. Every night, the fireworks display from the famous Vortex show will explode, creating a sparkling light painting in the sky. Especially, all customers at Draft Beer have the opportunity to enjoy this performance without any additional cost. If you are looking for an ideal place to immerse yourself in the beauty of nature and enjoy moments of relaxation, Sunset Town and Draft Beer Restaurant are the perfect choices.


For those planning to visit Draft Beer, OnBird recommends making a reservation in advance. This will allow the restaurant to prepare thoroughly and serve you attentively, as well as ensure you get a good seat to fully enjoy the million-dollar view. The restaurant opens its doors to the first guests from 9:00 AM to 23:00, to fully embrace the evening joy along with the fireworks from the Vortex show. To make a reservation, you can message the restaurant's fanpage.
Please take note that this brand name has 2 locations:
* DRAFT BEER Sunset Town (Cable car station, Sun World Hon Thơm, FB 03-02, Sorrento 1 street, Sunset Town)
* DRAFT BEER Bãi Khem in Bãi Khem, An Thới Town
OnBird offers a variety of options for guests visiting the southern part of Phu Quoc Island. If you don't want to have a full meal but simply enjoy a cup of coffee with a million-dollar view, you can visit Veranda House. Or if you want to have a lively drink with friends, you can go to the Warning Zone. For guests who want a cultural experience and Vietnamese cuisine, you can bookmark Com Nieu Viet Restaurant. Don't forget to save the location of Draft Beer on Google Maps, and add another fun destination to your Phu Quoc itinerary.

3. Yushima Japanese Restaurant at Sunset Town
This is where Phu Quoc meets Japanese cuisine in a natural and creative way. The restaurant's location, on natural rocky cliffs, allows you to experience a romantic sunset sky in Phu Quoc, nestled in the harmony of the Mediterranean town. Yushima is located under the cable car station on Phu Quoc Island. It's perfect to combine a sunset dinner after getting back from the professional snorkeling activities by OnBird or just wandering around the Southern part of the Island.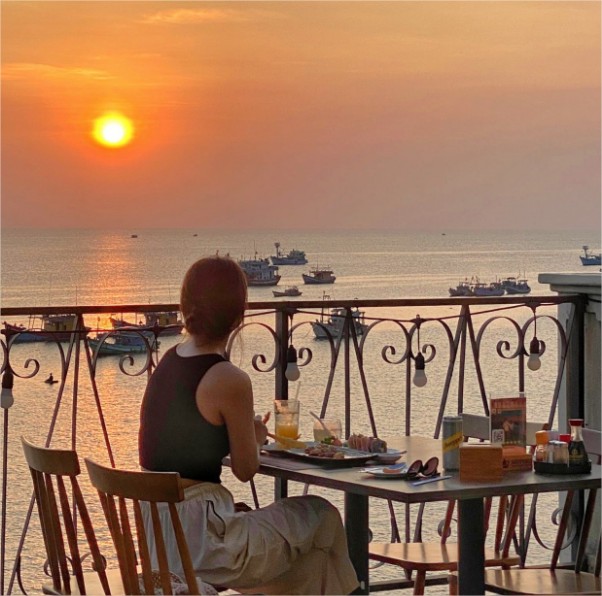 Although Yushima carries a strong Japanese design style, what makes this place special and attractive to both local diners and international tourists is the diversity of its menu which is not confined to any limits. The menu ranges from traditional hot pots to unique Izakaya-style dishes. But most notable at Yushima is the creativity in combining fresh Sashimi with local seafood such as Ham Ninh crab into the menu. This not only creates unique dishes but also represents the connection between two culinary cultures, Vietnamese and Japanese. Here, you have the opportunity to explore and understand more about the value and culture of local cuisine, while still enjoying wonderful Japanese dishes.

Yushima Japanese Restaurant is a place where two cultures intersect, where creativity and local appreciation are subtly expressed. A small note for food tourists planning to visit Yushima, the restaurant will be open from 14:00 to 22:00 daily. Please take note of this time frame to conveniently arrange your travel, dining, and sightseeing schedule. For first-time visitors to the Southern Island of Phu Quoc, OnBird will attach the Google Maps location of the restaurant to make it easier for everyone to find and navigate.
After exploring the beauty of the island by the Phu Quoc cable car, the longest sea-crossing cable car in Southeast Asia, you can take a stroll through the small alleys with European architectural style at Sunset Town.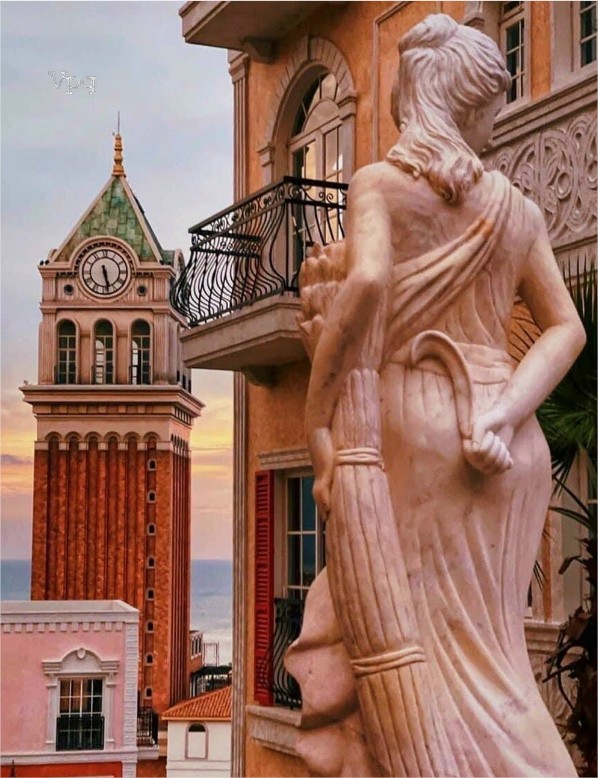 At the end of the day, you can choose between Yushima Japanese Restaurant or Draft Beer for dinner. Both are excellent choices, with Yushima offering a variety of Japanese cuisine and Draft Beer providing a lively space and diverse menu. To have a comfortable trip without worrying about the weather, you may consider renting a private car for your family and loved ones for convenient transportation.


PRIVATE CAR RENTAL SUGGESTIONS TO DISCOVER SOUTHERN PHU QUOC ISLAND
In addition to enjoying exquisite cuisine, Phu Quoc is also a paradise for underwater activities in pristine blue waters. Take the time to explore the mystical beauty of the ocean floor of this pearl island with activities such as scuba diving and snorkeling. Scuba diving will take you to a whole new world, where you can admire colourful coral reefs and various unique fish species. The diversity of Phu Quoc's marine ecosystem is an unmissable experience, especially if you are an adventure lover and explorer.
As for snorkeling, this activity is suitable for both beginners and those who want to enjoy the sea scenery right from the water's surface. You will have the opportunity to jump into the sea and admire the vibrant seabed with coral reefs and various small fish species.


Together with OnBird, you can participate in these activities and explore the mystical beauty of Phu Quoc's ocean. Don't limit yourself to the land; this island also has a beautiful and worth-exploring underwater world.