To explore all the attractions and instagrammable places in the South of Phu Quoc Island, holidaymakers need up to 2 days to fully enjoy.
If you only have 1 day, read our recommendations and pick out some attractions depending on your needs and preferences so that we can advise and arrange a private car rental option (4-seat car, 7-seat car, 16-seat car, 29-seat car, and 45 seats) which is suitable, most economical for your family and group of friends.
1. Sao Beach (Bãi Sao)
Known as the most beautiful beach in Phu Quoc Island several years ago, Sao Beach is increasingly attracting more tourists. It has led to haphazard, temporary construction of small resorts, bars, cafés, and restaurants.  It's famous for arcing palm trees, snow-white sand, and distinctive butane-blue water. 
And its most beautiful part is the Paradiso Restaurant area as the restaurant is limited to the number of daily visitors. It's still worth coming to Sao Beach for a swim, a stroll along the attractive sandy bay, a seafood lunch in this area.
Besides, here tourists find interesting water sports like jet skis, sup and kite surfing,…
Especially in the rainy season, Sao Beach is calmer and calmer than other beach areas on the island. To avoid the crowds, you should arrange a slightly different time frame, come early from 7-8 am or bravely play at noon 12 pm – 1 pm if you don't mind sun burning, only you and the expressive curved coconut trees.
Note: Many people confuse Sao Beach (Bai Sao) and Starfish beach (Bai Sao Bien). But it should be clear that Sao Beach is located in the south of Phu Quoc Island and has no starfish. Meanwhile,
Starfish beach is located in the North of the island near Rach Vem Fishing Village and
Dragon Beach (Bai Ham Rong)
, where visitors can easily discover beautiful starfish, however in the rainy season in Phu Quoc, this sea area is opaque, not ideal for sightseeing.
Deep dive into a comprehensive guide to 16 beaches in Phu Quoc Island.
2. Sun Premier Village Primavera, An Thoi Cable Car Station – a hot check in place
Inspired by the culture and history of Italy, Sun Premier Village Primavera recreates the iconic Amalfi town of Italy on the rugged coastline of Phu Quoc, at the Hon Thom cable car station area. The complex features bold architecture echoed by a bright Mediterranean palette and various landmarks and attractions, including a stunning 75m-high bell town that resembles San Marco Plaza's main attraction. Securing an exclusive address on the sunny shoreline of southwestern Phu Quoc packed with year-round tourists, this grand complex boasts a variety of shophouse ideal for a long-time real estate investment.
Central Village is the central space of the Mediterranean town of Phu Quoc, the heart of the town. Central Village is divided into 2 subdivisions including the main village and the central coast, inspired by the beautiful town of Amalfi located on the southern coast of Italy.
The main village area is formed from blocks of colorful hierarchical houses facing the sea breeze and the sun. This is also the area that gathers the most impressive architectural works such as San Marco square, clock tower … as if to send a warm greeting to first-time visitors.
The second main area of ​​Central Village is the central coast – where you can immerse yourself in the famous romantic beach of Phu Quoc with extremely chill activities on the 650m long coastline. What could be better than watching the sunset by the bar, enjoying a glass of wine in conversation with friends, or enjoying high-class food in a romantic sea setting.
You can stop at the Clock Tower, Shophouse or Pompeii Ruins to "snap" photos of thousands of likes. Or if you are looking for more relaxing moments, you can choose a cafe or restaurant by the beach to watch the sun go down into the sea, dyeing the sky with purple sunset.
3. Hon Thom Cable Car – the longest non-stop cable car in the world
Located in the south of Phu Quoc pearl island, Hon Thom is the island being loved by a lot of domestic and foreign tourists. Coming to Sun World Hon Thom Nature Park, the tourists will be immersed in the beauty of pristine nature with fine white sand and blue water.
Being recognized as the longest non-stop three-way cable car in the world by the Guinness World Records, Hon Thom Cable Car brings an unforgettable experience to the tourists. From An Thoi to Hon Roi, to Hon Dua and then to Hon Thom, the total length is more than 7,899m, it will only take you 15 minutes to travel compared to 30 minute traveling by train as before. With a high view, the tourists can see the entire clear blue sea, pristine old jungle, spacious and vast sky, and golden sand of Phu Quoc beaches..
Discovering Hon Thom Island
Hon Thom is likened to the pearl of An Thoi archipelago – south of Phu Quoc island (Kien Giang). Hon Thom Island is 5.7 km2 wide, wild and romantic. Coming to Hon Thom, you will come to the paradise of beautiful beaches with coconut palms on white sand and legendary check-in points which appear in the photos of every tourists.
Attractive underwater games
Flying high to get all the nature in sight, the paragliding service here brings moments of hovering amidst the clear blue sky of Hon Thom
The tourists who are passionate about speed definitely cannot miss the jetski. Slightly accelerate, glide through the silver waves and enjoy the unprecedented sense of freedom in the vast nature.
If you love the poetic beauty of Hon Thom, try kayaking to see this island at different angles.
Increase family affection with the Floating House game at Sun World Hon Thom Nature Park. Hold the children's hands and experience the most exciting and happy moments at the Floating House.
When you come to Hon Thom, you cannot miss diving activities to see corals. At Mui Ky Lan, there are countless marine creatures waiting for tourists to explore.
Special art performances
In the hilarious music, the tourists will enjoy a vibrant and colorful art party by European artists. Animal circus is the favorite choice of families with small children. End of each performance are always constant applauses and praising eyes from the audience.
Aquatopia water park
Aquatopia Water Park opened in December 2019 promises to bring a lot of interesting entertainment options.
More than 20 adventurous games designed according to international standards are being completed to welcome the first visitors. As the most modern theme park in Southeast Asia, all the games are provided by two leading manufacturers who are Proslide Technology Inc, Canada and Whitewater West Industries Ltd, Canada..
Water sliding lines are a "specialty" not to be missed here. The pipes either 360 degree winding or straight sliding with high speed will bring visitors joyful moments in the clear blue water. Trio of unique games available for the first time in Vietnam such as the War of Python, Sea serpent Cruiser, Dragon riding the waves are ready to conquer the adventure-loving tourists.
Aquatopia Water Park is designed and divided into 6 unique zones. Coming into each zone, the tourists not only experience the theme games but also check in with vivid scenes in accordance with the concept of each zone.
4. Bai Kem (Bai Khem)
Like the name Bai Kem, this place has pure white sand, smooth as cream.
Often called Bai Khem or Bai Kem by both local people and tourists,  this place is to swim, chill, take pictures for free, relatively deserted and clean. Especially, in the rainy season in Phu Quoc, you will be able to swim and play on the beach safer than other sea areas. It is also because Khem beach is Ngoc Luc Bao Bay embracing the shape of a C, so the water inside is calm, the sandy shore is gentle, there is no sand basin so you can still swim in the windy season, and in the rainy season without wind, it's even more enchanting.
Crossing the road to JW Marriott, Premier Residence, JM Boutique and Bai Kem Square, visitors can freely explore this area. You can have lunch, dinner or drinks at nearby restaurants, especially Draft Beer with a prime location right next to Bai Kem beach.
5. Ho Quoc Pagoda – the largest pagoda in Phu Quoc Island
Ho Quoc Pagoda (Truc Lam Ho Quoc Zen Monastery) is the largest pagoda on Phu Quoc Island and the Mekong Delta. This pagoda is a great scenic spot not to miss when coming to Phu Quoc Island because forests and the sea surround it.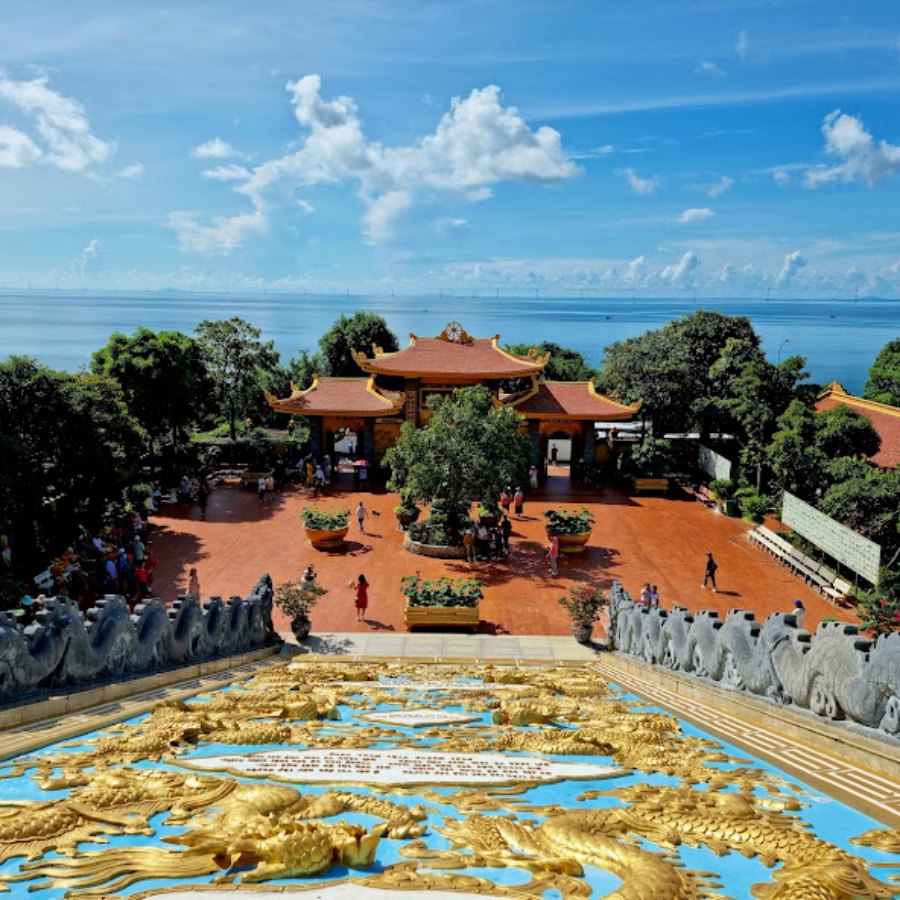 Ho Quoc Pagoda is located about 10 km from Phu Quoc International Airport and about 20 km from the Duong Dong town center.
Opening hours: all-day
Area: 12 hectares
2 of the many reasons that will help you decide whether to go or not:
You can go to Ho Quoc Pagoda to pray for peace, health, happiness, career or simply go to worship and pray for your journey to be safe and convenient.
The scenery here is breathtaking, so you can own yourself million-like photos, but note that because it is a sanctuary, we only take pictures outside the temple and avoid checking in with the statues in the temple.
6. Phu Quoc Prison (Coconut Prison)
Phu Quoc Prison, also known as Phu Quoc Communist Prisoners Camp. When the Chinese Kuomintang army was defeated by the People's Liberation Army of China in 1949, Hoang Kiet (黃杰 Huang Chieh) – general of Hunan province with more than 30,000 troops retreated to Vietnam. The French then dispatched them to a post in the south of Phu Quoc island. Unfortunately, things wouldn't end there. The Vietnam War (1954–1975) was when this place truly transformed into a literal 'hell'.
This prison held more than 32,000 convicts, caused the deaths of more than 4000 people, and left tens of thousands of others with lifelong physical and mental impairments in just 6 years (from June 1967 to March 1973).
7. Phu Quoc Pepper Garden/ Farm
Vietnam is among the world's leading exporters of black peppercorns.
Meanwhile pepper from its largest island- Phu Quoc is regarded by culinary experts as one of the finest peppers in the world.
The soil characteristics, the weather conditions, and naturally hand-harvested methods would be major factors making the peppercorn productivity on the island distinguished.
From the center to the Southern Phu Quoc Island, you can take a visit at Huynh Thy or Ngoc Ha Pepper Farm.
8. Barrel of fish sauce farm in Phu Quoc
According to the manuscripts studied by the French scholars, fish sauce was considered an important spice of the Annamites. Phu Quoc fish sauce is less popular than in the coastal provinces of Central Vietnam (Thanh Hoa – Quang Binh – Hue – Da Nang – Binh Thuan -…), but the savoriness is much more impressive. Phu Quoc leaking-fish sauce (the highest quality fish sauce types with rich protein percentage) under French Indochina was often used by landlords and senior Annam officials.
Throughout Vietnam, we can find fish sauce production facilities everywhere, but in terms of quality criteria, almost only Phu Quoc can meet all factors: The amount of protein in anchovies, the processing procedure, rigidity in the selection of salt sources,… this leads to its scarcity.
Today, thanks to modern technology, barrels of fish sauce which are housed on the island have been able to adapt with the increasing market demand, so the price is also a more reasonable aim to reach more users.
On the way to the Southern Phu Quoc Island, Phung Hung Fish Sauce farm is quite worth a visit.
9. Suoi Tranh Waterfall in Phu Quoc Island
The Tranh Waterfall is not the biggest or the most dramatic of its kind, but it does have its own charm and surrounding forest is quite peacefull.
The trail leading to the waterfall consist of series of small waterfalls and streams. Look in to the stream you will see small fish and freshwater shrimp. In the forested area you will also see wild orchilds, exotic mushrooms, and a variety of moss and lichens. It takes about 20 minutes to reach the Tranh Waterfall from the entrance of the park.
If you're feeling adventurous, you can hike further up from the main waterfall site, following the 15-kilometre stream to reach Hang Doi (Grotto of Bats), which measures 200 metres in height and houses unique stalactites. Suoi Tranh Waterfall is also located near Ham Ninh Fishing Village, where you can experience the daily life of the local fishermen and enjoy authentic regional specialities. Like most waterfalls, the best time to visit Suoi Tranh is during the rainy season (May until September). Entrance is priced at VND 5,000 while parking is available at an additional VND 10,000.
Due to its close proximity to the main town, Suoi Tranh Waterfall is usually packed with locals during weekends and national holidays, so we highly recommend heading there early to get the best picnicking spot.
10. Sailing Club Phu Quoc
Located next to some of Phu Quoc's top luxury hotels and resorts (Regent, Signature Sailing Club, and InterContinental), Sailing Club is a great place to enjoy a luxurious outdoor dinner by the beach or in a beach restaurant.
Lounge back and relax on our own stretch of white sandy beach. Just minutes from the main town of Duong Dong, Sailing Club is the most lavish and stylish place on the island to chill, dine and party. Enjoy a perfectly mixed cocktail or expertly prepared dish next to our gorgeous rim-flow pool or lay back on a beach lounger before dipping in to the warm, inviting waters.
Opening hours:
Frit to Sun: From 12:00 (noon)
11. Sunset Sanato Beach Club
Dubbed the "Studio" of photography addicts, Sunset Sanato is even praised by many tourists that if you haven't checked in at Sunset Sanato, you haven't been to Phu Quoc.
Enter this famous tourist destination – an entertainment paradise that's a must-see during your visit to Phu Quoc
Sunset Sanato Beach Phu Quoc – The most wonderful place to catch sunset moment in Phu Quoc with unique architecture on the beach
Take a chance to enjoy an diversity BBQ buffet dinner at Sunset restaurant
This Beach Club entertainment space brings a free and modern spirit with symmetrical and liberal designs from the hands of talented architect – Nikita Marshunok.
Ticket price is 70,000 VND/person for guests not staying at Sunset Sanato Villas. In fact, this is the money to buy drinks, when you go inside, you will exchange tickets for drinks, if you choose the one that costs more than the ticket price, you add money.
BOOK YOUR SERVICE CAR RENTAL!
Reserve a private car
at most reasonable price, high quality, nice driver and most suitable suggested schedule with OnBird Phu Quoc.
OnBird Phu Quoc provides private car rental services:
7-seat car (Innova, Mitsubishi)
9-seat car (Starex)
16-seat vehicle (Ford Transit, minivan)
29-seat car (Samco)
45-seat car (Universe)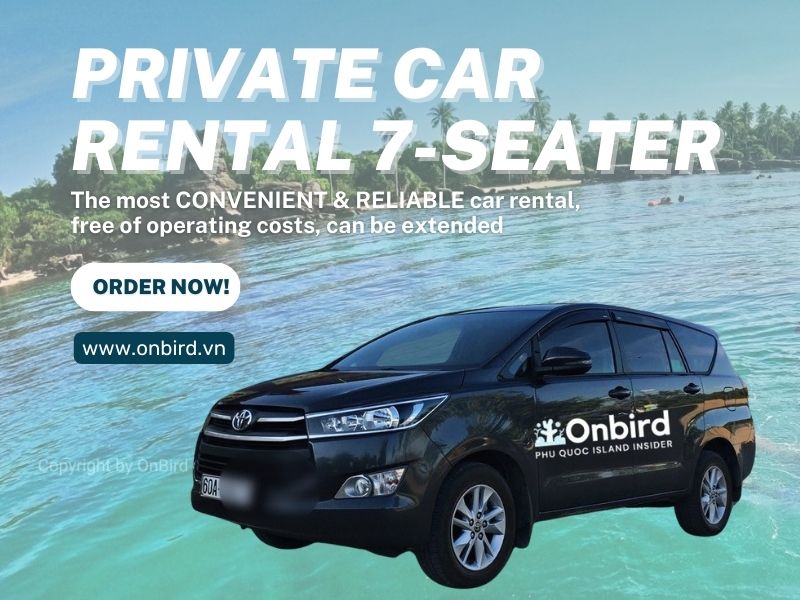 All of our drivers are friendly, enthusiastic, some are able to speak basic foreign languages and use tools to support communication with foreign guests quickly.
In addition, with each private car rental program, customers are always consulted by OnBird's customer care team on to ensure budget savings, optimal travel time and car rental prices. During the tour, guests are always supported remotely when needed.
However, if you would like to have a good English-speaking driver, kindly request us (with an extra charge and will be confirmed case by case).
Contact OnBird Phu Quoc
Hotline 1: (+84) 36 375 9280  (Call, SMS, Zalo, WhatsApp, Kakao talk)

Hotline 2: (+84) 39 652 6078 (Call, Zalo, WhatsApp, Wechat)
Email: [email protected]