In early April, the weather was beautiful with blue sea, white sand, sunshine, and crystal clear water.
Vietnamese marine people have a saying: "In March, The old woman goes to the beach." It means the sea is so strangely smooth that everyone can leisurely sightsee the coral reefs & marine life. It was a vast blue sky day, I couldn't hesitate any longer to immerse myself in the waters of the Gulf of Thailand and admire the coral reefs of South Phu Quoc.
That was a lucky day for me. After the waterway from An Thoi fishing port, I anchored my speedboat with a safe enough distance for the reef. I then jumped down and submerged myself in the clear emerald water towards the Coral Mountain.
The consecutive mountains of Cabbage Coral created a continual miniature coral continent in the Crystal Reef. It is one of the three most attractive diving spots on the snorkeling trip to explore the An Thoi Archipelago.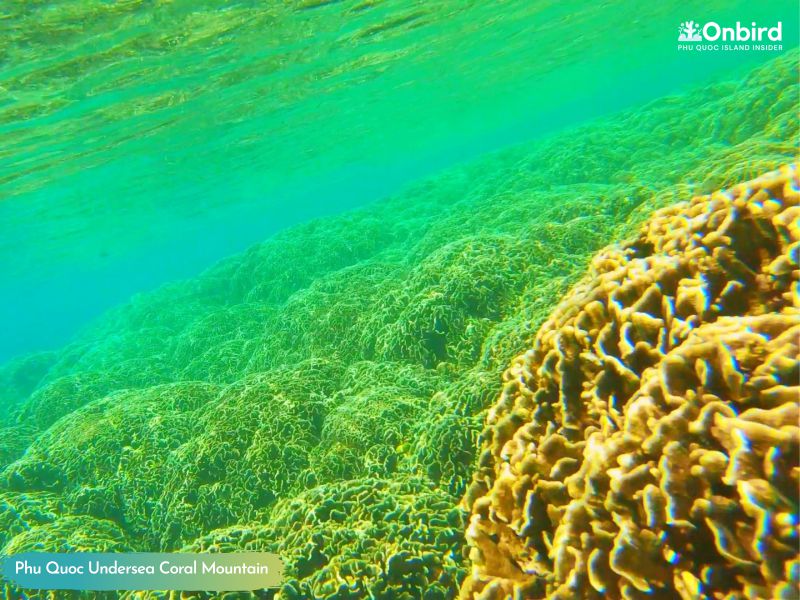 After traversing and snorkeling at Coral Mountain I turned left in the direction of the Fingernail islet. I felt like the sea was trying to transmit some mysterious signals to me. After 5 minutes I changed my direction, something magical slowly appeared. At my first glance, it seemed like a giant dolphin lying dormant on the seafloor. I had a strange excitement, a feeling of enchantment. I took a deep breath, and duck-dived to see the unknown object.
Oh my god! It was unbelievable that it was a boat of an unfortunate fisherman wrecked. After overpassing lots of nautical miles, it ripped in Crystal Reef forever.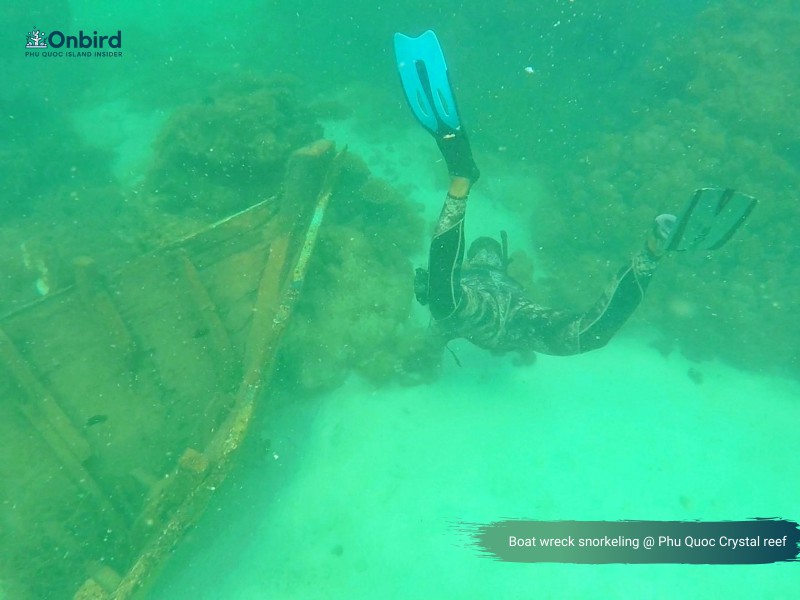 I took a deep breath approaching the strange object.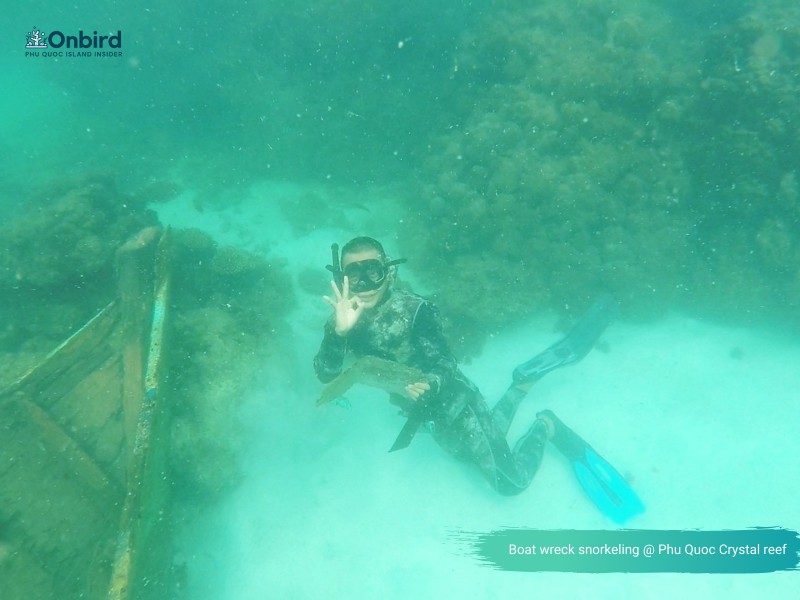 The boat wreck is about 7 meters long, 2 – 2.5 meters wide with an intact cockpit and a propeller. Looking inside it, I also saw a kitchen, a few cans of mini gas stoves, knives, scissors, old mesh, and objects of a mobile house on the sea. Schools of fish living in the coral reef took the boat to make their luxury villa, while the sea crabs were groping for themselves in a safe space. Life kept going because the wreck still had its meaning. What a miraculous nature!
After 30 minutes of diving & snorkeling to explore the wreck, I finished out our snorkeling at Crystal Reef with a lot of new excitement gained.
I decided to call it Black Pearl. Although it was not as big as Hollywood's Black Pearl, it was still a highlight in many marvelous things about Crystal Reef.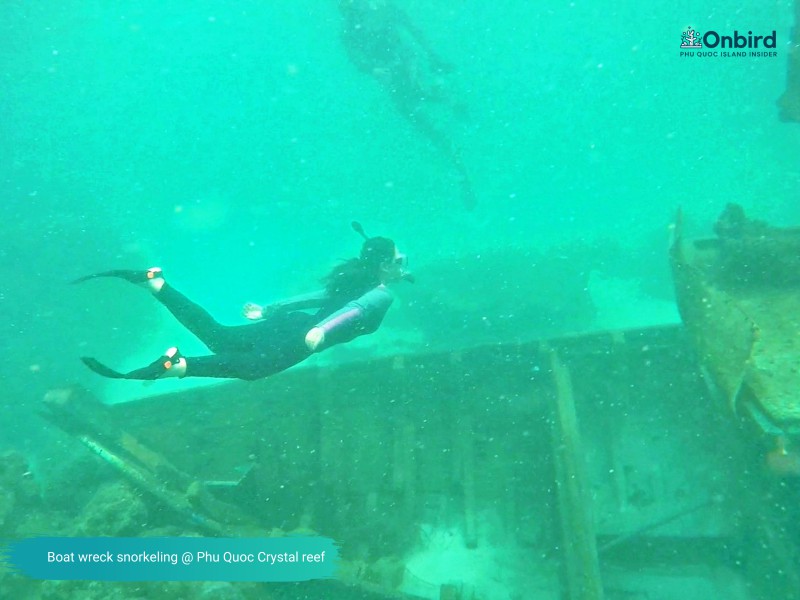 Visit Crystal Reef in the An Thoi Archipelago and my Black Pearl!
⏭️ Chronicle recorded by HDV Jack Sparrow (Onbird team) in the most amazing diving trips in Phu Quoc, Gulf of Thailand.
🔖 Follow OnBird to discover more interesting things in Phu Quoc Island.
Instagram: https://www.instagram.com/onbird_phuq​uoc
👉 Facebook English page: https://www.facebook.com/onbirdtrip
👉 中文頁面 : https://www.facebook.com/fuguodao/​
👉 のページ : https://www.facebook.com/fukokku