Kid-friendly activities don't have to be just for kids. Snorkeling in Phu Quoc island is usually a kid-approved, mom- and dad-loved activity that is a guaranteed good time for big and little travelers alike.
Here come some snorkeling guides and suitable snorkeling sites for your family with kids to make their first true exploration of coral reefs.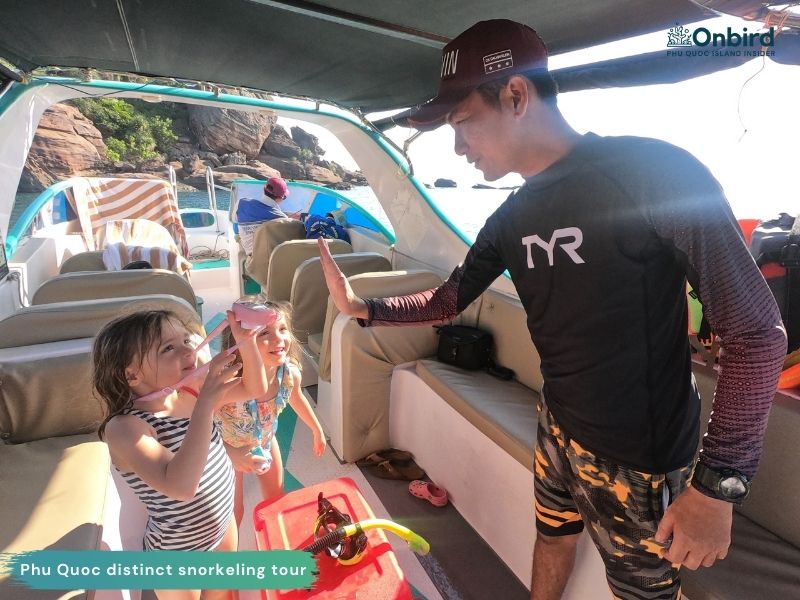 In Phu Quoc, coral reefs have various depths ranging from 2 – 8m and not all of them are suitable for kids especially when taking external factors such as "wind", "current", "depth" and "underwater visibility" into consideration.
At OnBird, as our defining criteria are Genuine Experience and Customer-centric privacy, we always take into consideration cases of accompanying "special" guests: kids, children and teenagers. As they might have not much experience in the water activities, especially snorkeling and diving then it's vital for kids, children to practice in a "shallow water" before doing snorkel and after that, they need an ideal coral reef for their experiment.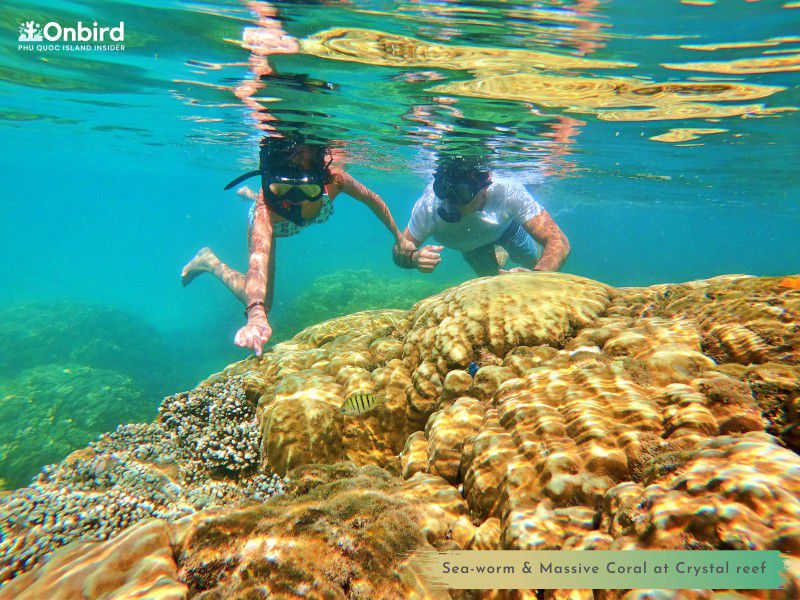 What is an ideal snorkeling spot for kids?
"Jade water" – Phu Quoc Kids snorkeling:
The water is necessarily clean and clear, a kind of jade water in which kids have very good underwater visibility instead of the dark water which may scare them out in the first exploration of the sea.
"The depth" – Phu Quoc Kids snorkeling:
The depth is also another factor that could encourage or discourage kids from getting into the water, it should be easier for kids if they can see the bottom even its 5-6m, because they find it safer when knowing there is not any serious threads around them in the water – another world that they haven't known about. And it would be pretty amazing for kids if seeing corals and sea creatures living on coral and fish school in close distance of 1 – 2m even closer but safe for them.
"The current & calm water" – Phu Quoc Kids snorkeling:
Kids don't have good swimming and snorkeling skills thereby they need safe water to practice and enjoy their snorkeling, exploration of corals. A coral reef which is protected from the wind which makes the water windy and has calm water is a very safe place for kids to do snorkeling as well as their parent to take care of them in the water without much difficulty.
"Coral and creatures" – Phu Quoc Kids snorkeling:
Kids will gain a super fascinating experience if they have a chance to join a genuine exploration of corals. See fish and coral clearly and closely as if get in contact with the marine world.
From the aforementioned factors we do list out some good snorkeling sites suitable for your kids:
Coral Mountain located in Crystal Reef (14 km in the South from An Thoi town):
The shallow depth: 1-3 m Kids will see the bottom through the clear water and see coral and fish in a very close distance of 0.5 – 1 m
The best underwater visibility: 6 – 10 m with white sand at the seabed
Current and Calm water: Almost no strong current during the Dry season (October – April), except for some days of being affected by Southwest monsoon and sometimes in the Rainy season
Beautiful and Large Coral reef and Creatures: A beautiful and impressive cabbage coral reef named "Coral Mountain" surrounded by huge Stony corals, kids could enjoy easy snorkeling here and have close contact with coral and sea worms living on corals or cute fish seeking their prey on the Coral Mountain. The route that kids will be swimming over stony corals which is just 0.5 – 1m before reaching Coral Mountain is definitely an interesting exploration for them.
Boat Wreck Snorkeling: A true surprise for kids to explore a kind of treasure in the sea, a small Boat wreck which is located just 3-4 m in the water, next to Coral Mountain