Scott Nguyen is originally from Ho Chi Minh city, left Ho Chi Minh for Sapa for 6 years already, his family is now residing in Sapa. He came to Phu Quoc with "his family" from Sapa, they choosed Naomi resort for their stay in Phu Quoc and OnBird for their very first soft-adventure snorkeling experience to explore Coral Mountain and Half-moon Reef on November 01 2022.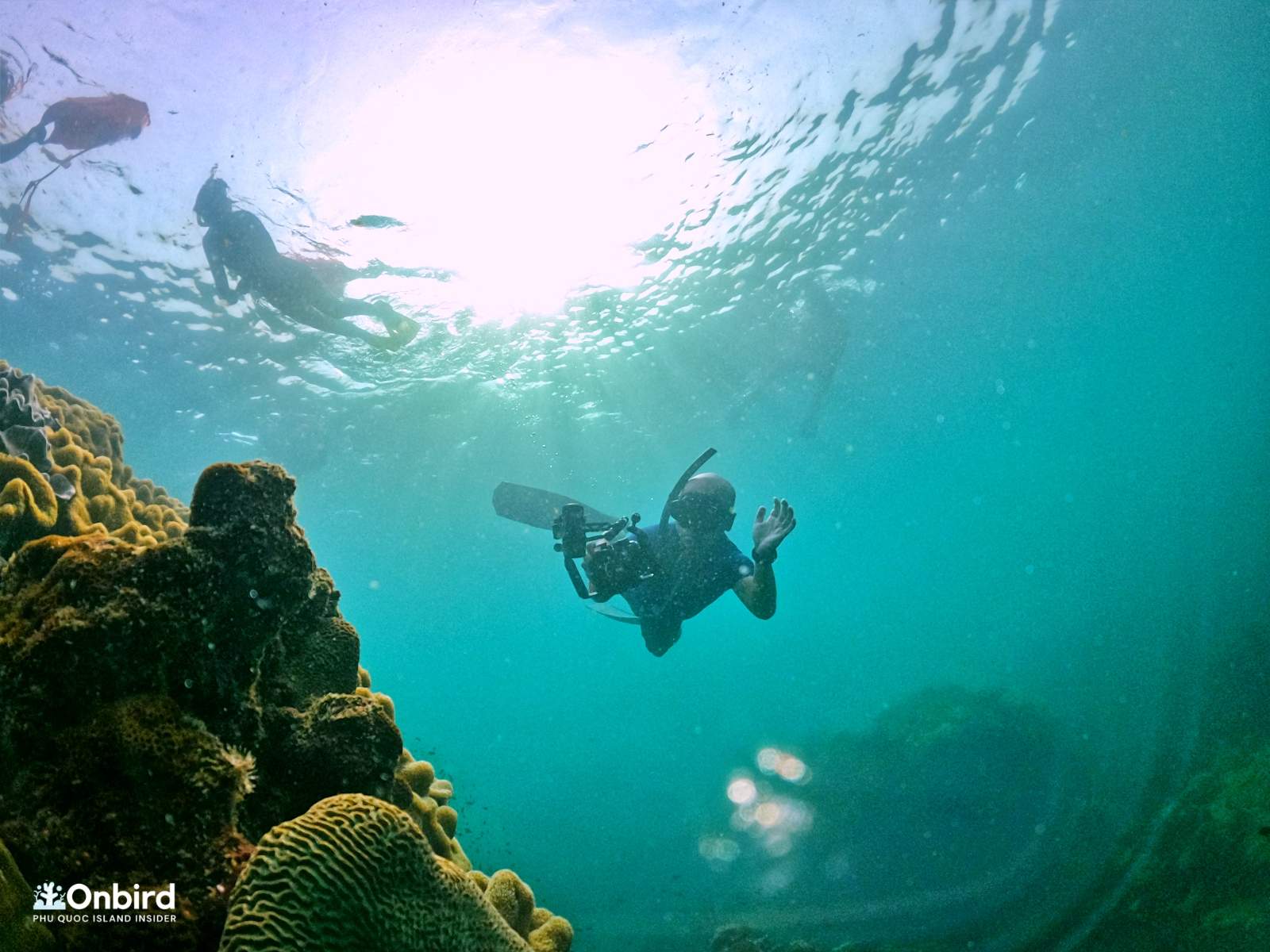 Scott Nguyen is the founder of Joy House Foundation, a social organization with the goal of improving lives, connections among minority areas in Sapa, Vietnam, he is also developing his business with Joy House Sapa, a resort located in Sapa, Lao Cai, Vietnam. Scott Nguyen has a great love with underwater activities: scuba diving, snorkeling and free-diving, he has gained level-1 free-diving license.
Come to our pearl island for the first time, Scott Nguyen bring his small family Joy House Sapa with a total of 8 adults. He arms himself with professional gears for underwater photography, was looking for a unique snorkeling & diving experience to explore the sea of Phu Quoc Island with his family who are 6 H-mong guests that never done snorkeling before. They bring to Phu Quoc a lot of concern because most of them have no experiences or swimming skill in the water especially in the open water like the sea before. So to help guests to explore the corals safety, we dispatched one more underwater guide to support this group of 8 PAX. Many people underrate the role of underwater guide but they don't know how risky they can encounter while snorkeling or also how beautiful the coral reefs they will miss without the instructions of underwater guides.
TRAINING & SAFETY GUIDES TO GET ACCLIMATED TO WATER CONDITIONS AND SNORKELING GEARS
We spent over 1 hour which is longer than usual to help guests from Sapa to get acclimated and mediation ready before the real snorkeling after that. Four of them are non-swimmers and I little bit scare of the water so our 3 guides took longer time and more patient to instruct first-time-snorkeling guests. We always recommend guests to wear long-sleeve shirt to protect your skin from poisioned animal and the UV ray as well as minimize the use of sun cream in the water to not impact the coral water environment.
Guests were taken to a shallow & calm water to practice with snorkel gears (mask, tube and fin) so they felt very safe because their foot could touch the sand.
AMAZING EXPLORATION OF CORAL MOUNTAIN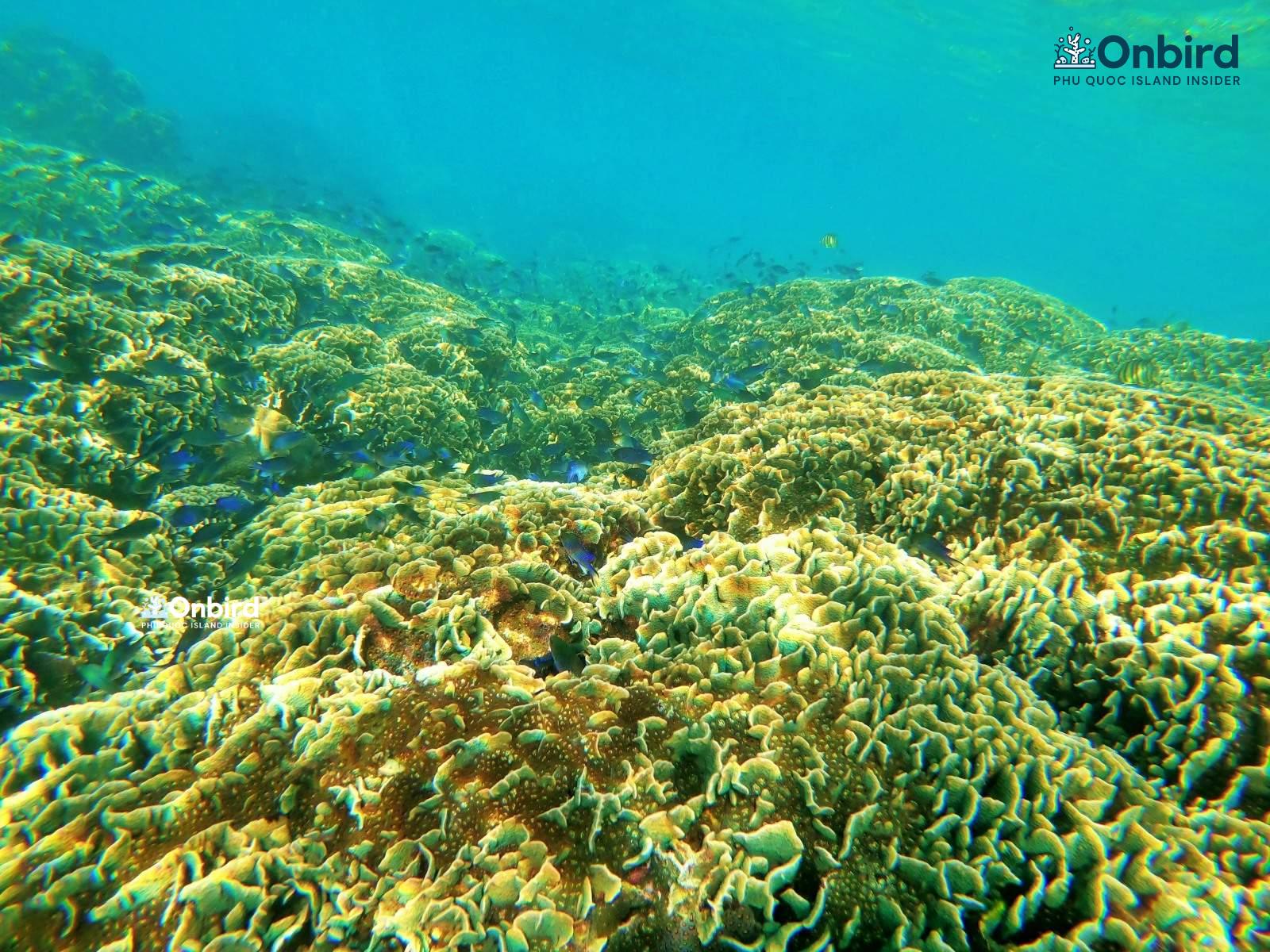 By the time we went to Crystal Reef to explore the Coral Mountain, the water was more choppy than our own forecast but with the support of 3 guides, 8 guests still managed to explore the beauty of the Coral Mountain which is the largest cactus coral cluster in whole Phu Quoc Island. Read more information about coral reefs and coral species in Phu Quoc Island, Vietnam.
We did not take the photos at Coral Mountain due to very choppy water, so 3 guides put the safety as the top priority. Excepts Scott Nguyen, his wife and 2 other mens equipped our swimming buoyancy than other guests were equipmented life vest to make their very first acquaintance to snorkeling and practice the skill in real.
OVER-EXPECTATION UNDERWATER PHOTOGRAPHY AT HALF-MOON REEF PHU QUOC
We spent longer time at Half-moon Reef with calm water and for underwater photography at the request of Scott Nguyen. The underwater visibility was affected by the waves in the morning, at the outer area of the reef the visibility was quite bad of 3-4 meters but we got closed inside the reef where the visibility was very good of 6 m.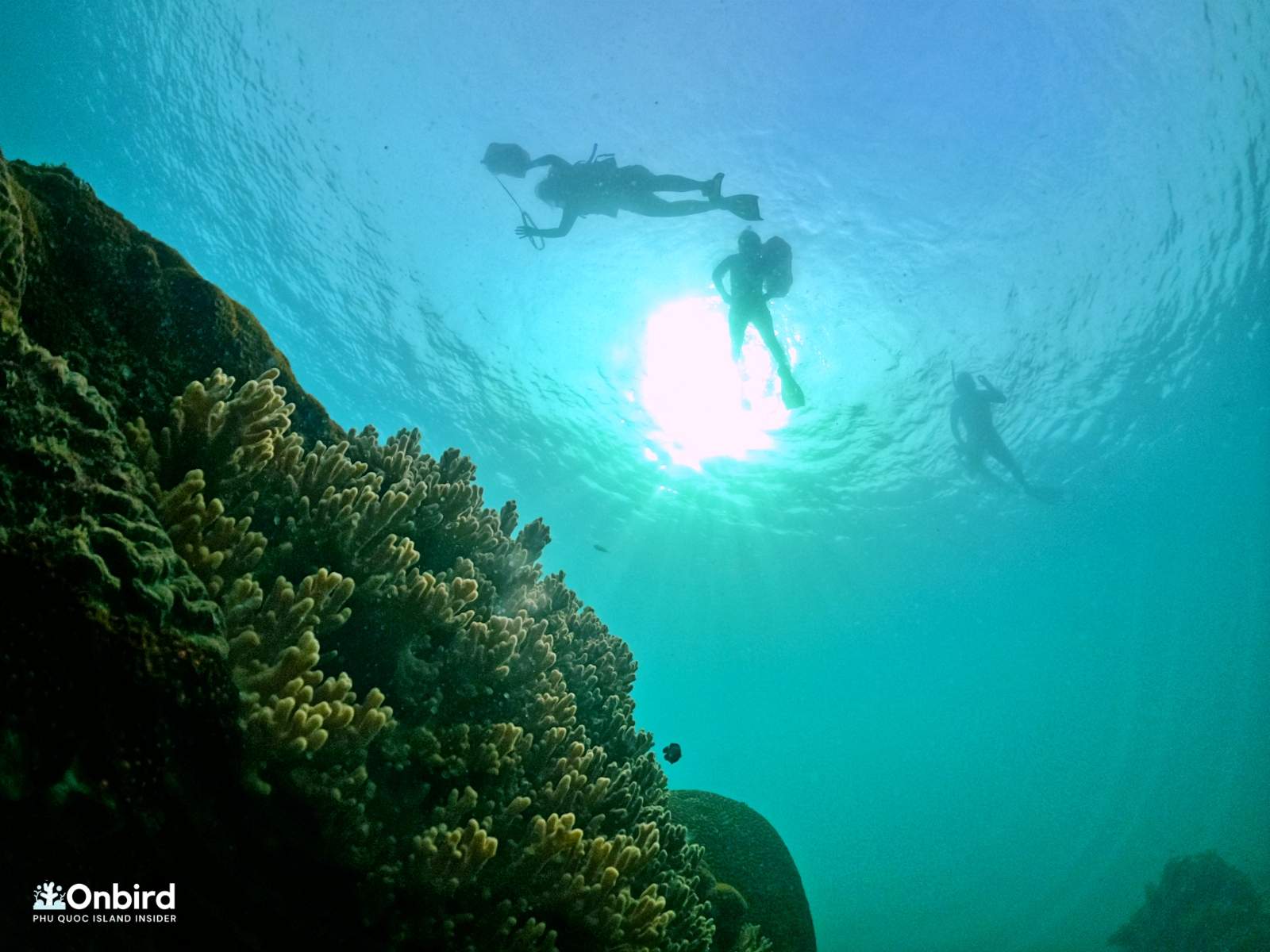 Snorkeling in the murky water is not comfortable especially for non-often snorkelers because it is more difficult to see corals so you need to have experience to find out the corals. In Half-moon Reef, we took Scott Nguyen and his friend to amazing spots such as: the big anemone cluster of around 10 square meters, the biggest coral of Phu Quoc Island (Dome-shaped Honey-comb coral).
AMAZING PHOTOS WE CAPTURED ON THIS SOFT-ADVENTURE SNORKELING TRIP WITH THE INFORMATION OF CORALS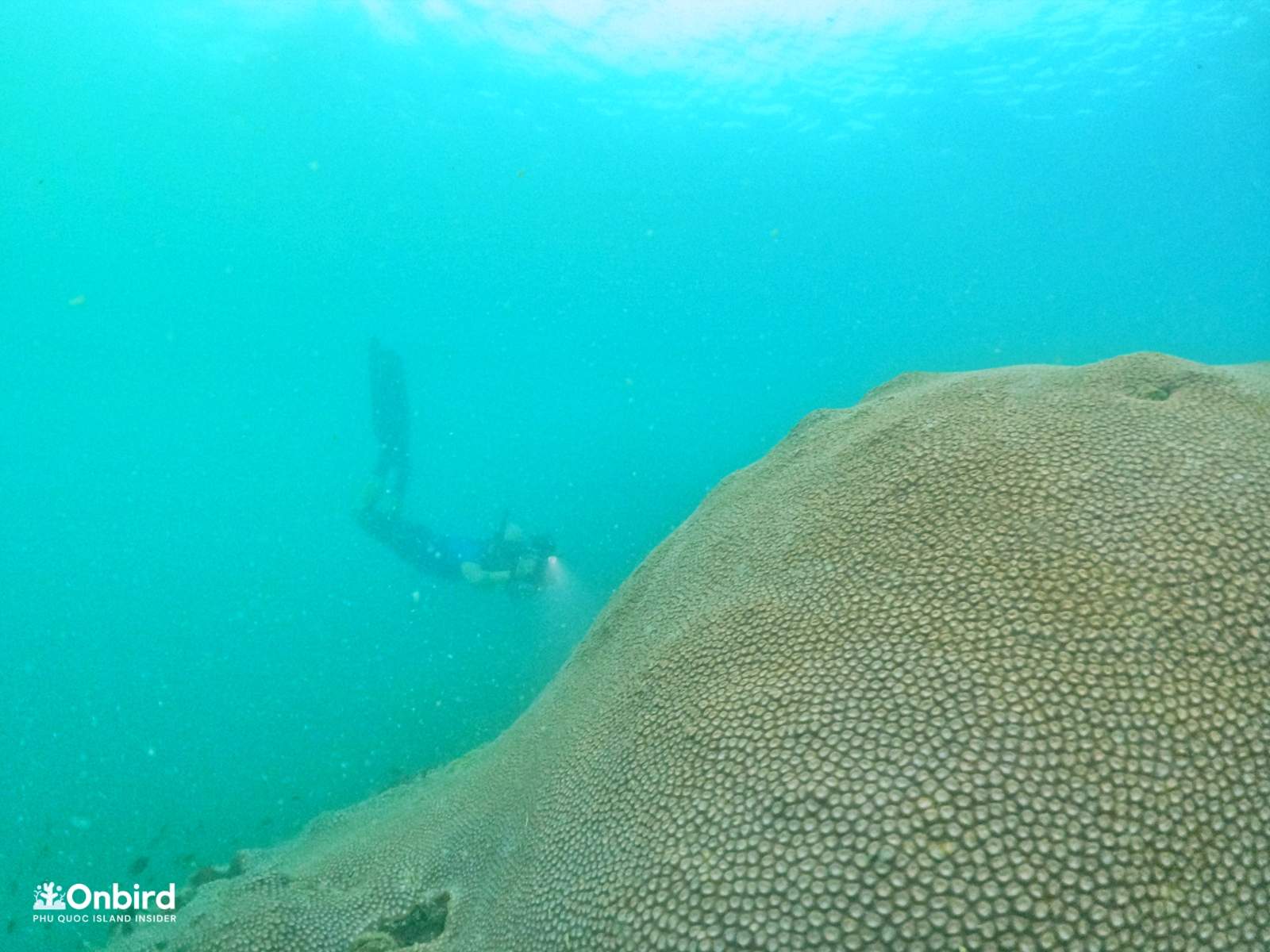 Scott was capturing macro photos of the biggest coral in Phu Quoc Island which is a Honeycomb coral located at the depth of 7 meters, with the help of our guides to show the exact location of the coral in the murky water. He was very suprised because had never seen such huge coral before in other diving & snorkeling & free-diving tours in other places in Vietnam like Nha Trang, Hoi An, Vinh Hy…
At Half-moon Reef, there are many big-size honeycomb corals located at the depth of 7 – 9m. Our guides took impressive moments of Scott on his diving way. OnBird offers a dedicated underwater photography for guests at here.
A cluster of toadstool leather coral blossoming or extending their polys after a time of self-protection by retracting their polys due to the coral is not happy and either flow, light, or fish/pests may be nipping at it.
Scott was exploring the big anemone cluster at Half-moon Reef, this is one of the biggest anemone cluster in whole Phu Quoc Island.
RELAXING TIME AFTER SNORKELING
After fascinating snorkeling experience and captured amazing underwater photos of corals & diving, 8 guests were taken on an island for relaxing time with fruit and fruit juice. Scott and our guides talked with each other about concerns we gained after snorkeling trip and listen to feedback toward a more sustainable snorkeling trip in Phu Quoc Island, Vietnam.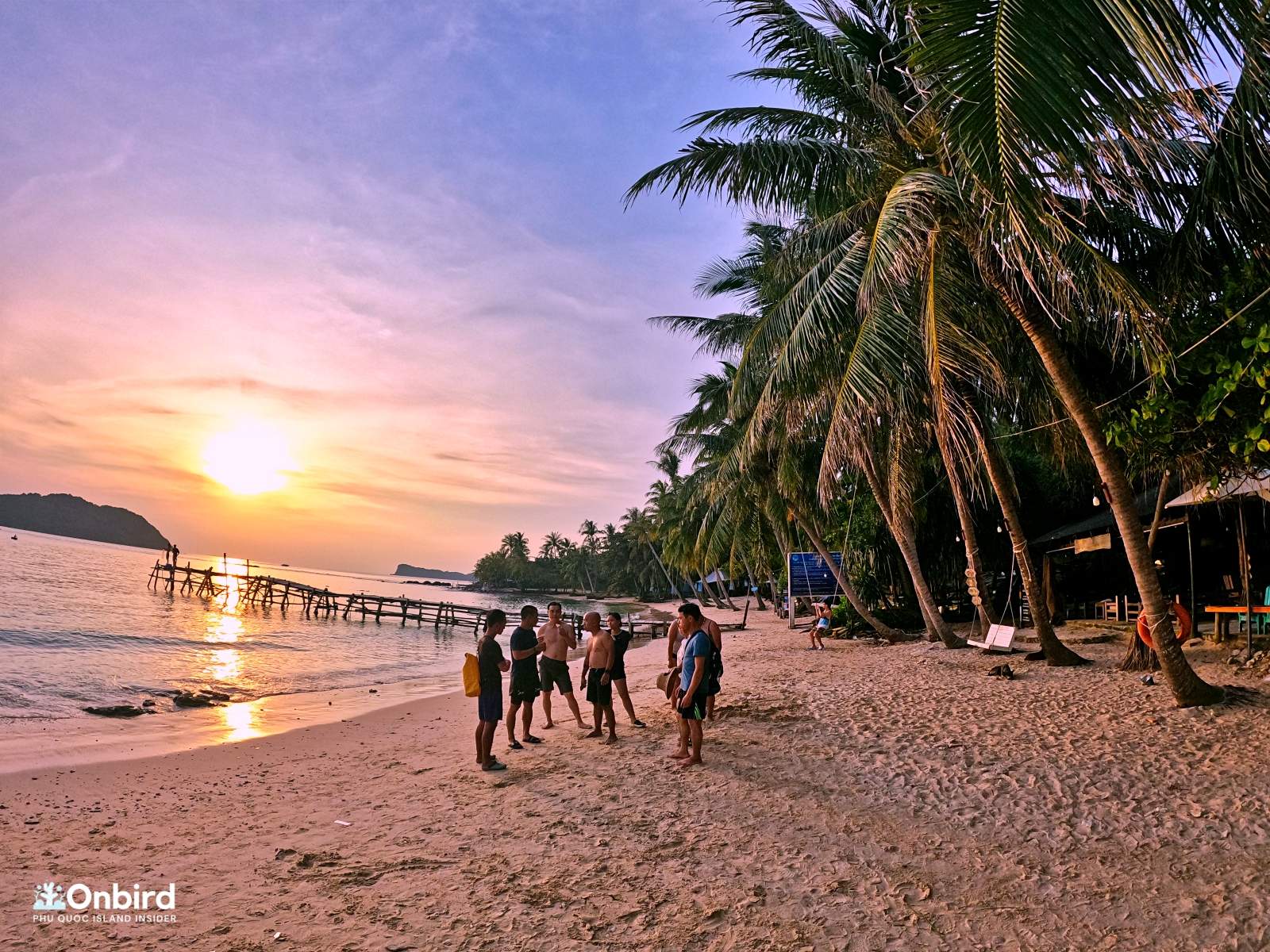 The tour is arranged to avoid the crowded places thereby we did not run into noisy situation at all, we had private ambiance, atmosphere to enjoy the genuine beauty of islands in South Phu Quoc, Vietnam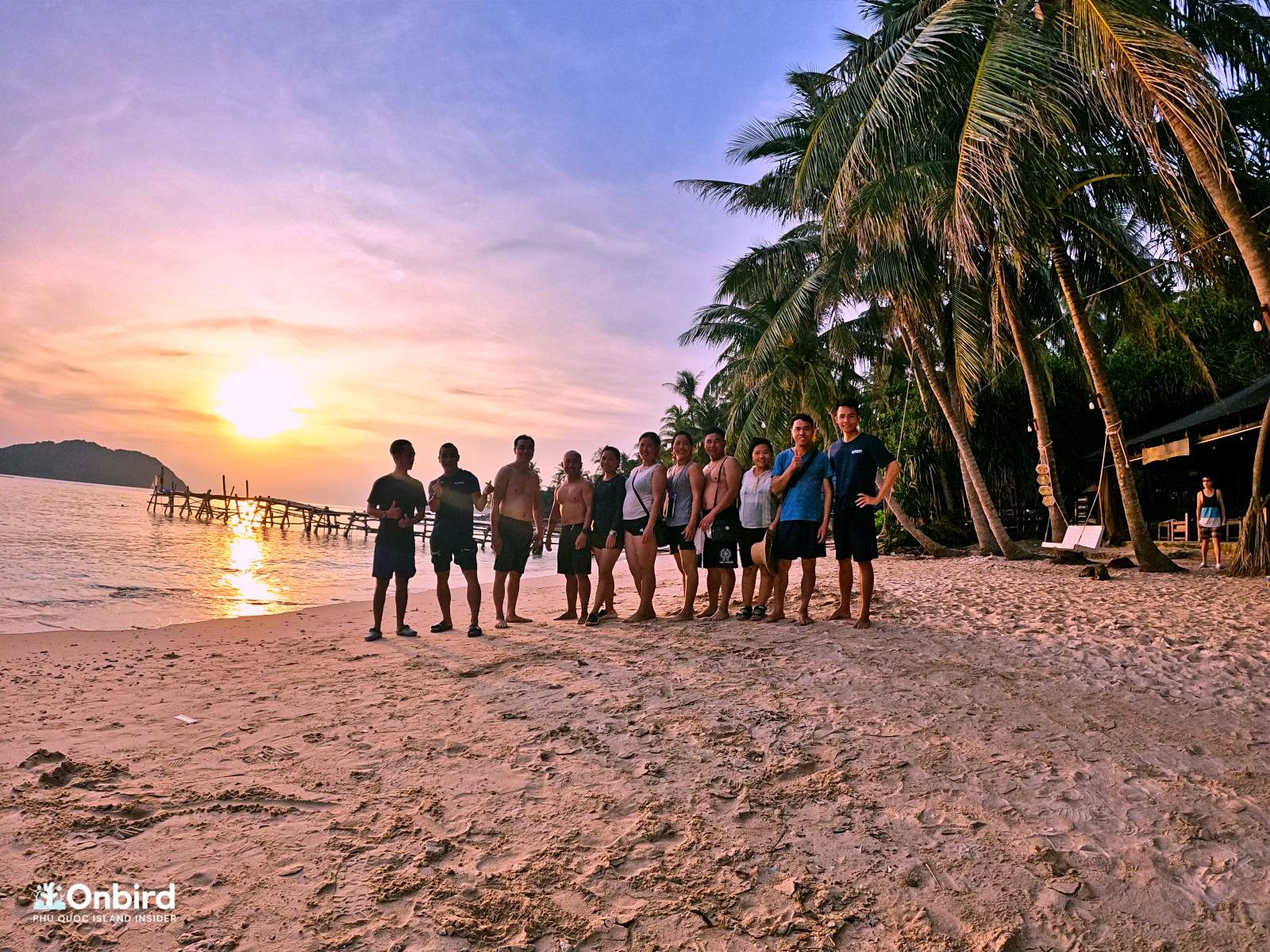 3 OnBird guides and guests posing for a memory photo after amazing experience we gained and shared together during the trip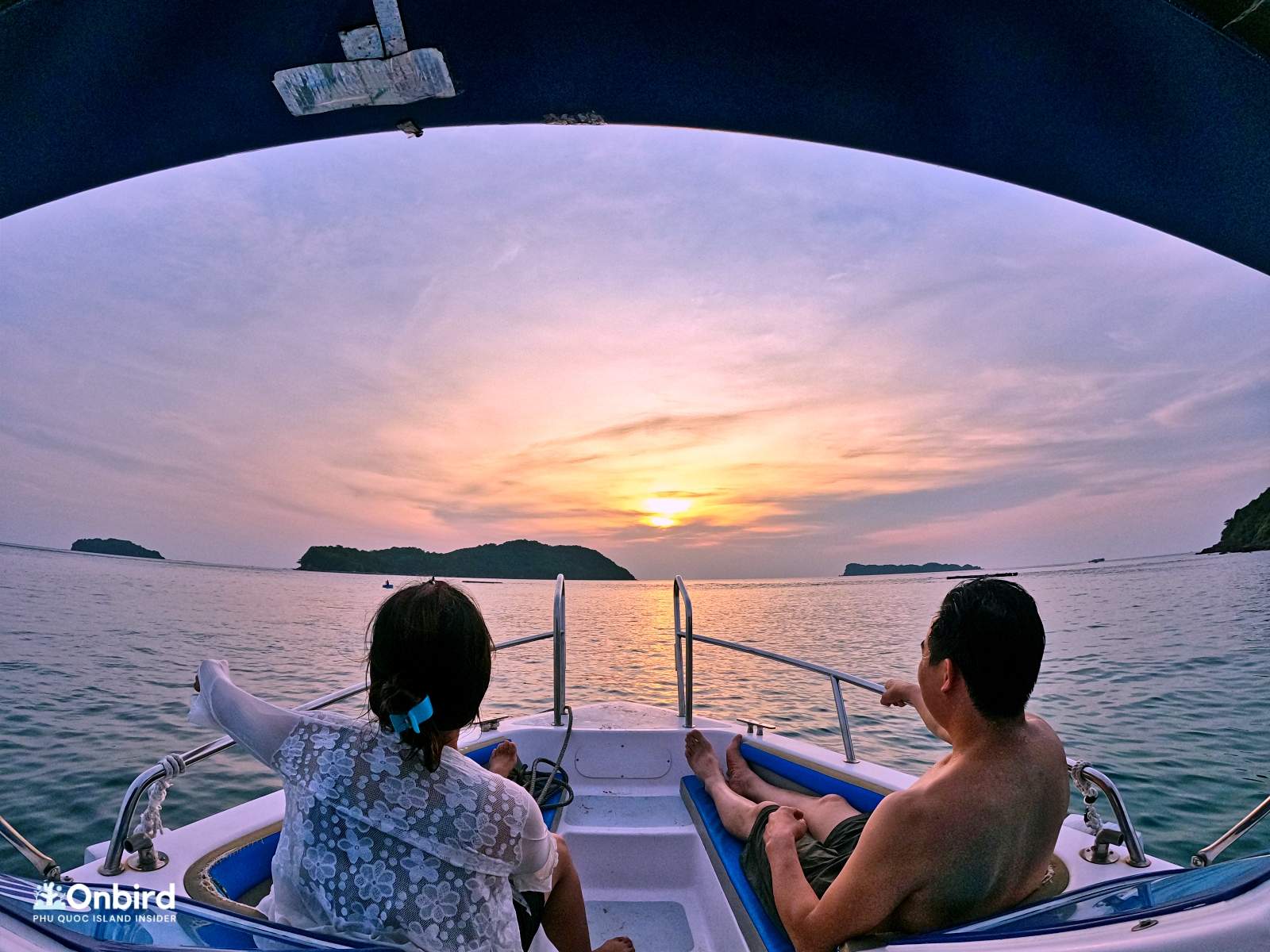 Guests enjoying the sunset speedboat ride on the way back