I. EXPLORING NEW LAND ON PHU QUOC ISLAND 
Previously, Phu Quoc Pearl Island was often known for the bustling beauty in places such as Duong Dong town, Dinh Cau town, Sao beach, or An Thoi archipelago.
If you love traveling with a passion for discovering new things in a place full of primitive and poetic beauty, the Rach Tram River promises to be a sought-after destination in the future.
Rach Tram River is the largest river and the farthest north of Phu Quoc island with a 25 km length. It includes three branches, one of which originates from Bai Thom, others derive from the tropical forest of the Phu Quoc national park and meet at Bac Cuu junction.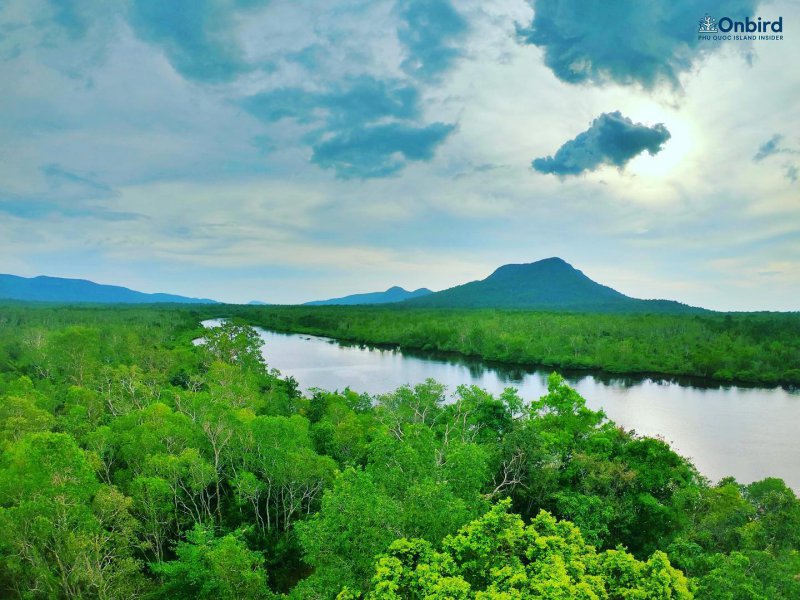 Rach Tram River is a new destination whose terrain looks like a maze of sandy roads and interlaced forest ones. When it rains, the road to Rach Tram is challenging to move because of the muddy river.
Nowadays, along with the developing tourism, this river has been opened up for visitors to easily reach Rach Tram by boats, canoes, or adventurously stand-up surfing experience (SUP).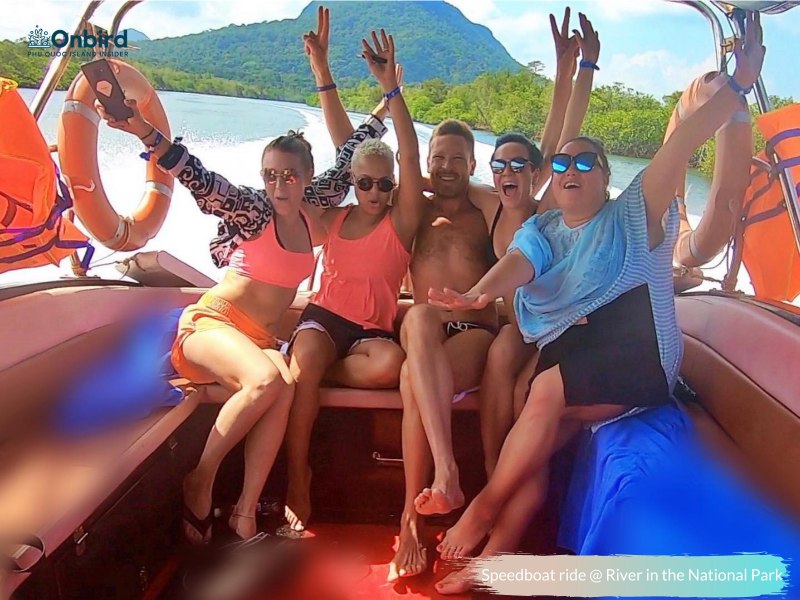 II. SEARCHING FOR THE FORGOTTEN WILD ECOSYSTEM
Rach Tram River in Phu Quoc is a relatively new place for domestic and foreign tourists, so it still retains the wild and rustic beauty inherent in nature here.
As the largest river on Phu Quoc island, Rach Tram gives visitors a feeling of grandeur and mystery when experiencing passing through this area. On one side is a mangrove forest consisting of various trees such as mangrove apple, red ambarella, large-leafed orange mangrove, black mangrove, etc. On the other side, there is a large Melaleuca forest mixed with some other trees such as Hopea Odorata Roxb, Hairy-Leafed Apitong tree. The diverse combination of forest ecosystems is the reason for the name of this river.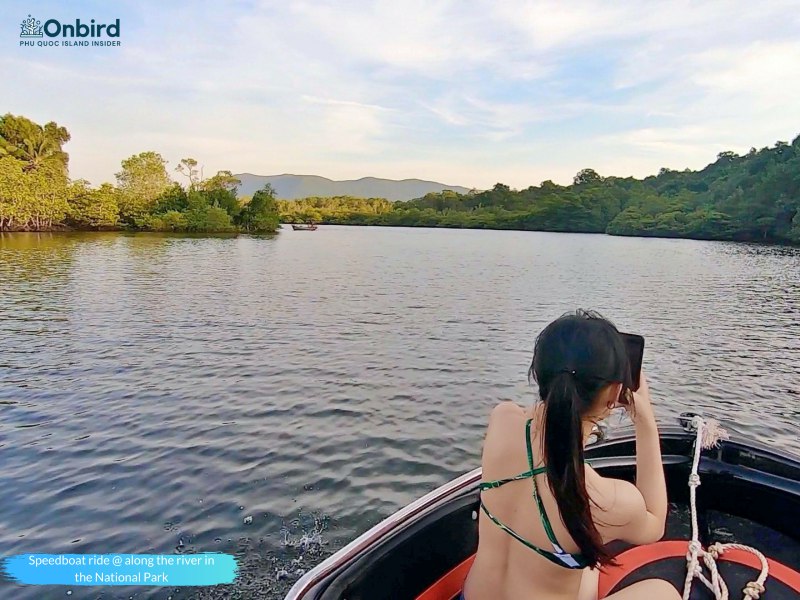 The Rach Tram river looks like a woman with flexible curves surrounded by forests and cliffs as if adding its personality and strength.
Moving the upriver of Rach Tram, the forest glows with the characteristic red color of many rockcap fern vegetables, reeds, melastoma candidum, winter cherry, etc.
Sitting on a canoe, listening to the sound of wild birds singing, and watching the water drifting in combination with the poetic scenery of the forests makes you feel incredibly peaceful and comfortable.
The ecosystem here appears like a gorgeous picture with a variety of trees and colorful spots.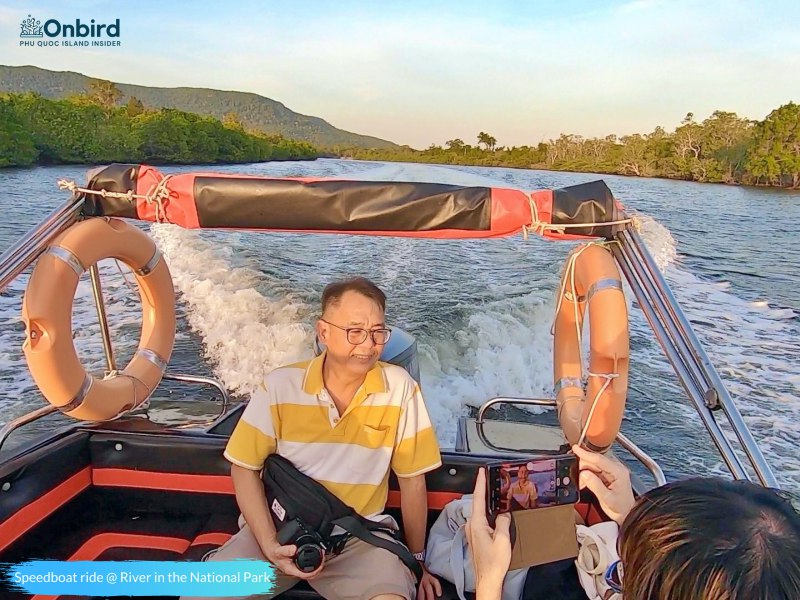 III. DISCOVER THE LIFE OF THE FISHERMAN LIVING NEAR RACH TRAM RIVER
On a speedboat along this river, you can come to the fishing village and Rach Tram beach, where is different from the bustling crowded with many tourists and people living in fishing villages (Ham Ninh, Ganh Dau) or beaches (Long beach, Sao beach, Thom beach), there are few locals in Rach Tram, whose main job is fishing. Under the sand layer, the soil here also has mud from the forest flowing out through rivers and streams. It is difficult for them to build rafts to raise seafood. You will see the fishermen pulling their nets to catch fish right on the riverbank and feel the beauty of rustic labor on their faces. Their life is simple and sometimes challenging, but they always smile to welcome visitors.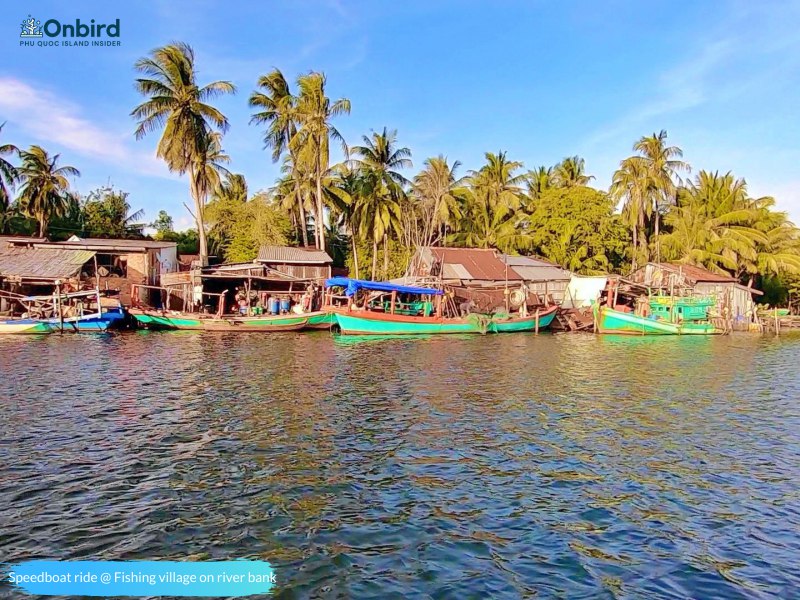 "Phu Quoc Island is easy to go but difficult to leave" is a saying that can describe the nostalgia of tourists when experiencing with these hospitable locals on this island.
IV. SUGGESTIONS FOR A TRIP TO DISCOVER RACH TRAM RIVER & NORTH  PHU QUOC
To fully immerse in the wilderness of North Phu Quoc, we highly recommend you spend at least 2 days exploring the Wilderness of Northern island with some of below activities:
1. A speedboat trip to pristine North, passing by Rach Tram river, visit Dragon beach, enjoy seafood dinner at a fish farm in sunset
A trip to pristine North Phu Quoc is an ideal choice for you to discover new things. This journey brings you back and feels the idyllic beauty inherent in Phu Quoc decades ago.
You both sightsee the beauty of  Rach Tram River and explore other places such as juggle-surrounded Dragon Beach, mangrove forest, Observatory Tower and National park. Then, you will enjoy the sparkling sunset and a seafood meal at a fish farm among the sea.
2. A sea kayaking journey, sunset and seafood dinner at Half-moon Bay
If you seek some adventurous experiences, sea kayaking along the Phu Quoc Northwest coastline,
sunset drifting and a seafood dinner at Half-moon Bay is definitely what you're looking for in the upcoming trip.
The romantic sunset Sea-Kayaking in Phu Quoc highlighted our trip across Vietnam
3. Sailing by Catamaran and snorkeling to explore the Northwest sea of Phu Quoc
Furthermore, you can also join sailing and snorkeling to explore one of the most beautiful coral reefs in Turtle island and the rustic charm of Casuarina beach.
It is one of the unique tours chosen by many tourists when traveling here.
"One's destination is never a place, but a new way of seeing things." – Henry Miller said.
Rach Tram river in particular and the Phu Quoc North Island, in general, can bring numerous surprises and exciting adventures for your upcoming trip. In a sudden conversation, you are excited to share these experiences with your family, your friends. Then that wonderful feeling rushes back to make you happier and miss this island more.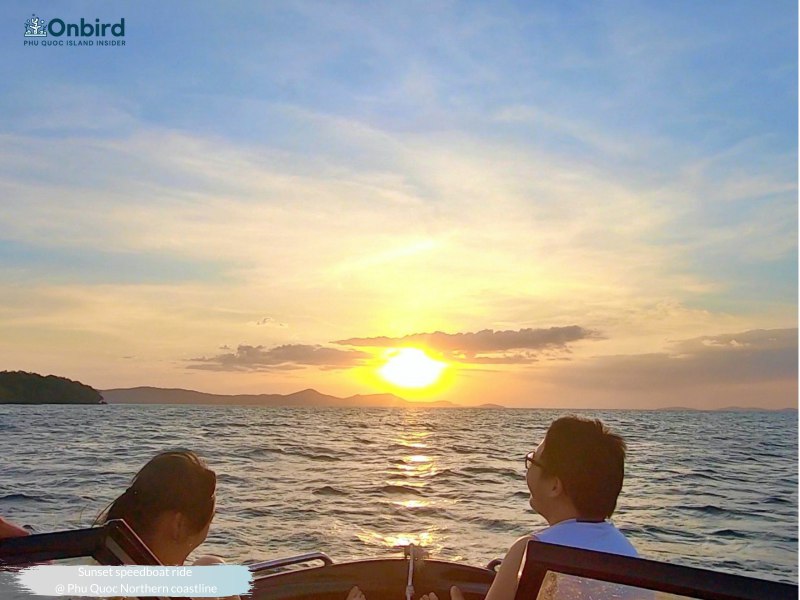 Follow OnBird to get updated information about new mysteries of nature and fascinating tours in Phu Quoc.