There's nothing quite like snorkeling for introducing your kids to the wonderful underwater ecosystem. Unlike scuba diving where you are fully submerged, snorkeling keeps you close to the surface of the water, making it a great outdoor sport that even small kids and those just learning to swim can enjoy.
To set off on the family's next adventure in Phu Quoc, parents will find the following tips and precautions helpful. 
1. Choosing proper snorkeling spots
Location can be everything. Choosing the right snorkeling spots can make or break your experience. Depending on where you're vacationing, research nearby snorkeling spots in advance to scope out which are best for your children. Make things easy on your kids by picking a day with good weather, calm seas, or when there aren't too many swimmers. To have a professional tour advisor who checks sea weather and underwater visibility for you is best.
For all OnBird private tours, we make sure our guests can experience the best snorkeling journeys so we advise you which days are most suitable to make the trip with our expertise and weather forecast.
Try to start in shallow water where you can walk in and still touch the ocean floor if need be. Whilst boat trips to remote reefs may sound enticing, wait until little ones have a few successful shore swims under their belt with the comfort of the ground beneath their feet before heading to deeper waters.
In Phu Quoc island, we highly recommend you Phu Quoc Undersea Coral Mountain (Crystal reef) and Shallow Coral Reef – which are shallow reef ranging from 0.3 to 2 meter depth, with crystal water and vivid coral & sea creatures can be found, Coral Steep and North-east Coral Reef (a coral city in South Phu Quoc Island with 18 different species of coral).
Check out the detailed blog about this location for families with kids.
KID SNORKELING IN PHU QUOC – SUITABLE SNORKELING SITES FOR YOUR KIDS?
This rest assured young beginners while providing the best chances for underwater visibility. You don't need to go too far out, though! An underwater guide would be essential for both parents to enjoy the snorkel while kids are also taken care of. The guide will often point out the best spots to see reef fish, Christmas tree worms, and coral species.
At OnBird, families with kids always rest assured to have our underwater guide support during the whole snorkeling trip.
2. Practicing with the snorkel gears
We highly recommend parents to research about snorkeling gears which suit their own children before the trip.
We find this thorough guide to buy snorkel sets for kids extremely helpful, please check it out.
Get your children to practice using their masks and snorkels out of the water, breathing only through their mouths. Try snorkel gear in a swimming pool (or a bathtub) before trying it in the ocean. If you want them to try this at a beach, then have them use the mask and snorkel on the water's edge, sitting or standing. For these initial outings, there's no need for fins. Start by testing the mask and snorkel in a spot where your child can stand in the water.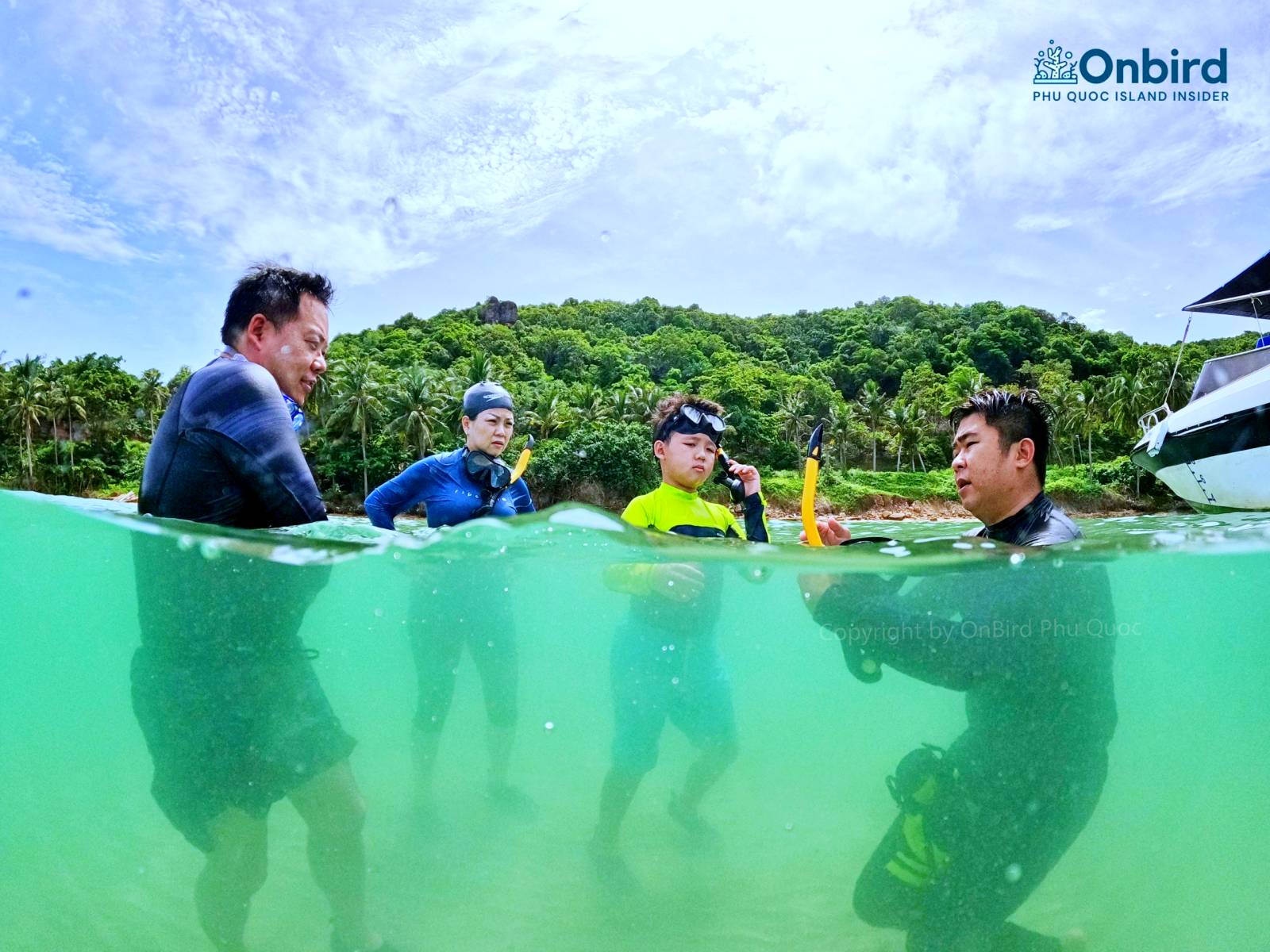 On every snorkeling trip in South Phu Quoc, we take our guests to a crystal beach (Turtlehead Rock beach or similar) or a Stony coral colony (shallow water snorkeling) where they are briefed on the use of snorkeling gears and safety guidelines. This step allows both parents and their kids to get used to snorkel gear and the water before real snorkeling.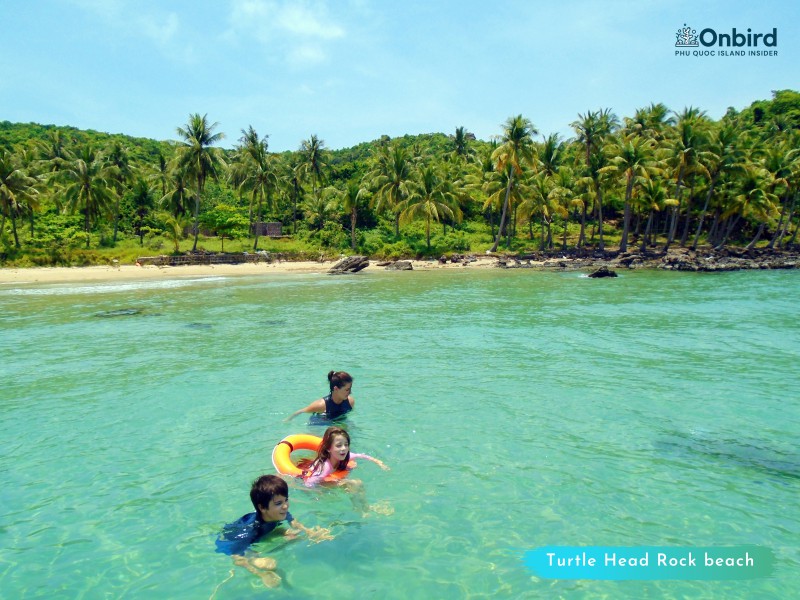 3. Teaching them the basic rules
One of the most important things any child should understand is that he or she is not the only one trying to take a glimpse at marine life. Kids can sometimes move their feet aggressively, which helps them to move in a certain direction. Besides that, we told our daughter to quit whenever there's water leaking into her mask, whenever there's water entering through the snorkel, or whenever she's feeling tired. Remember, snorkeling is a learning curve, even for adults.
Make sure to practice the basic hand signals for communication. Tell them which signal means "everything is ok", which one means "danger, let's go", which one means "bring face above sea level", which one means "follow", things of that nature.
Teach your kids to snorkel respectfully; watch but do not interfere with underwater life or stand on coral, do not feed the fish. Don't go anywhere near rocks, caves or other dangerous places.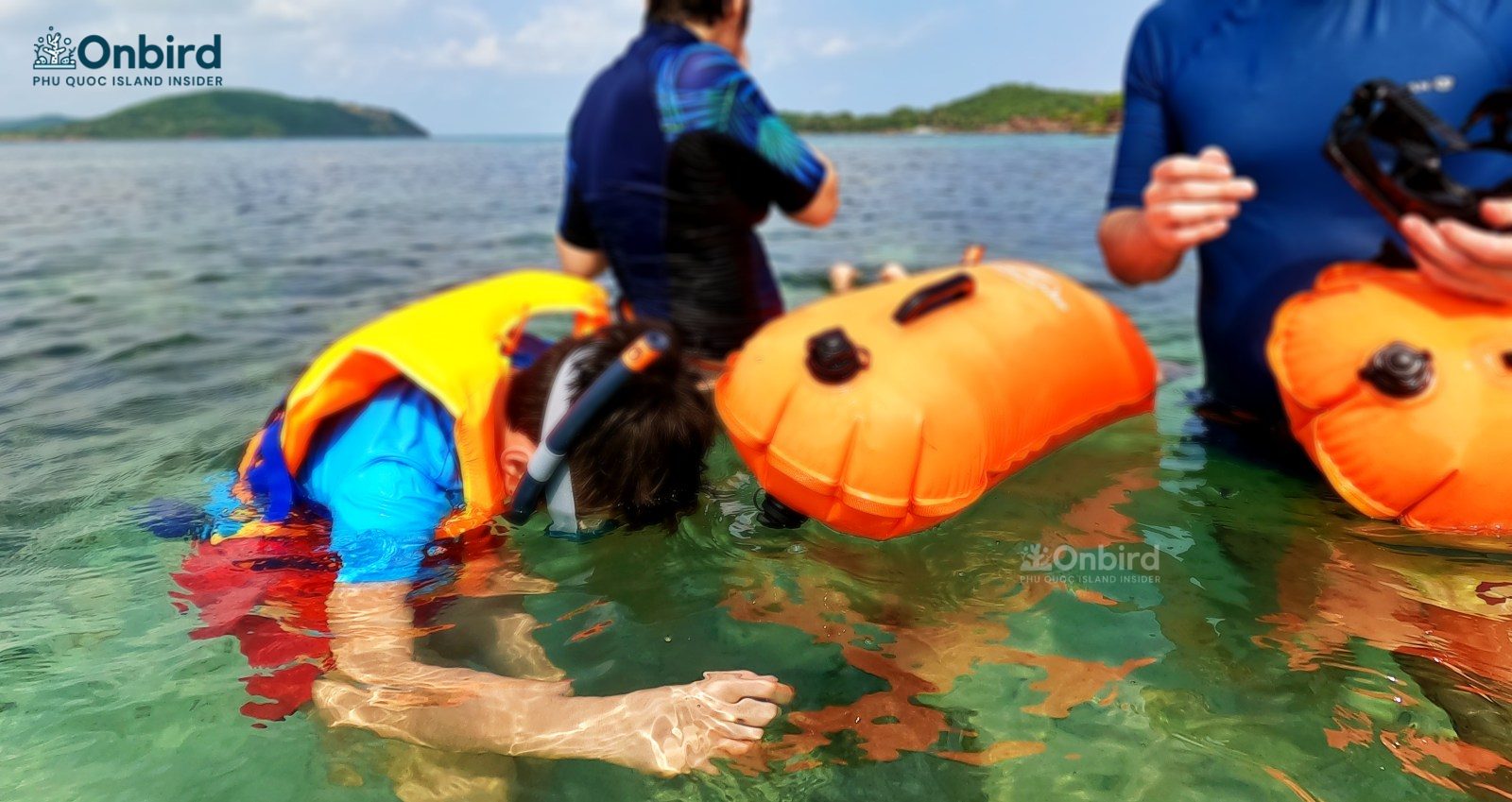 Don't worry if you do not have enough time to research about this knowledge before the trip, our guide will take care of that.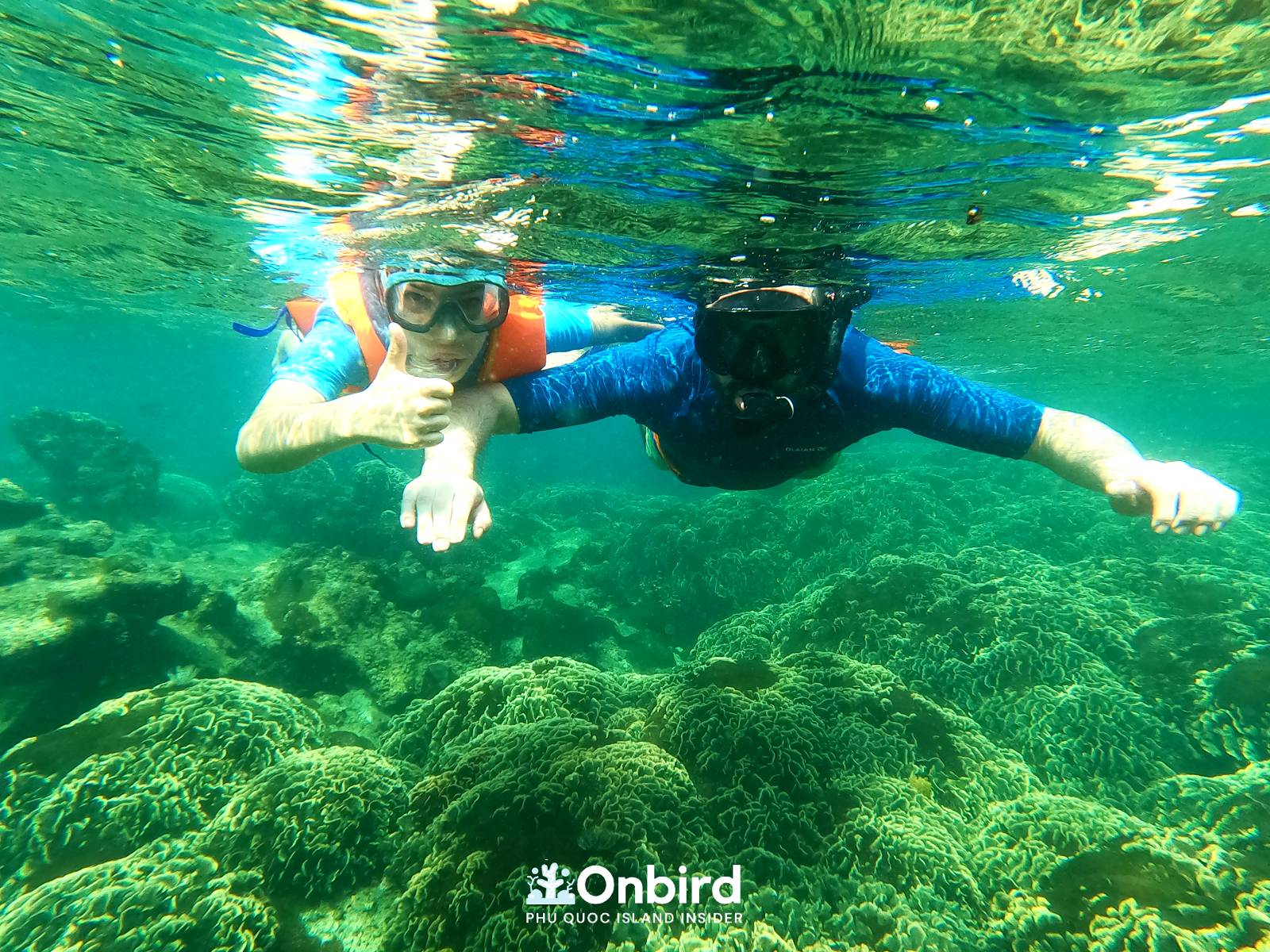 4. Flotation device, sun protection and safety first aid kit
Pack a flotation device for beginner swimmers. Snorkeling requires a good grasp of your swimming skills, which can be a challenge for families who are just starting. If you have concerns about your child's swimming ability in open water, consider having them wear a flotation device. That way, they can get the hang of the water while you lounge worry-free. These devices come in many different shapes and sizes, such as a life vest or a flotation belt. Depending on how much snorkeling you'll be doing and the age of your child, you'll be able to find the right choice for you.
If you don't have it on your own, we always have small-sized life vests and open water inflatable life buoy onboard though.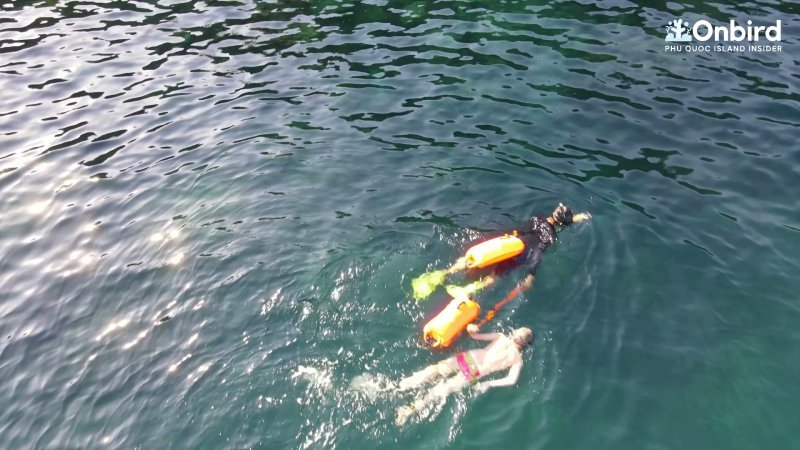 All of these devices will help your child float better and help keep them from tiring out. This is one of our most important tips for snorkeling with kids!
Besides, if you're out snorkeling with your little ones for the first time, don't leave home without a first aid kit! Having a back-up plan in case the worst should happen is always a good idea, especially when venturing underwater.
Snorkeling is a fantastic learning experience for kids, so make sure they are as safe as possible and then let them enjoy discovering the magic of seeing into the underwater world!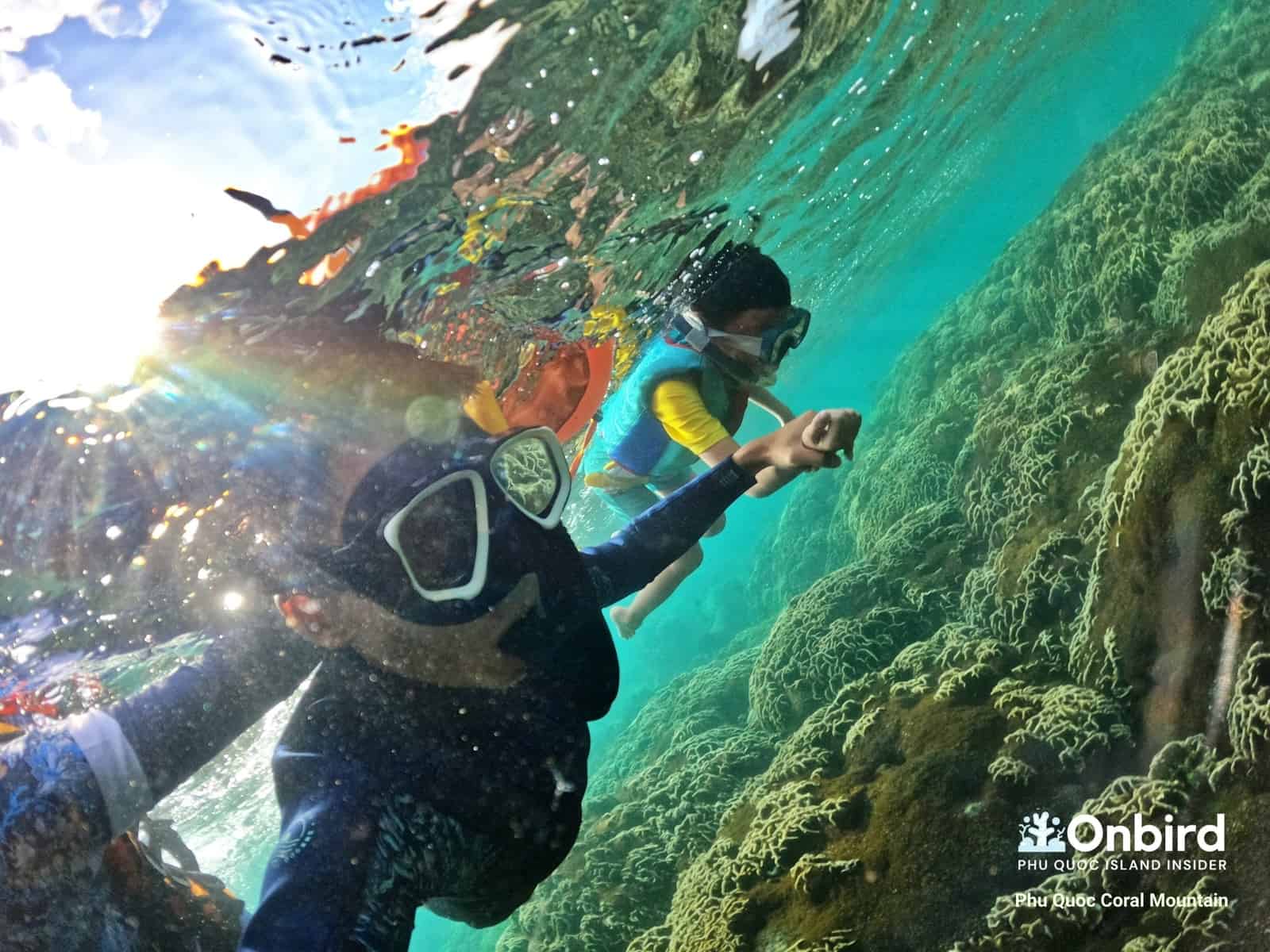 5. Understanding your kids
Where can you take the kids if they're eager to have their first snorkeling experience?
Educating and preparing your child for a possible snorkel adventure helps a lot. However, the most important thing is to find out if your kid is interested in snorkeling. If that's not the case, it may be best to forget about the idea for a while.
For a child, snorkeling should be fun. Exercise in the bath or in a pool before trying the ocean. Make sure their first experience is a good one, never force anything, and let the magic happen. Oh, and try to take some pictures or videos. Kids love it when they're able to see themselves in the past.
Check out this customized fun, family-friendly snorkeling journey and dedicated training snorkeling trip for young kids that welcome kids of all ages to Phu Quoc island.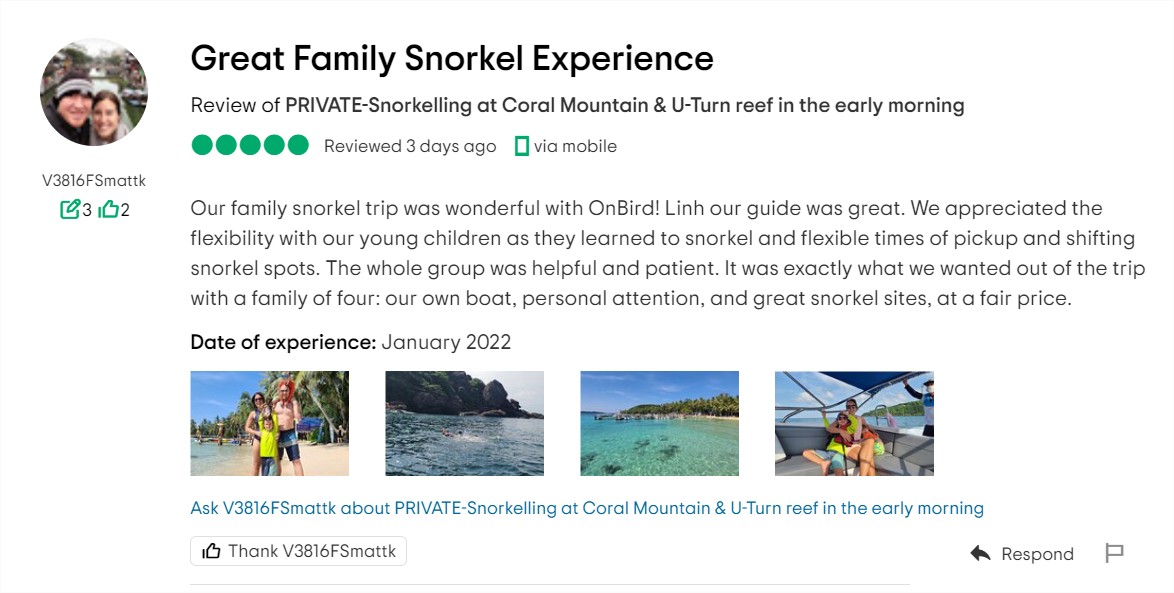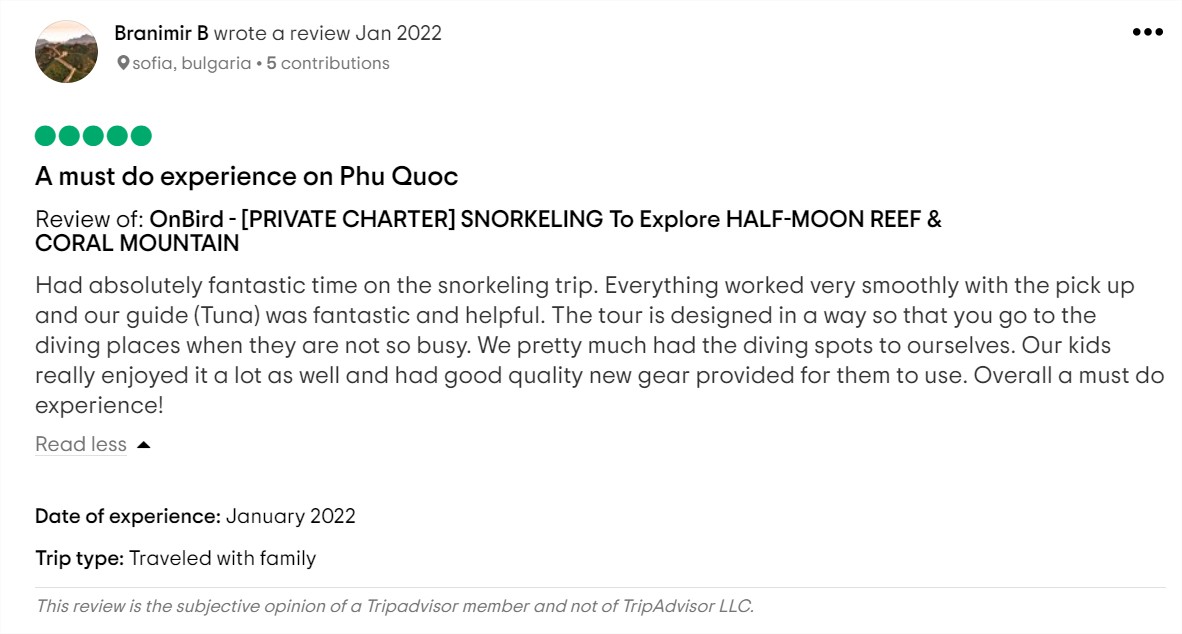 No matter how old your child is, you'll be able to find a fun, safe, and even educational way for them to experience Phu Quoc underwater world.