Though people have become more careful about the spreading of viruses, tourists – nature lovers are seeking vitality and spending time finding hidden gems of local destinations as much as they can. So if you're one of them, have you found a location to immerse yourself in for the next trip? 
Here in this blog, we recommend some ultimate tips for international tourists that are planning for the next trip to Vietnam soon. Let's jump in and discuss with us! 
What are the hidden gems of local destinations of Phu Quoc? 
With Phu Quoc's rapid growth and urbanization, travelers seem to get it harder to find its local hidden gems. Phu Quoc is well-known with "gourmet" nature enthusiasts, thanks to its one-of-a-kind locations focused on associated resorts and be in tune with nature.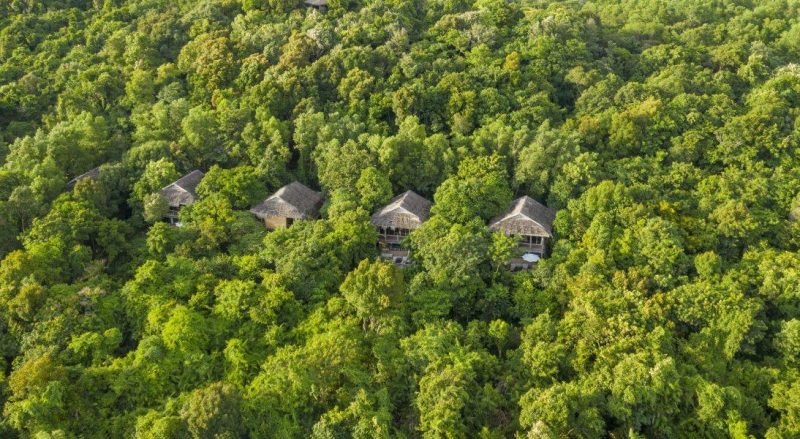 "Hidden gems" are the combination between the private excursions that are distant from the crowds and bustle, where the city is developed and maintained by individuals – souls in sync with nature. The reopening of Phu Quoc and Vietnam provides an opportunity for nature enthusiasts to escape the rush and bustle of the city and attempt to immerse themselves in the beauty of nature. The nature here is one-of-a-kind.
Seek out sustainable offerings and local hidden gems' destination identity
Who are they, and what adventures will they have on their private journey that will drive nature lovers insane? From hotels with respected green initiatives to excursions that strive to make their destination more sustainable, supporting companies that focus on preserving the planet can make a difference. Join us to plan days in sync with nature, bathe in the soothing sunlight, and enjoy the safe touristy-avoiding routes, and eat curiously adapted Vietnamese foods in our Pearl island! 
If contemporary hotels/resorts in the heart of Phu Quoc make you nervous about congestion and shared space, consider viewing Phu Quoc from a distance from Mango Bay Phu Quoc. Mango Bay is a seaside resort developed on an area of more than 10 hectares and created with low density. It is located far away from the hustle and bustle of the city. This is unquestionably the best solution for relatives and friends that want complete seclusion.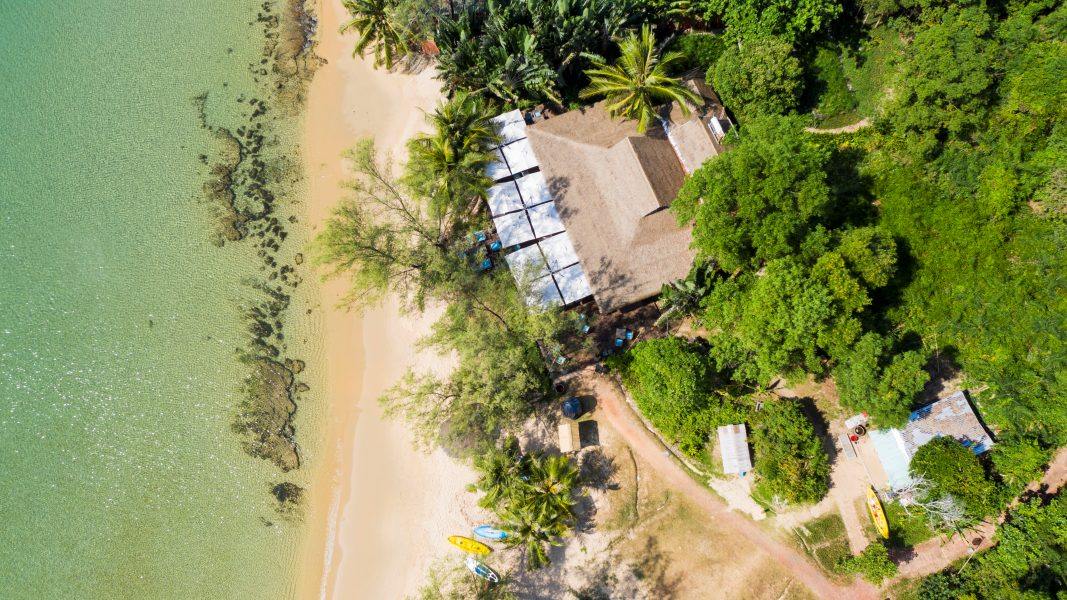 Enjoy the sound of the waves smashing right next to your bungalow, savor delectable grilled foods, and breathe in a serene setting – Mango Bay awakens all of your senses.
"On the Rocks" — Mango Bay resort's main restaurant has gained a reputation for years on end. It has become a destination of choice for both resort guests and non-resort diners on the island. 
On The Rock is a perfect place to rediscover the essential qualities of fine food, delicious wine and a beautiful view.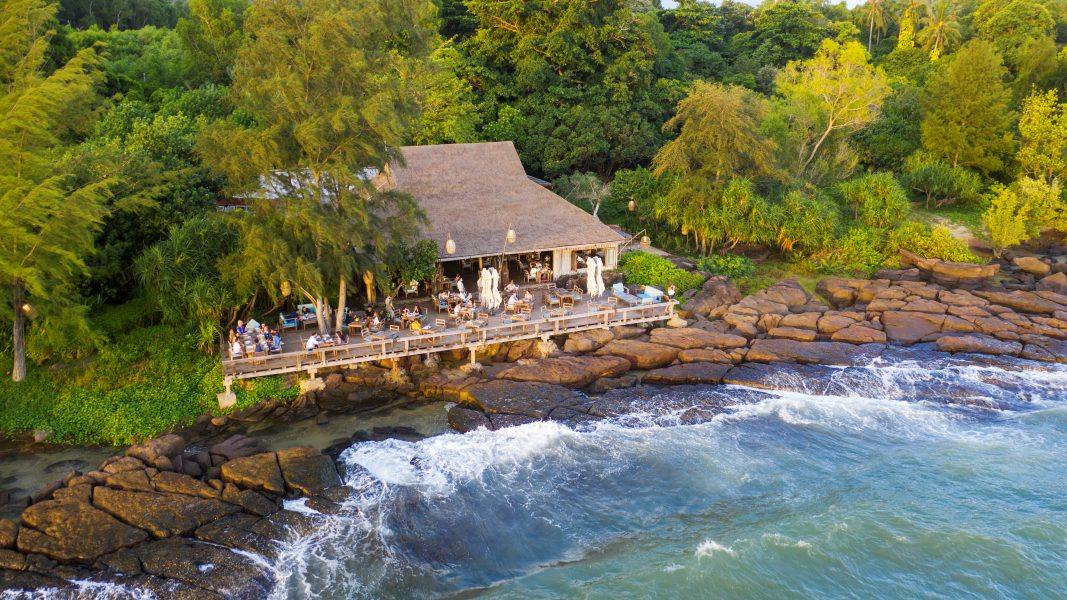 Some guests once reviewed that they traveled enough in the world to know sometimes when you find a real gem like this experience at On The Rock, you should maximize the chance to enjoy it.
The question that everyone must consider each time the trip begins. The game of discovering Phu Quoc's unique gems would be incomplete without sampling the native cuisine. Have you heard about ??? ????'? ??????? ????? ????? – one of the signature dishes that always "WOW" the holidaymakers coming to The Home Pizza.

People said that Herring Salad Pizza is the "must-try" dish when you travel to Phu Quoc. It is the pizza that you can find no where else but The Home Pizza.
Their chef built Phu Quoc's famous Herring salad on an Italian Pizza crust! This dish brings the full flavor of the sea, balanced with fresh herbs and traditional ingredients to every bite. Each taste reveals a combination of flavors, like a parade across your taste buds.
–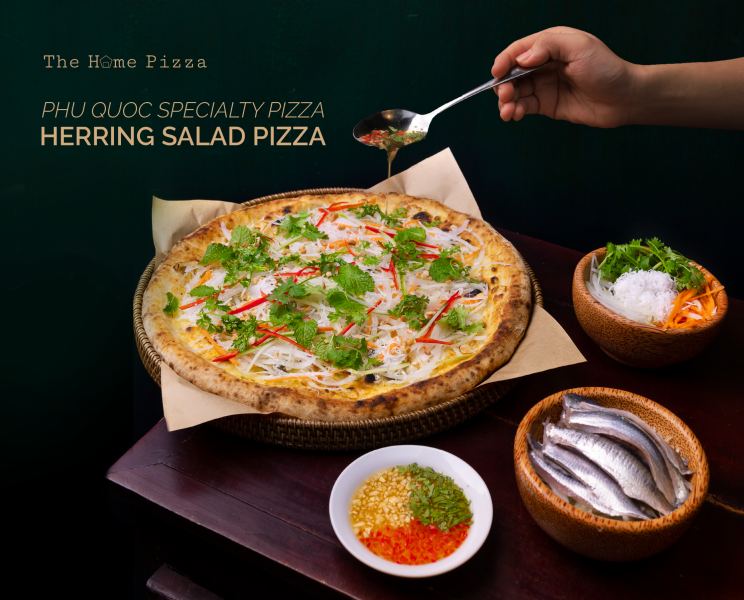 Besides that, you can enjoy Durian Pizza and Phu Quoc Seafood Pizza. They will bring the sea flavor to the tip of your tongue. With the meal bringing the full flavor of the sea, balanced with fresh herbs and traditional ingredients to every bite, the food at this hidden gem location will never disappoint you. Isn't it too easy to enjoy the traditional Italian cuisine with the fresh flavors of Phu Quoc specialties?
What to do during an "epidemic time" when big groups of people represent a risk of disease spread?
There are several reasons why people choose Phu Quoc as their long-stay travel destination, not the least of which would be because it was the first tourist hotpot to re-open to foreigners. One significant aspect is that Phu Quoc is well-known for its diverse and calm environment, ranging from the beaches to the stunning coral reefs.
As sophisticated and astute visitors, travelers today prefer personalized tours that educate them to appreciate the beauty of nature over social check-ins. This would be the finest option for a new sustainable travel way for next year.
A word of advice: you might want to encounter locals and small-tour groups are the solutions to this conundrum. You will travel by speedboat with OnBird to secret jewels that only OnBird's underwater guides can show you on touristy-avoiding snorkeling journeys to discover: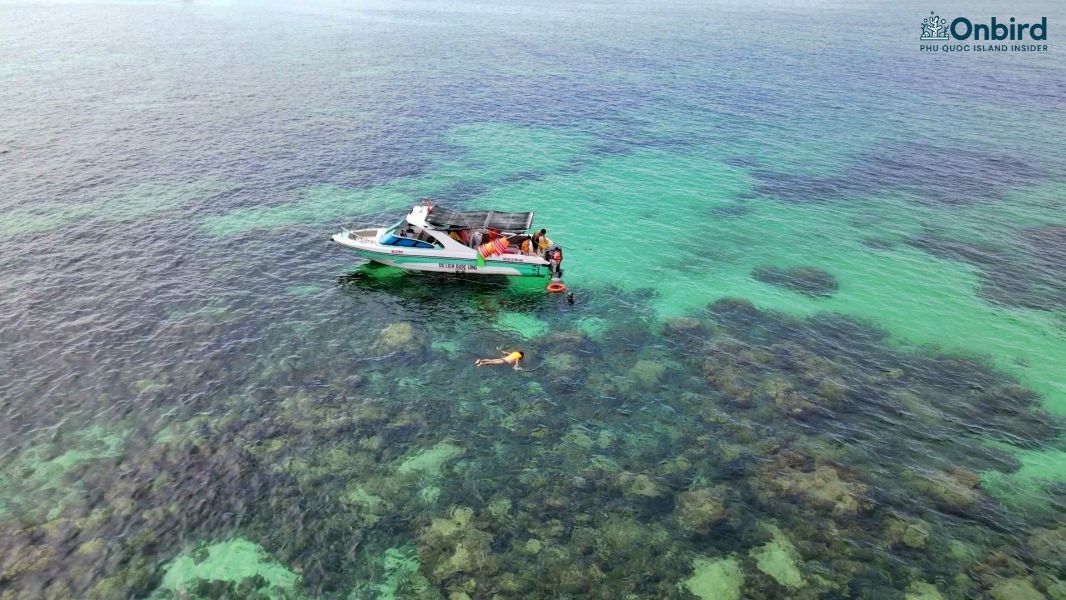 Turtlehead Rock:

become acquainted with the sea and snorkel gears

Crystal reef:

dive to see hard and soft coral reefs as well as sea anemones 

Coral Mountain

: dive in 0.5 – 2m shallow water to explore the 200 – 300m2 broad cabbage reef.

May Rut Island: enjoy fruits, beverages, and sun loungers while watching the sunset.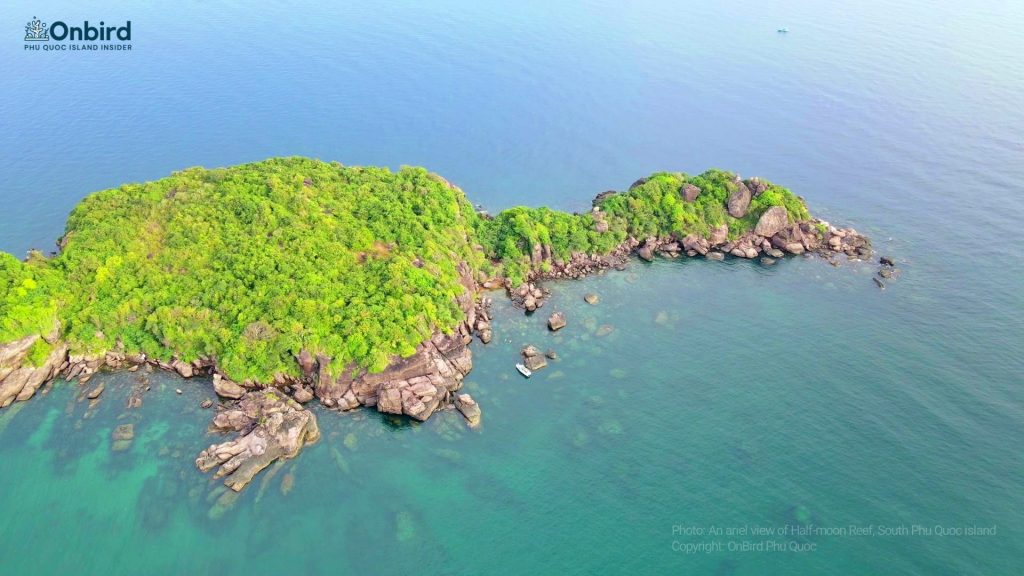 On the way, you may be able to see a variety of coral types and marine life:
Table Coral, Brain Coral, Tube Coral, Branch Coral, Cabbage Coral, Soft Coral, Mushroom Coral, Giant Cone Rock Coral, Cliff Coral are all examples of corals.

Sea anemones, Nemo fish, giant mussels, sea snails, and other creatures
Exploring every area of this island, finding a few "games", and playing together seems fun and unusual for vacation, doesn't it?
When Phu Quoc, Vietnam is fully reopened to foreign travelers, the sustainable package above might help you locate and plan a comprehensive private holiday for your quality people.
Are you ready to go on a treasure quest with us to find the hidden gems of this land?
What's more, early travelers will have the opportunities to find and enjoy one-of-a-kind offers from special trips! 
Follow OnBird on Instagram and Facebook  to get updated on Phu Quoc local travel tips!