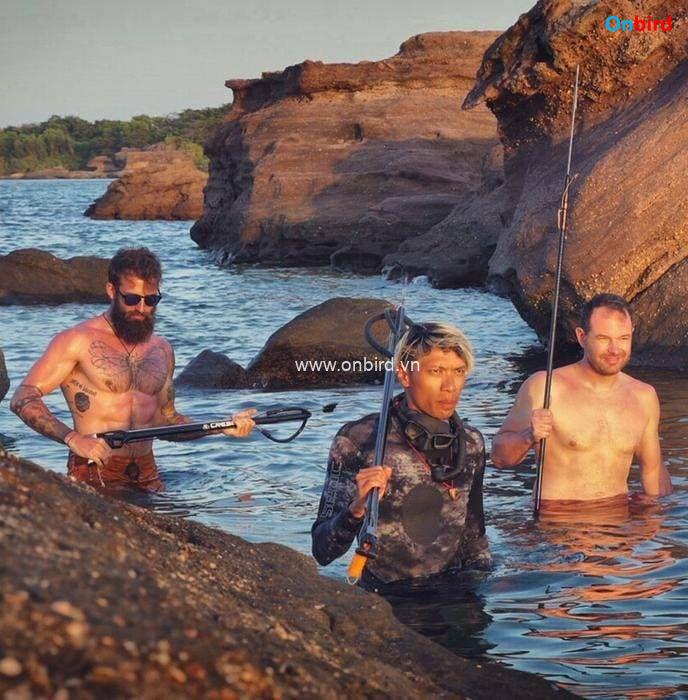 Description of the South Phu Quoc adventure – Phu Quoc Trip:
You are cordially invited to go on a spearfishing/island adventure with the Savage Dragon and OnBird. Spearfishing is an ancient sport, but this time, we are doing it the modern way. If your picture of spearfishing consists of a man in a speed standing on a rock throwing a spear into the water, well… it's time to update that image a little bit. A modern spearfisher hunts with a speargun, is protected by a neoprene wet-suit against the environment of the seas, and navigates the underwater depths using a pair of long free-diving fins.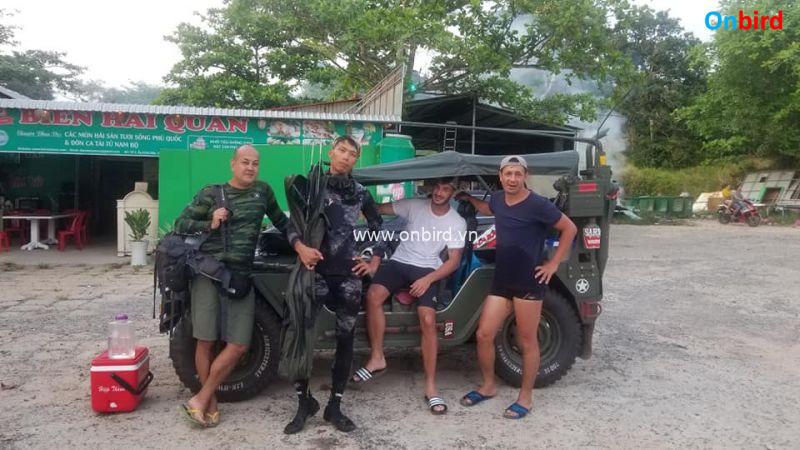 You can either come with me as Accompanied Guests or as Hunters. Accompanied Guests get to experience everything but they do not actually do the hunting parts. Hunters, on the other hand, will be supplied their own spearfishing gear and will go with me to spear some nice fish for the group to eat. Novice Hunters are those trying spearfishing for the first time, and will receive instructions on speargun handling and safety. Advanced Hunters will go hunting at their own pace. Either way, everyone will get to taste their own delicious seafood-decked lunch and dinner and experience an adventure like no other on this side of the Gulf of Thailand; ).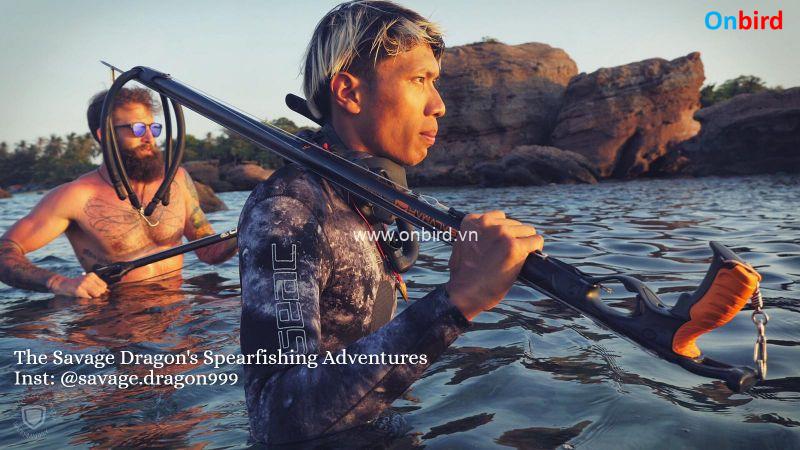 For this South trip we will drive to the An Thoi harbor, where we will meet our long-tail boat captain. Our first staging ground is called Dragon Island, an uninhabited little gem with one single golden beach. This is where we will unload the equipment and hop off. The captain will prepare a campfire. At this point Accompanied Guests can enjoy the island at their own leisure (snorkeling, chilling, sunbathing, Instagramming). Hunters will take their gear and go with me to some good hunting spots, and hopefully we can come back with some nice catch. After all, we got a roar-in' fire waiting for its BBQ!
Once lunch is over, it's time to hope back onto the captain's boat and head towards the other islands. These include Bom Island where the water is clear and snorkeling top-notch. This can also serve as our next spearfishing spot. Next is Gam Ghi or Dam Ngang Island where you can see the legendary Sphinx and prowl the depths for tasty Rabbitfish, Parrotfish, Oysters, and Groupers. Another possibility is Golden Turtle Island, with is crescent-shaped bay that serves as a shelter for hordes of fish.
Once we are done and tired, we will finish the day by visiting either May Rut or Fingernail Islands. At this point, these 2 most popular islands should be empty (around 17.30). So we get to claim and enjoy the best beaches in Phu Quoc all for ourselves. The highlight of this relaxing time is to watch the sunset.
Afterwards it's time to head back to the harbor. But the adventure is not over yet. Somebody has to cook the rest of our catch, and boy, are there catches! We will drive back to my house and it's time to cook ourselves a nice, big Vietnamese home-cooked dinner for the whole group!
Did We catch your interest?
Join the Savage Dragon's crew as well as OnBird Team, so next time when your friends ask you "What did you do in Phu Quoc?", you wouldn't have to answer "Well, I sunbathed and read books all day."